URL Inspector | WordTracker Scout
Short description : URL Inspector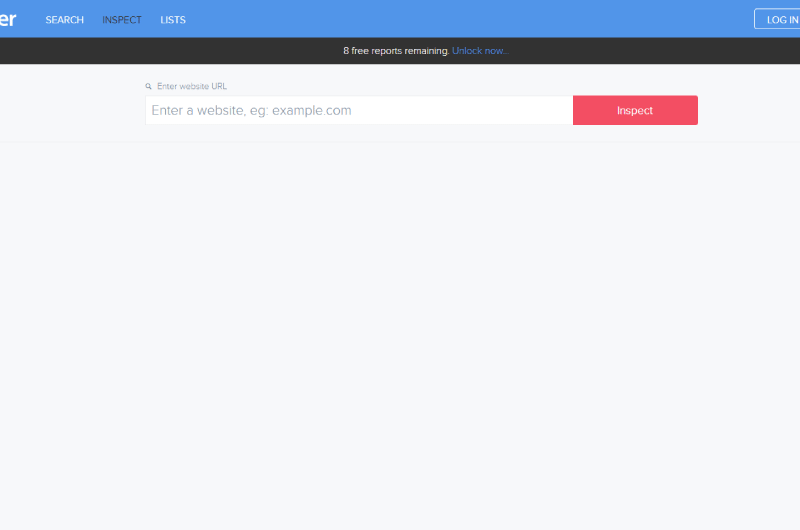 Use WordTracker Scout to analyze any page and discover its primary keywords and missed keyword opportunities.
Long Description : URL Inspector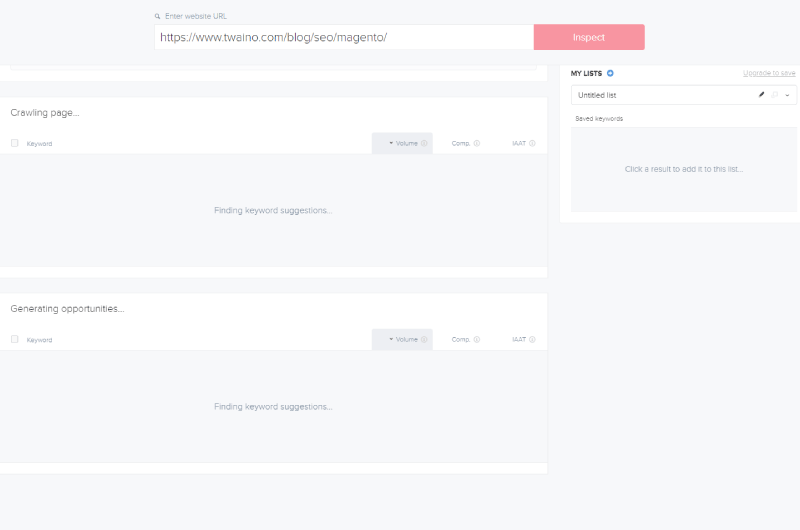 Description WordTracker Scout 
The Wordtracker keyword creation tool also offers a URL inspection feature called Wordtracker Scout, to discover all targeted keywords on any web page with a single click. 
Source:
Stunningmesh
The tool also uncovers any missing keywords that could have been targeted to boost the page's visibility in search engine results.
This is a feature that can be useful for uncovering less competitive niches and keyword opportunities in an effort to bolster your SEO strategy. Also ideal for competitive analysis. 
What is WordTracker?  
As a reminder,
WordTracker
is a free keyword research tool developed to help website owners and online marketers find relevant and profitable keywords. 
These keywords can then be targeted to strengthen their SEO strategy on search engine pages. 
To learn more about this tool you can consult our WordTracker Description. 
What is WordTracker Scout? 
Also called WordTracker Inspect, WordTracker Scout is a feature of the
keyword research
. 
Initially, the tool was offered separately. But due to its success (+8,500 active users), the authors of the brand decided to integrate it as a feature into the WordTracker tool. 
WordTracker Scout is accessible from
the INSPECT tab
on the official WordTracker website and offers a limited number of free searches per day.  
WordTracker Scout allows you to inspect the URL of any web page and discover the keywords used there. 
The tool also provides you with relevant keyword opportunities that were missed to be optimized on the inspected page. 
Which can be useful for spying on the competition and spotting untapped opportunities to get ahead in your industry. 
WordTracker Scout: How to use it? 
You can then enter in the search bar, the URL of the page you want to inspect and then click on the INSPECT button. 
Note
: For this, you are not obliged to enter the full domain name of the site faithfully. You may well refrain from writing the prefix 'http://' or even 'www', WordTracker will work fine. 
The fact is that the tool inspects the page itself and not the domain name. So you can just enter "example.com" if it's a homepage and "example.com/page1" if it's a specific page. 
After a few moments, the tool should generate an analysis report for you to get an overview of the information collected on the explored link. 
Some important information is classified at the top of the list such as: 
The title and meta description tags 

The title of the page 

A cloud of keywords used to get an idea of ​​the semantic field of the page

score

Citation Flow

: To evaluate the number of backlinks that point to the page as well as their quality
score

Trust Flow

To estimate the degree of reliability of the backlinks that point to the page
​​score

Page Speed

To get an idea of ​​the page loading speed
score

Optimization

To have an overall idea of ​​the level of optimization of the page for search engines
score

SEO Difficulty

: To estimate the degree of difficulty to overcome before outranking the page on the SERPs.  
By then scrolling down the page, you will discover the following sections: 
1. Opportunities 
The OPPORTUNITY section groups together the associated keywords that have been found on the page you have analysed. 
Source:
WordTracker 
For each keyword found, WordTracker Scout displays important SEO metrics such as search volume, Cost Per Click, SEO difficulty level and ranking on search engine pages.
This is valuableinformation that will allow you to identify the most profitable keywords and on which you can quickly obtain good SERP rankings. 
2. Keyword opportunities not on the page
This section of WordTracker Scout gathers relevant keywords that are not on the inspected page. These are beneficial terms that could have been targeted to boost the page's visibility on the SERPs. 
This is a very practical way to recover the keywords that you have missed and add them to the SEO strategy of the page in question. 
If the link you entered is to a competitor's page, then this section will allow you to identify gaps in their SEO strategy. This is valuable information that you can use to your advantage to overtake this competitor on search engine pages. 
3. Top keywords on page
Here you have all the most important keywords listed on the inspected page always with SEO metrics such as search volume, Cost Per Click and many more. 
Clearly, these are the keywords for which the page is apparently well optimized. 
WordTracker Scout: What You Can Do With The Tool
tab
Inspect
of the WordTracker Keyword Builder Tool allows you to: 
1. Discover niches and opportunities 
Sometimes it can be difficult to know the niche or keywords totarget to quickly get good rankings on search engine pages.  
WordTracker Scout lets you identify low-competition niches and keyword opportunities that you can target and quickly improve your SERP rankings.
2. Optimize your content 
On-page optimization is an essential basis for any effective SEO strategy. 
And at this level too, WordTracker can be very useful to you. For starters, the tool allows you to inspect any page and access the optimized keywords on the page as well as the rank that page has on the SERPs for each keyword found.  
You can then focus your optimization efforts on the keywords on which you are close to the first page of Google. 
WordTracker Scout also gives you access to a list of keywords that are profitable, but have not been optimized on the page. 
A way to boost your on-page SEO strategy or gain a competitive edge if the inspected link belongs to a competing site. 
WordTracker Scout: Advantages and Disadvantages 
Advantages
Uncover the most important keywords on a web page

Uncover missed keyword opportunities on a web page

Useful for competitive analysis 

Displays important SEO metrics such as CPC (cost per click), search volume, rank on Google, etc. 

Displays the SEO difficulty level of keywords 
Disadvantages 
Some features are limited in the free version 

No chat support
WordTracker Scout: Pricing 
Since WordTracker Scout is integrated with the WordTracker keyword generator, it does not benefit from separate pricing. 
However, the tool is available for free with a limit on the number of links to inspect per day. 
But to take full advantage of the features available, WordTracker offers 3 pricing plans with a 7-day trial period: 
Bronze $27 per month 
1,000 Keyword Results 

6 Territories 
Silver $69 per month 
5,000 Keyword Results 

13 Territories
Gold $99 per month 
10,000 keyword results per month 

Over 200 territories 

API access.
By choosing an annual subscription, you can save up to 40% on each plan.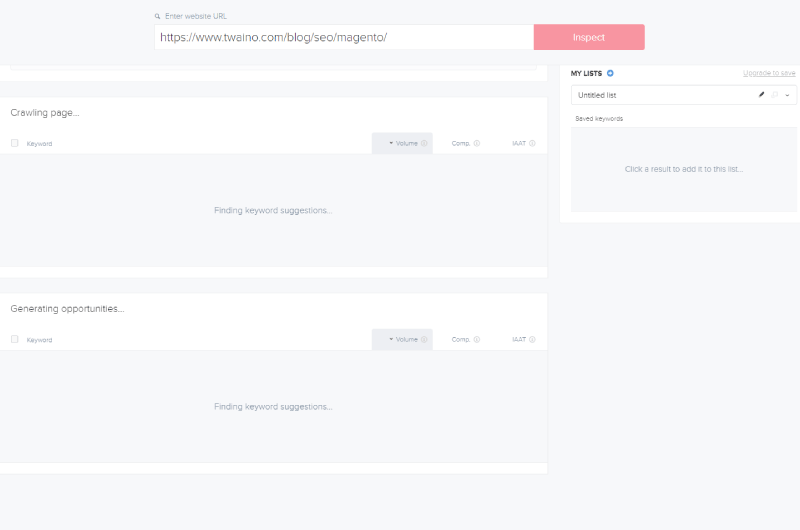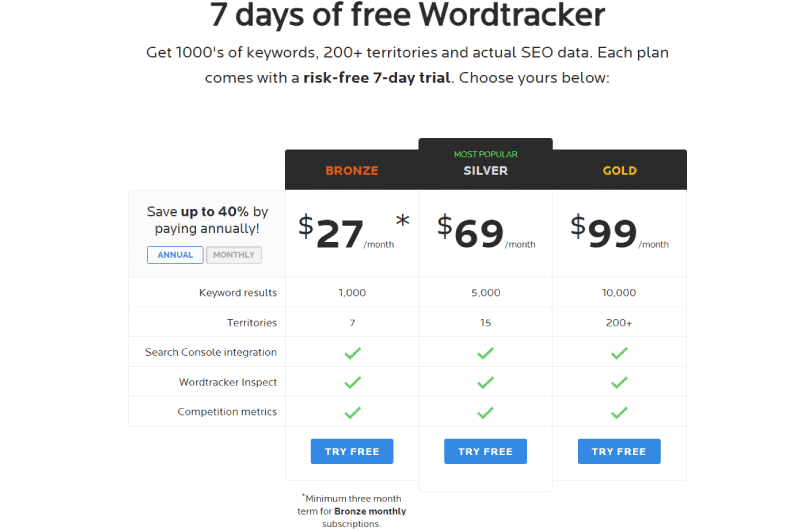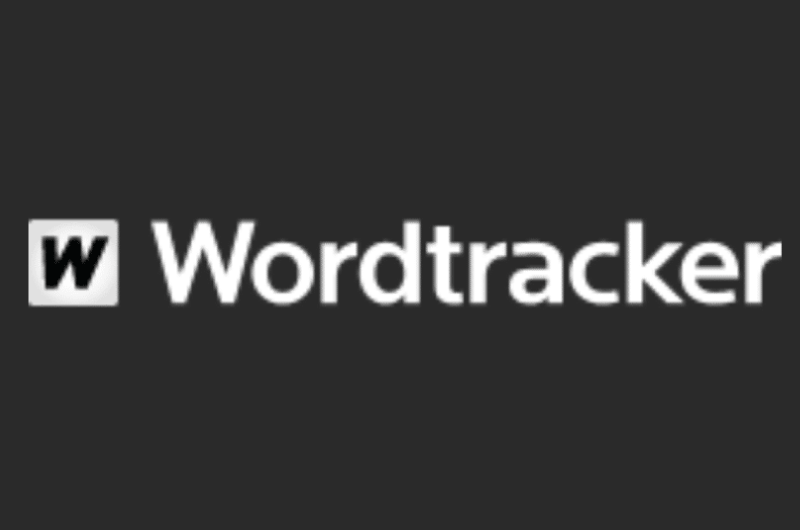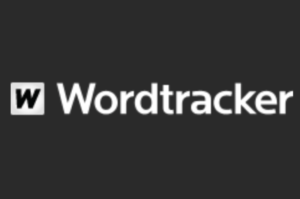 Optimization tool engine It was started by Mike and Andy Mindel. Their objective in designing this tool is to provide reports on the various terms used by Internet users in search engines. 
Over time, this goal has changed due to the evolution of SEO. A situation that forced the founders to develop other basic concepts related to keyword research like the KEI. 
That said, Wordtracker helps businesses effectively engage with their audience through the internet. For this, the tool offers on its platform the best data regarding keyword research and offers detailed reports. 
Social Media : URL Inspector
Others Tools : URL Inspector
Alexandre MAROTEL
Founder of the SEO agency Twaino, Alexandre Marotel is passionate about SEO and generating traffic on the internet. He is the author of numerous publications, and has a Youtube channel which aims to help entrepreneurs create their websites and be better referenced in Google.