SERPs Metrics | MozBar (Plugin)
Short description : SERPs Metrics
Mozbar is a free Chrome and Firefox browser add-on that helps you check the PA, DA, and Spam Score (SS) of any site or web page you visit. The pro version of this feature from Moz can also help you with keyword research and many other SEO tasks.
Long Description : SERPs Metrics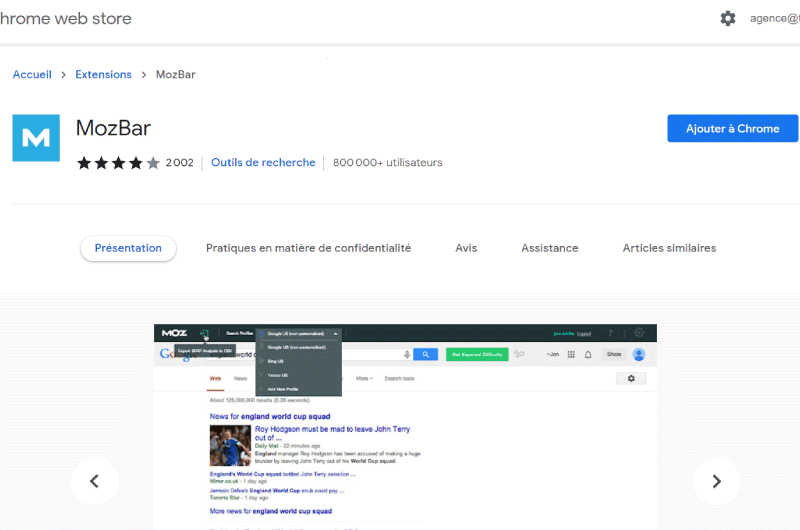 Description MozBar
SEO is the addition of a series of tasks to prove to search engines the relevance of your website.
MozBar is a tool that can help you perform the most essential of these tasks in order to increase the visibility of your website.
It is a simple module of the Moz SEO tool, but it is incredibly enough to optimize your website pages.
We will find out how it works in this description.
MozBar is a Moz tool add-on that can be added to Chrome and Firefox browser as an extension.
The tool helps you understand a webpage's link metrics and optimize your pages with suggestions based on different scores.
Mozbar displays domain authority, page authority, and spam score for any specific domain or search engine results page (SERP).
Although SEO is quite a broad area, the tool helps you stick to the essentials like:
Keyword research;

Customization of title tags;

Optimization of meta descriptions;

URL analysis.
Besides, the tool also allows you to closely monitor your competitors to know the keywords they are using, the backlinks they have and my terms for which their content ranks best. 
All of this information is needed to perform a full SEO analysis of your content, and Moz helps you get this information with a simple browser extension.
To go into a bit more detail, here's what MozBar can do:
Page analysis
When you do a search in a search engine and click on a website to visit it, the first indication in the top bar allows you to analyze the page you are visiting.
The tab gives us access to several useful information such as:
This is any element that can be optimized to allow the page to increase in ranking in search engines. In SEO, the process of optimizing these elements is called on-page SEO or on-page SEO.
So to favor SEO on the page, the extension affects essential elements of the page such as:
The URL;

The title of the page;

The meta description of the page;

The meta keywords;

The H1;

The H2s;

The strengths of the content of the page;

Texts in italics;

Alternate text.
This information demonstrates the content's ability to rank high on the search results pages.
If you have this information on a competing website, you can use it to your advantage to outrank it.
The attributes tab generally groups together information relating to the indexing of the page by search engine robots. These are essentially:
Meta robots/Meta tags: These are attributes that allow search engine robots to know the content of the pages they are supposed to index;

Page load time: As understood, this is the time it took for the content of the page to be accessible to the reader;

Rel="canonical": This is an HTML element that allows search engine robots to distinguish original content from its copy;

Google cache: Precisely, it is the address of the page which can be stored in the cache of your browser.
MozBar tells you through this tab if each element of your web page can be indexed or not by search engine bots. 
This tab provides virtually all information about the page's online reputation such as:
Page Authority (PA) Score: This is a score that Moz assigns to each page to indicate its ability to rank on the SERPs;

Domain Authority (DA): As a page authority score, DA indicates an entire domain's chances of ranking high on the SERPs;

External Links Followed: Means the total number of websites that have linked to the web page, i.e. external links;

Root domain link: This is the number of root domain links attached to the web page;

Total Links: This aggregates all of the links on the page, whether internal, external, followed or unfollowed.
This information gives you a general idea of ​​the page's link profile.
Highlighting the links
The second indication in the form of a pencil shows us directly in the content:
The internal links;

External links;

Followed links;

Unfollowed links.

Featured Mozbar
For example, when clicking on "Internal", we can see that each internal link on the page is colored yellow. 
In addition to this, the function has a search bar in which one types any word to see it highlighted in the content.
Page Optimization
This feature is even more useful when you need to optimize your pages.
The tool suggests best practices you can follow to increase your domain authority and get higher in the SERP rankings. 
It should also be noted that to optimize your pages using this feature, you must upgrade to the pro version of the tool.
To start, you need to enter a keyword for which you want to analyze the page.
Once you have entered your keyword and clicked "Get score", three new tabs will appear with valuable information:
In the summary tab, the tool gives a score out of 100 which indicates the level of optimization of the page. This score is calculated based on , which is calculated based on 27 different on-page optimization factors. 
These factors have been designed based on Google's most important ranking factors.
Here you will have suggestions and recommendations to improve your page's SEO for the keyword you searched for.
The tool marks them in red to highlight the most serious issues that can have big impacts on your website.
Suggested content on the page
Here you will see other suggested topics or keywords, related to the keyword you entered.
You can use these suggested topics and keywords in your content to further increase the relevance of your content with the selected keyword. These suggested topics or keywords are listed in descending order of relevance.
MozBar is therefore a best feature that you can consider for SEO.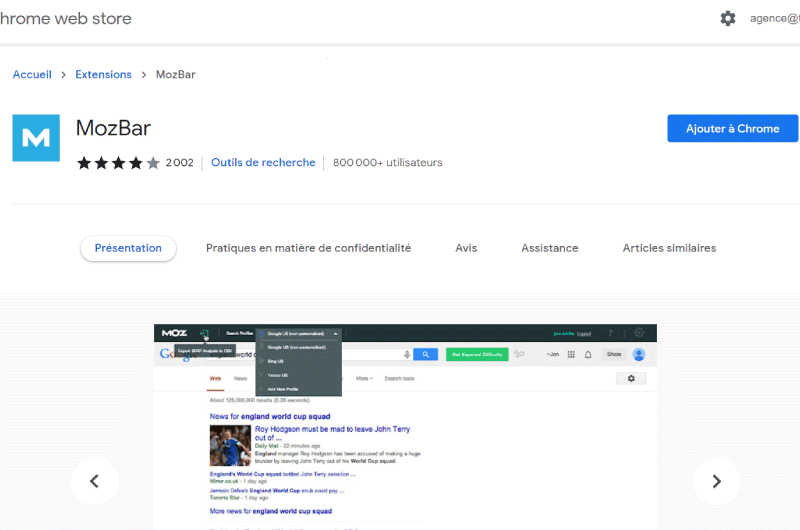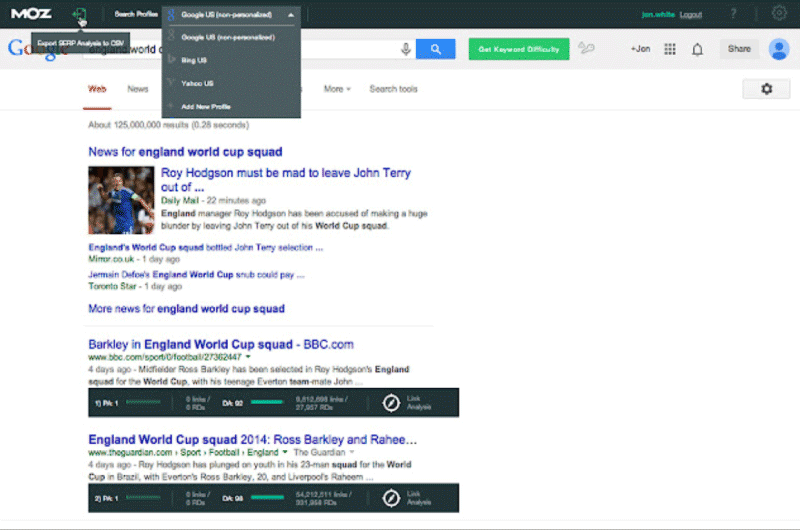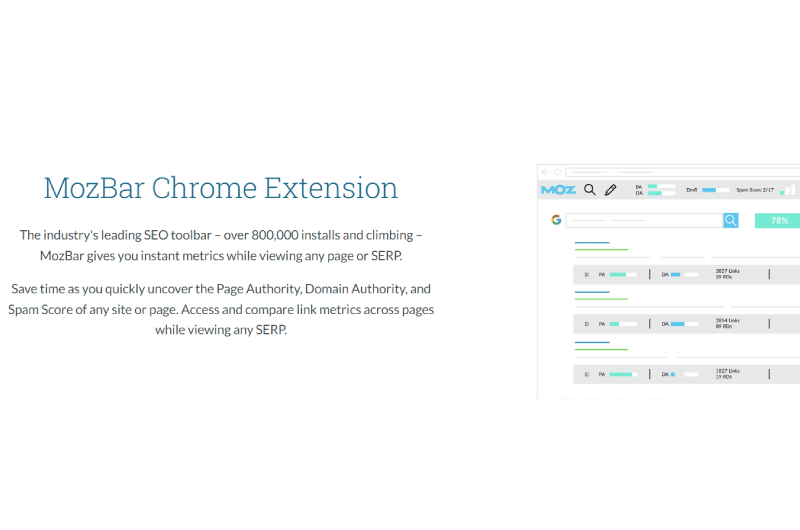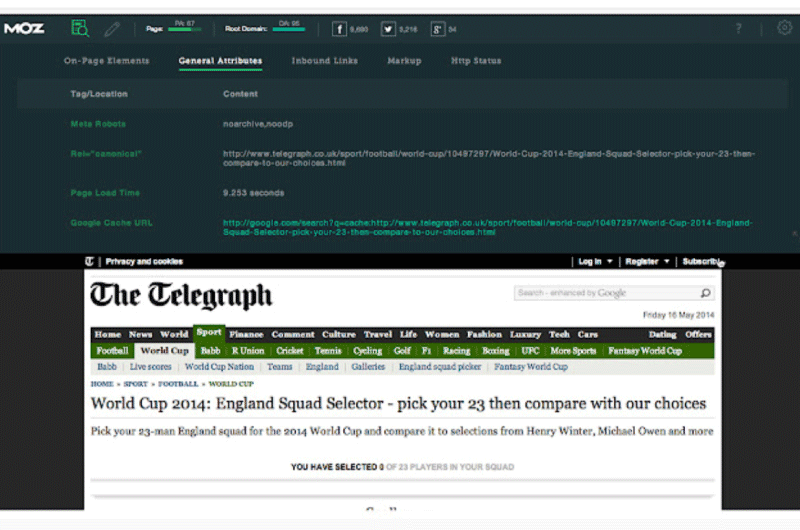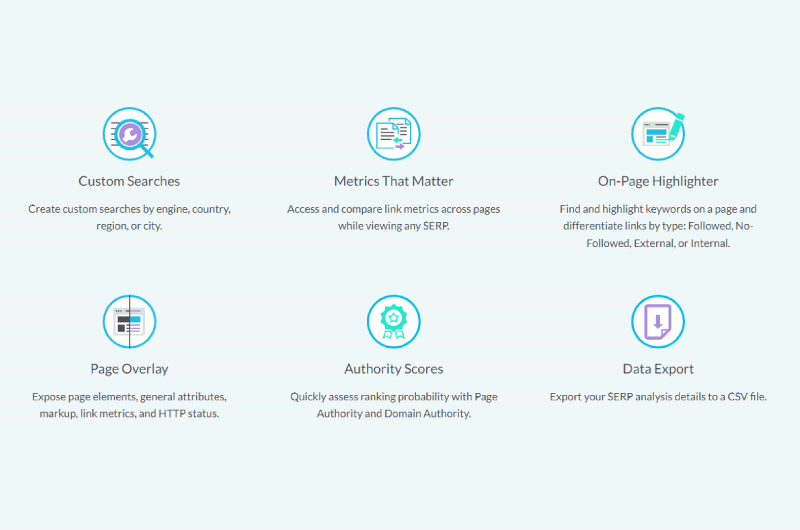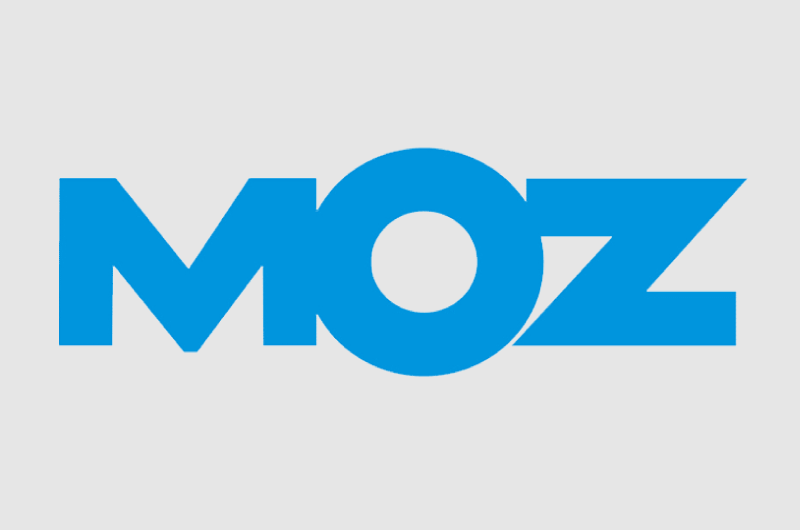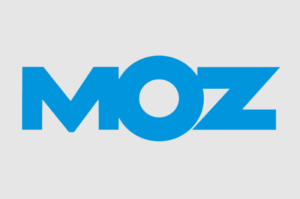 Moz is an American digital marketing agency created in 2004 by Rand Fishkin and Gillian Muessig. Even if its main objective is to allow companies to access the best SEO strategies, it is recognized for its tool.
In the beginning, Moz was just a simple SEO blogging agency, and was called "SEO Moz". Today, Moz is an agency more focused on digital strategies, especially SEO. 
Indeed, the Moz agency offers its customers products such as Moz Pro and Moz Local, which help companies improve their SEO. 
These products are highly appreciated by customers, as evidenced by the many favorable reviews for this purpose. It also offers many other services such as:
site audits;

ranking monitoring;

analysis of backlinks;

Keyword research.
Moz is a very versatile and dynamic agency, which covers many countries. It has its offices in two countries, namely in Seattle in the United States and in Vancouver in Canada. It has a community of around 500,000 digital marketers, as well as many partner companies, like Trivago, Zillow, Alaska, etc.
Social Media : SERPs Metrics
Others Tools : SERPs Metrics
Alexandre MAROTEL
Founder of the SEO agency Twaino, Alexandre Marotel is passionate about SEO and generating traffic on the internet. He is the author of numerous publications, and has a Youtube channel which aims to help entrepreneurs create their websites and be better referenced in Google.