SEO performance | Allorank
Short description : SEO performance
Allorank is a rank tracking that tracks the positions of your site and competing sites on Google. Ability to configure email alerts
Long Description : SEO performance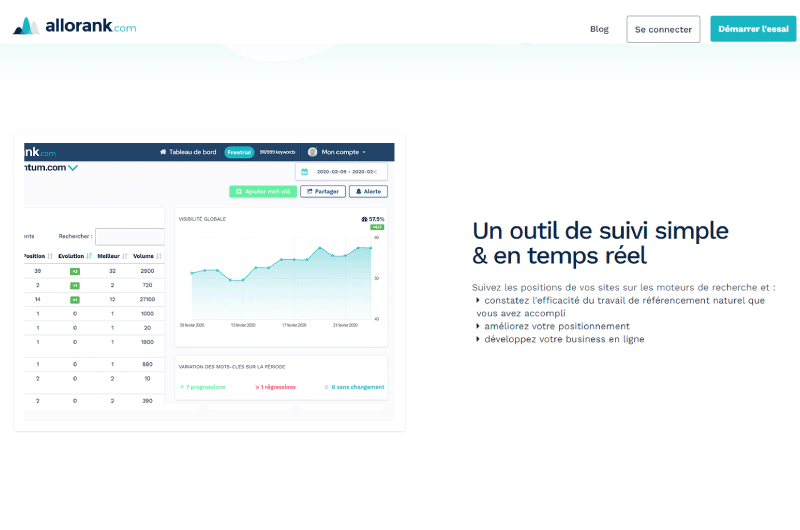 Description Allorank 
Allorank is a
SERP
which makes it very easy to follow in the blink of an eye and in real time the SEO performance of your website and those of the competition. 
Allorank wants to be different from other ranking tracking solutions by being particularly suitable for SEO beginners thanks to an intuitive interface, very easy to handle with short and concise analysis reports, easy to understand. 
For more convenience, Allorank also offers an alert feature to be notified in real time of major changes observed on your SERP ranking directly in your mailbox. 
What is Allorank? 
Allorank is an online service developed by the W3B agency in 2010. At the time, Allorank was a tool that was just used to track the rankings of websites on a few keywords. 
Then the Allorank project experienced a long period of inactivity of several years before being relaunched recently. Today we have a new version of Allorank which has become a real complete ranking tracking tool with customizable and well detailed reports. 
The tool can also be used to track the rankings of competitor sites to keep an eye on the progress of your main competitors. 
The creators of Allorank drew their inspiration from the observation that most SERP tracking tools are much more intended for SEO experts. 
So Allorank is their way of fixing this problem and making SERP rank tracking accessible to everyone, including SEO newbies. 
Allorank is therefore distinguished by its ease of use and its clear and concise reports which make it a solution suitable for both beginners and experts in natural referencing. 
Allorank: The main functionalities of the tool
Here is the list of functionalities that you will find on Allorank:
1. Ranking 
monitoring Ranking monitoring remains the main functionality of Allorank. With this first feature of the tool, you can easily track your web's progress on specific keywords in search results. 
To do this, you will just have to enter the keywords you have targeted, define a date range and the tool will take care of showing you the positions of your website on these keywords during the period you are looking for. 
All reported explicitly in a user-friendly dashboard that is updated daily. 
Next to the list of your keyword rankings, you have an "Overall Visibility" section which presents a curve representing the evolution of your website over time. It allows you to have a real-time overview of how your website is doing on the SERPs for your strategic keywords over a defined period. 
You also have a last section which lists the number of positions on which your site observed: 
Progressions 

Regressions

Andstability (no change in position observed) 
Which can be useful for quickly evaluating the effectiveness at a glance of your SEO strategy. 
2. Keyword search volume management
The second important feature of Allorank is the ability to check the search volume of your keywords from your dashboard. This can be useful for identifying the most requested keywords by Internet users. 
You can then easily decide which keywords to add or remove from your SEO strategy to get better SEO results. 
Depending on your resources and your SEO approach, keywords with a high search volume can be prioritized for creating interesting content that really engages users. 
3. Monitoring the rankings of competing sites 
Another interesting feature on Allorank is the possibility of also monitoring the ranking of your main competitors on the pages of search engines. 
As a website owner, it is always useful to know: 
Who are your main competitors on Google pages Which

keywords do you have in common 

Which keywords are your competition ahead of you 

? on which you are well positioned.
All this information is useful to know what is best and how to readjust your SEO strategy to be more competitive on the
SERPs
. 
4. Alerts and notifications 
Another very practical feature of Allorank is the possibility of configuring alerts to be notified directly in your mailbox when a change is observed in your rankings. 
Alerts can be configured to be broadcast on a daily, weekly or monthly frequency with detailed reports that present all the progress and regression observed on the positions of your website. 
This helps to monitor your positions on the SERPs without necessarily having to log in to your Allorank account. 
When there is a major change in position, you are immediately alerted. Thus, if it is a loss of position, then you can make the right decisions in time to try to quickly stop the bleeding. 
Allorank: Who is the tool for? 
Allorank is a tool developed primarily for simple people whose SEO is not the real job. 
In addition, given its practical features for SERP tracking, Allorank can also be used by professionals in the field such as webmasters, SEO consultants, SEO agencies, bloggers, etc. 
The goal of the creators of the platform is to create an easy SERP rank tracking solution that is truly suitable for everyone, including SEO beginners. 
Allorank: Features 
Top 100 SERP rankings for a keyword 

Ability to customize your search filters 

Multi-accounts and multi-users

Evolution of positioning over a specific date range

Access search volume by keyword 

Daily monitoring of SERP rankings

Possibility ( without additional cost) to follow the rankings of competing sites
Allorank: Advantages and Disadvantages 
Advantages 
Modern and intuitive platform, very easy to use

Possibility of following the rankings of its own website and those of competing sites 

Possibility of benefiting from a trial period free, without obligation

Ability to configure alerts (daily, weekly or monthly) by email
Disadvantages 
The list of proposed keywords can be increased

Paid tool (still offers a 10-day trial period)

Price too high compared to other other tools of the same kind

SERP rank tracking is only possible with the search engineGoogle
Allorank: Pricing 
Allorank offers 3 simple, non-binding pricing plans that can be modified or canceled at any time: 
Essentials plan at €7.90 per month
(suitable for freelancers)
50 keywords

Real-time positioning tracking

Unlimited sites

1 simultaneous connection to the tool

Weekly report by email
Standard plan at €17.90 per month
(suitable for webmasters) 
150 keywords

Real-time positioning tracking

Unlimited sites

1 simultaneous connection

Weekly report by email

Alerts by email
Premium plan at €47.90 per month
 ( adapted to SEO consultants) 
500 keywords

Real-time positioning tracking

Unlimited sites

3 simultaneous connections to the tool

Weekly report by email

Alerts by email

Sharing of positioning tracking via URL
By choosing an annual subscription, you can benefit from a discount 20% off.
Check out the official page to learn more.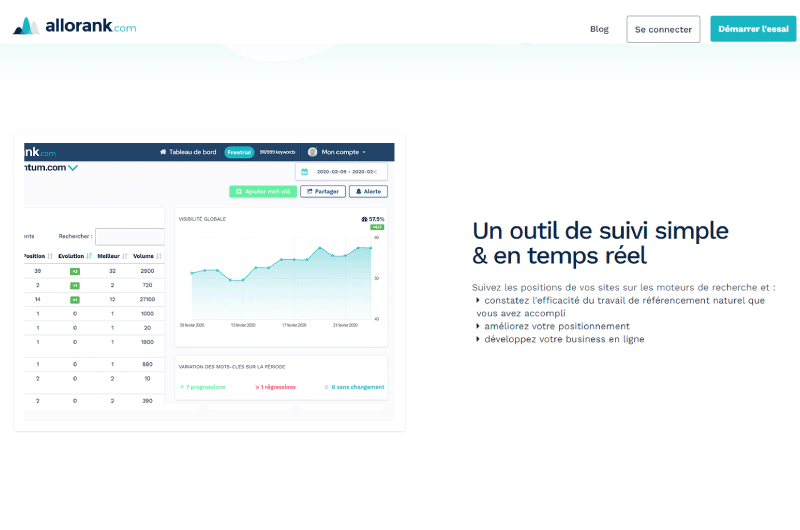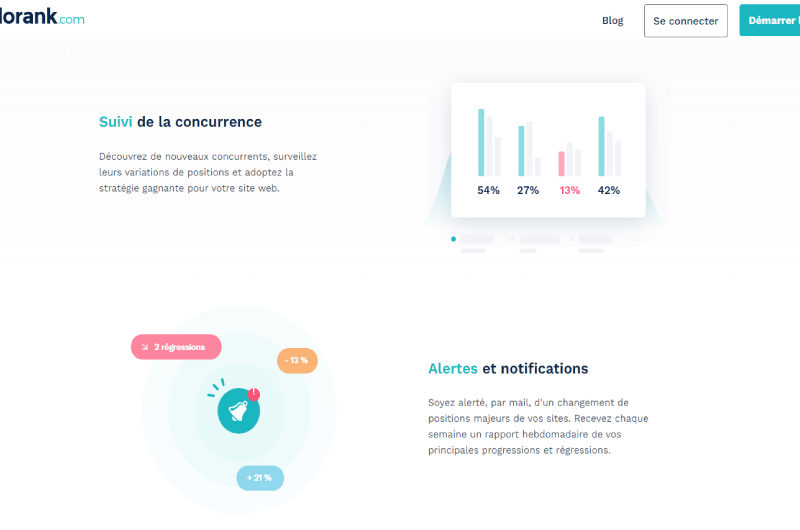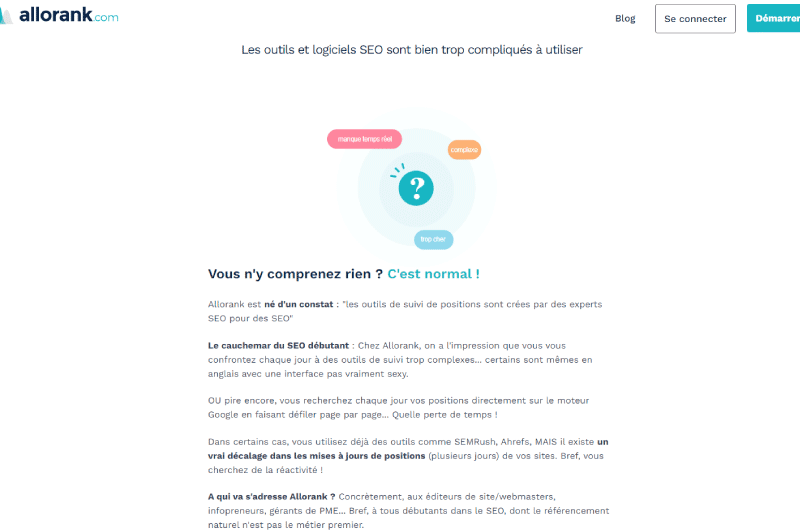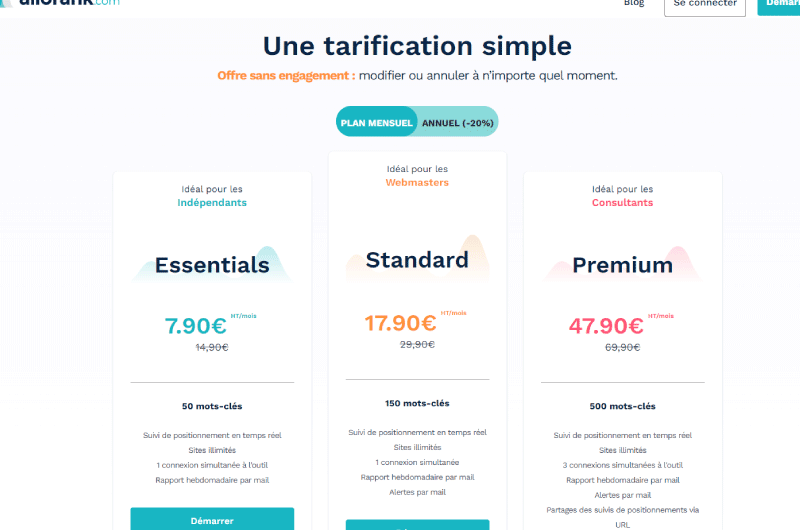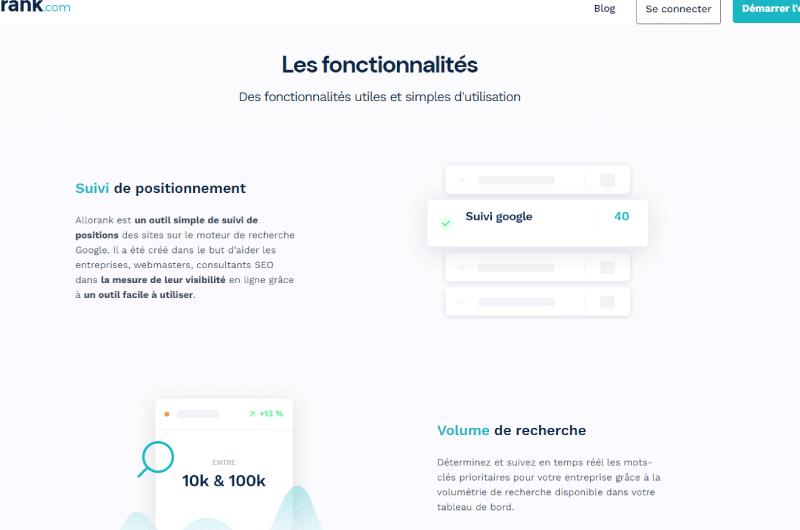 Company : SEO performance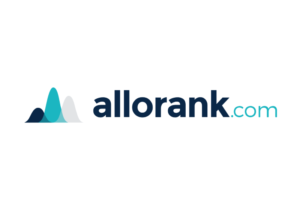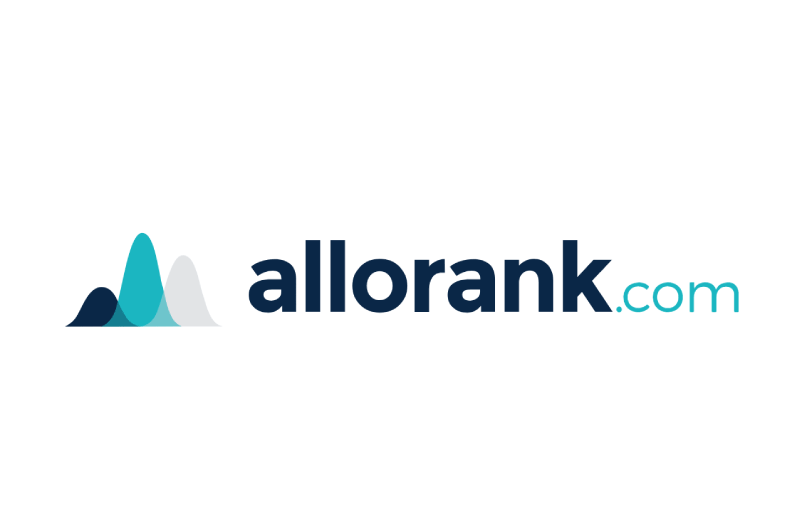 Allorank is a project that saw its beginnings in 2010 and continued to exist until 2013. That said, the project was abandoned during this year to be taken over in 2020 by Anthony Techer, also founder of the tool. Quantum SEO SEO. 
Allorank is an SEO platform that allows you to track your different SEO performances in just a few clicks. It improves and tracks the positioning of your website on search engine SERPs. Moreover, does it enhance your various marketing strategies.
It is a tool with a simple interface which is easy to handle. The main features of Allorank are:
Tracking your ranking in the SERPs;

Search volume;

Competition monitoring;

Alerts and Notifications.
The tool is aimed at all digital marketing professionals, all SEOs, but especially SEO specialists.
Contact : SEO performance
Social Media : SEO performance
Others Tools : SEO performance
Alexandre MAROTEL
Founder of the SEO agency Twaino, Alexandre Marotel is passionate about SEO and generating traffic on the internet. He is the author of numerous publications, and has a Youtube channel which aims to help entrepreneurs create their websites and be better referenced in Google.