Alerts SEO Technical Errors | Weeblr (Plugin)
Short description : Alerts SEO Technical Errors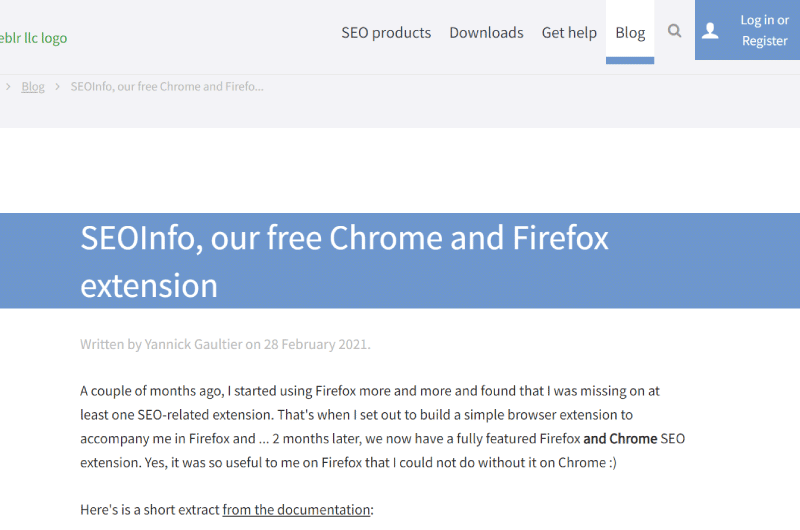 Be alerted to all problems related to the SEO of your pages by using the free SEOInfo extension.
Long Description : Alerts SEO Technical Errors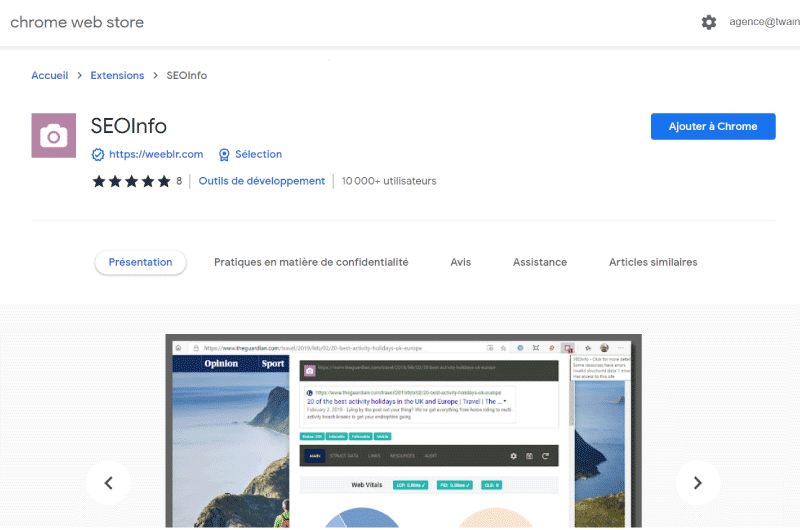 Description SEOInfo
In SEO, a few small mistakes can frustrate your efforts to get your pages well referenced in search engines.
It is important to keep an absolute watch on your pages and how they perform in the SERPs.
It is exactly to this concern that the SEOInfo responds by making you benefit from all its services for free.
extension SEOInfo allows you to regularly explore your web pages to notify you as and when the problems it detects.
We will develop in this description how the tool works.
How does SEOInfo work ?
After
adding the extension
to your browser, you just have to click on it when you are on a web page.
The tool makes it its duty to tell you if the page you are browsing is correct or contains errors of which you are supposed to be warned.
When you visit a page, a few moments later, the extension simply crawls the page each time to notify you of the detected changes. 
And when you click on the extension icon, you get all the details.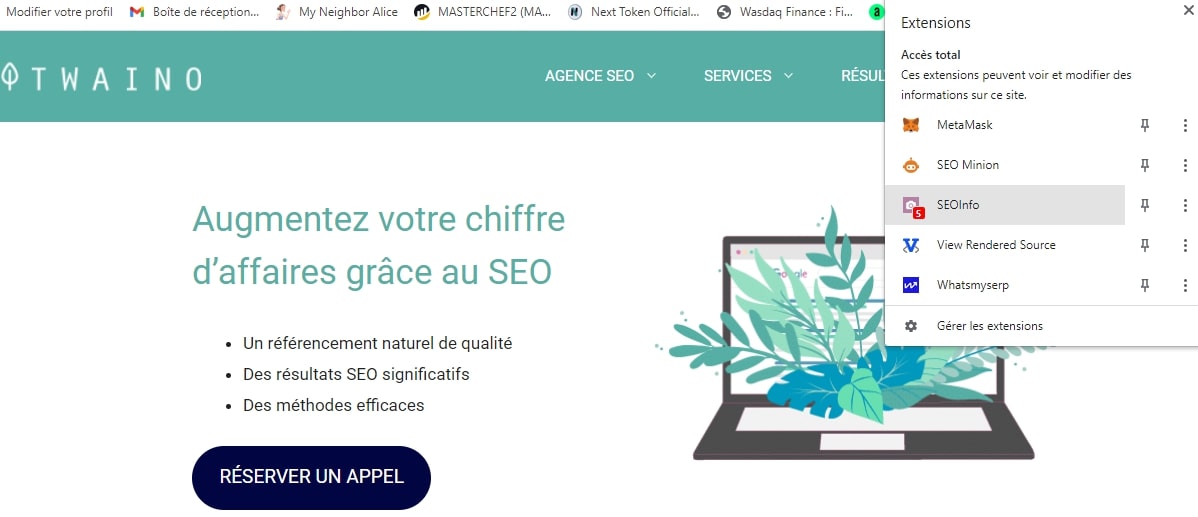 The problems detected by the extension are generally related
to: Performance data;

At the full AMP state of the page;

And to the HTML structure.
This information can be saved with a single click in another tab to be printed or saved to a file.
The features of SEOInfo
Let's discover in this section, the different features that you should be interested in this tool.
Automated checks and validation
This notation corresponds to the information that you can automatically obtain in the extension without you having clicked on anything. 
That is, it is the information that is automatically displayed when you visit a page and open the extension.
Here is the information you have access to in this case:
Core Web Vitals are a set of specific factors that Google considers important in the overall user experience of a web page. 
Core Web Vitals are made up of three specific metrics of page load speed and user interaction.
This is the first data that SEOInfo automatically presents to you on the homepage.
These are essentially:
Largest Content Painting or LCP; 

From the first FID entry delay;

And cumulative layout change or CLS.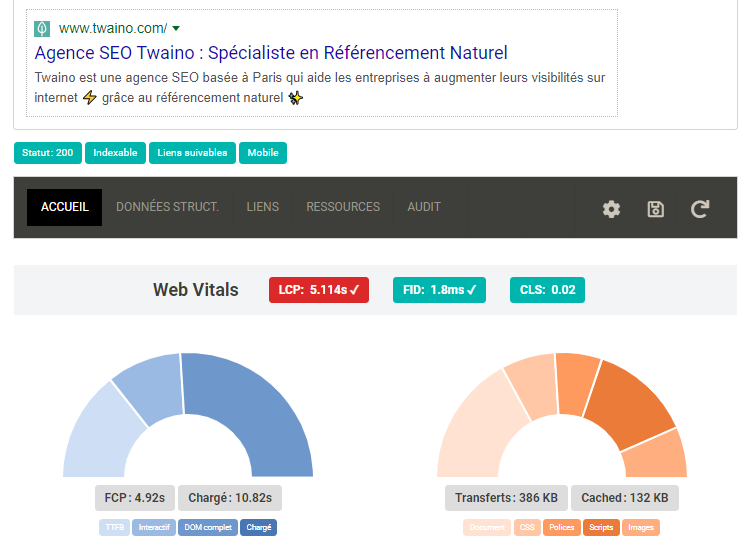 As we can see, the tool shows us the performance of the Twaino homepage.
Starting with the language in which the content of the page is written, SEOInfo shows you the number of characters that make up the page title and the meta description.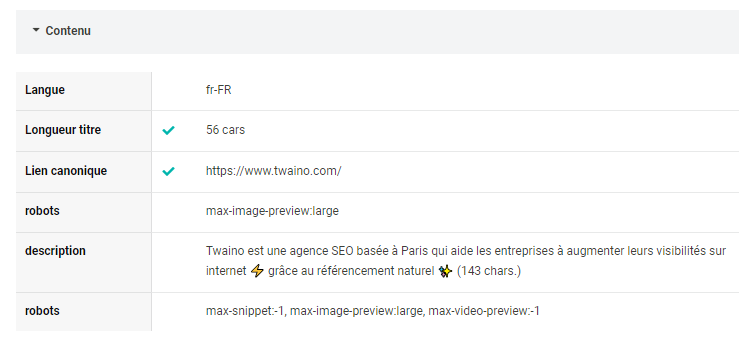 In addition, you can check if your canonical link is valid, the tool notifies you when there is an error or a redirect.
Managing crawling means that you optimize your website so that all relevant pages are crawled as often as possible.
In this case, your pages are expected to meet certain prerequisites like:
Page status which should be OK, 200;

The page must receive confirmation of indexability from search engines;

Links can be easily followed by search engine bots;

And the page should be designed to properly display content on all devices, specifically mobile.

As you can see, the homepage of Twaino can be explored without any hindrance.
Accelerated Mobile Pages Accelerated Mobile Pages
(AMP) are lightweight pages designed to give mobile users a super-fast, easier to read, and more engaging experience.
Simply put, AMP is a way to create web pages for static content.
It's a way to ensure that pages don't change based on user behavior and they can load much faster than normal HTML.

SEOInfo also allows you to check if your pages may be able to release content very quickly, even on mobile devices.
Controls and validation on demand
Here, it is a question of the functionalities that must be ordered so that they provide you with information which they have the role of sharing. 
The first interesting feature is the structured data validator of your web page.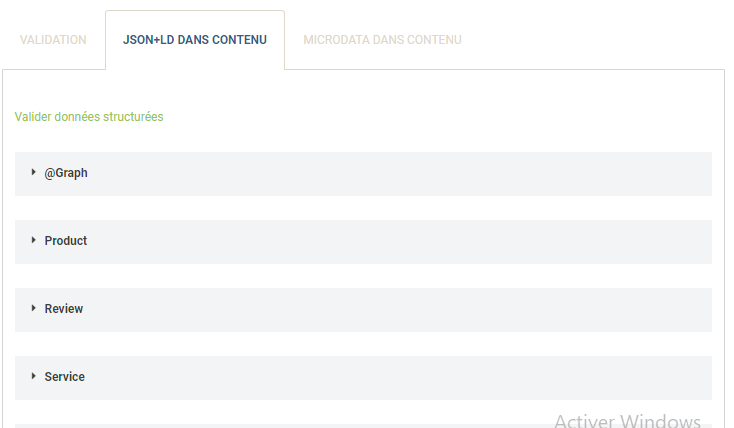 It is a function that allows you to have full control of the structural scheme of the pages of your website.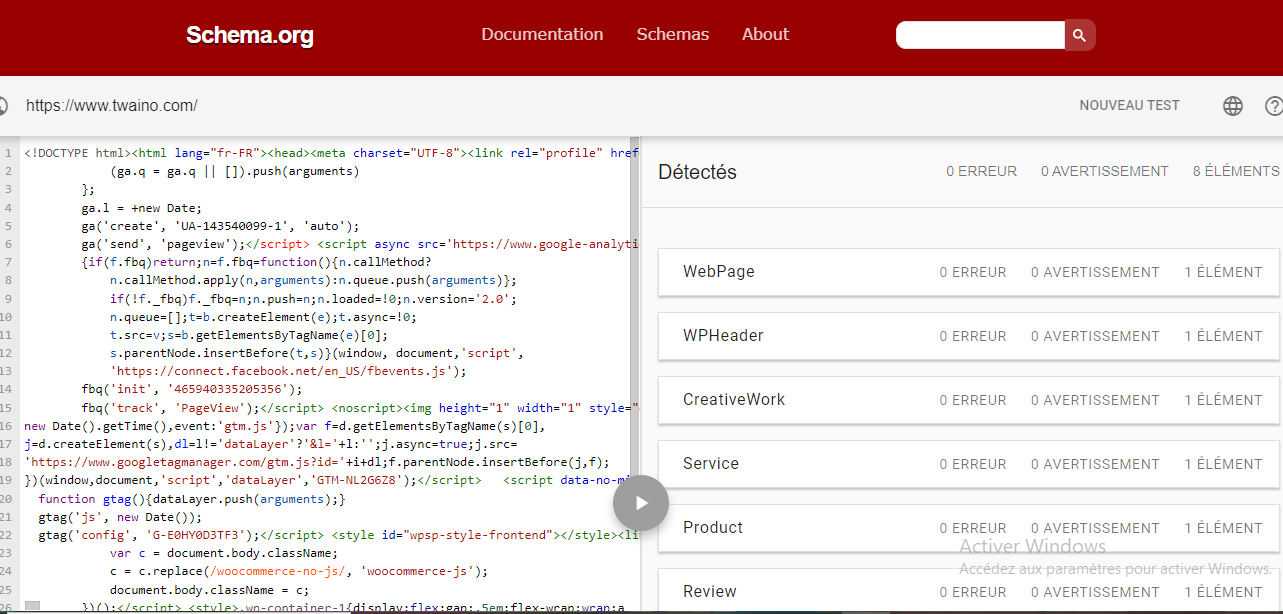 If necessary, the tool summarizes the errors related to the schema, gives you warnings if necessary and gives you advice for improvement on:
Performance; 

Accessibility; 

Best practices; 

And the SEO of the page. 
You'll get all of this in a fairly comprehensive report equivalent to that of Google's online structured data tool.
Besides, you have a nice, accurate preview of how the page appears in Google search results with:
The page title truncated per pixel; 

A breadcrumb trail;

A publication date if possible;

And your Favicon.
Another on-demand checking option allows you to check all links on the page, with:
The tracked attribute; 

The untracked attribute; 

Internal and external links;

Invalid links; 

And not HTTP.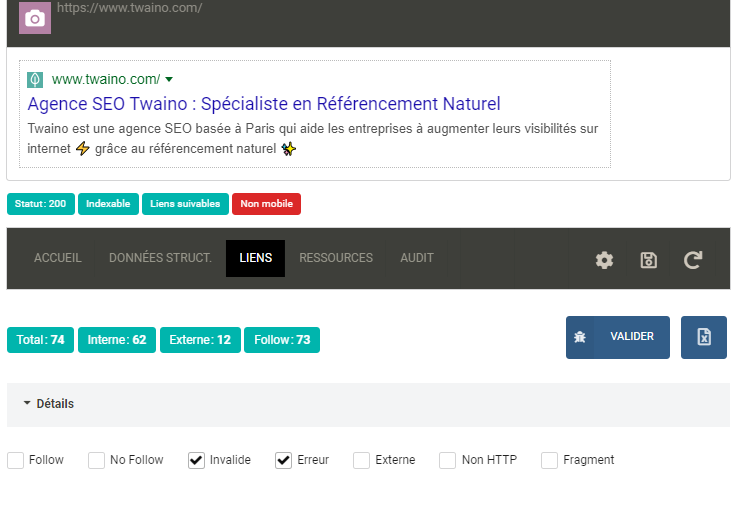 All links can be saved as Excel files with their HTTP or redirect status.
Also in the on-demand control options, you can run a mobile or desktop audit of the page in question.
The tool uses Google's PageSpeed ​​Insight API to audit the submitted page.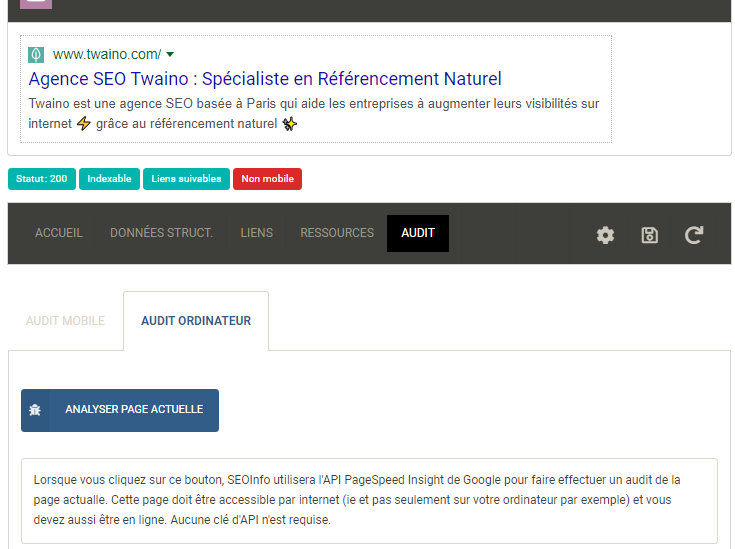 The complete audit report can be saved in a different tab with just one click and then printed.
To do this, you just have to click on the icon in the middle left of the black bar that appears directly at the top.

If you need to keep your web pages under surveillance, SEOInfo is an impeccable solution that you can use.
Not only does it alert you to problems related to the SEO of your pages, but it also gives you improvement tips to correct imbalances.
Videos : Alerts SEO Technical Errors
Images : Alerts SEO Technical Errors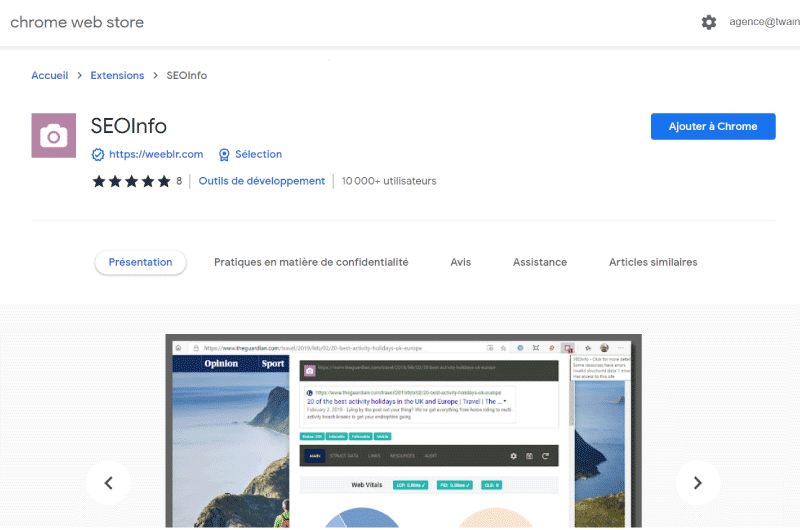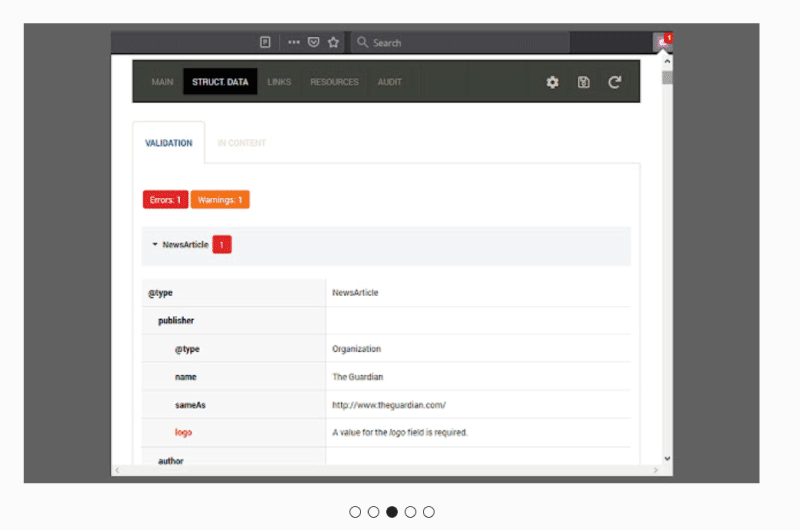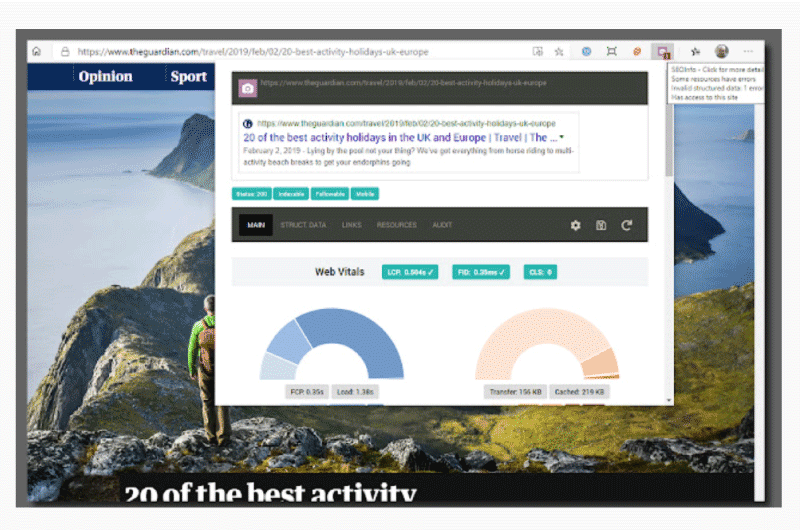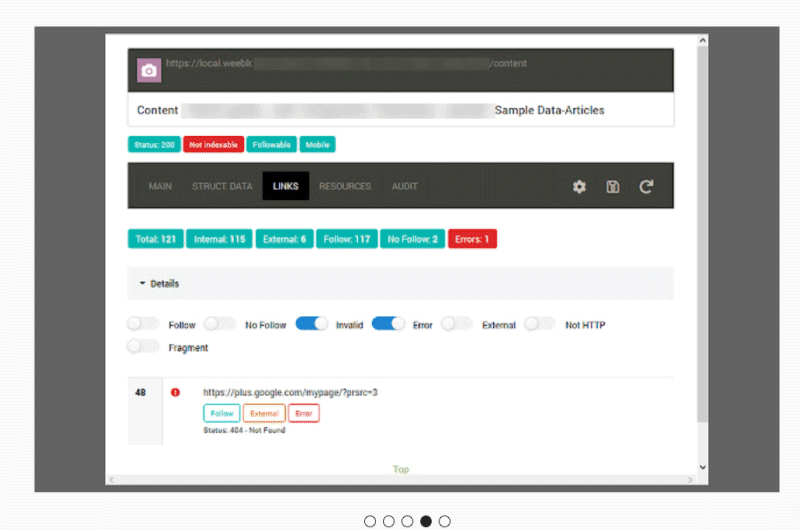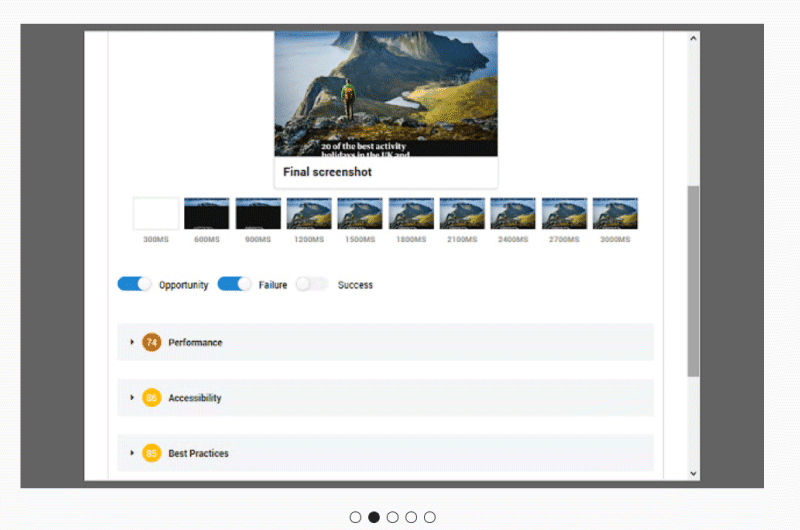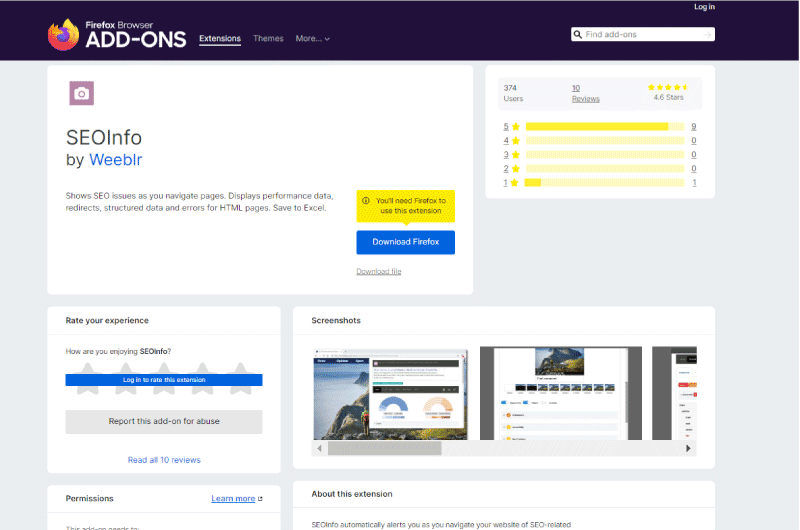 Company : Alerts SEO Technical Errors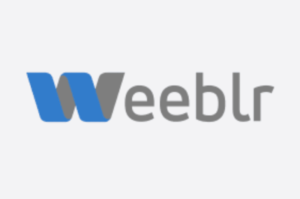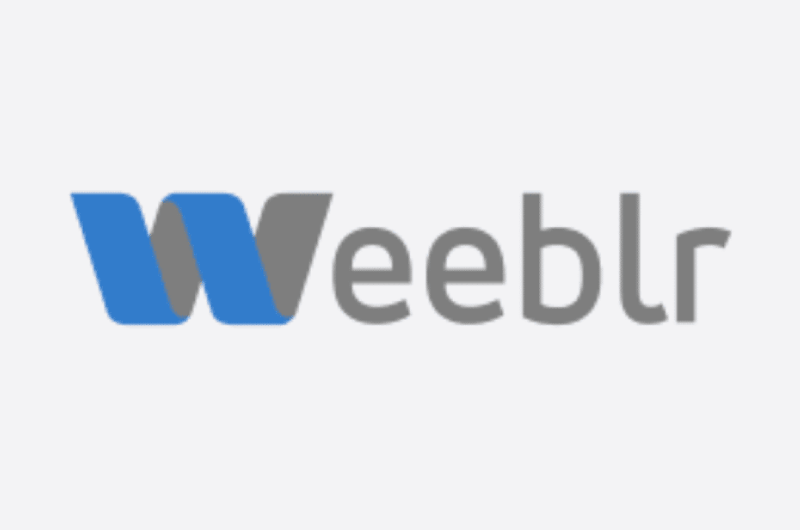 Weeblr is a platform created in 2011 by Yannick Gaultier. The latter is a Web enthusiast and has developed enough open source projects, most of which relate to SEO.
Weeblr specializes in publishing articles in general, and also, since 2016, in providing WordPress plugins. Recently, Weeblr released a new set of Joomla extensions, along with four SEO tools and an all-in-one modern SEO extension.
Weeblr makes it possible, thanks to its articles, to inform the Geek community of the novelties of the Web. She has several subscribers around the world, who follow and comment on her publications. 
In addition, Weeblr has leaned since its inception on the assets of sh404SEF and wbAMP through the development and sale of digital products.
Weeblr's plugins can be viewed on its second site, exclusively dedicated to plugins. These include the Weeblrpress site, which was designed for this specific purpose. 
Contact : Alerts SEO Technical Errors
Social Media : Alerts SEO Technical Errors
Others Tools : Alerts SEO Technical Errors
Alexandre MAROTEL
Founder of the SEO agency Twaino, Alexandre Marotel is passionate about SEO and generating traffic on the internet. He is the author of numerous publications, and has a Youtube channel which aims to help entrepreneurs create their websites and be better referenced in Google.