Short description : SEO for Joomla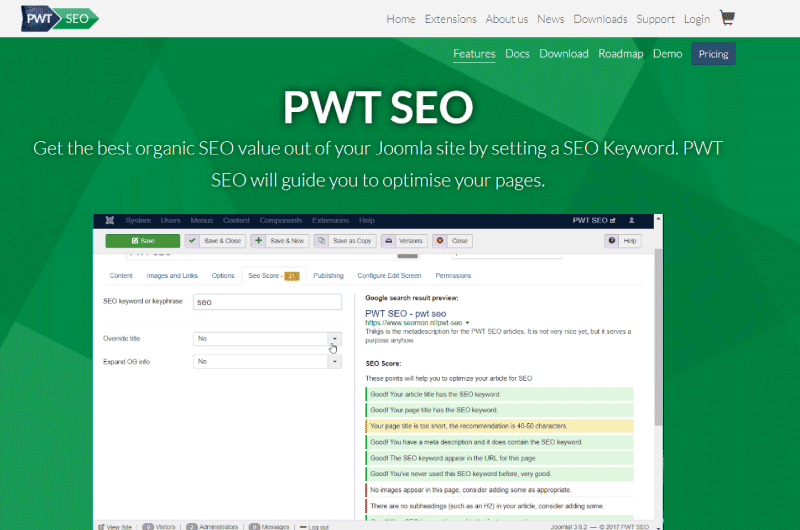 Get the best organic SEO value from your Joomla site by defining an SEO keyword. PWT SEO will guide you to optimize your pages.
Long Description : SEO for Joomla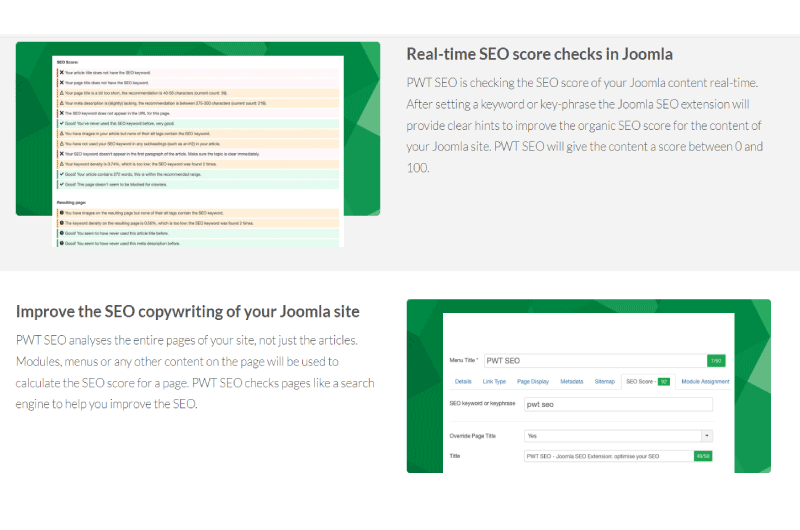 PWT SEO
On-page SEO is one of the main factors for success online and your ability to align your content with user needs matters a lot.
It's about matching your content to the keywords people search for online by placing those words strategically on your site.
On Joomla sites, the PWT SEO extension analyzes the potential of your content and tells you if it is correctly formatted so that Google considers it relevant for queries.
Unlike other tools, PWT SEO is directly integrated into the Joomla edit page and offers recommendations to suit you for SEO.
It also offers some interesting features that I invite you to discover in this description.
What is PWT SEO?
PWT SEO is a Joomla extension to help you while editing and optimizing your content. It operates directly in the Joomla article, which means there is no need to change your workflow, it just improves it.
This is because you don't need to switch tabs before activating this extension, it works from your post edit page.
If there are such extensions on other CMS like WordPress, there is nothing for Joomla, hence the interest in taking an interest in PWT SEO.
The first thing to do when you want to start using PWT SEO is to subscribe and install the extension.
It activates automatically so you can just go straight to your articles. At first glance, PWT SEO may go unnoticed, but now there is a new tab on the article page called SEO Score.
Once you have defined a keyword or keyphrase, PWT SEO calculates your SEO score.
Depending on the keywords you inserted, you will get points if you use that keyword in strategic parts of your article, including page title, meta description, text, headings, etc.
PWT SEO also offers other features like URLs and supports HTML tags.
Although it looks similar to SH404SEF and JoomSEF, it is a completely different extension which provides a detailed overview of your Joomla site.
The features of PWT SEO
Let's discover in this part the features of PWT SEO.
Keyword or phrase for SEO
This functionality is the most important field and deserves to be filled with a lot of attention. Each of your articles revolves around a unique keyword that you must put in place to have recommendations.
But when you try to configure a keyword that is already in use, PWT SEO warns you about this. It is essential to think carefully about the choice of your keyword, making sure that it corresponds to the article you are going to write.
Google PWT SEO Search Results Preview
first shows you a visual representation of how the page should appear in Google, including things like: page title, meta description, and URL.
Indeed, each of these elements has a limited number of characters to respect, at the risk of not being displayed correctly on the search pages.
For example, the title has a maximum number of 55 characters while the meta description is limited to 150. When search engines believe that your parameters are not correctly related to the text, they may display your site differently.
Replace title
PWT SEO provides a button to replace the page title. When you toggle No, the page title is displayed as decided by Joomla.
It is often derived from the title of your article, the menu or even the Title field of the browser page.
But when you toggle Yes, PWT just overrides all those values ​​and uses the one you configured.
Expand OG Information
When you choose Yes, PWT SEO gives you access to other specific settings for your article so that open graph information is generated for your social media channels.
But when you leave the field on No, no graph will be generated automatically. PWT SEO also offers advanced settings that will allow you to use fully customized meta tags instead of the default fields.
SEO Score
As mentioned earlier, SEO Score provides information about the quality of content in terms of SEO. Thus, you simply receive instructions to improve your content.
Following the instructions by making corrections to your text will update the score automatically according to the interval defined in the extension settings.
Dashboard overview
The PWT SEO dashboard briefly shows the main information about your articles. For example, you have an overview of articles with matching keywords and SEO scores.
It can be accessed at Components >> PWT SEO >> Articles.
From this tab, you can start editing content directly by clicking on it. It is ultra practical in the sense that your content is directly accessible and you immediately have an idea of ​​the content you need to improve.
SEO checks for any URL
Using the "Custom URL" option of PWT SEO, it is possible to analyze the SEO score of any URL in your Joomla site.
When you enter the page URL and set a keyword, PWT SEO crawls your page like a search engine and informs you of its SEO potential and any corrections.
It is particularly suitable for content without a menu item or generated by third-party Joomla extensions.
Checks for Joomla Menu Items
The same SEO Score tab we described earlier is available for menu items. Like content, set a keyword for the menu item and PWT SEO calculates the page score.
The menu type of the page is not really important, because the extension shows this tab for any menu item, even for third-party Joomla extensions.
What are the PWT SEO requirements?
PWT SEO is an extension compatible with Joomla 3.8 or higher and Joomla 4. It also works with PHP 7.2 + or 8 PHP are supported.
If your site is not up to date, it is recommended to update it so that you can install PWT SEO and enjoy its benefits.
In short, PWT SEO takes care of the on-page SEO on your site and analyzes your content in depth to tell you what is needed to fix it.
It gets regular updates and new features are added every time.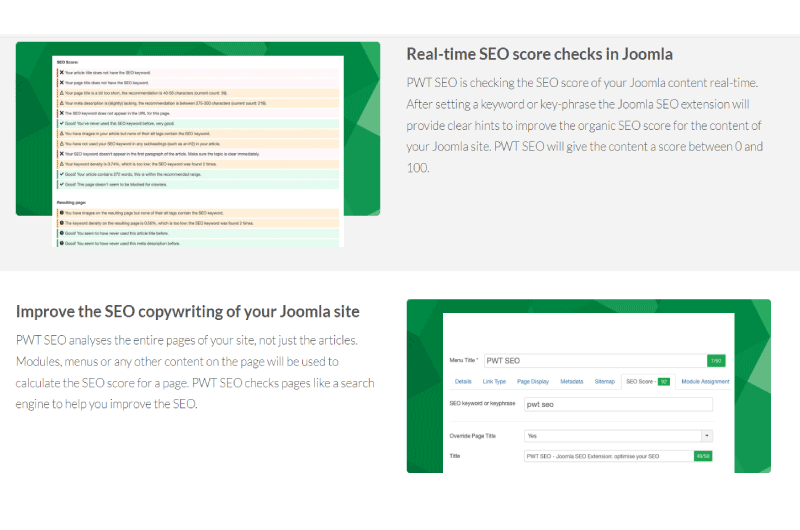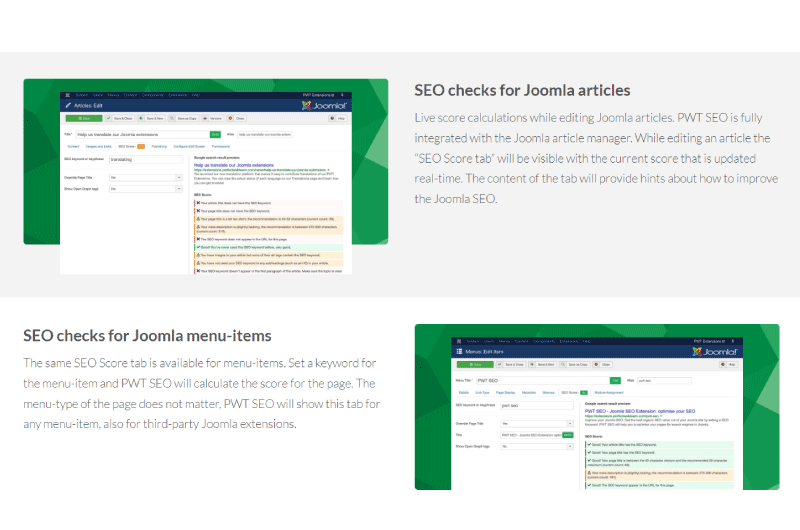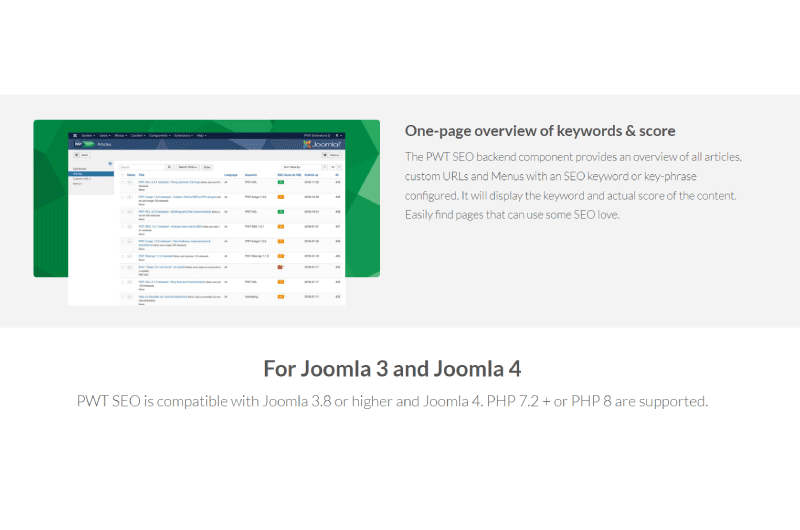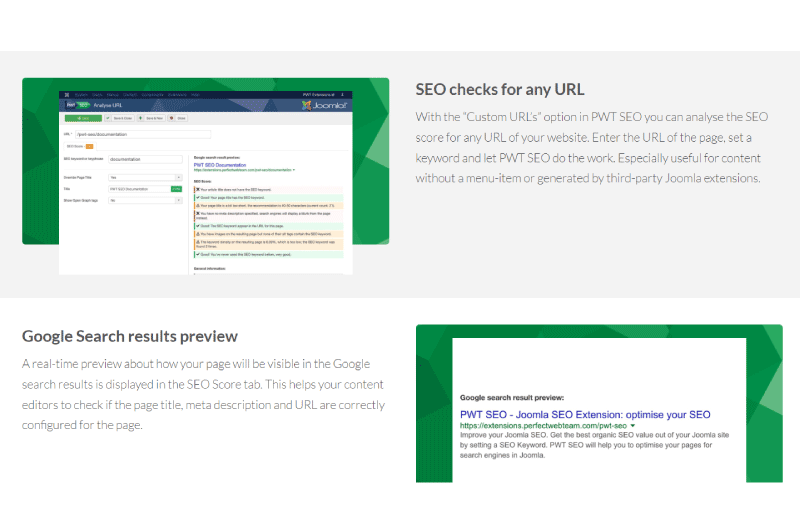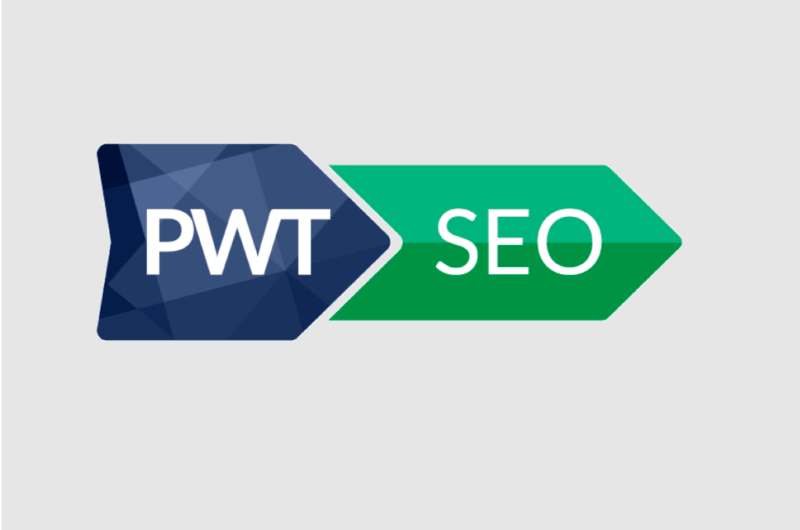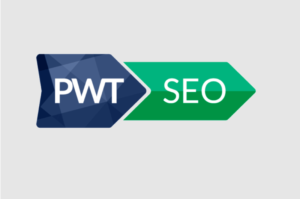 PWT SEO is an extension of PWT Extensions developed by the Perfect Web Team of Joomla. It helps its users to better optimize their Joomla pages for better SEO. 
PWT SEO relies in particular on the search for SEO keywords, in order to facilitate SEO and a better ranking of Joomla pages.
It also allows to:
Do ​​SEO verification for Joomla articles;

Check Joomla menu items;

Check URLs;

Preview Google search results;

Suggest keywords for Joomla pages.
PWT SEO is a popular extension for developers and marketing companies.
Social Media : SEO for Joomla
Others Tools : SEO for Joomla
Alexandre MAROTEL
Founder of the SEO agency Twaino, Alexandre Marotel is passionate about SEO and generating traffic on the internet. He is the author of numerous publications, and has a Youtube channel which aims to help entrepreneurs create their websites and be better referenced in Google.