SEO Doctor | Shopify App Store (Plugin)
Short description : SEO Doctor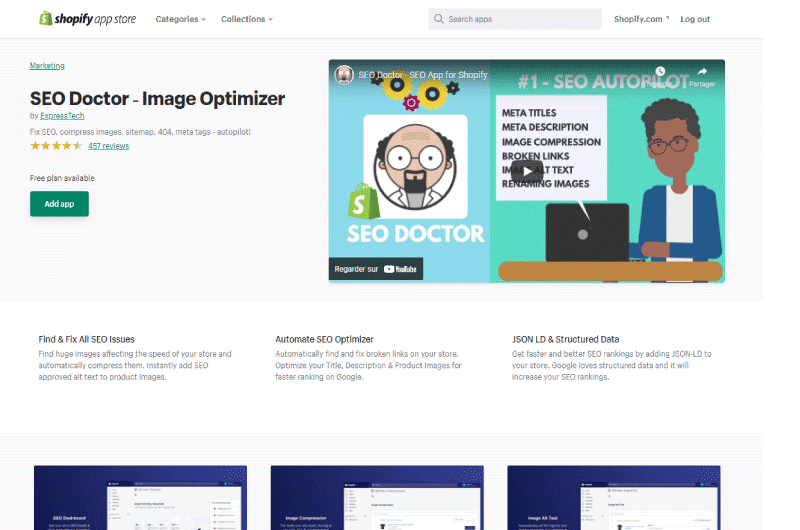 Fix your SEO, improve your rankings, get free traffic and sell more.
Long Description : SEO Doctor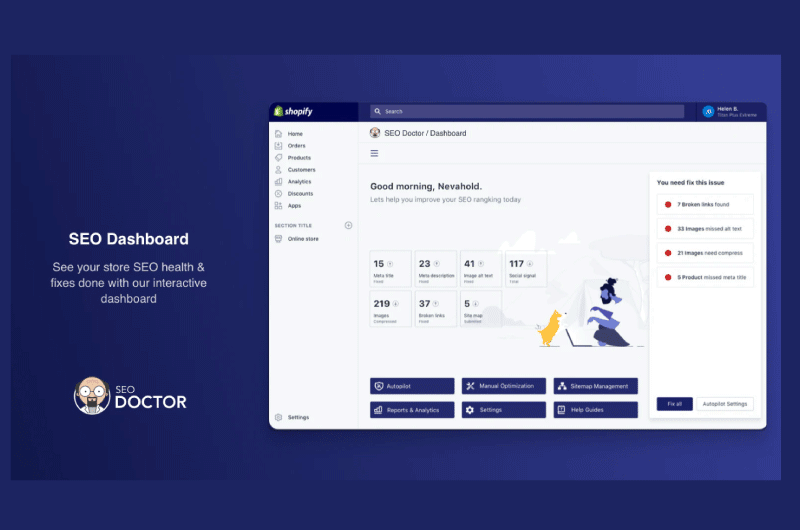 SEO Doctor Image Optimizer
One of the problems faced by Shopify store owners is the plurality of applications.
While these apps serve different purposes, installing a large number can slow down your site speed, not to mention the time it takes to get started and manipulate each one.
For example, there are many SEO apps, but these apps actually deal with the specific aspects of SEO. Thus, we find applications for image optimization, audits, product page optimization…
SEO Doctor Image Optimizer is one of those rare applications that combines all these features at once and takes care of all of them. aspects of SEO for a Shopify store.
Through this description, we discover SEO Doctor Image Optimizer and these multiple functions for optimizing a Shopify store.
What is SEO Doctor – Image Optimizer?
SEO Doctor Image Optimizer is a Shopify application that can detect SEO errors on your online store as well as find large images that are hurting your site speed.
Using this application, you will be able to correct these errors on your site and increase its SEO potential.
It is the same for your images, the tool identifies and compresses the largest ones automatically, so that you no longer need to intervene.
By doing so, you optimize the loading speed of your store, which is also beneficial for SEO and for the user experience.
Indeed, the longer a page takes to display, the more likely visitors are to close the tab and visit another more user-friendly store.
That's what the statistics show,
53%
of mobile site visitors leave a page when it takes more than three seconds to load.
Additionally, if an e-commerce site loads slower than expected, more
45%
of people admit they are less likely to make a purchase.
In addition, Google promotes the fastest pages and it is these which obtain better rankings in the SERPs.
It is estimated that a single second delay in the page load time of a website reduces the number of page views by
11%
.
These are all statistics that show the need to use SEO Doctor Image Optimizer to improve the performance of your site in terms of speed.
The app also helps fix broken links on your site to reduce the bounce rate and allow search engines to crawl the correct pages on your site.
You can also use it to make your site mobile-friendly, create your sitemap and set up structured data to control how Google displays your site's information in the SERPs.
SEO Doctor Image Optimizer boasts of being one of the few extensions that can fix SEO issues automatically on an online store.
The main advantage is that it offers a free plan that allows you to use many of these features for free. 
However, it only gives access to manual features, which is quite interesting to optimize your store properly.
In particular, you can audit your store or a specific page. It will present all the key areas for improvement with recommendations on how to improve them.
Now all you have to do is implement the suggestions and tips on your store. 
Features of SEO Doctor Image Optimizer
Now let's review the features of SEO Doctor Image Optimizer.
Meta Tags
SEO Doctor Image Optimizer allows you to correct meta tags including titles and meta descriptions of your pages. Indeed, meta tags are important to allow search engines to understand your content.
They also allow visitors to know the content of your page in order to decide whether they should visit it or not. This is why all products on a website must have meta tags in place.
However, it's not always easy for stores that carry multiple products to track each one to see if the meta tags are in place.
The SEO Doctor Image Optimizer extension allows you to find those products that have no title or meta description first and will help you fix this problem.
Alt Image tags to optimize your images
Images have an essential role on your store, because they capture the attention of visitors.
Also, in a context where the search for images arouses a lot of interest, it is important to optimize your images by adding alt tags and improving their loading speed.
From SEO Doctor Image Optimizer, you can identify your images that do not have the alt tag and add them to increase their SEO potential.
Compress the images
The compression of the images is to reduce the weight of the images without losing quality, which makes it possible to have lighter images.
This extension will allow you to perform this operation automatically for all images with a large volume on your site.
Renaming images
Properly naming your images is important for SEO, as it improves their understanding by search engines.
This tool will allow you to find your images that do not have an appropriate name in order to correct them.
Website Speed ​​Booster
As we demonstrated earlier, loading speed is a crucial element for your online store and you cannot neglect it.
SEO Doctor Image Optimizer determines which elements are making your store slower and gives you recommendations on how to optimize them to load faster.
Real-time tracking of 404 errors
The best way to protect against a high bounce rate on your online store is to monitor broken links, especially 404 errors
. automatically in order to correct them immediately.
Fixing 404 errors
The app offers several solutions to fix broken links on your store, including product or category pages that no longer exist.
This will involve setting up the appropriate redirects or blocking access to these non-functional pages to search engines. The application will be able to give you suggestions on the appropriate approach to correct these errors.
Sitemap Submission
SEO Doctor Image Optimizer will allow you to generate your store's sitemap and submit it to Google.
Indeed, the crawlers first consult this file on your site in order to know how they can browse its resources. This is why you must submit an up-to-date sitemap to Google.
Integration of Google webmaster tools (Google Search Console)
SEO Doctor Image Optimizer integrates Google's analysis tools to allow you to have all your data together to carry out an in-depth site examination.
The availability of all the data allows you to have an audit that reflects the reality of your online store.
Support for Google Knowledge Graph and Rich Snippets
This extension supports Rich Snippets and you can use this feature to make your pages eligible for position zero.
In fact, when Google finds that the snippets of certain pages are relevant to the queries of its users, it displays them directly on its results page above the SERPs.
The advantage of appearing in this position is that it generates clicks and when your pages do not appear in the first results, they can still appear in a privileged position.
Support for JSON LD data
Also known as structured data, JSON LD data is content tags that help search engines understand and rank the content of a website.
SEO Doctor Image Optimizer will allow you to set up these pages on your store to improve your performance in the SERPs.
Google Page Speed
​​integration The extension integrates Google's famous site speed checker, which will allow you to check the loading time of your pages often without having to leave the extension.
Google Mobile-Friendly
SEO Doctor test Image Optimizer also integrates the tool for checking the adaptation of a site on mobile. You can also check if your site is mobile friendly, especially if your images are responsive.
SEO Doctor Image Optimizer is a particularly useful extension for Shopify site owners that allows you to optimize both the SEO of your product pages and the images present on your store.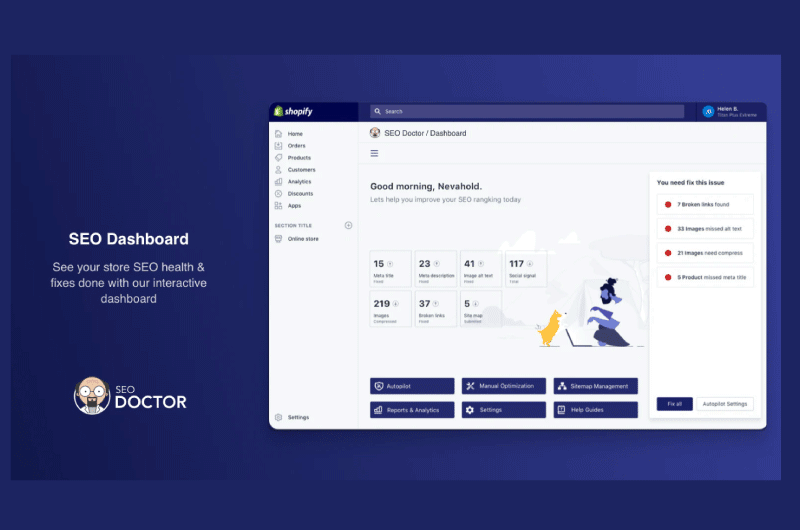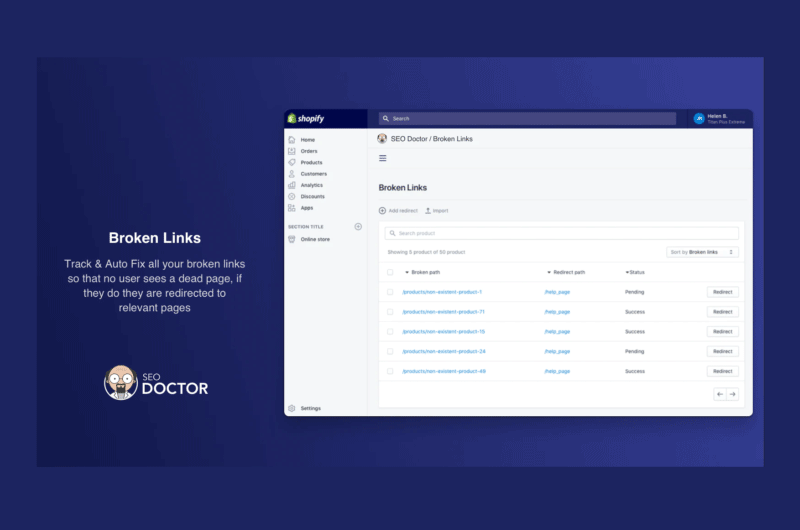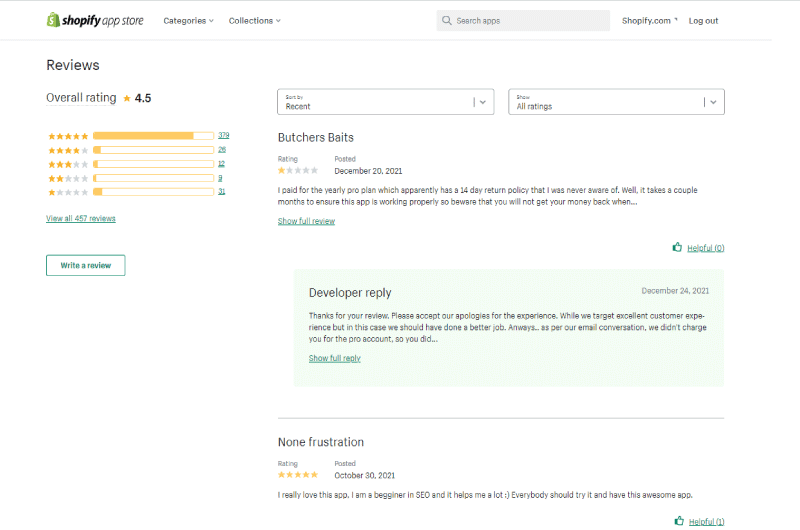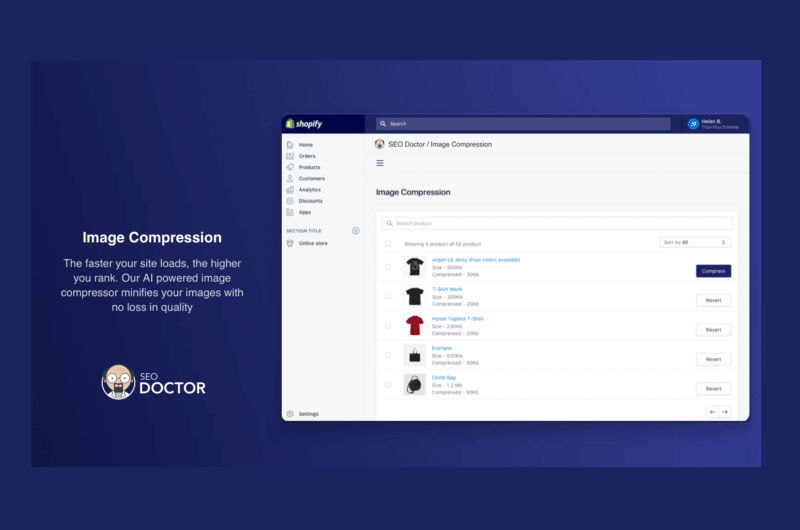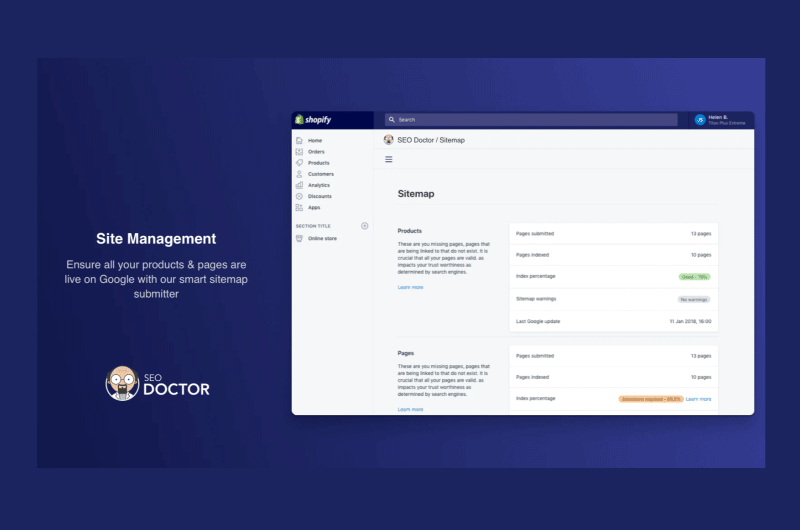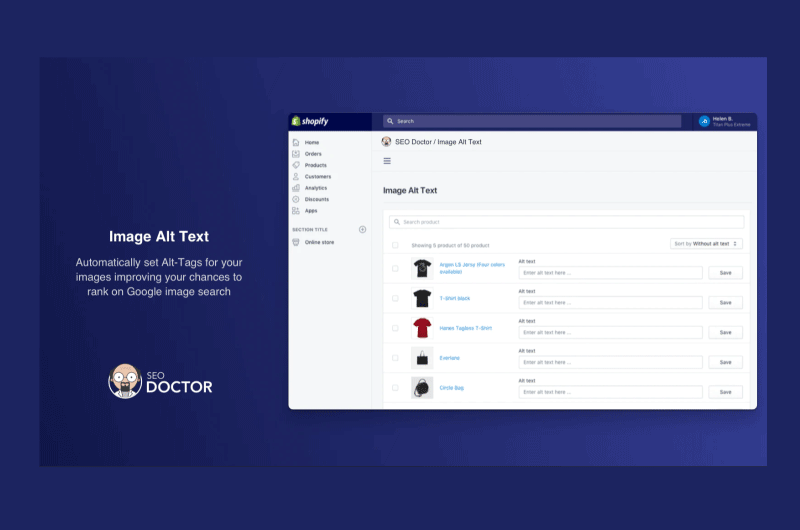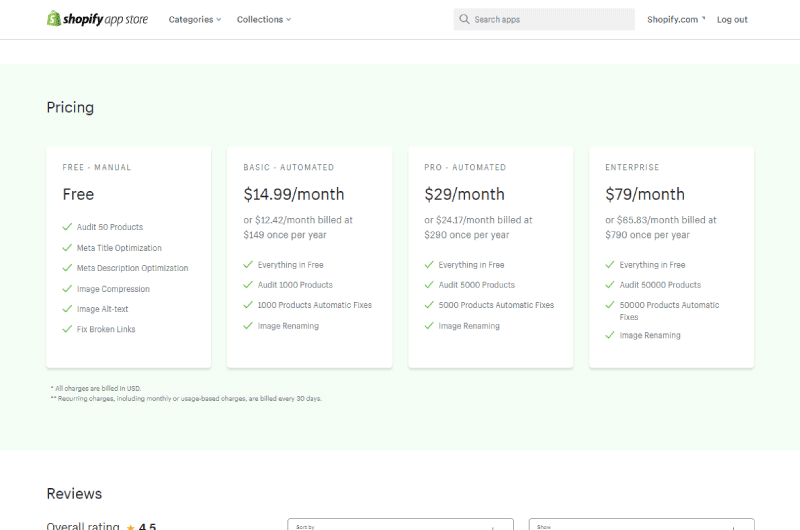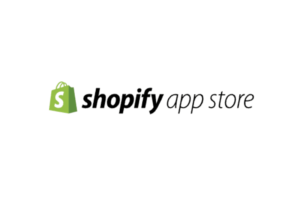 Shopify is an online platform created in 2009 in Canada that has powerful tools for creating and managing an e-commerce site. The platform aims to help the seller find customers and boost his sales while allowing him to manage his daily tasks well.
In a few clicks, the seller can create his e-commerce store to allow his physical store to be positioned on the Internet.
Shopify makes many free and paid apps available to these stores through its
Shopify app store
.
These applications are of all kinds and allow:
The presentation of the product, its price, the order options;
Marketing (SEO referencing,

advertising) ;

Inventory management, orders and order processing. the proposal of solutions or shipping methods.

Customer management and security of your sales site.
Some applications that shopify app store offers to its merchants: 
Facebook channel;

SEO plugin;

Shop channel;

Product customizer.
Social Media : SEO Doctor
Others Tools : SEO Doctor
Alexandre MAROTEL
Founder of the SEO agency Twaino, Alexandre Marotel is passionate about SEO and generating traffic on the internet. He is the author of numerous publications, and has a Youtube channel which aims to help entrepreneurs create their websites and be better referenced in Google.