Image Optimization | SEO Image
Short description : Image Optimization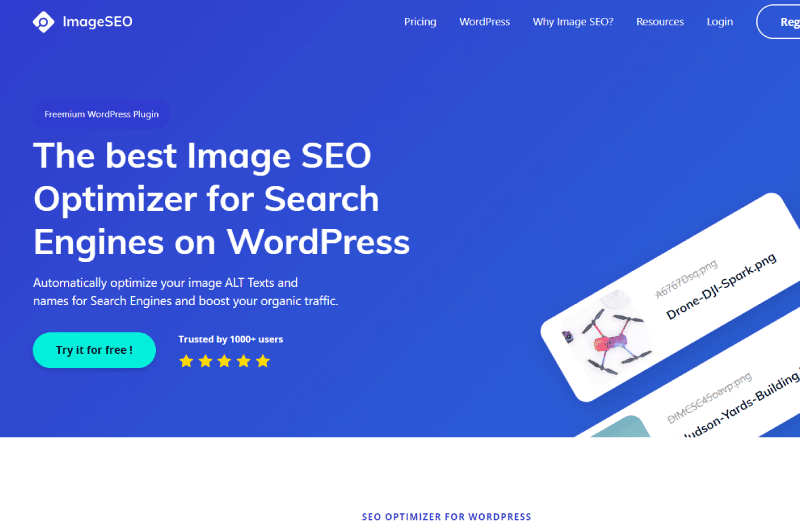 ImageSEO is a freemium plugin for WordPress designed to optimize all your images for search engines and networks in one click.
Long Description : Image Optimization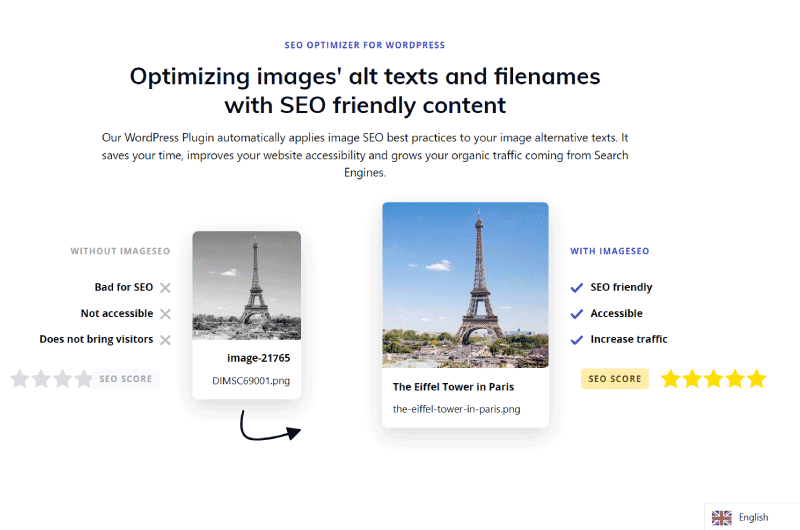 Description ImageSEO
ImageSEO is a WordPress
Made In France
that offers several features for optimizing images for search engines. Equipped with Artificial Intelligence, ImageSEO is able to generate titles, filenames and complete ALT tags of all your images with a single click. 
The extension also offers an Open Graph tag builder for engaging social media posts and WooCommerce filters for eCommerce sites. ImageSEO also offers integration possibilities via API to allow all those who do not use WordPress to also benefit from the tool. 
What is ImageSEO? 
ImageSEO is an extension designed to optimize images on a website or blog for search engines. It must be recognized that there are many plugins of this kind, but ImageSEO wants to be different. 
Most of the other plugins available on WordPress focus on image compression. This is obviously an important factor, but not only. 
Better image optimization also involves optimizing image alt text and filenames. 
https://www.twaino.com/definition/i/image-seo/
At the same time, it is no longer a secret for anyone. Almost all WordPress users consistently add ALT text to their images. But, there may be instances of omission or irrelevant ALT text. 
This is where Image SEO comes in handy. The extension is powered by Artificial Intelligence and uses machine learning technology to automatically assign a filename, title, and alt text to an image.  
Concretely, when uploading an image to your website, the plugin saves you from manually filling in these different fields. The extension does this automatically for you. 
ImageSEO also offers a bulk optimization feature that automatically generates these SEO attributes for all images in your gallery with just a few clicks. 
ImageSEO is also a builder to customize Open Graph tags on your content and enhance their displays on social networks. This can significantly improve the click-through rate of your posts. 
For e-commerce stores, ImageSEO also offers filters adapted to WooCommerce. 
ImageSEO: The features of the 
ImageSEO extension has several features to improve the optimization of your images for search engines, namely: 
1. Bulk SEO 
optimization The optimization of images, although it is an important factor in ranking your site on search engines, can also be a bit of a tedious task, especially if you have a large number of images to optimize. 
ImageSEO allows you to group all the images present in your WordPress library and launch their optimization with a single click. 
Source:
ImageSEO
The tool will then take care of automatically assigning a title, a file name and a relevant ALT tag for all images. This will save you valuable money. 
2. Optimizing image ALT texts and filenames during upload
Sometimes it may not be necessary to bulk optimize all the images in your gallery.
Source:
ImageSEO
ImageSEO also offers you the possibility to optimize your images only during the upload. This can be useful for journalists and bloggers who are called upon to publish image content on a regular basis.  
3. Multilingual Optimization 
For those who want a clientele abroad, ImageSEO also offers a multilingual optimization feature. ALT texts and image file names can be generated in several languages ​​namely: 
English

German

French

Spanish

Italian

And much more. 
 However, remember that this feature is only available to premium ImageSEO users. 
4. An ImageSEO keyword
generator is also a keyword generator to generate ideas for keywords to insert into your existing content.
Source:
ImageSEO
From the information collected on your images, the ImageSEO algorithm is able to generate a list of associated terms and expressions to enrich your semantic field.  
5. Optimizing your images for Pinterest 
Pinterest is a bustling social network with over 442 million active users. This represents an additional source of traffic large enough not to be ignored. 
Source:
ImageSEO
With ImageSEO, you can also optimize your images for Pinterest. For any image you want to share on Pinterest, ImageSEO gives you the option to add a description, URL, ID, etc. to your post. 
6. Generate Social Media Preview Cards 
A comprehensive SEO strategy must also take into account social media optimization due to the ever-increasing number of followers. 
Except that without an attractive presentation, there is little chance that you will take advantage of the entire community present on these networks to improve your traffic. 
Source:
ImageSEO
ImageSEO allows you to create stunning preview cards that can be shared on the most followed social networks such as Facebook, LinkedIn and Twitter. 
Source:
ImageSEO
ImageSEO: APIs to use the tool even outside of WordPress
A priori, Image is a plugin for WordPress, but for users of other CMS or who do not use any CMS, it is still possible to take advantage of the features of ImageSEO. 
The tool is also compatible with other CMS and other website creation solutions. 
Consult the
official ImageSEO API documentation
to find the best way to connect the tool to your website. 
ImageSEO: Everything you can (and can't) do with the tool 
What you can do with ImageSEO
Automatically generate and optimize alt text for your images on upload 

Automatically generate and optimize alt text for multiple images at once times  

Automatically generate and optimize an image filename for one image on upload 

Automatically generate and optimize image filenames for multiple images at once 

Manually rewrite filenames and alt texts for your images

Check the number of ALT texts missing on every page or across your entire website

Create stunning social cards shareable on social media (Facebook, Twitter, LinkedIn)

Create and customize Pinterest attributes (description, URL, ID, Media) for your images 
What you can't do with ImageSEO
Compress the size of your images
ImageSEO: How to get started with the tool? 
To start with ImageSEO: 
Go to the

Register page of ImageSEO

to create an account and obtain an API key for free

Return to WordPress then enter the API key previously copied and validate. 
You can then start optimizing your images with the features of the ImageSEO extension. 
ImageSEO: Who is the tool for? 
If you publish images on a website, this extension can be useful to you, especially if you are a digital agency or an e-commerce store owner. 
ImageSEO: Pricing 
ImageSEO is a freemium solution, ie it is available in a free version and a paid version (from €4.99).
Learn more. 
Videos : Image Optimization
Images : Image Optimization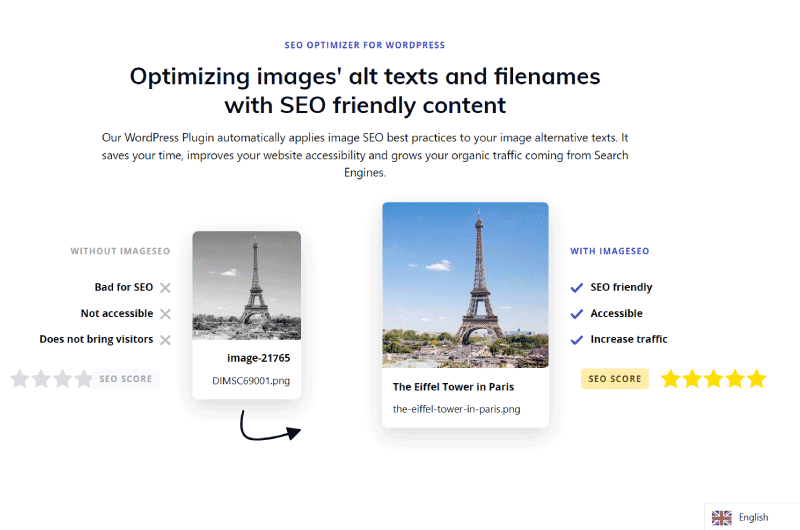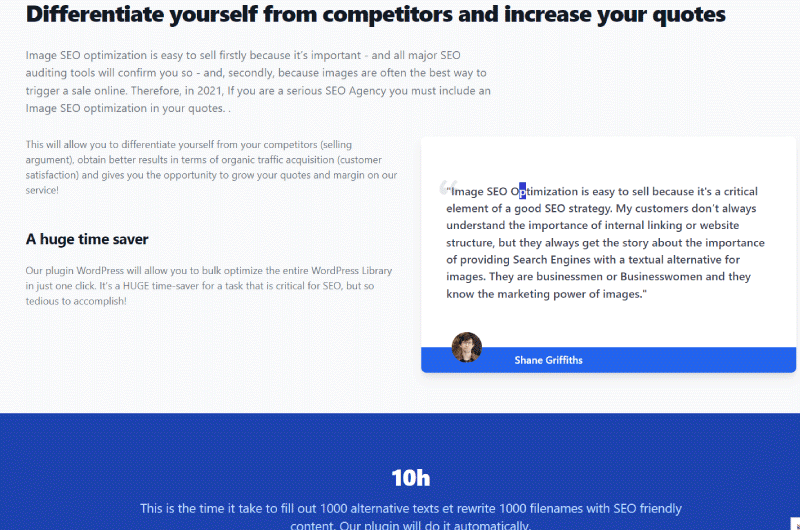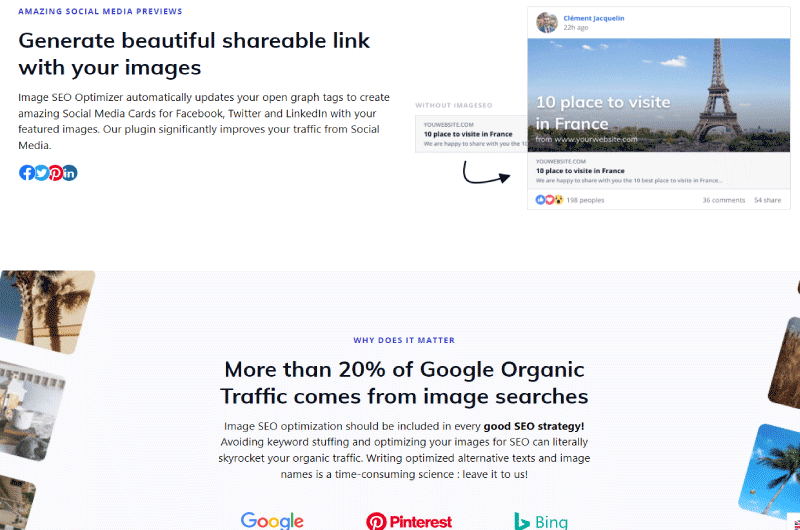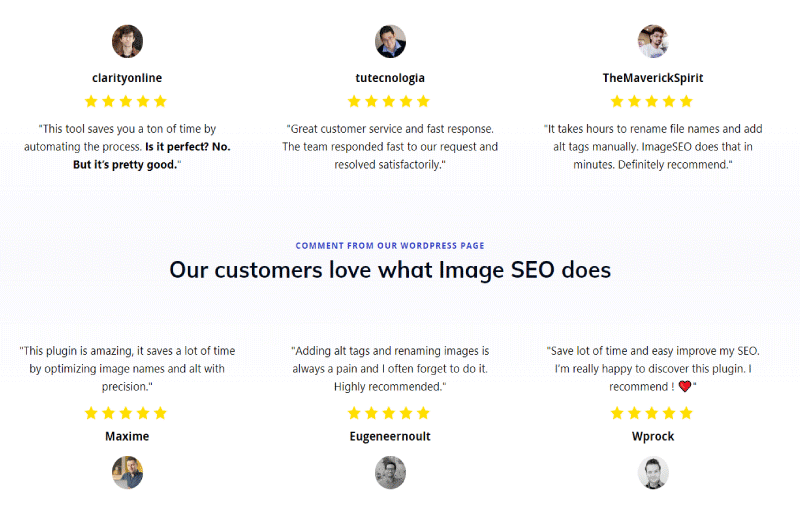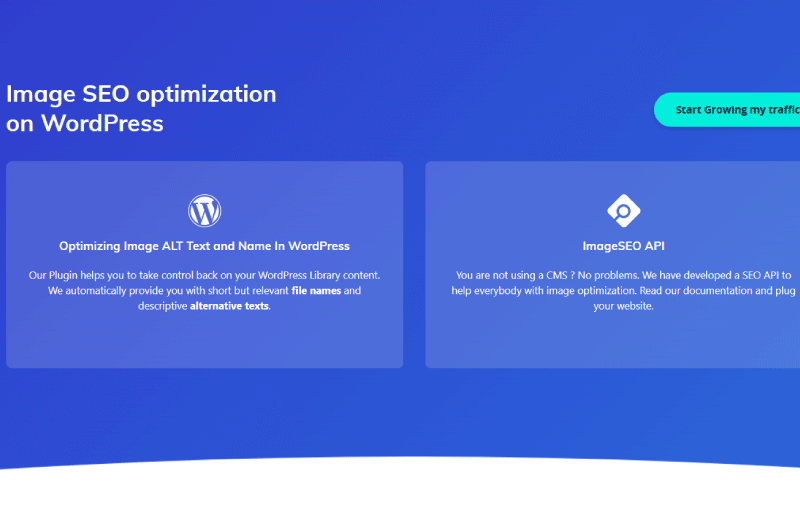 Company : Image Optimization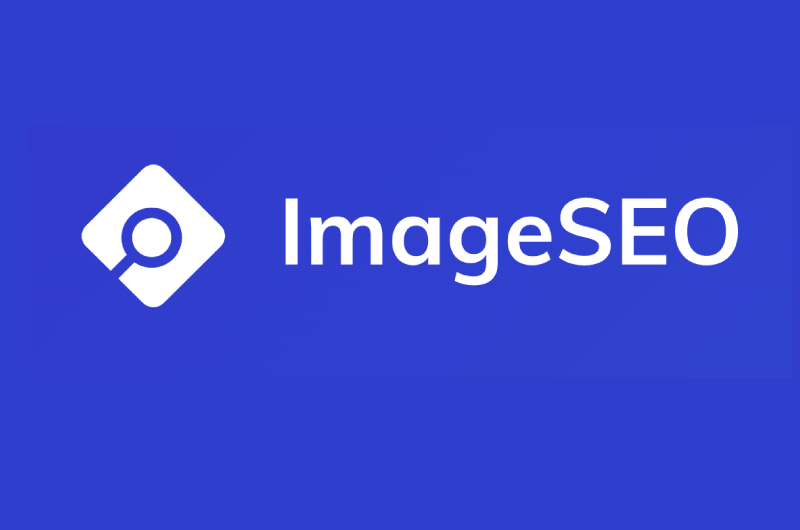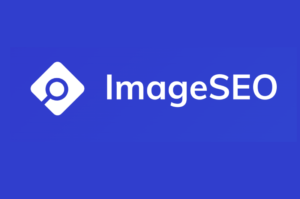 Images SEO is a French company whose social establishment is domiciled in Lyon. It is developed by Thomas Deneulin and Aurelio Volle.
Image SEO is a free WordPress plugin that automatically optimizes the texts and ALT names of images integrated into the content of your sites for search engines.
Thus, the tool allows you to boost your organic traffic from the optimization of your images. Apart from the organic traffic that Image SEO allows you to generate, it facilitates accessibility to the pages of your website.
In summary, the Image SEO tool allows you to:
optimize SEO for WordPress;

increase your organic traffic using social media;

generate links that you can share.
Contact : Image Optimization
Social Media : Image Optimization
Others Tools : Image Optimization
Alexandre MAROTEL
Founder of the SEO agency Twaino, Alexandre Marotel is passionate about SEO and generating traffic on the internet. He is the author of numerous publications, and has a Youtube channel which aims to help entrepreneurs create their websites and be better referenced in Google.