Reporting SEO | SEO Report Card
Short description : Reporting SEO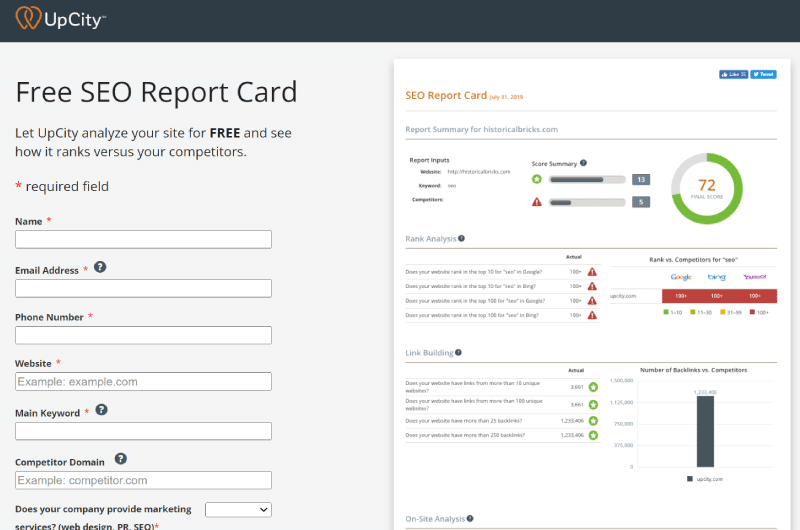 UpCity SEO Report Card is essential SEO software that helps businesses with an online presence optimize their website for search.
Long Description : Reporting SEO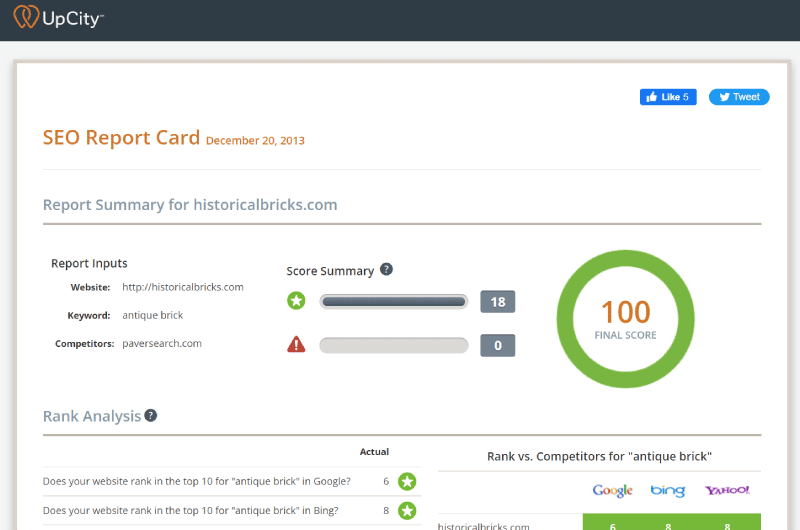 Description UpCity SEO Report Card
Having a website is essential for any physical or non-physical business.
However, it is even more important to understand how your website performs and its ranking abilities on search engine results pages.
For this, UpCity SEO Report Card allows you to access certain information you need to improve your visibility on the internet.
If you want to understand how this tool works, I invite you to read this description until the end.
UpCity SEO Report Card presents reports filled with relevant data for your website followed by recommendations and tips for improvement.
These reports are extracted free of charge from your website's service providers and are presented as an SEO analysis report.
Specially designed for small businesses and agencies, the tool facilitates efforts to obtain qualified traffic from search engines and social networks.
The tool also enables companies with technology solutions to more easily interact with new and existing customers.
It's a great way to increase your brand's visibility and credibility on search engines.
What are the advantages and disadvantages of SEO Report Card?
Like any online tool, SEO Report Card has advantages as well as shortcomings.
Speaking of benefits, here are some of them:
It is a great choice for beginners:

The tool makes SEO easier for its users. According to, their data webpage, the tool not only provides you with a toolkit, but each feature is followed by how-to guides and tips. For example, when you are creating a marketing campaign, the tool educates you on which process is most appropriate for you. Likewise, the SEO report it presents to you is quite easy to understand even for a beginner. You always have a button to click on to understand how to better adopt a strategy;

Systematic approach:

For each SEO or analytics campaign, the tool implements a systematic and step-by-step approach to make it easier for people to use. The tool presents the whole process to be followed by the user when planning any of all the SEO tasks that the tool offers. In addition, when you complete a task, it is automatically added to a system offered by the tool to allow you to have a good follow-up of what you are doing. Even to use the tool, you have to go through an initial setup phase where you have to fill out a form that asks you for, among other things, your website domain, target country, company name, industry and the target keywords you want to rank for. You also have access to their Keyword Generator Tool to continue the process. It is from your configurations that UpCity can develop a personalized action plan to help you. At this point, the tool guides you through a series of tasks that you need to complete in a specific order to help you improve your website's visibility on search engines as well as social platforms. This is a very beneficial approach for users in that the tool makes even complex tasks easier for you. This approach allows you to save time especially since you are guided even on the most complex tasks;

The tool features white label reporting:

This is a feature that gives users the ability to customize reports in their own way and according to their brand ethics. Thus, before exporting the report in pdf format, companies can assign their logo and trade name to it. Companies can therefore stand out to their customers;

It's a really affordable tool:

The tool offers its features at a very affordable subscription price, which makes it more accessible to small and large companies.
As advantages, UpCity does not fail to present disadvantages as well. So here are some of them:
Restriction in the free plan:

The free plan offered to small businesses does not allow to export the analysis reports in PDF version. Thus, small businesses cannot take advantage of white label features;

Lack of advanced competitive analysis features:

Being a tool specifically dedicated to SEO analysis, UpCity would be more complete if it offered more advanced analysis features.
What does UpCity SEO Report actually do?
SEO report UpCity's allows you to evaluate your website and compare it to other competing websites in the market.
The report provided consists of optimization information for your pages such as:
Analysis of the ranking of your website on Google, Yahoo and Bing according to the keywords you use most often to optimize your pages;

Information on the number of websites that have links pointing to your site;

An overview of the quality of integration of your main keyword throughout your site. On-site analysis;

The loading time and accessibility of a website;

Indicators of trust or authority of your site;

Current indexing, that is, the number of pages that have been indexed on your website.
In general, UpCity SEO Report Card would be a decent tool if you want to accomplish small SEO tasks.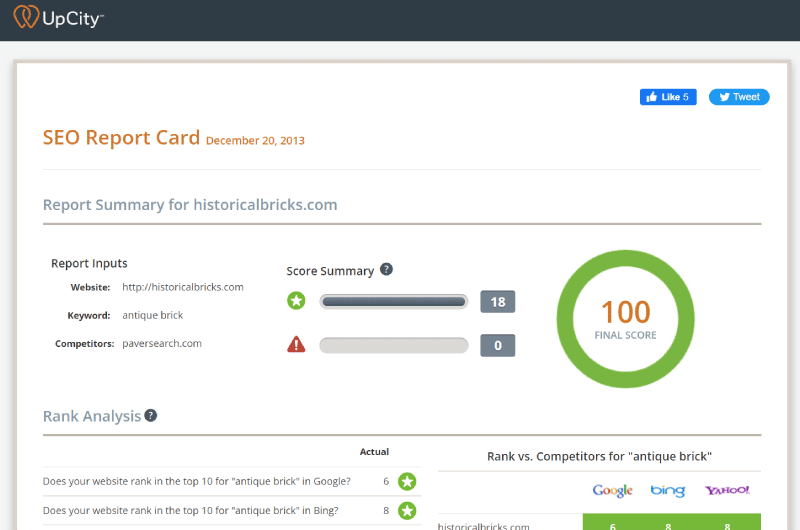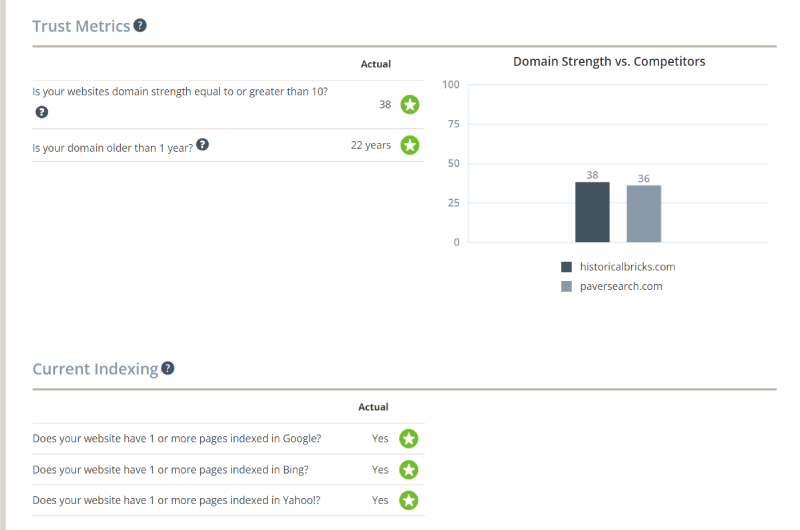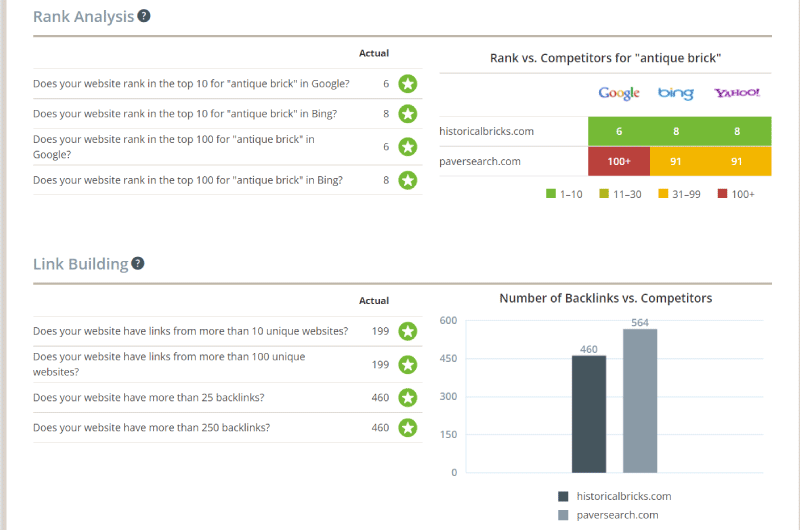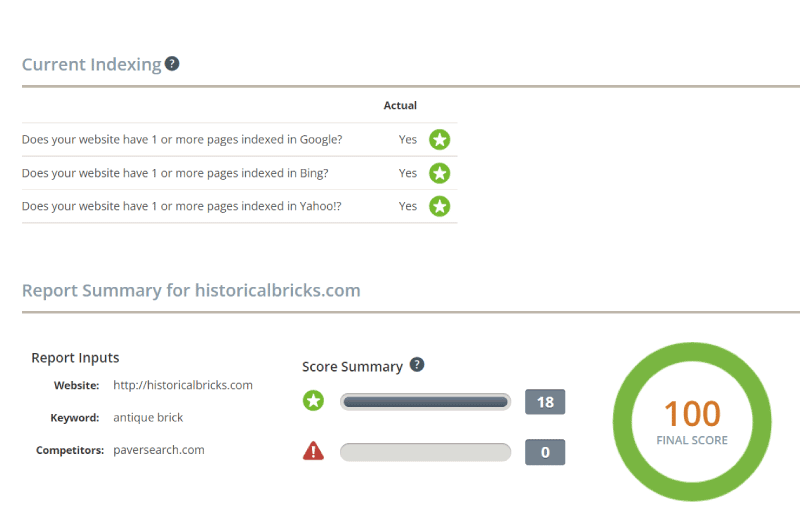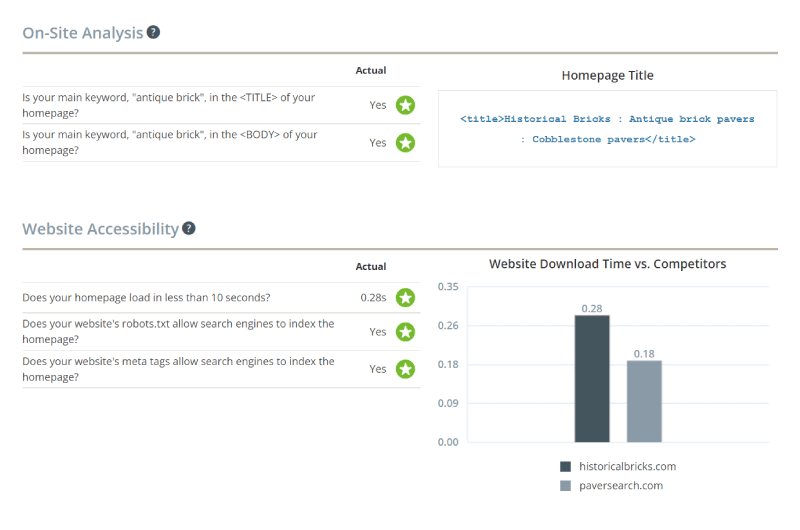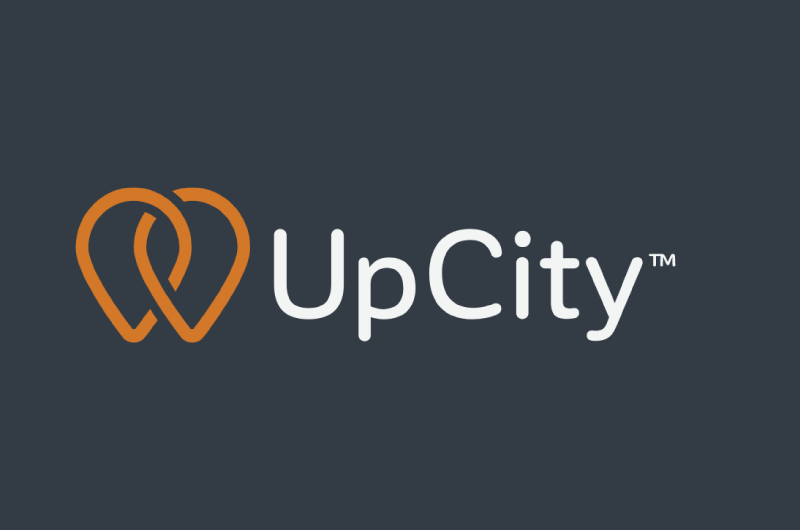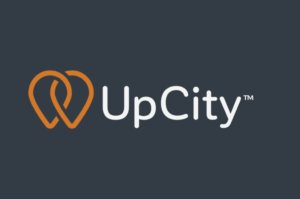 Free SEO Report Card belongs to UpCity Inc. It is an American company founded in 2009 by Andy Hagans, Dan Olson and Patrick Gavin. The latter is headquartered in the United States and more precisely in Chicago.
UpCity Inc helps businesses find trusted service providers. She is mainly specialized in digital marketing and SEO. 
Not only does UpCity help businesses, it helps you access and understand your website's optimization performance through its Free SEO Report Card tool.
Having enough experience in the field of digital marketing, the company supports you in your digital presence. It also helps you boost your brand visibility through:
improved listing placements;

justified opinions;

important information about said mark.
Social Media : Reporting SEO
Others Tools : Reporting SEO
Alexandre MAROTEL
Founder of the SEO agency Twaino, Alexandre Marotel is passionate about SEO and generating traffic on the internet. He is the author of numerous publications, and has a Youtube channel which aims to help entrepreneurs create their websites and be better referenced in Google.