Metadata – OS Meta | Joomla (Plugin)
Short description : Metadata - OS Meta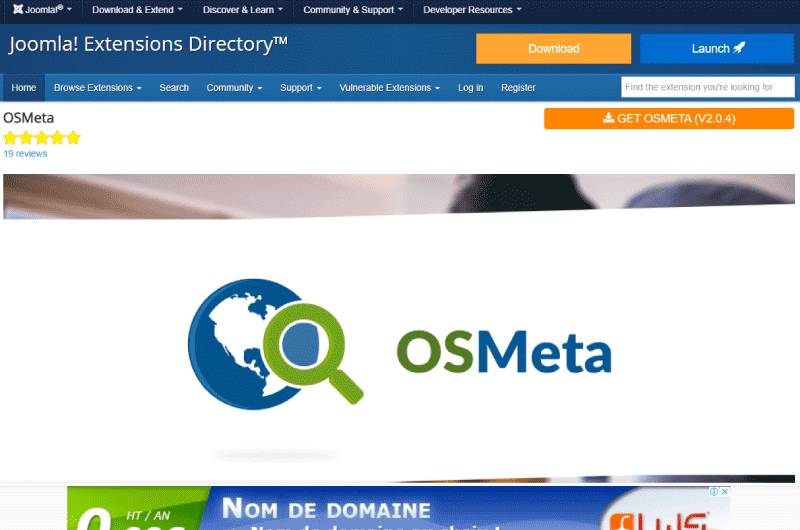 OSMeta is the easiest way to manage metadata for your Joomla site.
Long Description : Metadata - OS Meta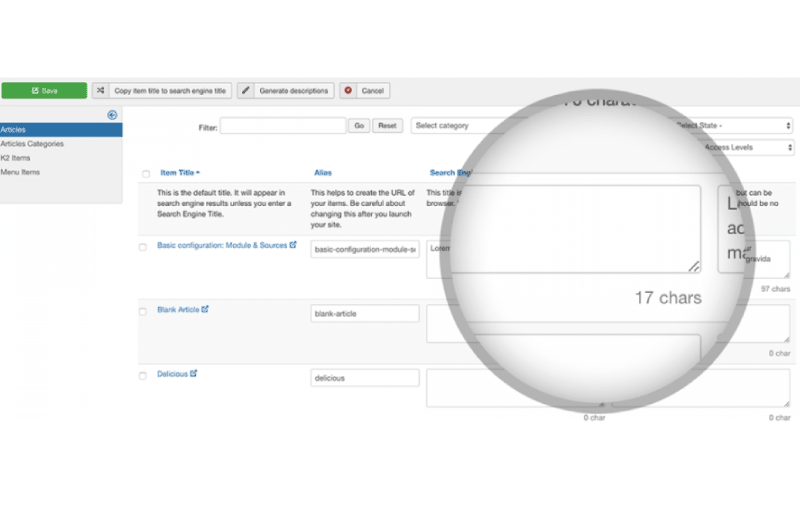 OSMeta
According to statistics,
68%
of experiences on the web start with a search engine, which means that your site's ability to show up in search engines can be decisive.
The content of your online store must then meet the requirements of search engines and have well-developed metadata to encourage visitors to click on your content in the SERPs.
But when you have a site, writing the metadata and checking it for SEO compliance can take a lot of time.
The ideal is to use an extension like OSMeta to produce, control and generate metadata on your site. If you have a Joomla site, this extension to save you a lot of effort and time.
Through this description, I suggest you discover OSMeta and how to configure it for your site.
What is OSMeta?
OSMeta is a Joomla extension that lets you control your site's meta descriptions and meta titles and articles on a single screen, making editing fast.
It also offers a character counter using which it is possible to see if your metadata is right or too long.
Indeed, from OSMeta, you can edit metadata on Joomla with ease. This extension also allows you to generate metadata, especially for all of your pages.
The functionalities of OSMeta
The extension allows you to:
Count the number of characters in titles and meta descriptions
OSMeta includes a character counter for your metadata in order to help you comply with standard SEO requirements.
Remember that the ideal length for a meta description is the number of characters that search engines are able to show in search results.
Thus, a meta description that is too long will not be able to be displayed in full and therefore the message you hope to get through it will no longer have its effect.
When it's also shorter, it doesn't really help search engines or users understand the content of your page, hence the need to keep an eye on the character count.
As for the title, we agree that it is the most important element of your article. Thus, the ability of the latter to encourage visitors to choose your content depends in part on the title.
So, if the number of characters in your title exceeds the allotted number of characters or does not reach a minimum number, it will not give a clear idea of ​​your article to visitors.
However, you can check the metadata character count manually, but this is not practical, especially when you know that the maximum character count varies from device to device.
For example, Google tends to display a smaller character count for meta description and title for mobile devices than for desktop.
So, it is easier to use OSMeta to check the number of characters of this metadata, especially on online stores where there are often many pages.
Even for your old content, OSMeta can show you metadata on a grid that meets the ideal character count. So when you have more character than the limit, you can review your metadata.
But when you have a character count lower than the minimum, you can complete text to enrich your metadata.
Quick Metadata Generation
This is one of the cool features of OSMeta. If you have too much content on your Joomla site that does not have metadata, OSMeta allows you to generate meta titles and descriptions in seconds.
Given how important metadata is for SEO and conversion, you can't ignore it.
But when you manage thousands of articles on your site and there are other tasks that concern you, you can easily forget to fill in this crucial information.
But with the OSMeta extension, you can simply fill in metadata for both your new content and your old pages.
Note that the metadata the tool generates is SEO optimized and you don't necessarily need to intervene.
Requirements for installing OSMeta
The first requirement for installing OSMeta is to have at least PHP 7.4. The extension does not support older versions and you will need to update your PHP to a newer version to be able to install OSMeta.
Another requirement is for the database and OSMeta supports MySQL version 5.5.3 or newer. Regarding the required configurations, we have:
Apache: version 2.4 or more recent.

Nginx: version 1.8 or newer.

Microsoft IIS: version 7 or later.
As for the version of Joomla, OSMeta can be installed on versions 3 and 4.
How to install OSMeta?
Installing OSMeta on Joomla 3 and 4 is relatively simple. Just use Joomla's built-in extension installer from your control panel.
Go to "Extensions" > "Manage" > "Install":
Import the extension from "Upload Package File" and click on the green area. After the import, you will find in the "Open File" box the JoomlaShack extension that you need to install.
Clicking on the extension name twice will start the installation and after a few moments of screen activity you will see installation successful messages on a light green background.
How to use OSMeta?
This extension can be used from the components tab or directly from the articles.
Using OSMeta via the Components screen
To use OSMeta, go to Components > OSMeta and you'll get an overview of all content metadata on your site.
Below, you can add metadata for each article on your site. This main screen allows you to add 2 types of metadata:
The title: it is displayed in search engine results and must not contain more than 70 characters. 

Description: It also appears in search engine results and must be no longer than 160 characters.
Note that this part includes filters allowing you to perform a quick search to find a particular article when you have a large site.
Using OSMeta via the Articles screen
OSMeta is also accessible when you are writing content. Before the publication of the written or edited article, you will see the metadata options where you have access to the features of the extension.
The Pro features of OSMeta
Here are the Pro features of Meta and how to access them.
Support for K2 items
From OSMeta Pro, you will be able to manage metadata for all your K2 items. In the control panel, go to "Components" > "OSMeta Pro".
This takes you to the "OSMeta Meta Tags Manager" admin page. By default, on this screen, you will be able to control the metadata of all your Joomla articles. Click on the "K2 Items" link in the left menu:
Instead of your Joomla items metadata, you will now see your K2 items metadata:
Support for Joomla menu pages
OSMeta pro supports all menu items Joomla and you can generate metadata for these elements. To do this, go to the Joomla control panel, go to "Components" > "OSMeta Pro":
You arrive on the "OSMeta Meta Tags Manager" administration page. Click on the "Menu Items" link in the left menu. Instead of metadata for your Joomla articles, you will now see metadata for your Joomla menu items.
In short, OSMeta will allow you to ensure that the articles on your Joomla site all have the metadata suitable for SEO.
Videos : Metadata - OS Meta
Images : Metadata - OS Meta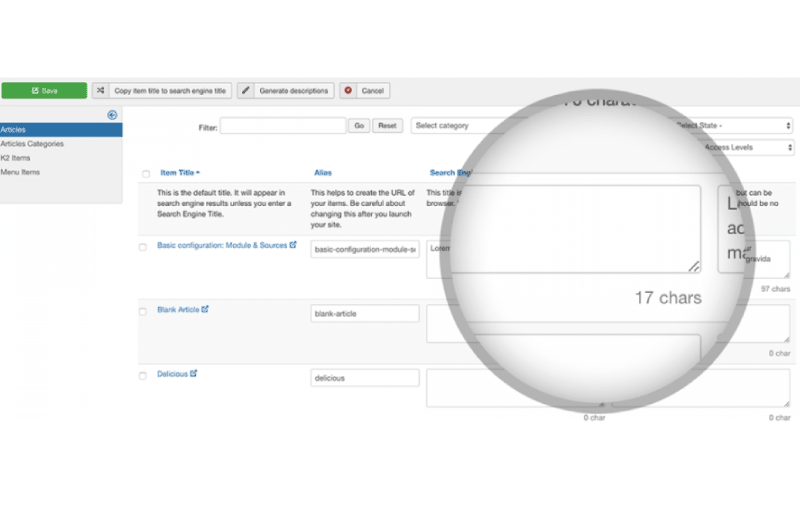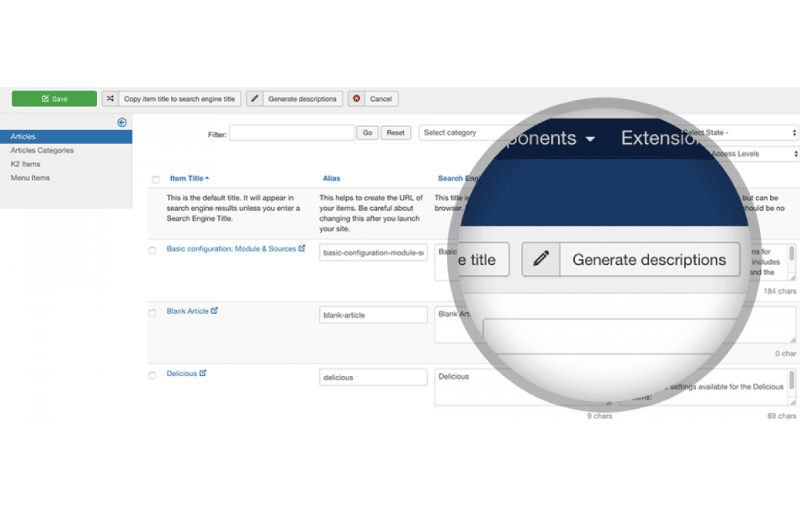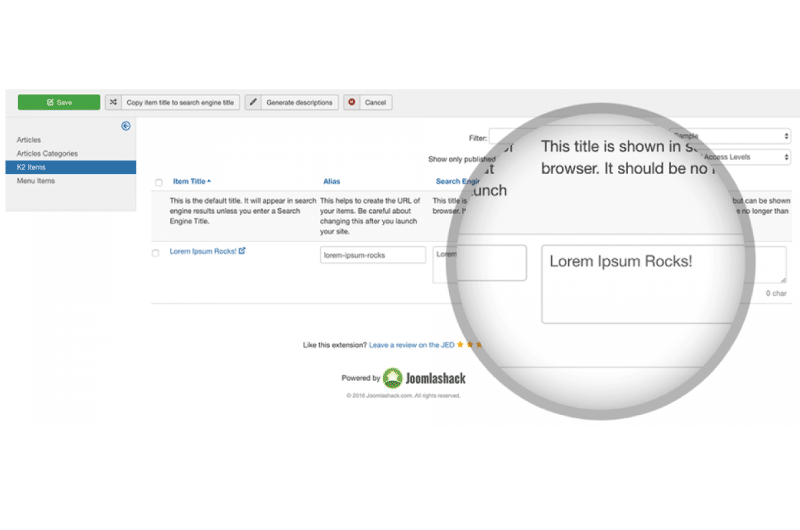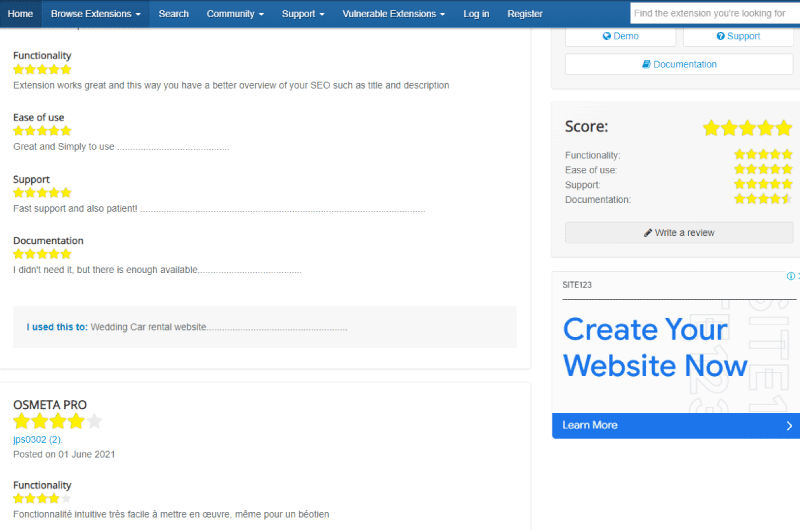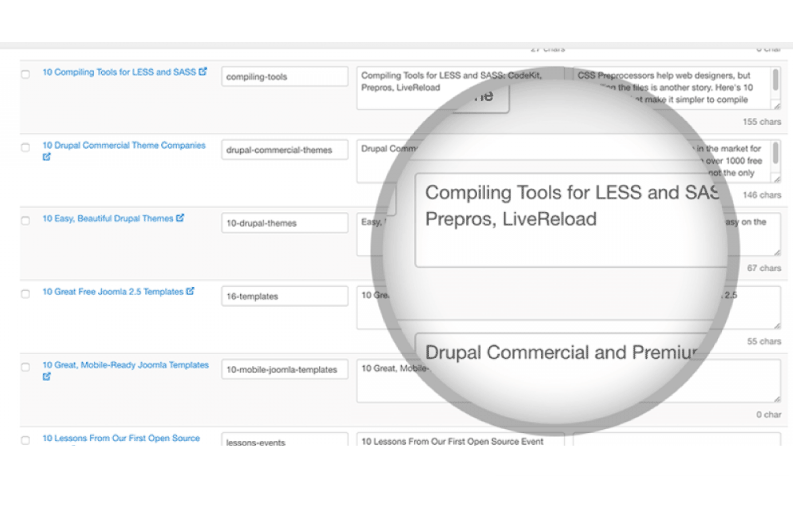 Company : Metadata - OS Meta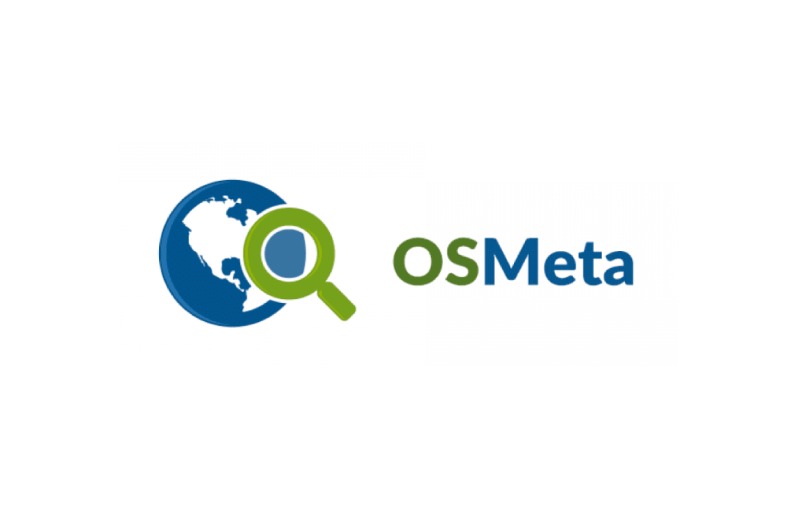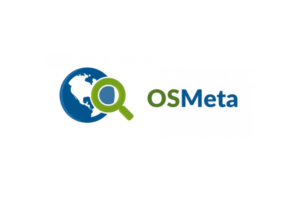 Joomla is a content management system also called CMS (Content Management System). Created in 2005, the project allows companies and individuals to create high quality professional websites. This CMS is used by many web developers for the design and management of sites. The software has a large user community across the globe. It should be noted that it is multilingual and can be translated into 64 different languages. 
Joomla has a very easy-to-use content editing system. Content optimization is a task that this platform allows you to perform without difficulty. The CMS also provides users with various tools, sometimes available in the form of extensions. Each of them constitutes a real solution to solve problems encountered by the majority of people in the management and optimization of the content of their sites.
Contact : Metadata - OS Meta
Social Media : Metadata - OS Meta
Others Tools : Metadata - OS Meta
Alexandre MAROTEL
Founder of the SEO agency Twaino, Alexandre Marotel is passionate about SEO and generating traffic on the internet. He is the author of numerous publications, and has a Youtube channel which aims to help entrepreneurs create their websites and be better referenced in Google.