Short description : Panguin Tool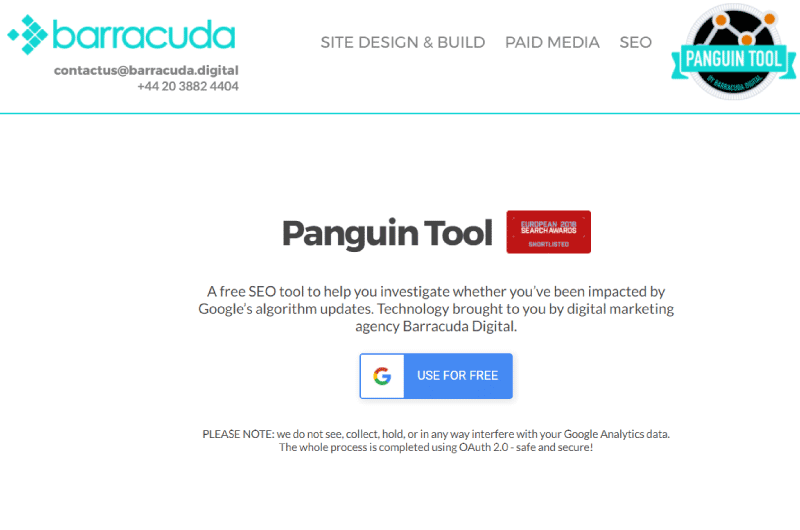 Find out how to determine a Google algorithm penalty on your site using the Panguin SEO tool.
Long Description : Panguin Tool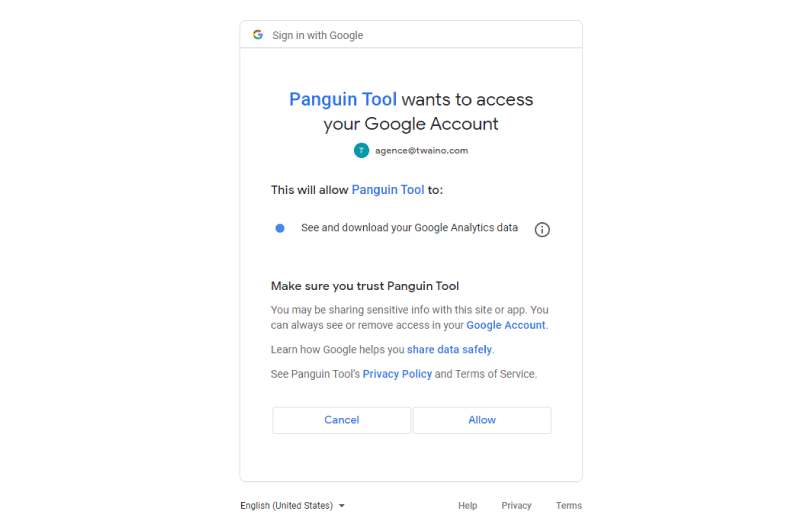 Description Penguin
Developed by
Barracuda digital
, Panguin SEO tool is a free and quite sufficient tool in terms of website optimization. Basically, the tool was especially known for its ability to provide accurate information about changes in Google's algorithm.
Most marketers will have understood that Google has a set of algorithms to curate its search results which are frequently updated. 
These updates throw many site owners into complete confusion.
It is to this insufficiency that Barracuda develops the Panguin which allows marketers to measure the performance of their website and detect possible penalties from Google.
Discover in this article, the powerful features of this tool.
Finding the reason for a drop in traffic can be stressful to say the least, and not finding the source can be costly. 
tool Panguin Barracuda Digital's allows marketers and webmasters to import their organic Google Analytics data to determine if traffic drops match Google's algorithm updates.
It is an interactive and free tool, you just have to connect with your Google analytics account for which you would like to do analyses.  
Each update marked in the tool is accompanied by a summary to indicate what the update in question is about and how it may affect a website's traffic.
The main functions 
tool Panguin does not only show the timeline of Google updates, it also helps you measure the performance of your site.
In terms of organic visibility, Panguin tool gives you a clear idea of ​​your organic ranking in search engines and regionally.
This allows you to compare your current ranking to past rankings based on your marketing efforts.
This means that if your current ranking is lower than before then you have strengthened your marketing strategies, it can be referred to as a penalty.
On the other hand, data on your current visibility can allow you to compare yourself to your competitors to strengthen your SEO tactics.
The tool gives you the possibility of consulting your visibility resulting from paid referencing thanks to your Google analytics.
The idea is to allow you to compare the visibility gained through referencing paid
Thus, you can deduce if you have made a good return on investment or not, this brings you to a conclusion on your SEO strategies.
From a security point of view, Panguin tool has a feature that allows you to encrypt your pages and keep the best ranked ones under surveillance.
The tool protects your pages 24/7, so it can alert you if a hacking attempt or a malware attack is detected. 
You can see the ranking of your website and your competitors in different regions and compare them. 
Additionally, you can find internationally used keywords. 
Having an idea of ​​your global ranking, you can deduce the regions where your products or services are most popular. 
So you can focus more effort there so you can acquire new interested leads and better narrow down your target market.
Panguin lets you showcase your content by showing you a ranking based on its performance before and after optimization. 
You can take expert opinions on your content and improve it accordingly.
This feature, said to be the most powerful of Panguin, allowsyou to interconnect your pages with each other and compare their ranking with each other. 
This way, your visitors can easily browse other pages on your website, which extends their visit time.
When it comes to optimizing a website, links have a big influence and need to be monitored to be beneficial instead of the opposite.
Indeed, Panguin tool is one of the most effective tools in terms of analyzing the structure of backlinks on your website. 
The tool not only analyzes the structure of backlinks, but also their suitability before and after optimization.
ranking is becoming a big challenge for most businesses with an online presence day by day.
To make things easier, Barracuda's SEO tool helps business owners check their site's local rankings and the impact of Google algorithm updates on their local results. 
Panguin allows you to keep track of your website's ranking for mobile searches.
You can also improve your strategies to excel on this point, since mobile devices are the most used on the internet today.
Interpreting the data
Once a Google account is connected to the Panguin SEO tool, you can start reading the data.
We can see that this graph shows us the evolution of organic traffic, as well as updates from Google.
Indeed, the bottom blue line represents the organic traffic of the website and the vertical lines represent the updates from Google. 
The color of each vertical line represents an update of Google's algorithm:
Red color:

updates Google Panda, usually related to content quality;

color:

updates Google Penguin, often related to backlink quality;

Green color:

Green colored lines represent browser structural updates;

Purple color

: The lines in purple color represent Google Pigeon updates, related to geolocation;

Orange color: Orange

lines represent minor algorithm updates.
On the right you can deactivate the algorithms to have information on one in particular.
So, when you can read a tragic dropin your traffic that coincides with an update, you must go read the information about this update and its effects to deduce if your site incurs a penalty.
As you can note, Panguin is a Barracuda SEO tool to get rid of Google penalty doubts.
It is a fairly easy to use and quite effective tool for SEO of your website.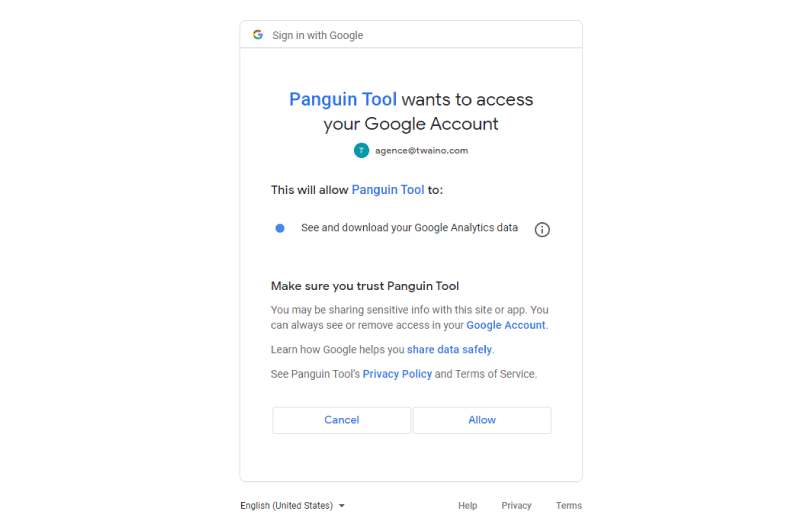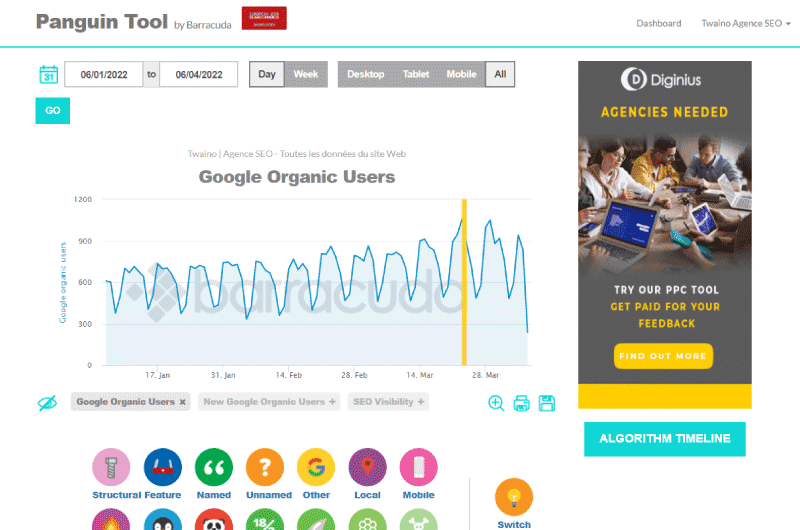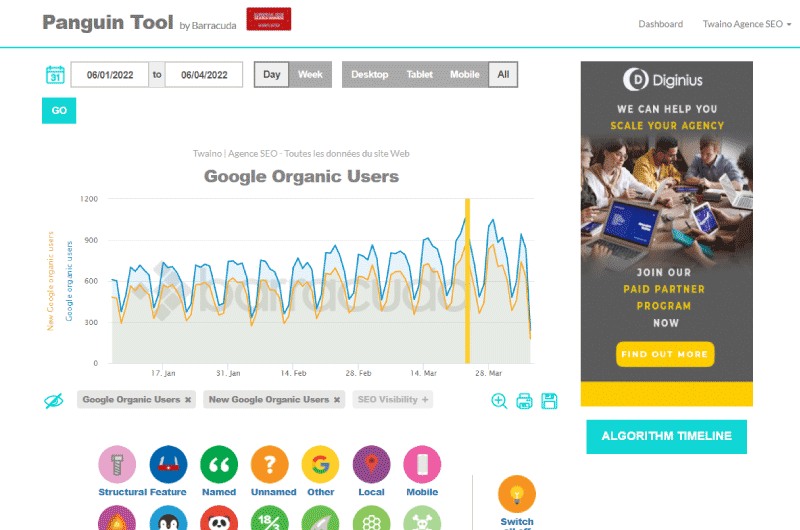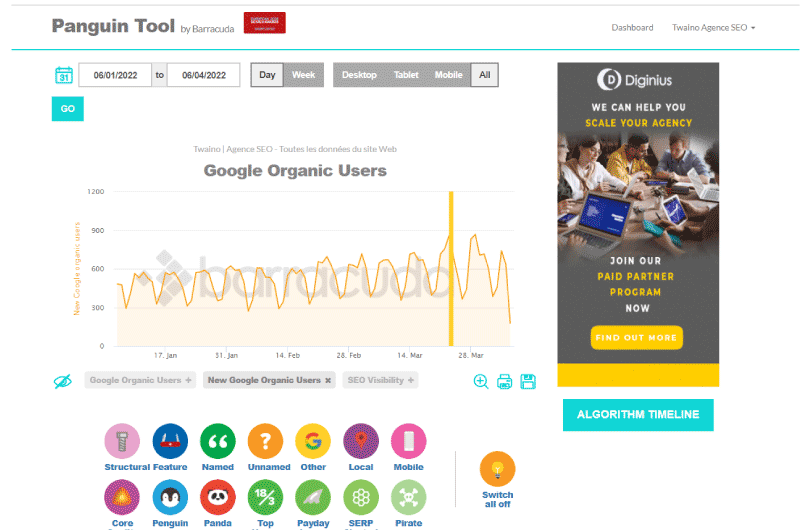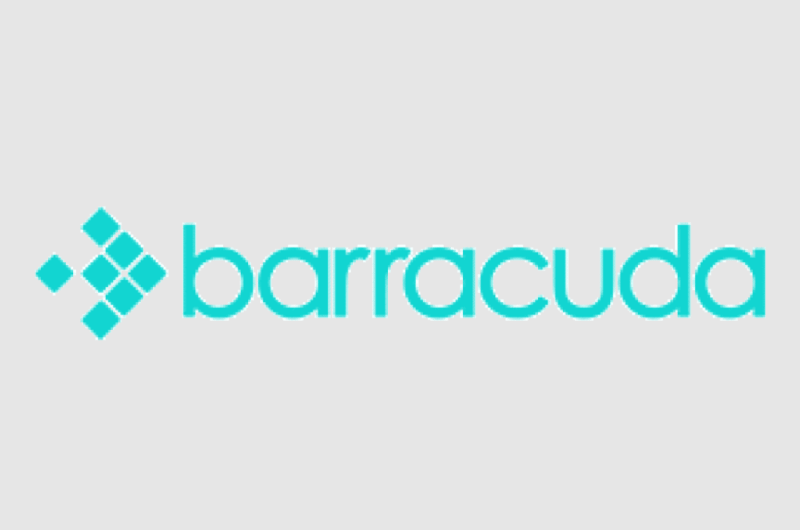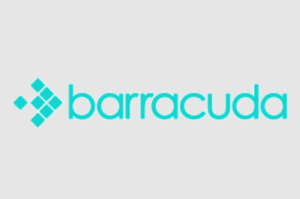 Led by Hatem Naguib (President & CEO), Barracuda is a company that develops security solutions focused on cloud computing. Indeed, its tools allow companies to protect the data of their employees. They help them to protect the company's data and applications against any external or internal attack.
In concrete terms, its solutions concern in particular:
the protection of e-mails;

application and cloud security;

network security;

protection of other important data. 
In addition, Barracuda offers its customers "Panguin Tool". This is an SEO tool that lets you know if Google's algorithm updates have impacted your site. This technology is very important in the context of setting up a digital marketing strategy.
Social Media : Panguin Tool
Others Tools : Panguin Tool
Alexandre MAROTEL
Founder of the SEO agency Twaino, Alexandre Marotel is passionate about SEO and generating traffic on the internet. He is the author of numerous publications, and has a Youtube channel which aims to help entrepreneurs create their websites and be better referenced in Google.