Image & Link Analyzer | Internet Marketing Ninjas
Short description : Image & Link Analyzer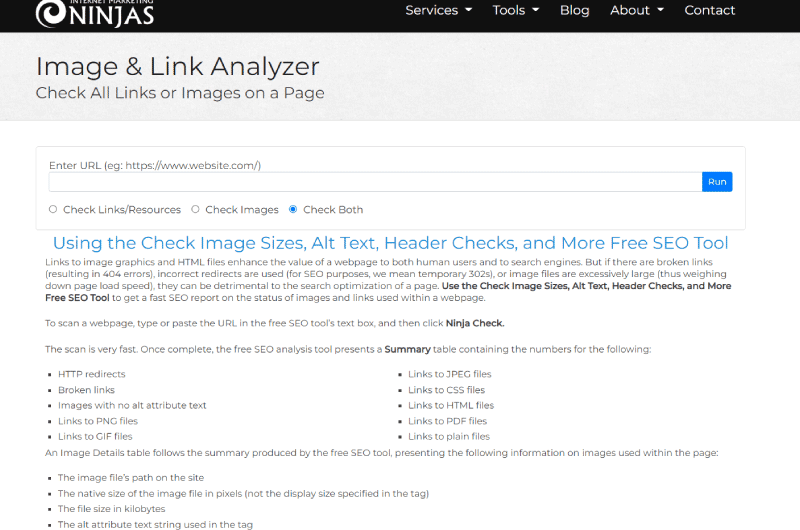 Discover this free tool that allows you to optimize your SEO by analyzing all the images and links present on your Web page !
Long Description : Image & Link Analyzer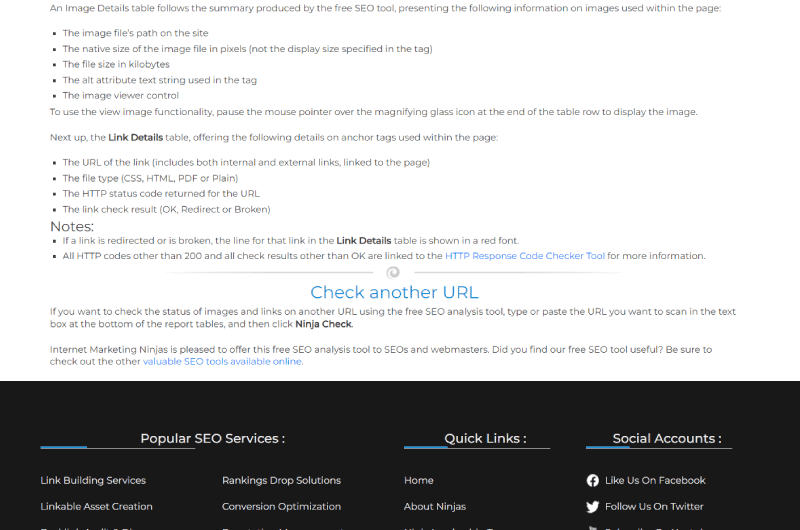 Image & Link Analyzer
The presence of links and images on a web page not only makes it more appealing to human users, but also helps it rank higher in search engine results.
However, if links don't work (resulting in 404 errors), redirects are incorrect, or image files are too large to load due to their size, they can hurt the page's SEO.
tool
Image & Link Analyzer
, you can monitor all images and links on your website. This includes analyzing the size of images, alt text, external/internal links related to your site and many more.
Continue reading this description to see how this tool works and how to use it.
Image & Link Analyzer Tool: What do you need to know?
The Image & Link Analyzer tool is offered by Internet Marketing Ninjas to help webmasters, website owners, and SEO professionals
analyze images and links
on a website.
in seconds
a full SEO assessment of the images and links
on your website
That way, you'll know immediately how your images and links are performing from an SEO perspective.
Simply enter your website URL in the text box, then click the blue "
Run
" button. Your request will be processed quickly by the system, and the results will appear.
Let's take a closer look at how the tool works in the next section.
How does the Image & Link Analyzer tool work?
As mentioned earlier,copy and paste the URL of the web page you want to analyze into the text box of this
free SEO tool
, then hit the search key.
Once the analysis is complete, the tool provides a table that includes the following information:
Broken links;

HTTP redirects;

Images without alt attribute text;

Links to GIF, JPEG, CSS, PNG, HTML, PDF and plain files.
" table
Image Details
provides the following information about the images used on this page:
The natural size of the image file in pixels;

The size of the image file in kilobytes;

The alt attribute used in HTML to provide some context to the image (This is a string of text that gives information about the image, so that if the image cannot be displayed (eg , due to a slow internet connection), the alt text will be displayed instead);

The state of the image viewer.
To operate the display images function, simply hover the mouse pointer over the magnifying glass icon at the end of the table row to display it.
" table
Link Details
provides the following information about the anchor tags that are used on the page:
The link URL (includes internal and external links, linked to the page);

The file format (CSS, HTML, PDF or Plain);

The HTTP status code returned when accessing the URL;

The result after checking the link (OK, Redirect or Broken).
A few notes:
If a link has a redirected or broken status, the corresponding line in the "Link details" table is displayed in red.

If you see an HTTP code other than 200, or a verification result that is not OK, you can

click the HTTP response code verification tool

for more information.
Why opt for this image and link analysis tool?
This incredibly effective image and link checker from Internet Marketing Ninjas is a useful tool for many website owners and webmasters.
It provides image information and inbound and outbound links for a specific website in one place.
The results allow a full analysis of your website's images and links, as well as comparisons with those of your competitors.
Indeed, to determine the positioning of your website in the SERPs, Google and other search engines
use different metrics.
This is why it is essential that your web pages are
free of bad links and other errors
to hope for a good positioning.
Thus, the Image & Link Analyzer tool will identify pages with dead links and heavy images (which can slow down the loading speed) to help you optimize your website.
Just remember that if your website is clean, active, and credible, it will rank higher in search results.
Videos : Image & Link Analyzer
Images : Image & Link Analyzer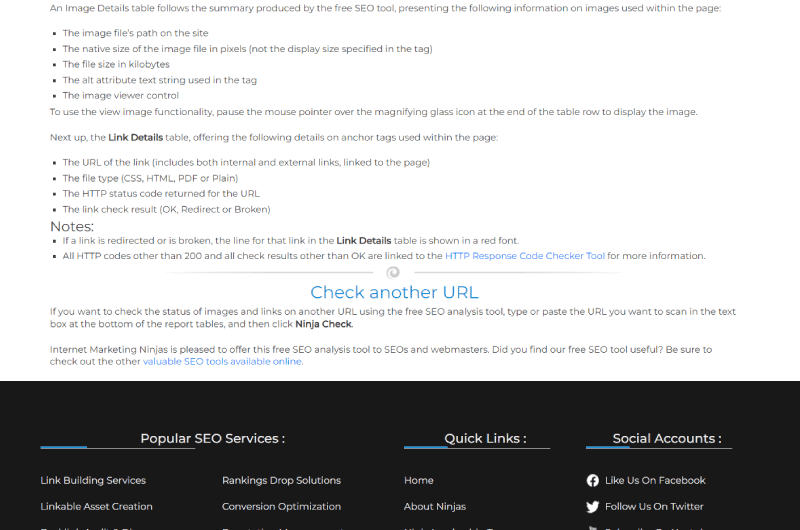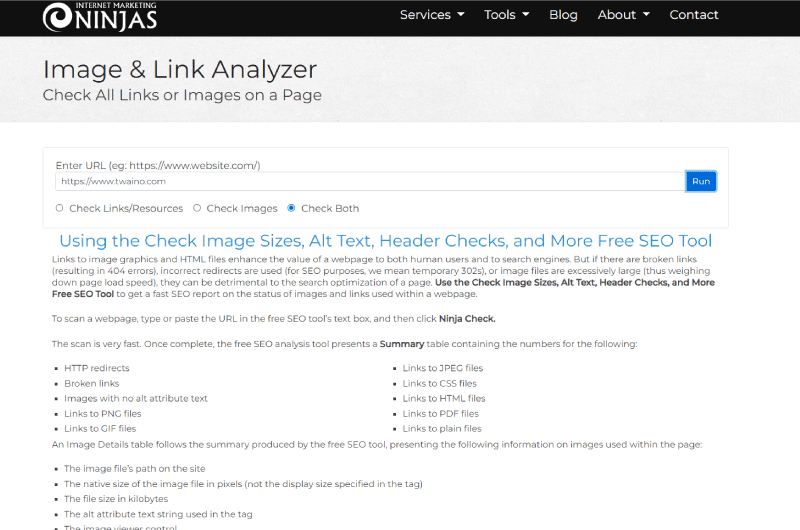 Company : Image & Link Analyzer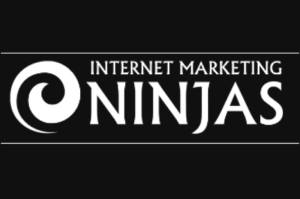 Internet Marketing Ninjas is a company founded in 1999 by Jim Boykin, with more than 10 years of experience in the field of SEO. The company's mission is to help their customers get better traffic to their websites through secure methods.
Internet Marketing Ninjas specializes in optimizing pages and websites for search engines. Based in the United States in Clifton Park, the company is made up of 50 members who are all experts in their fields.
Internet Marketing Ninjas offers the entire digital community complete digital marketing services, but also SEO services and tools. Among the 87+ tools developed by them, here are some free SEO tools they have developed:
Social Image Resizer Tool;

What's My Browser Size Tool;

HTML Source Code Viewer Tool;

Meta Tag Analyzer;

Domain Age Checker;

Meta Tag Generator & Snippet Preview;

Search Engine Spider Simulator;

Keyword Combination Tool;

URL Inspection Tool…
These tools are aimed at SEO agencies as well as marketing professionals, not to mention companies. They will surely help to improve your various marketing strategies.
Contact : Image & Link Analyzer
Social Media : Image & Link Analyzer
Others Tools : Image & Link Analyzer
Alexandre MAROTEL
Founder of the SEO agency Twaino, Alexandre Marotel is passionate about SEO and generating traffic on the internet. He is the author of numerous publications, and has a Youtube channel which aims to help entrepreneurs create their websites and be better referenced in Google.