Position Tracking | SEO Observer
Short description : Position Tracking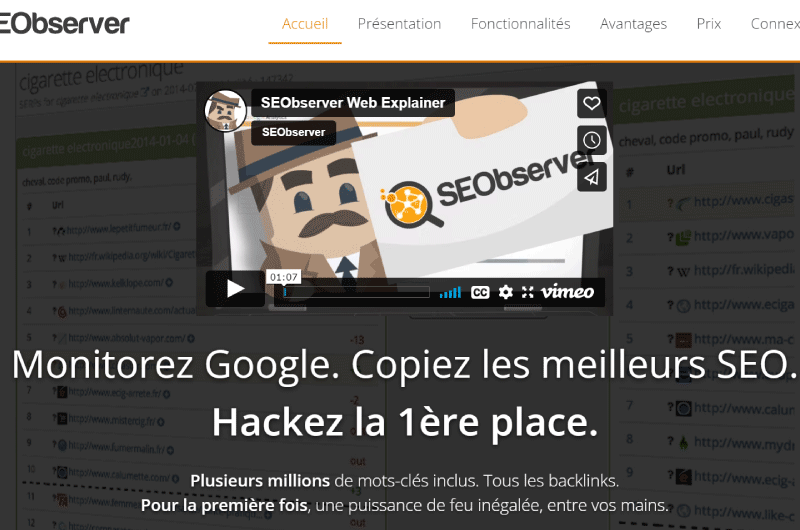 Need a complete SEO tool? SEObserver is an all-in-one SEO solution to analyze your website and that of competitors.
Long Description : Position Tracking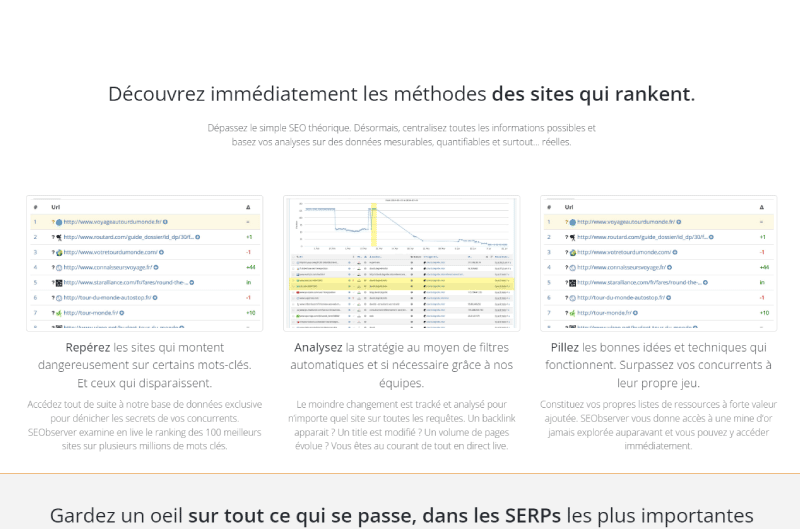 Description SEObserver
SEObserver is an SEO toolbox that allows you to perform essential SEO tasks in just a few clicks, such as keyword research, netlinking, SERP ranking monitoring and competitor site analysis. 
Source:
SEObserver 
Hosted online as a SaaS solution, SEObserver is also available on the chrome web store as an extension for easier and faster access. 
What is SEO Observer?
SEObserver is an all-in-one solution that offers all major SEO features such as keyword research, link building, competitive SEO analysis, and SERP rank tracking. 
Source:
SEObserver 
Developed by Frenchman Kevin Richard, SEObserver is a tool much more suited to SEO professionals. 
It is a Saas solution, that is to say directly accessible online without the need to download and install software. 
This makes it easy and quick to analyze and improve your SEO strategy. With just a few clicks, you can monitor everything happening on Google results pages. 
A simple way to see what works or not on the search engine and continually adapt your strategy accordingly. 
SEObserver: What is the tool for? 
Although SEObserver is an all-in-one SEO solution with many features, the tool is mainly used to: 
Monitor Google results 

Monitor competitor sites 

Analyze websites. 
In just a few clicks, SEObserver allows you to analyze any website and access important SEO metrics such as 
Organic traffic 

The list of the best targeted keywords on the site 

View the site's backlinks profile 

And much more Again. 
SEObserver: Who is the tool for? 
For anyone who wants valuable insights to improve their search engine ranking strategy, SEObserver can be a helpful tool. 
In the list of main SEObserver user profiles, we can mention: 
SEO agencies and experts

Online store owners 

Website creators 

Entrepreneurs looking for visibility and conversion on the web. 
SEOBserver: The main features 
Here is a list of the main features that you will find on SEObserver: 
1. SERP Machine 
One of the interesting features that can be found on SEObserver is the ease of going back in time on the SERPs and tracing the evolution of a key word in time. 
What remains an important feature in SEO, in particular to check if a keyword is promising or if it is a term on the way out over the years. 
Source:
SEObserver 
With SEObserver, you can travel back in time and check the interest of the keywords you want to target in just a few clicks. 
2. An identity sheet of the websites analyzed
This feature of SEObserver provides an overview of the main performances of any website. 
Source:
SEObserver 
The tool brings together in one place all the information you need to:
Know if the analyzed site currently ranks well (or not) on the Google results pages

Check the evolution of its SERP rankings in the past 

Consult the best keywords for which it is ranked on the search engine

Identify its best sources of backlinks and the anchor texts used 

Know its scores of Majestic metrics (Trust Flow, Citation Flow…)
3. Niche Finder to discover word opportunities. 
As the name suggests, SEObserver's Niche Finder feature helps uncover ideas for profitable keywords to target in your niche 
To do this, the tool allows you to search for a starting keyword and then access a list of relevant keyword suggestions. 
For each suggested keyword, Niche Finder displays important KPIs such as: 
Search volume

Cost per click 

score

Competition

to assess the competitive environment around the keyword 

And a graph that represents the seasonality of the keyword. 
Source:
Debugbar
Niche Finder also displays forms of SERP features (videos, PAA box, maps, etc.) under which the keyword often appears in search results. 
4. Competition Checker 
A keyword highly searched by Internet users is not the only metric to take into account to assess the profitability of a keyword. 
The SEO difficulty is also an important clue to know if, despite all the favorable assets, a keyword is really worth working on. 
Source:
Cerisier 
SEObserver provides a
keyword competition
which makes it possible to estimate the difficulty to be encountered before being ranked in the first rankings for a keyword. 
This difficulty is evaluated according to the power of the web pages which are already well positioned for this keyword.  
With SEObserver, you can see the Trust Flow and other metrics of these pages to get an idea of ​​how powerful the pages are ranking for your keywords.
To get a better chance of ranking quickly, the work will then be to attack the keywords that have pages with low Trust Flow. 
5. The Watch List to keep an eye on your backlink profile and that of competitors 
The Watch List functionality of SEObserver offers the possibility of submitting a list of URLs in order to follow the creation of backlinks in real time. 
The watch list is updated daily so you don't miss a thing. The tool also offers you the possibility to configure alerts in order to be notified by e-mail each time a new backlink is acquired. 
A way to monitor your competitors' backlinks profile in real time without necessarily having to connect to your SEObserver interface. 
SEObserver also offers a Common Backlinks section that allows you to submit up to 10 URLs and get a list of all links pointing to those domains. 
Source:
Cerisier 
A way to compare the links you have in common with your competitors and find new opportunities for creating backlinks. 
SEObserver: Chrome extension 
SEObserver is also available as a Chrome extension for easier and faster access to a domain's SEO data. 
Indeed, the SEObserver extension automatically displays the Trust Flow score of any website as soon as you access it without the need to click a button. Kind of like Google's ToolBar PR. 
However, if you want to go deeper, it is possible to push the analysis and consult the rest of the Flow Metrics of Majestic SEO, the best backlinks, the anchor texts and the best keywords targeted on the site. 
However, it should be remembered that the SEObserver extension is available in 2 versions: 
A free version

with which it is necessary to click on the SEObserver icon before consulting the Trust Flow and Topical Trust Flow scores of a domain. 

And

a Premium version

that does not require any action to check the flow metrics of the domain you are visiting. Then it is possible to click on the icon to access a more complete identity card of the domain. 
Click here to get the SEObserver extension. 
SEObserver: Pricing 
SEObserver is not a free tool, nor does it offer a trial period. The tool offers 4 price plans adapted to the needs of several user profiles: 
Freelance plan at €99 per month 

Studio plan at €199 per month

Agency plan at €499 per month 
By choosing an annual subscription, you will obtain a reduction on aforementioned prices.
Check the official page of the tool to know more.
Videos : Position Tracking
Images : Position Tracking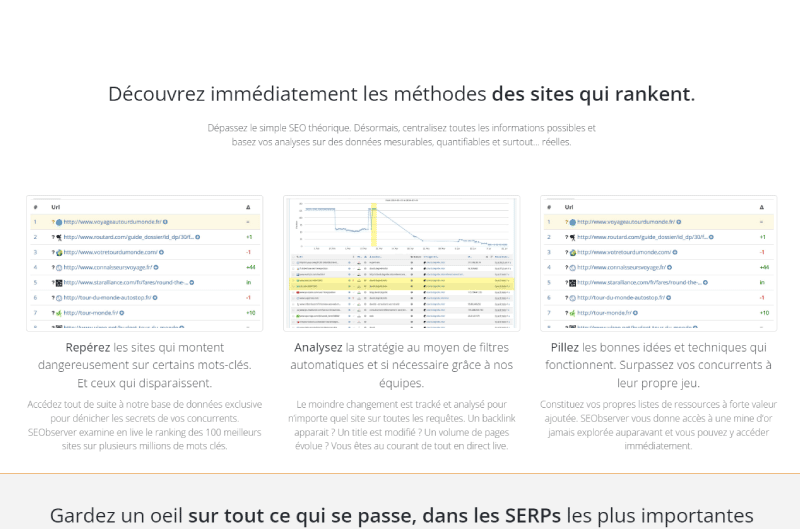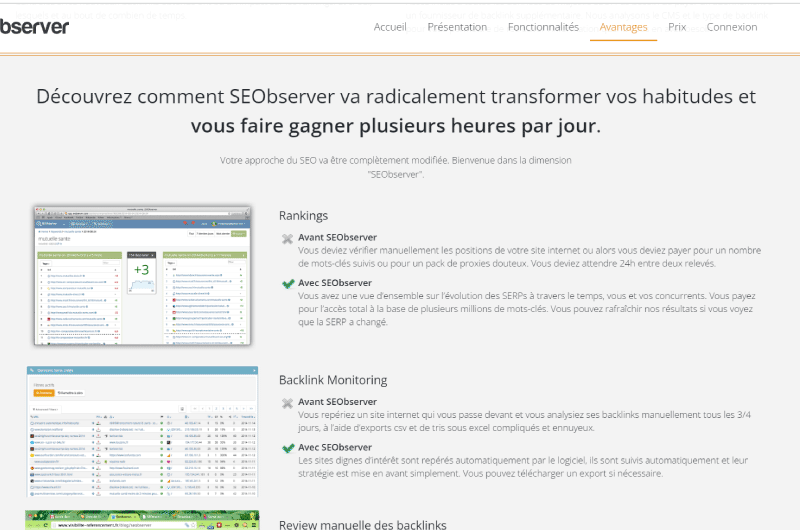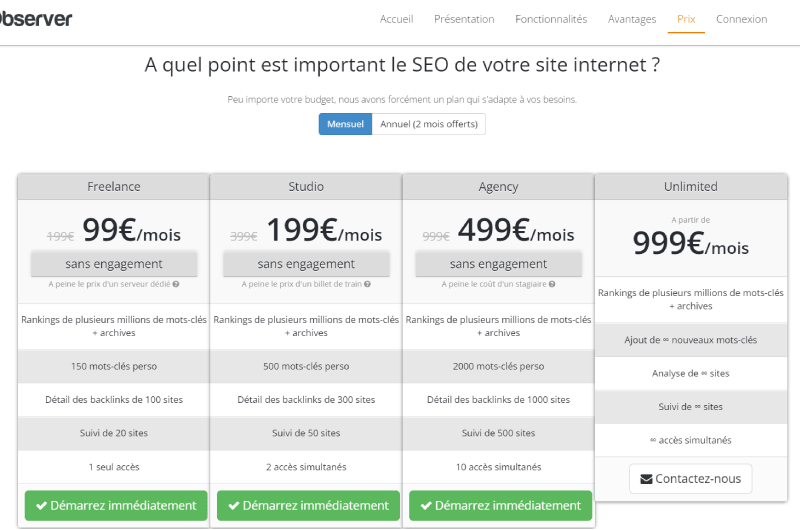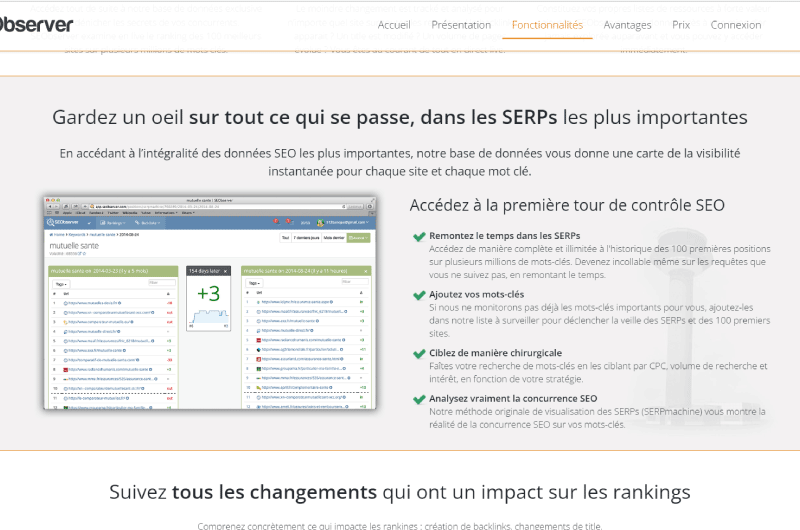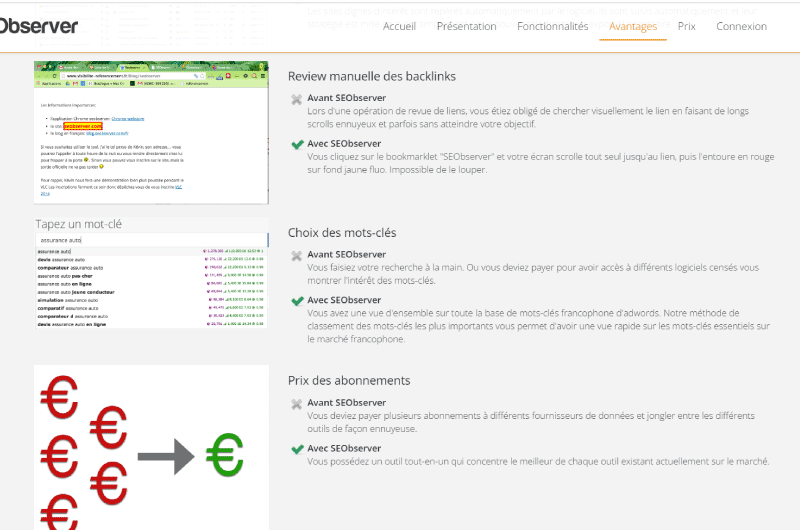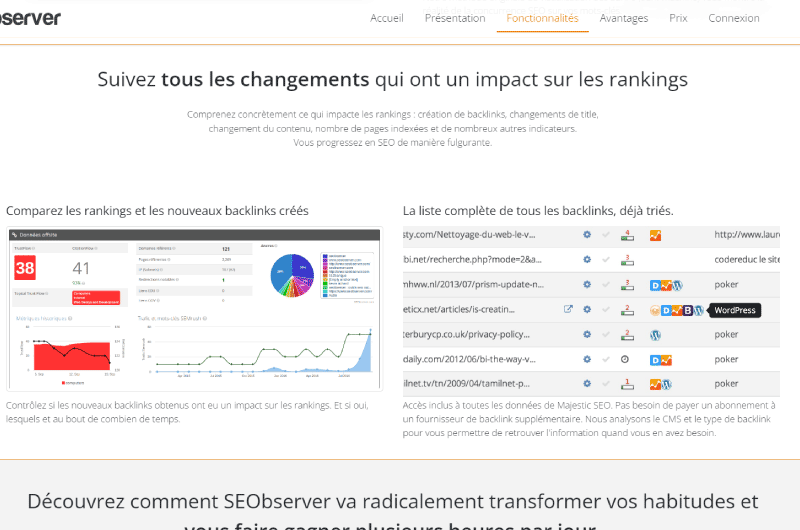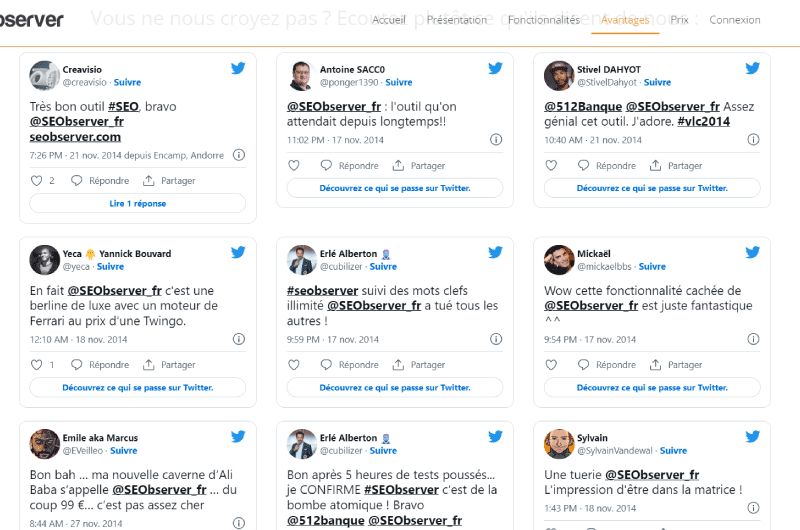 Company : Position Tracking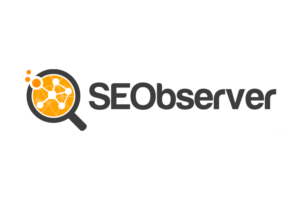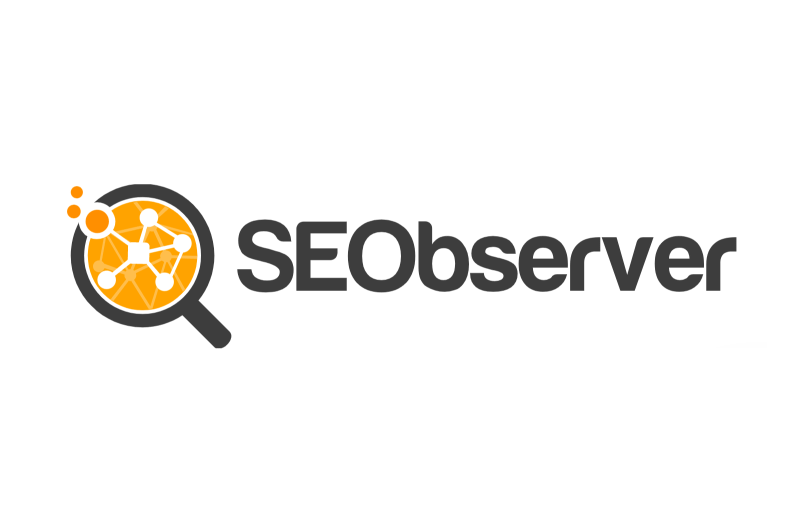 SEObserver is developed by Kévin Richard, a French SEO consultant for 15 years. He imagined the tool by focusing on the different demands of the people he trains in his SEO workshops and on the needs of his various clients.
SEObserver is mainly used for:
competition monitoring;

website analysis;

Google results.
Officially launched in 2014, SEObserver is currently a complete suite of SEO tools that brings together almost all the features needed for any SEO strategy. It makes it easy to analyze and create SEO plans that help improve a website's positioning in Google's SERP.
SEObserver is for businesses of all sizes.
Contact : Position Tracking
Social Media : Position Tracking
Others Tools : Position Tracking
Alexandre MAROTEL
Founder of the SEO agency Twaino, Alexandre Marotel is passionate about SEO and generating traffic on the internet. He is the author of numerous publications, and has a Youtube channel which aims to help entrepreneurs create their websites and be better referenced in Google.