HTML Code Cleaner | Internet Marketing Ninjas
Short description : HTML Code Cleaner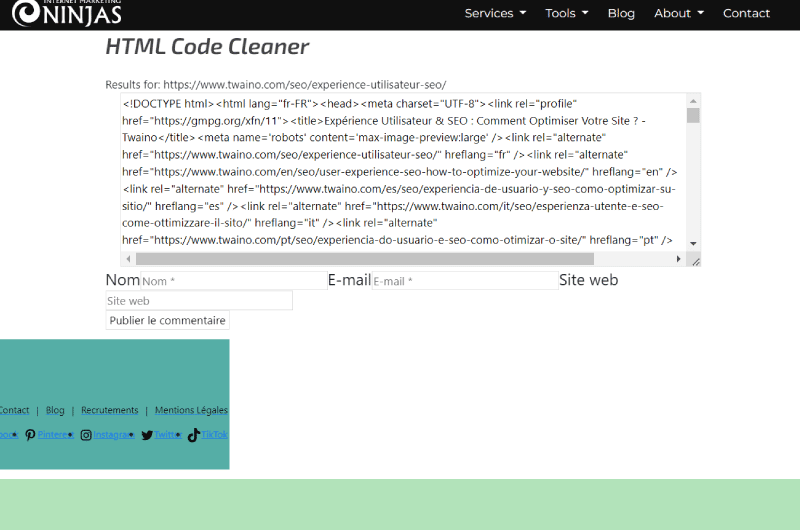 Use the Internet Marketing Ninjas HTML Code Cleaner tool to improve the quality of your web pages, but also the quality of the user experience.
Long Description : HTML Code Cleaner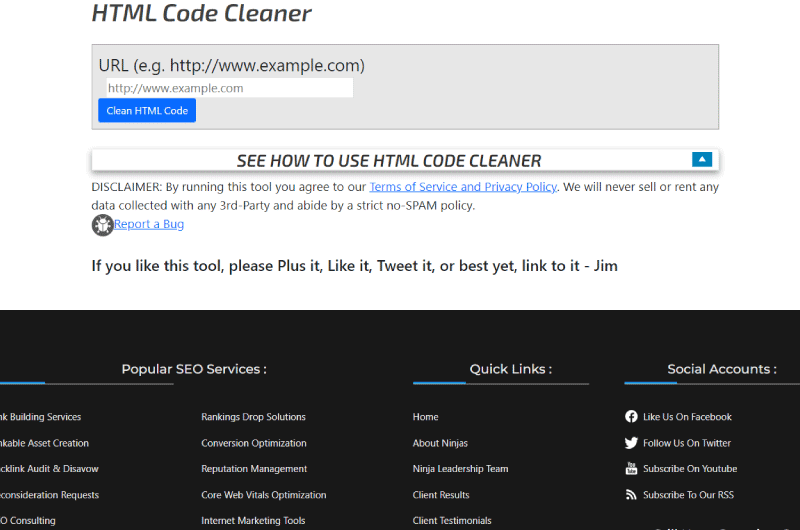 Description HTML Code Cleaner
The contents of some website pages have formatting that is sometimes perplexing just because of their hypertext markup.
Indeed, if some markup characters are redundant or unnecessary, the quality of the experience for visitors to the page may be unpleasant. This is why you must remember to regularly clean your hypertext tags. 
To do this, you can use an HTML code cleaner such as the HTML Code Cleaner tool from the Internet Marketing Ninjas brand. Here are some important details that you absolutely must know if you want to use this tool.
Introducing HTML Code Cleaner — Internet Marketing Ninjas
Just as its name suggests, HTML Code Cleaner is an HTML code cleaner. More specifically, it is a free SEO tool that reduces the loading time of your web pages by optimizing the HTML codes that define it. 
The technical term HTML actually stands for Hyper Text Markup Language. In French, it means Hypertext Markup Language. It is a descriptive computer programming language used to create web pages. 
We can say that this language intervenes in the formatting of Internet pages. Under these conditions, if the HTML codes of your pages are made up of unnecessary characters or tags, this can affect the quality of your web pages.
And it is to avoid this situation that the use of the HTML Code Cleaner tool can be of remarkable help.
In theory, this tool is used to save space on your web pages by eliminating both characters and superfluous tags. This is its main function.
This latest characterizing HTML Code Cleaner tool can easily make your website rank better in search engine SERP. The reason for this fact is simple.
Indeed, if the characters and tags of the HTML code of your web pages are well optimized, you reduce its loading time. This will allow a faster opening of your web page. It goes without saying that the user experience will be better.
HTML Code Cleaner therefore participates in increasing the performance of your web pages. 
Besides, its interface is quite basic. But this state of affairs does not prevent its effectiveness when you use it. 
It is aimed at webmasters, marketing professionals but also SEO specialists. We can even say that it can also be beneficial to e-merchants. 
But how to use it? I'll show it to you right after.
How to use Internet Marketing Ninjas HTML Code Cleaner?
There aren't a thousand ways to use HTML Code Cleaner, especially since it's very easy in principle. To start using it, go to its page by clicking on this link:
HTML Code Cleaner | Reduce Load Time By Optimizing Your HTML Code
You will be systematically redirected to its interface like this:
All you have to do is enter or paste the URL of the web page you want to clean. 
In my case, I chose to paste the homepage link of our SEO agency:
http://www.twaino.com
After typing or pasting, the next step is to clean up the HTML on the page. To do this, click on the blue "Clean HTML Code" button.
You should see the Internet Marketing Ninjas logo begin to swirl around itself. This shows that the cleaning process has started.
In less than 20 seconds, Internet Marketing Ninjas HTML Code Cleaner will display the HTML code of the web page. It will also display the original size as well as the new size after removing unnecessary characters and/or tags.
As you can see, the web page used for the illustration normally used a space having a size of
152,344 Bytes.
After using the tool, its size was reduced and is currently at
148,412 Bytes
. 
The tool therefore allowed the page to gain
3,932 Bytes.
It may not seem like much, but it at least allows your web page visitor's browser to reach all of your content faster.
So now you know how to use the Internet Marketing Ninjas HTML Code Cleaner tool.
Videos : HTML Code Cleaner
Images : HTML Code Cleaner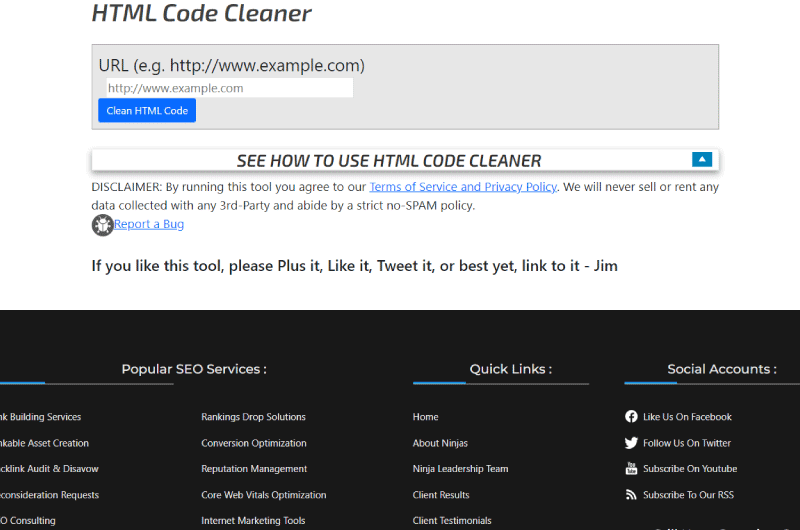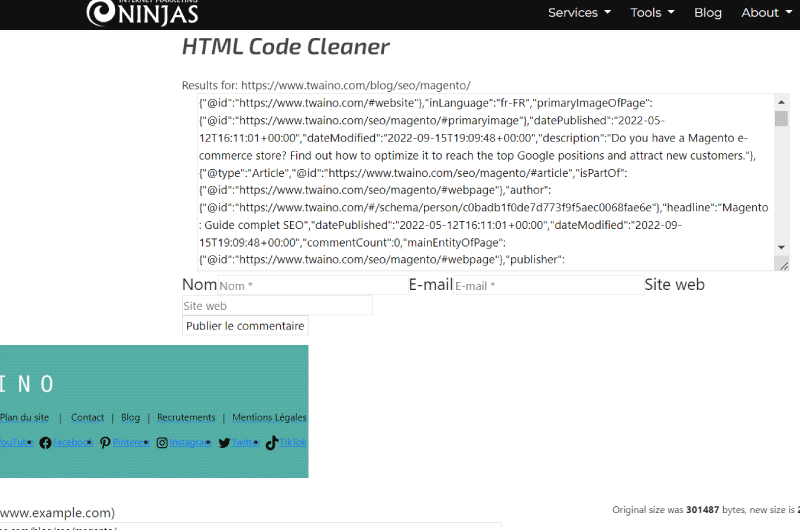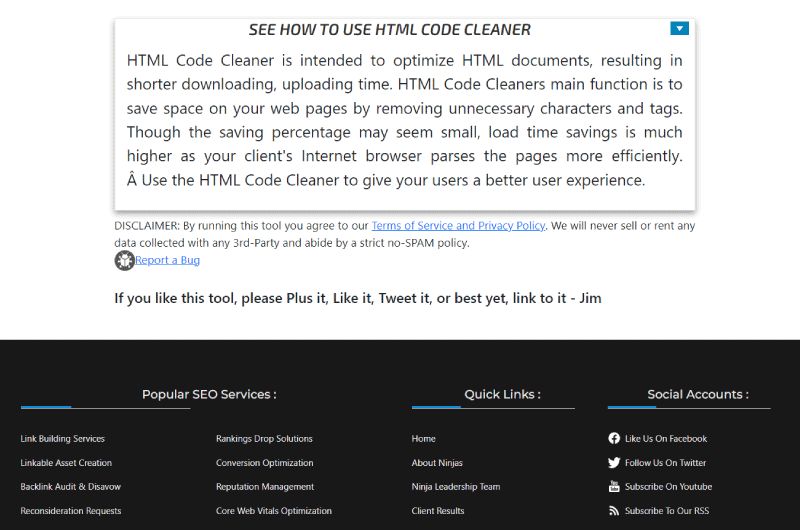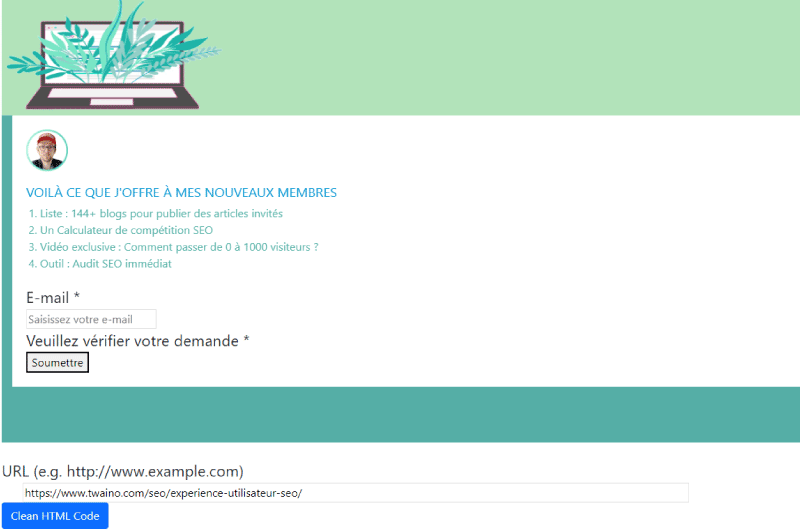 Company : HTML Code Cleaner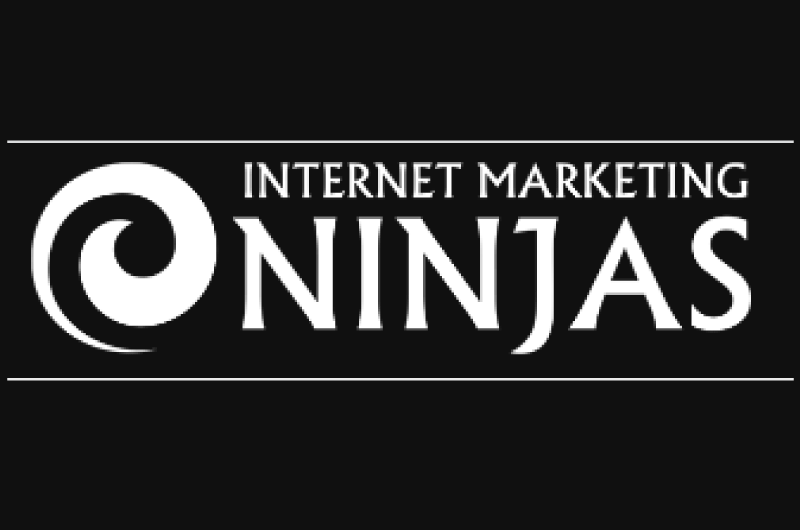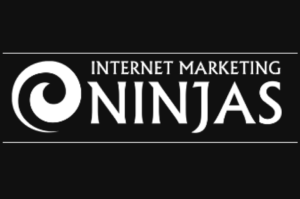 Internet Marketing Ninjas is a company founded in 1999 by Jim Boykin, with more than 10 years of experience in the field of SEO. The company's mission is to help their customers get better traffic to their websites through secure methods.
Internet Marketing Ninjas specializes in optimizing pages and websites for search engines. Based in the United States in Clifton Park, the company is made up of 50 members who are all experts in their fields. Internet Marketing Ninjas offers the entire digital community complete digital marketing services, but also SEO services and tools. Among the 87+ tools developed by them, here are some free SEO tools they have developed:
Social Image Resizer Tool;

What's My Browser Size Tool;

HTML Source Code Viewer Tool;

Meta Tag Analyzer;

Domain Age Checker;

Meta Tag Generator & Snippet Preview;

Search Engine Spider Simulator;

Keyword Combination Tool;

URL Inspection Tool…
These tools are aimed at SEO agencies as well as marketing professionals, not to mention companies. They will surely help to improve your various marketing strategies.
Contact : HTML Code Cleaner
Social Media : HTML Code Cleaner
Others Tools : HTML Code Cleaner
Alexandre MAROTEL
Founder of the SEO agency Twaino, Alexandre Marotel is passionate about SEO and generating traffic on the internet. He is the author of numerous publications, and has a Youtube channel which aims to help entrepreneurs create their websites and be better referenced in Google.