Hide Your Email Tool | Internet Marketing Ninjas
Short description : Hide Your Email Tool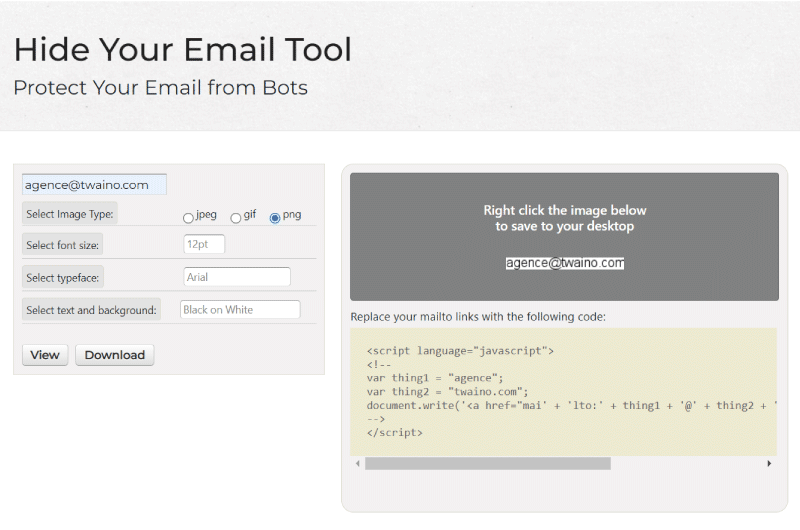 Cool Hide Your Email Tool which allows you to effectively hide your email address from spammers and email bots.
Long Description : Hide Your Email Tool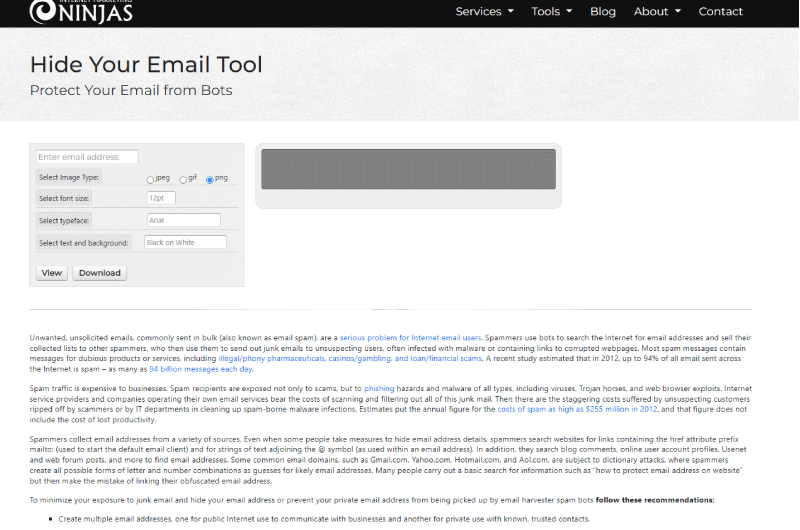 Description Cool Hide Your Email Tool by Internet Marketing Ninjas 
Internet Marketing Ninjas is a widely used platform in the world of digital marketing. The platform is especially appreciated for the toolbox that it makes freely available to the public to improve several aspects of their marketing strategy. 
As the name suggests, Cool Hide Your Email Tool is a tool developed by Internet Marketing Ninjas that allows you to protect yourself from spammers and spam email bots by hiding your email address. 
What is Cool Hide Your Email Tool by Internet Marketing Ninjas? 
Cool Hide Your Email Tool is a tool designed by the Internet Marketing Ninjas team to fight spam. 
Specifically, the tool is a free online service that allows you to obfuscate your email address on your web pages against spammers and email bots.
For this, the tool offers two effective methods of protecting e-mails, namely: 
Creating an image containing the e-mail address
: The first method consists of creating an image with the text of the e-mail address to protect with font shaping features. 
This method can be a good idea when you only want to display an email address, but not make it clickable, so spammers can't figure out who you are. 
For more efficiency, it is recommended not to insert the image in an anchor tag. Otherwise it will put the email address in the source code where it can be easily found and harvested by bots. 
Using the <script type="text/javascript"> </script> :
Instead of using an anchor tag, the second method offered by the tool is to use the
<script type="text/javascript"> </script>
to include inline JavaScript. 
To do this, simply replace the two values ​​of the variable with the user name of the recipient of the e-mail and the domain name of the appropriate network address. 
So when the code runs, a link to an email address appears near the end of the page as an anchor tag with the "mailto:" attribute. 
And since the scripts are difficult for email bots to interpret, they are unlikely to collect your email address in this way.
Cool Hide Your Email Tool by Internet Marketing Ninjas: How to use the tool? 
Cool Hide Your Email Tool remains a very easy to use tool. 
To use it: 
Once on the tool, you have two possibilities to hide your e-mail addresses: 
1. Create an image containing the e-mail address
For this first method of obfuscation of e-mail that Internet Marketing Ninjas offers: 
Enter the e-mail address you want to hide in the first field

Choose an output image format 

Choose a font and a font size that suits you

Finally choose a color for the text and another for the background then click on the "View" button to preview the image you have created
If this image suits you, you can click on the "Download" button to download it and insert on your web pages with the assurance that your email address can no longer be collected by spammers. 
2. Use the <script type="text/javascript"> </script> tag
The second method of e-mail obfuscation offered by Internet Marketing Ninjas is to use lines of script to insert into your source code. 
To do this, you just have to enter in the first field the address of the e-mail you want to hide and then simply click on the "Download" button. 

The tool will show you on your left a few lines of scripts that you will just have to copy and replace your "mailto" links. 
So your users can securely send messages to the email address without it being collected. 
Cool Hide Your Email Tool by Internet Marketing Ninjas: Pricing 
The tool is free to access
Additional Resources
The Importance of Protecting Yourself Against Spammers and Email Collectors 
Spam, i.e. Unwanted Email , is a recurring problem for webmail users.
Spammers use bots to search for email addresses on the net. They then sell the email lists they have collected to other spammers who spread spam messages that contain malware or links to corrupted web pages.
The majority of these spam messages contain illegitimate offers of products or services, such as drugs, gambling and financial systems or loans.
According to a 2012 study, approximately 94% of all emails sent are spam, which translates to
94 billion messages per day
. As we can see, spam is a recurring problem for companies. 
Additionally, not only are spam recipients exposed to scams, but they also face phishing dangers and malware of all types, including viruses, Trojans, and web browser exploits.
Source:
researchgate
This drives companies that provide Internet access or e-mail services to pay for spam analysis and filtering to protect their users from e-mail harvesting. 
On the other hand, people who fall for scams or get infected with spam-delivered malware can incur huge costs.
According to some estimates, spam cost individuals and businesses a total of
$255 million
, not including wasted time.
Spammers often collect email addresses from a number of places. Even though some people go to great lengths to hide their email address details, spammers can still search websites for links containing the href attribute prefix mailto and text strings next to the @ symbol. 
They also scavenge blog comments, online user account profiles, Usenet posts and web forums, etc. to find email addresses. 
Some popular email domains, such as Gmail.com, Yahoo.com, Hotmail.com, and Aol.com, often fall victim to dictionary attacks. 
In these cases, spammers generate every conceivable combination of letters and numbers in an attempt to guess common email addresses.
How to protect yourself from spammers and email collectors? 
To combat spam, Internet Marketing Ninjas has developed a free online tool that offers 2 methods to prevent emails from being collected by spammers and bots. 
The first method is to capture your email address as an image that you can insert into your content. The second is to copy a script to use to replace the mailto codes. 
All you have to do is enter the email address you want to hide and choose a protection method and the tool will help protect you from spammers. 
Some additional practices for protecting against spam and email 
bots Here are some best practices you can use to increase your security against spammers and spam bots: 
Create multiple email addresses to separate the private email public use email

If you want to email a prospect or customer for non-personal communication, you might consider using a disposable email address service. So you can quickly shut down that email address if a company sells its customer contact list or if a security breach occurs. Also, you protect the inboxes of your other contacts. 

Only use a personal email address for close contacts and people you trust. Otherwise, users' email addresses may not be adequately protected.

Review the privacy policies of any Internet services you use, especially how they protect email address data, and use any options to opt out of sharing your email address with unrelated third-party business partners.

Do not reply to or click on URLs discovered in spam.

Do not use your personal email address in blog comments and forum posts to avoid spam. If you must use an email address to comment, create another one specifically for that purpose, which you can later abandon if necessary.

Then you can use a proxy to hide your IP address and encrypt your email.

A simple Google search on "protecting email address on a website" will reveal some widely used methods, such as email address obfuscation.

Create a web contact form to receive feedback and comments on your site, with an email obfuscator included to protect email address information.
Videos : Hide Your Email Tool
Images : Hide Your Email Tool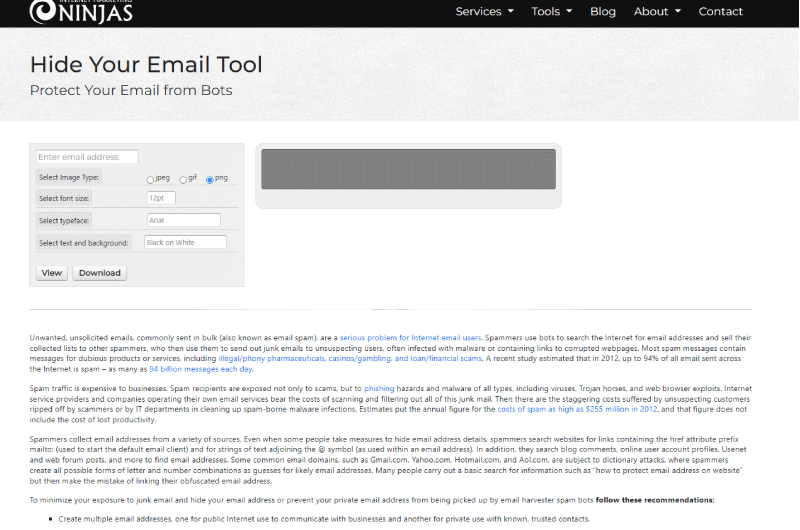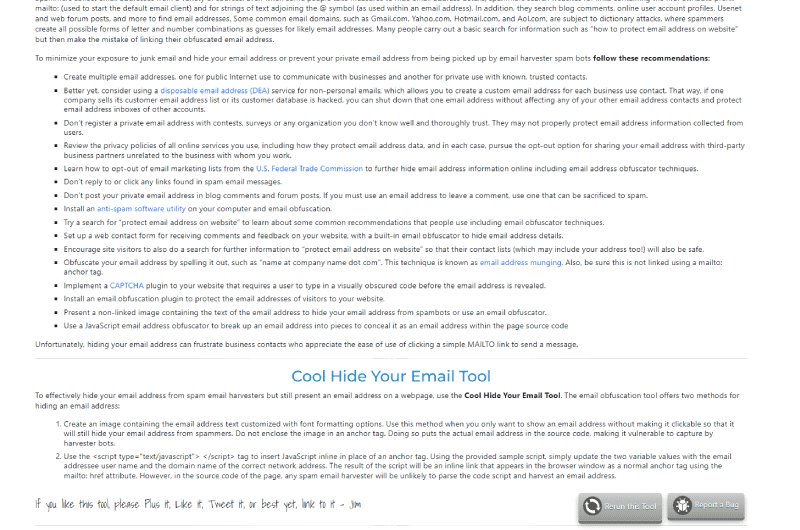 Company : Hide Your Email Tool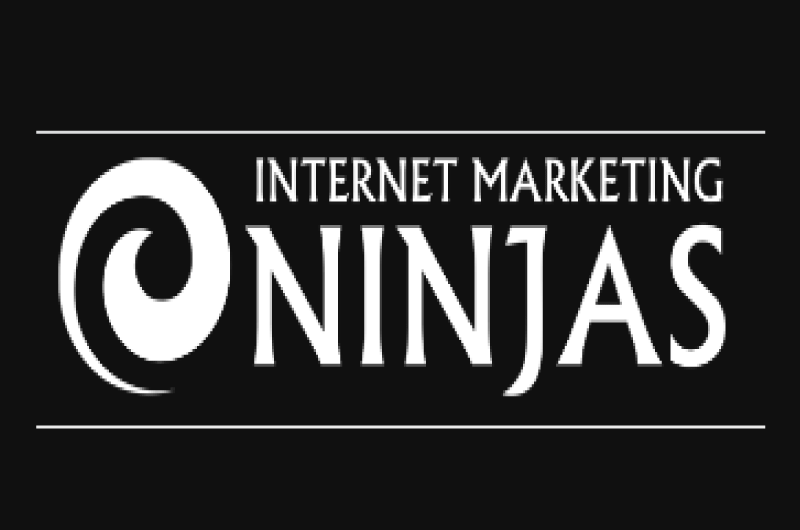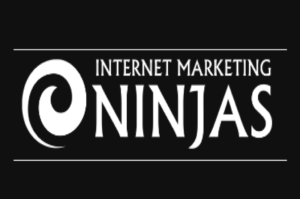 Internet Marketing Ninjas is a company founded in 1999 by Jim Boykin, with more than 10 years of experience in the field of SEO. The mission that the company has given itself is to support their customers to have better traffic to their websites through secure methods.
Internet Marketing Ninjas specializes in optimizing pages and websites for search engines. Based in the United States in Clifton Park, the company is made up of 50 members who are all experts in their fields. Internet Marketing Ninjas offers the entire digital community complete digital marketing services, but also SEO services and tools. Among the 87+ tools developed by them, here are some free SEO tools they have developed:
Social Image Resizer Tool;

What's My Browser Size Tool;

HTML Source Code Viewer Tool;

Meta Tag Analyzer;

Domain Age Checker;

Meta Tag Generator & Snippet Preview;

Search Engine Spider Simulator;

Keyword Combination Tool;

URL Inspection Tool…
These tools are aimed at SEO agencies as well as marketing professionals, not to mention companies. They will surely help to improve your various marketing strategies.
Contact : Hide Your Email Tool
Social Media : Hide Your Email Tool
Others Tools : Hide Your Email Tool
Alexandre MAROTEL
Founder of the SEO agency Twaino, Alexandre Marotel is passionate about SEO and generating traffic on the internet. He is the author of numerous publications, and has a Youtube channel which aims to help entrepreneurs create their websites and be better referenced in Google.