Header Checker | SEO Book
Short description : Header Checker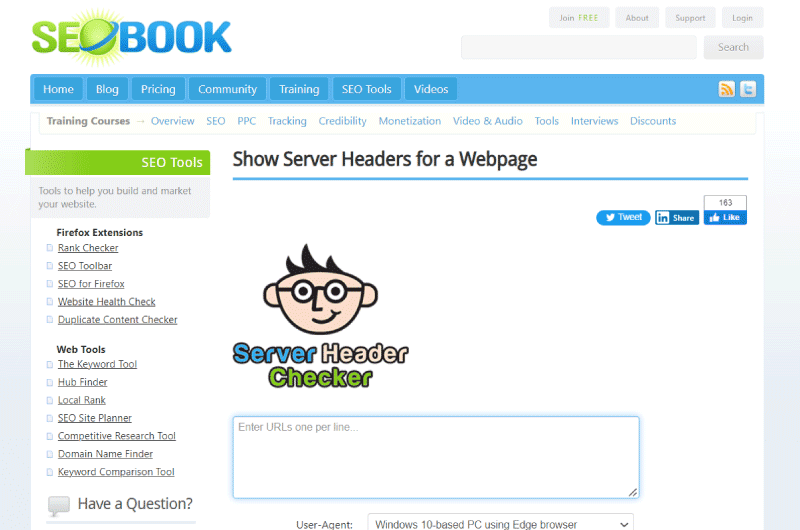 Your main competitors have been investing in their marketing strategy for years. Now you can find out exactly where they rank, choose their top keywords, and track new opportunities as they arise. Explore your competitor's ranking profile in Google and Bing today using SEMrush. Enter a competitor URL below for quick, free access to their organic and paid search performance history.
Long Description : Header Checker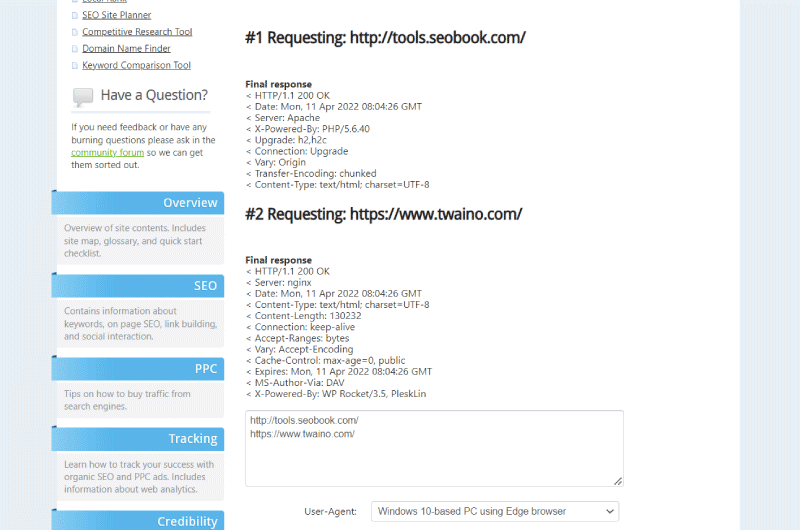 Seobook's Sever Header Checker Error
messages are a huge problem for websites and it is believed that
73.72%
of people who reach a 404 error page will leave your website and not return.
That said, website owners need to ensure that their pages don't return error messages when visitors try to land on their sites.
The best way to ensure this is to occasionally check your URL headers to see which ones have problems and fix them.
Seobook's Sever Header Checker tool can help you do these checks to get valuable information about your URLs instantly.
Through this description, I take you to discover Seobook's Sever Header Checker and its interest in SEO.
What is Seobook's Sever Header Checker?
Sever Header Checker is a tool offered by Seobook to help you inspect the HTTP headers that the web server returns when requesting a URL.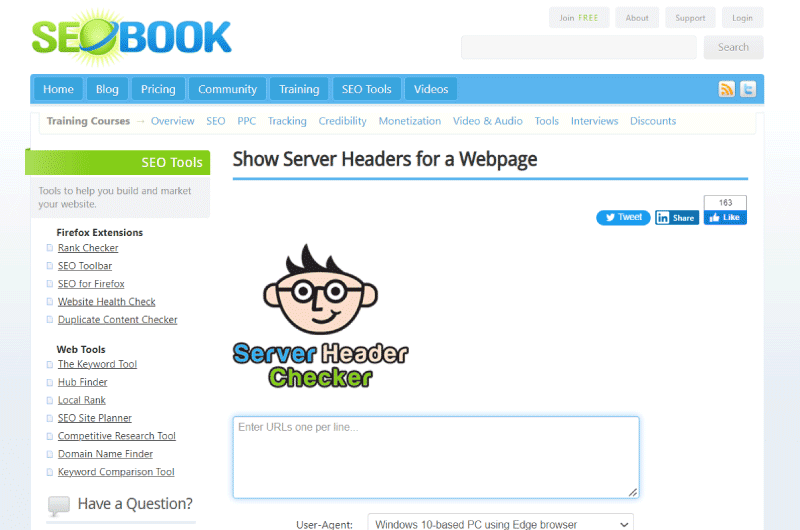 To understand the interest of this tool, let's look at HTTP headers. These are HTTP responses or HTTP status codes that allow additional information or data to be sent between a browser and your server.
When a request is made to the server, or the user attempts to access a given page, the HTTP response is the specific information sent in response to the request made to the web page or website.
HTTP is nothing but short for hypertext transfer protocol, an application layer protocol that provides standard communication practices between a web server and its clients.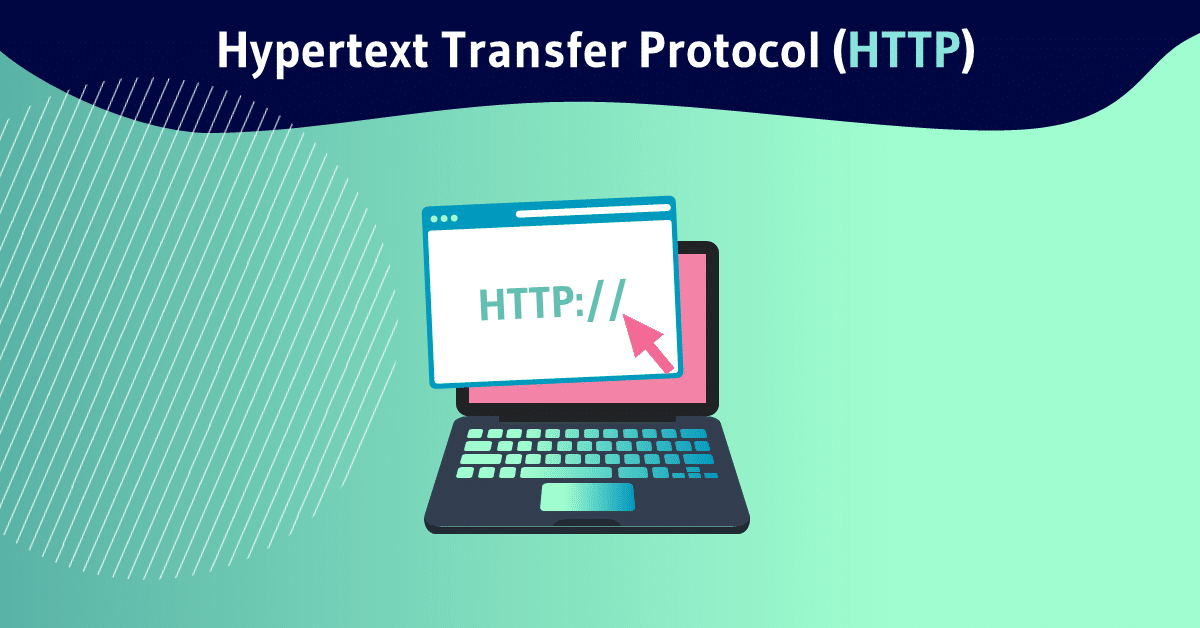 HTTP headers help you get a variety of important information, like software version server, content type, HTTP connection, cookie settings, date and time, etc.
From the HTTP Response Headers, it is possible to inspect the HTTP headers that the server of a particular site has returned in response to your request for a specific URL or web page.
This is what Seobook's Sever Header Checker will allow you to do, that is, to see the type of response that a server sends back when an attempt is made to access a specific page.
The idea is to see your pages that display correctly and those that the server had trouble displaying. When there are pages the server can't find, which can hurt your visitors' experience, you'll be able to fix them faster.
What is the interest of Seobook's Sever Header Checker for SEO?
Seobook's Sever Header Checker will let you get a lot of technical SEO information by checking the HTTP response headers returned when requests are sent to the server by the client.
Including key SEO elements in HTTP headers is a more widespread and accepted practice than you might think. For example, you can declare canonical URLs in the HTTP header.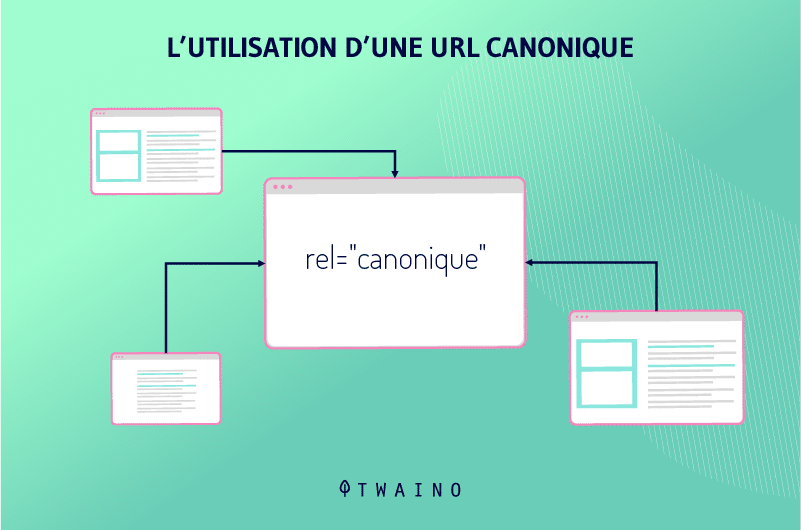 These may contain canonical tags, so you don't need to no longer need to display them in the HTML code. By evaluating HTTP response headers, you will gain valuable insight into your technical SEO performance.
It's always important to have a clear idea of ​​each HTTP header regardless of what you want to see about URLs.
In addition, for your campaigns or that you work on optimization, it is essential to ensure that your links are both precise and functional.
When you have a broken link or a server/request issue, it can impact the success of your plans.
How to use Seobook's Sever Header Checker to check server headers?
To start, remember that HTTP server headers are a hidden part of a page's response that only a browser can see. This is a code that tells the browser what behavior to adopt when accessing the requested page.
Note that there are various HTTP headers that are used to modify browser behavior. Depending on the server configuration, a browser may or may not send all HTTP headers at once.
Now, to check HTTP headers or response headers for a particular web page, you can perform the following steps:
Open Seobook's Sever Header Checker;

Enter a specific domain or URLs to check for response headers, then;

Choose the agent you want to check for;

Then choose the HTTP protocol version you want to check;

Click on the "Check Headers" button.
The tool instantly processes your request and provides you with the response headers.
From the HTTP header checker, you will get the following information: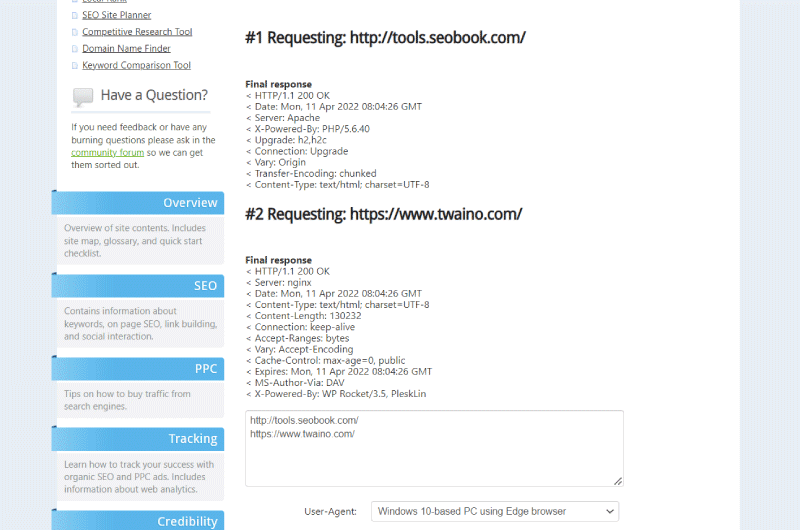 Request
: This is a summary of the request you requested to process, including the URL and user-agents considered.
Response
: it includes the HTTP code that the page returns. In our case, the response is 301, meaning a permanent redirect. Other information includes date of request, content type, website server, etc.
Final response
: This part includes the final response that the verified URL displays as well as other information. For our case, the HTTP response is 200 OK.
Moreover, you can run the check of several URLs at the same time. Seobook's Sever Header Checker shows the results following the order of the URLs entered in the starting field.
Common HTTP status codes one gets after checking Seobook's Sever Header Checker
Some common HTTP status codes are: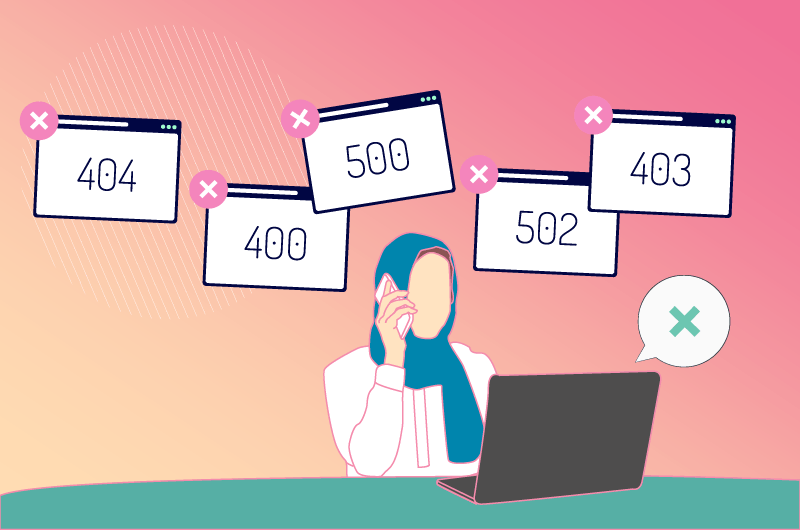 https://www.twaino.com/wp-content/uploads/2021/ 12/GUIDE-DES-CODES-DETAT-HTTP-POUR-LES-SEO-2.png
200 OK
: This status code indicates that everything is fine and the browser has found the requested URL, the web page has been returned and everything works perfectly.
403 Forbidden
: This status code is a bit worrying because it means the server is rejecting the request and creating an obstacle for user-agents. This code requires your intervention, you must correct it more quickly.
301 Permanent
redirection: Seobook's Sever Header Checker detects in this code a permanent redirection of the URL. This means the URL has been updated and moved to another working URL.
404 Not Found
: The HTTP status code is very well known and means that the requested page was not found on the server and has been deleted by the web administrator.
503 Server is temporarily unavailable
: When this HTTP status code appears, it indicates that the server or host has a problem that needs to be addressed immediately.
In sum, Seobook's Sever Header Checker will help you check HTTP server headers for any URL for free to get server response instantly.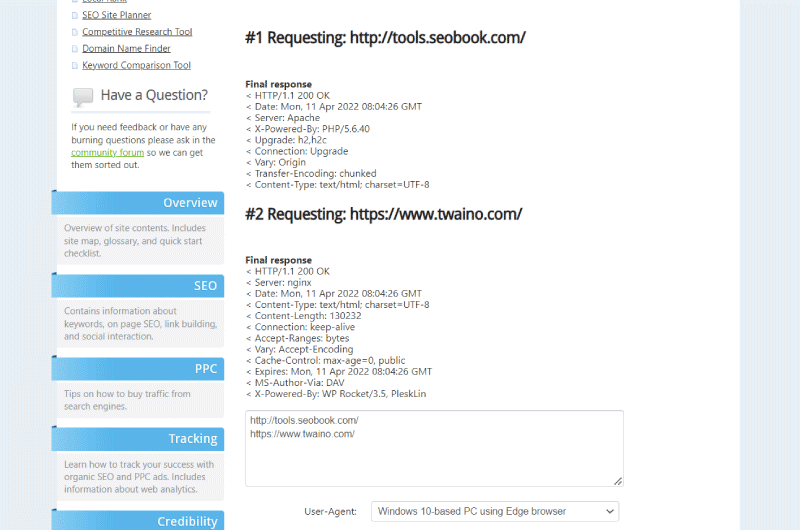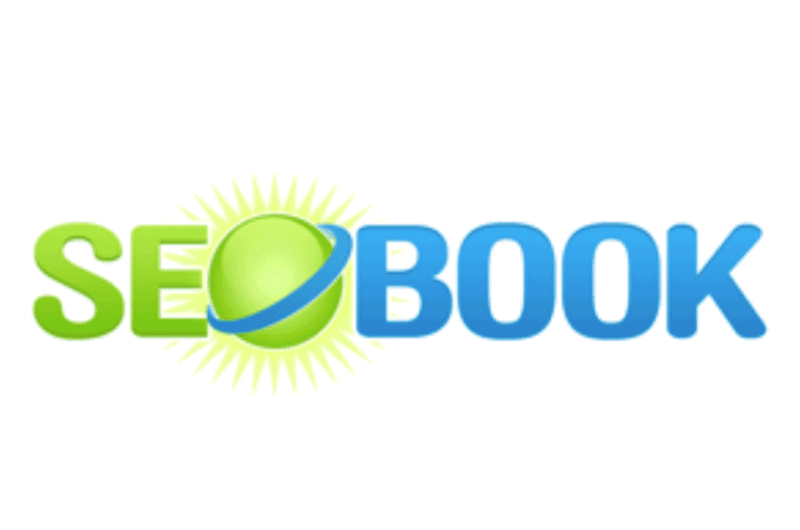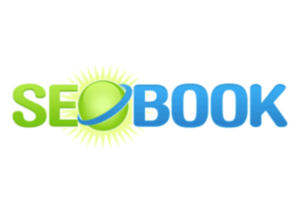 SEO Book is an SEO website, created in 2003 by Aaron Wall and his team of web developers. It offers companies and individuals network marketing advice, search analysis and SEO operating algorithm.
SEO Book is also one of the SEO sites that has considerable seniority. Originally, SEO Book was just a blog that exclusively provided SEO advice and sold SEO ebooks. Subsequently, SEO Book preferred to embark on the technical dimension of SEO. 
Today, SEO Book has many clients around the world to whom it offers its SEO and SEO ranking services across the globe.
To achieve its objectives and meet the expectations of its customers, the SEO Book site platform provides them with several SEO tools, each more effective than the next. 
These include:
the keyword management tool;

the Keyword List Cleaner;

the meta tag generator;

the link suggestion tool;

the Keyword Density Analyzer;

the crawl test tool and many more.
All these tools improve the visibility of business or individual sites, which allows them to offer better services to their customers. 
Social Media : Header Checker
Others Tools : Header Checker
Alexandre MAROTEL
Founder of the SEO agency Twaino, Alexandre Marotel is passionate about SEO and generating traffic on the internet. He is the author of numerous publications, and has a Youtube channel which aims to help entrepreneurs create their websites and be better referenced in Google.