Short description : Find Questions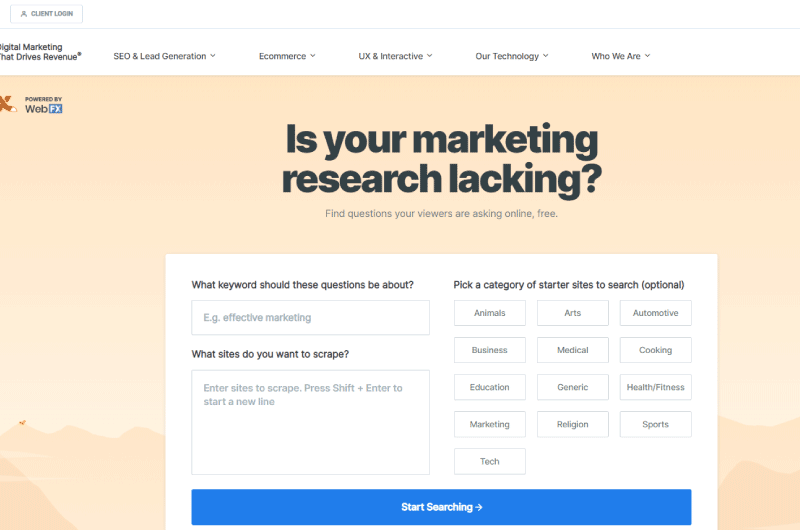 FAQfox is a question scraper tool. I like how you can choose which websites FAQfox scrapes. So, if there is a particular site your target audience hangs out on (e.g. Reddit), you can instruct the tool to search for that site only.
Long Description : Find Questions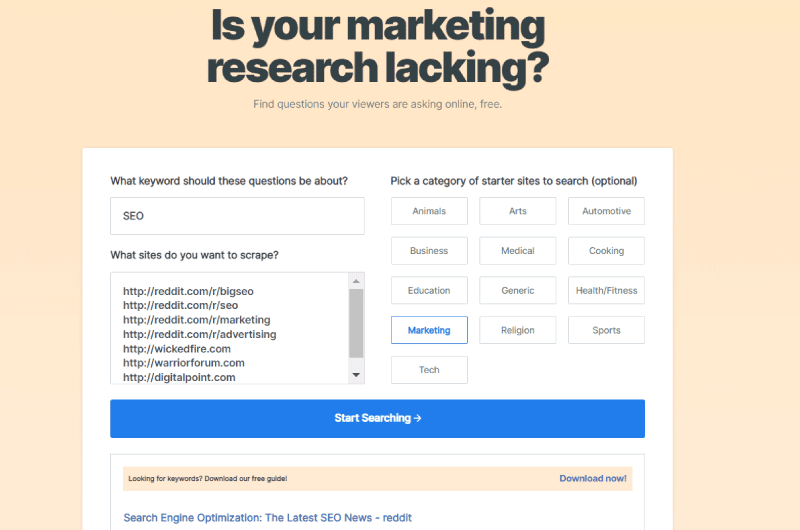 Description WebFX Fox FAQ
WebFX Fox FAQ is an SEO tool that lets you find conversational keyword ideas to target on your FAQ pages. 
The tool is accessible free of charge and remains very easy to use: 
You simply enter a main keyword on which you wish to obtain content ideas. 

You then choose one or more categories that best define the context of the main keyword. 

Then you can start the search.
What is WebFX FAQ Fox? 
Fox FAQ
is a market research tool that you can use to easily uncover common questions consumers have about your products (or services) on the Internet. 
By accessing these questions, you will be able to better understand the real needs and difficulties of your target audience. 
Thus, it will be easier for you to know which theme to address in order to produce quality content that brings real added value to customers. 
Fox FAQs can help you generate a bunch of relevant content topics for: 
Writing interesting and useful blog posts

Creating engaging content that engages people on social media 

Offering impressive data carriers 

Creating content marketing with high viral potential
FAQ Fox was developed by WebFX, a digital marketing agency that offers SEO and PPC SEO services.
FAQ Fox : How to use the tool? 
Using Fox FAQ is quick and easy to the point of being widely accessible to everyone. 
1. Enter a main keyword
The first thing to do is to choose a main keyword and then type it into the tool's search field. 
2. Choose a site category from the list of suggestions 
After entering the keyword you want to search for, the next step will be to choose a category that matches the context of your keyword.  
By default Fox FAQ suggests a list that sufficiently covers the common categories you will need. You can choose multiple categories to further refine your search. 
To do this, click a first time on a category to select it and then a second time to deselect it. 
Note
: This category selection step is optional. Without even providing a site category, you can just enter a search term and the tool will work just fine. 
As you choose a category, the tool automatically generates a list of websites from which FAQs will be scraped. You have the option of removing websites from this list or adding them manually. 
Once your references have been chosen, click on the "Search" button to launch the search. 
3. Analysis of scraping sites and data collection 
This is the last step in the operation of WebFX FAQ Fox. This is where your search results are generated. It only takes few seconds. 
You can then browse the list of FAQs generated and click on a line to be directed to the corresponding page. 
Fox FAQ: Advantages and Disadvantages 
Advantages
One of the best SEO tools for creating FAQs

Excellent customer support

Tool available for free 

Also offers other additional tools to manage your SEO and PPC campaigns. 
Cons
The results generated are not always relevant to the search term 

The list of SEO tools offered by WebFX is not as extensive as those offered by
WebFX competitors Fox FAQ: Pricing 
Free 
WebFX Tool: Other free tools from the brand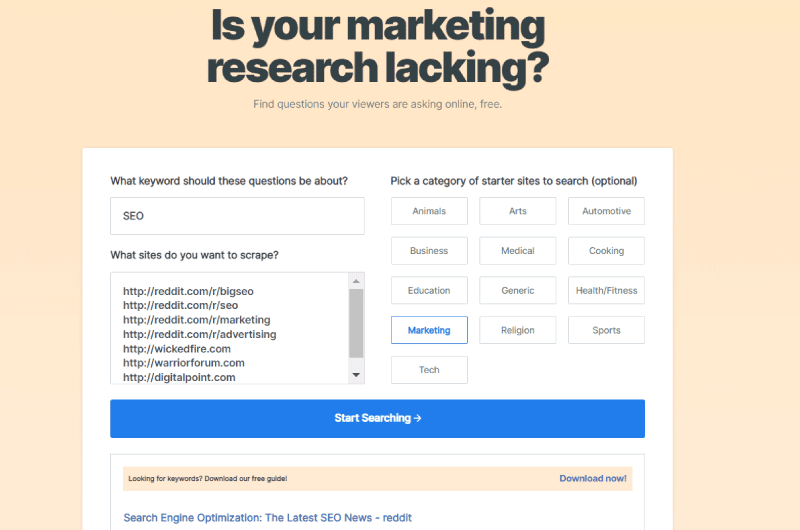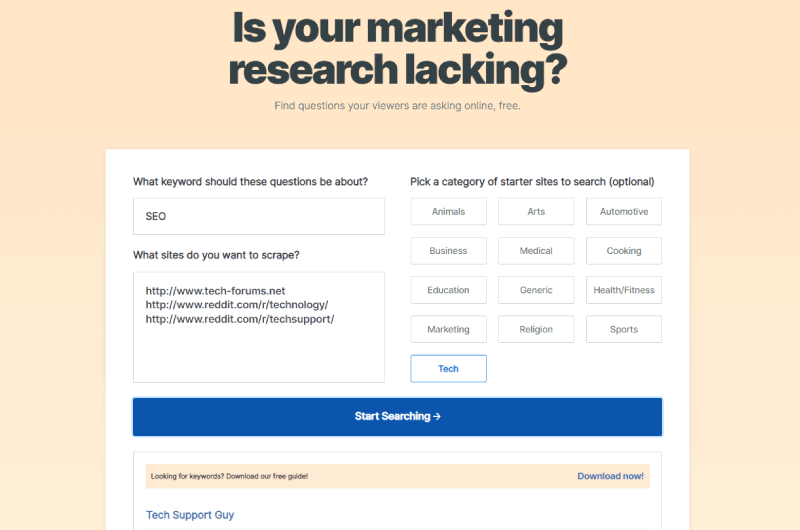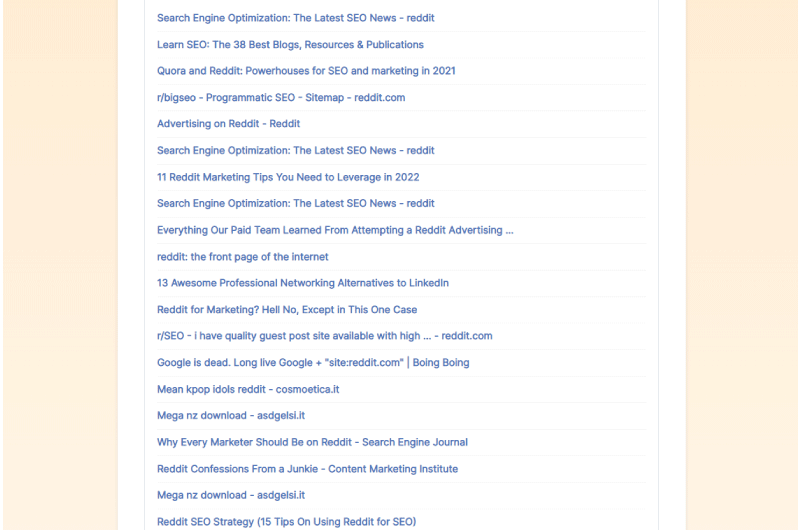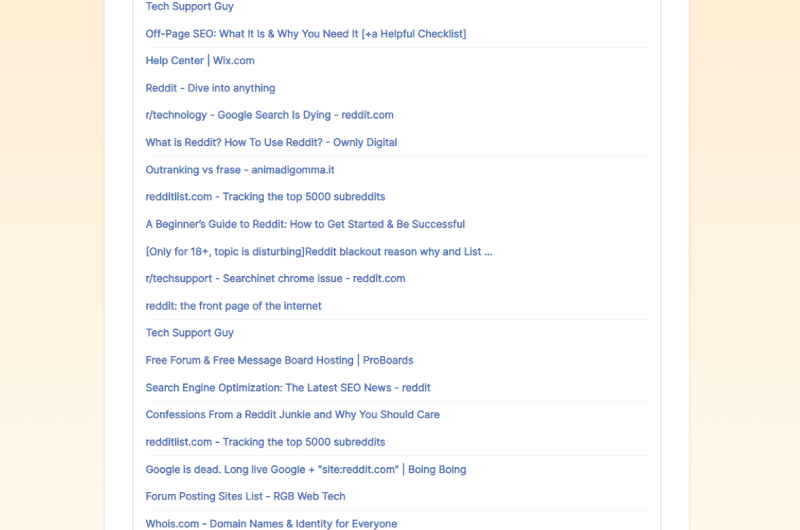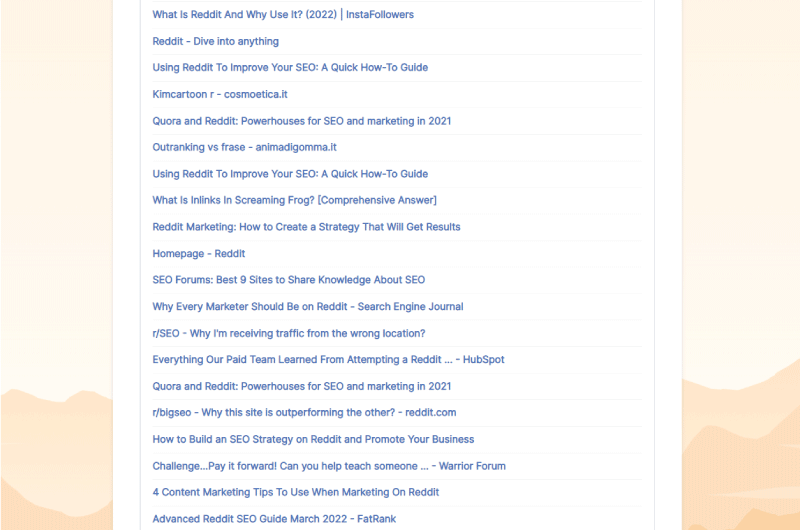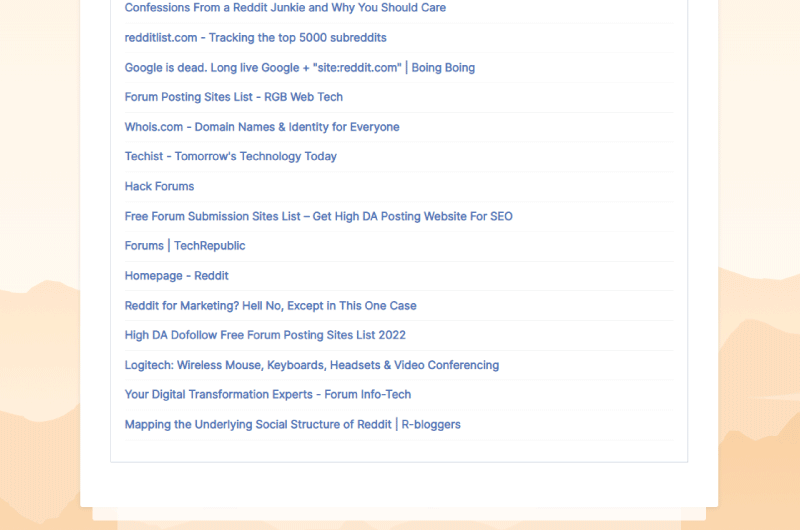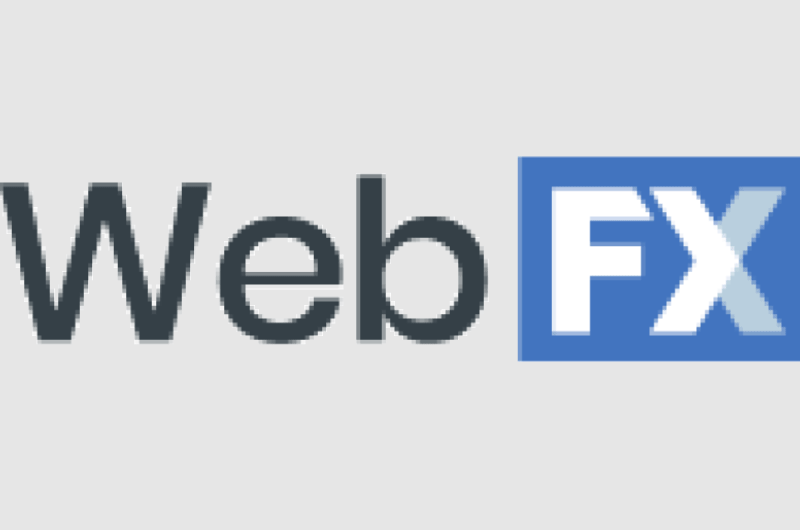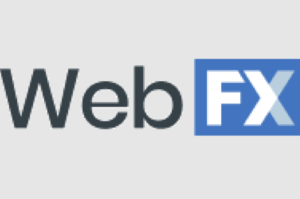 FAQ Fox is a content marketing tool, developed by the Web Fx platform. It was designed with the aim of allowing SEO technicians to generate more revenue through better market research.
Any successful marketing campaign must necessarily be based on proper market research. In order to provide better interaction between clients and marketing agencies, FAQ Fox provides marketing agencies with appropriate frameworks for each area. 
These include:
blog posts;

primary social media content;

size data carriers;

viral content;

etc
Additionally, the data available through Fox FAQs is instantaneous, invaluable, and immediately actionable. Whether it's stellar web design or cutting-edge content, FAQ Fox ensures better operating comfort.
FAQ Fox also makes it possible to analyze and correct the gaps present in the content of the sites. It also helps businesses stay ahead of their competition.
Social Media : Find Questions
Others Tools : Find Questions
Alexandre MAROTEL
Founder of the SEO agency Twaino, Alexandre Marotel is passionate about SEO and generating traffic on the internet. He is the author of numerous publications, and has a Youtube channel which aims to help entrepreneurs create their websites and be better referenced in Google.