CSS Coder | Internet Marketing Ninjas
Short description : CSS Coder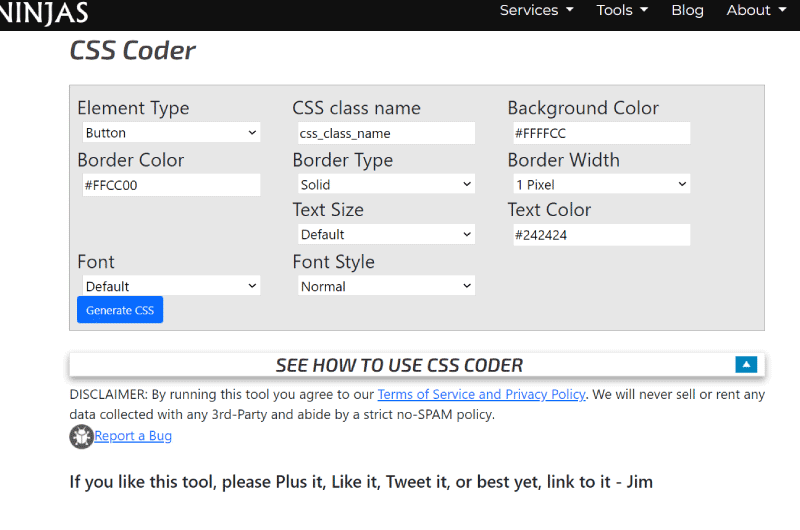 Want to quickly generate CSS code for your site? Use CSS Coder from Internet Marketing Ninjas.
Long Description : CSS Coder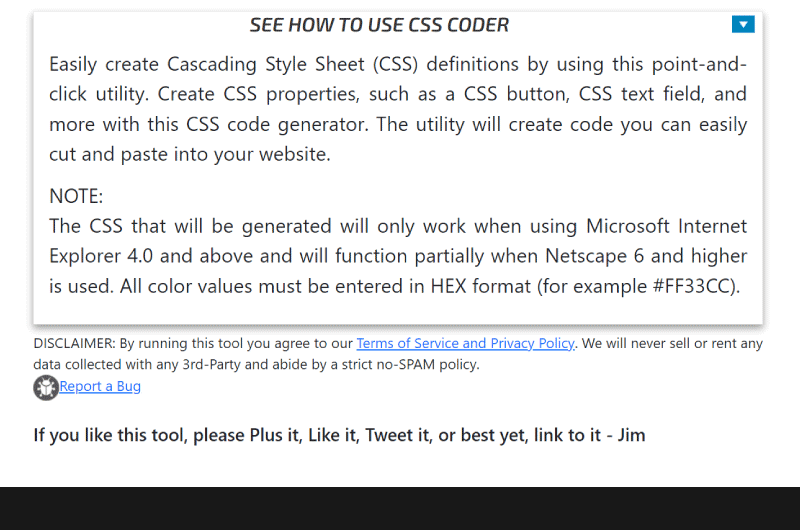 Description CSS Coder by Internet Marketing Ninjas
CSS generators can save web designers and developers valuable time.
Many website owners yearn to add an individual touch to their web pages, such as shadows, gradients, overlays, and squiggles.
CSS generator tools allow designers to easily add these features to a website without much work.
Generators are a tool that allows software developers to build their code faster and easier. This is the case with CSS Coder from Internet Marketing Ninjas which can generate CSS codes for you ready to use.
In this description, I propose to discover CSS Coder and how you can use it to generate CSS codes for your projects.
What is Internet Marketing Ninjas CSS Coder?
Internet Marketing Ninjas' CSS Coder is an easy-to-use CSS code generator for quickly creating named CSS buttons, text field values, and more.
This utility will generate a code that you can cut and paste on your website very easily.
Remember that CCS is a design language that makes it easy to format the look and feel of web pages.
That said, with CSS Coder you can control a number of things on your site like:
   

Text color;

   

Font styling;

   

Spacing between sections;

   

Column layouts;

   

Background;

   

Layout ;
Functionality
CSS Coder of Internet Marketing makes it possible to generate code for three principal elements of a Web site namely: the buttons, the input fields and the formatting of a text.
CSS Button Generator
This feature is one of the things that makes CSS Coder great. It is an automatic button generation device that allows you to design buttons in an easy way.
With this CSS Coder option, you can customize different aspects of a button, including:
Background color,

Gradient;

The box shadow;

The text-shadow;

The size (width and height);

The characteristics of the border;

The radius of the border;

Transitions (animations);

Etc.
With all these possibilities, you can create buttons with a unique design. The advantage of CSS Coder is that you can prototype your HTML button and border style without using a graphic design program to save time.
It's also useful when someone sends you an image to encode. It can be useful to get the padding and box-shadow without having to reload the browser.
To create buttons, it's easy to fill in the fields and replace the class name with whatever you want. All styles are adjusted to text size changes.
That is to say, you can modify the different possibilities until you get a button that is to your liking. 
Input Text Generator
CSS Coder includes an input field generator with which you can easily create beautiful custom input text styles for your web pages.
This is because the input field is an important part of the form element which can be used to create interactive controls for multiple input types, such as text, email, number, password, URL phone number, and more.
With CSS Coder's easy-to-configure settings, you can finally give your HTML text entries, email fields, and password fields the look and feel you've always wanted.
To generate an input field, simply choose the "Text Field" option in the "Element Type" part. From then on, you can start filling in the personalization fields.
To limit the CSS code to a certain section of the page, choose a CSS scope (.widget by default) and a CSS selector (.fancy by default).
Then click on "Generate CSS" to display the generated CSS code. After that, just copy and paste it into your CSS file.
Text
Style Generator The CSS Font Style Generator is an online tool for quickly generating CSS font styles. You can customize the text and choose any font to style it.
This online font style generator allows you to create all kinds of font styles, like color, text transform, text decoration, line height, etc.
It is also possible to add text shadows to your fonts. By styling your font, you will be able to see a live preview of how it will look.
The CSS file can be updated each time you make a change, making it easy to copy the code when you're done.
If you want to generate a CSS style for your text, click on "Element Type" and choose "Text".
After selecting the font from the drop-down list, the next step is to choose a font by clicking "Font".
You can then change the font size by dragging the slider in the "Text Size.
The font color is also customizable with Internet Marketing Ninjas CSS Coder. To do this, choose the color in the "Text Color" box. You can change the font style.
There are also other customizable settings that will allow you to have the text really to your liking. These include border, border type, border color, background, etc.
When you have finished configuring all the parameters, you will have to click on "Generate CSS" to generate your code.
Like other features, you will be able to preview the result of the code you generated.
In short, CSS Coder will allow you to generate CSS code to create buttons, input fields and to style your texts.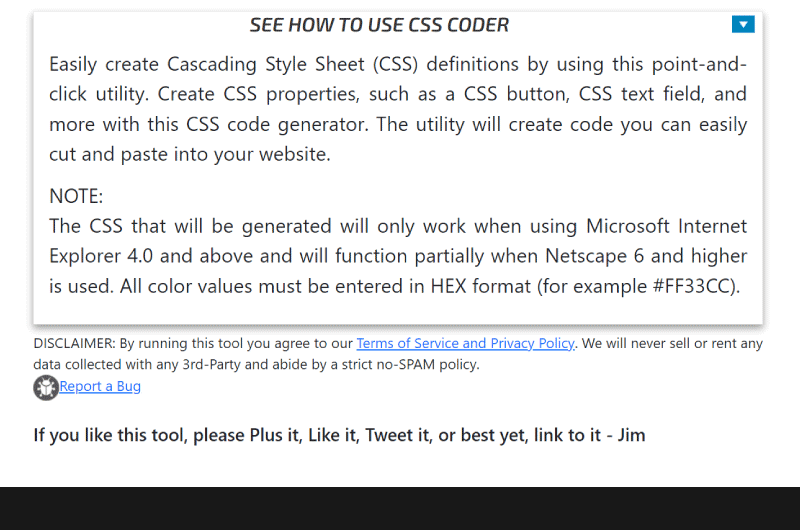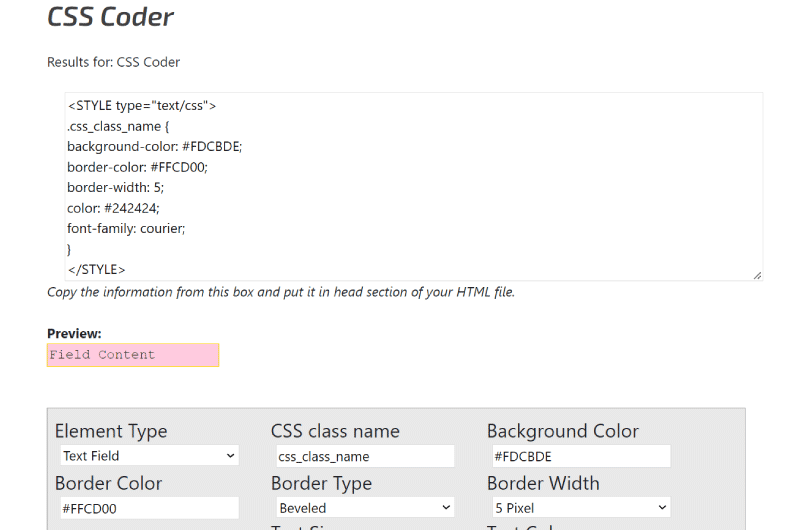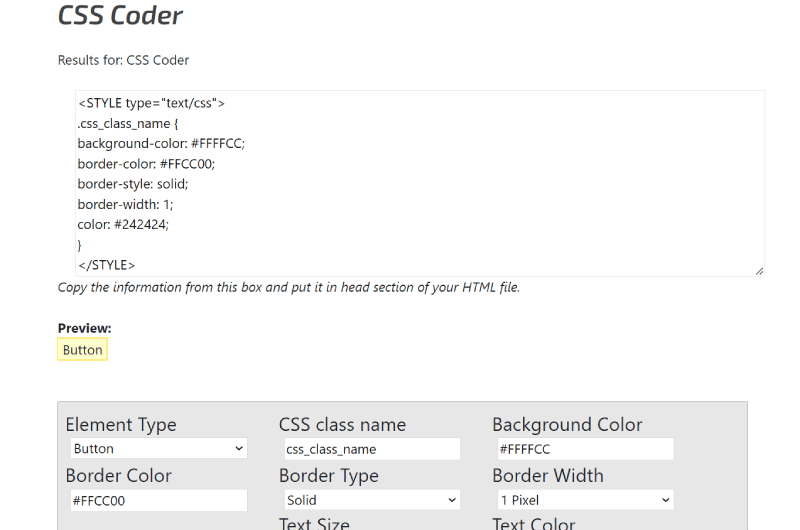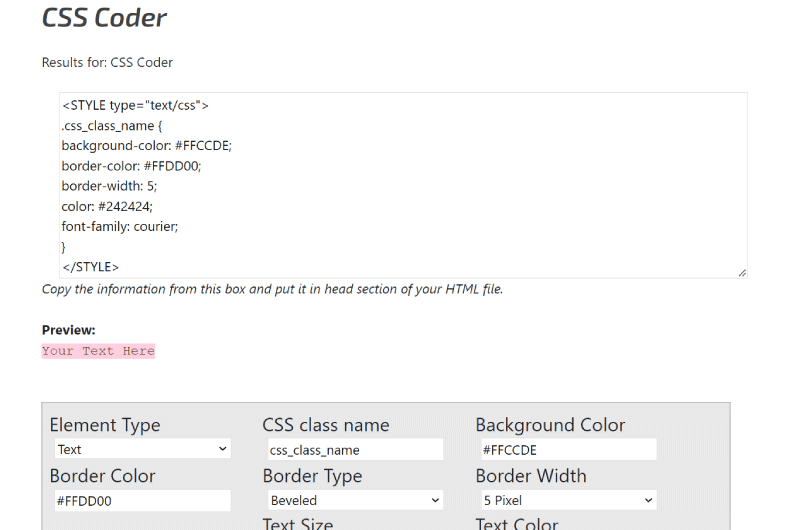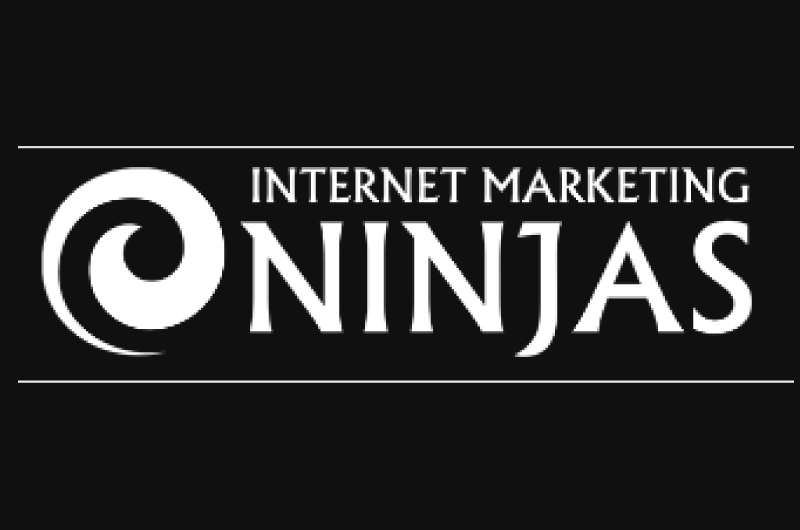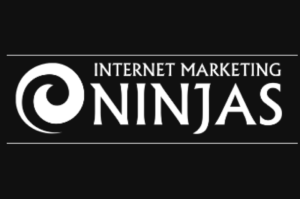 Internet Marketing Ninjas is a company founded in 1999 by Jim Boykin, with more than 10 years of experience in the field of SEO. The company's mission is to help their customers get better traffic to their websites through secure methods.
Internet Marketing Ninjas specializes in optimizing pages and websites for search engines. Based in the United States in Clifton Park, the company is made up of 50 members who are all experts in their fields 
. Internet Marketing Ninjas offers the entire digital community complete digital marketing services, but also SEO services and tools. Among the 87+ tools developed by them, here are some free SEO tools they have developed:
Social Image Resizer Tool;

What's My Browser Size Tool;

HTML Source Code Viewer Tool;

Meta Tag Analyzer;

Domain Age Checker;

Meta Tag Generator & Snippet Preview;

Search Engine Spider Simulator;

Keyword Combination Tool;

URL Inspection Tool…
These tools are aimed at SEO agencies as well as marketing professionals, not to mention companies. They will surely help to improve your various marketing strategies.
Alexandre MAROTEL
Founder of the SEO agency Twaino, Alexandre Marotel is passionate about SEO and generating traffic on the internet. He is the author of numerous publications, and has a Youtube channel which aims to help entrepreneurs create their websites and be better referenced in Google.