Check Backlinks | Open Link Profiler
Short description : Check Backlinks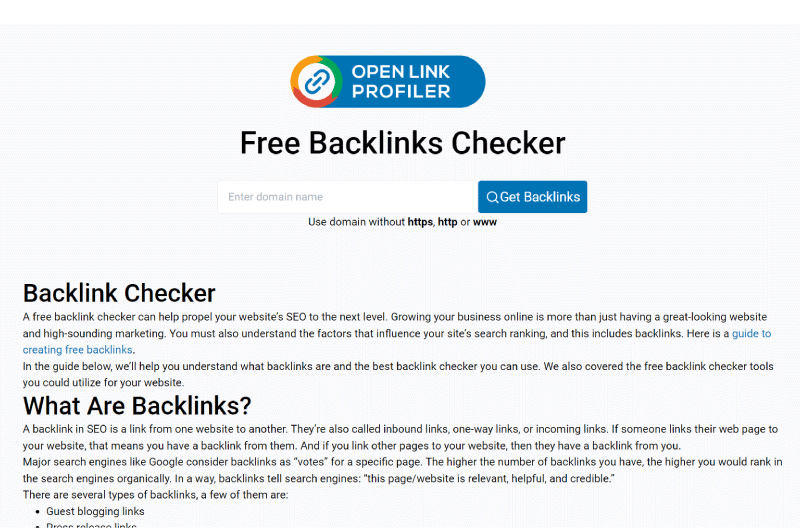 OpenLinkProfiler.org is a free link search tool that lets you check the backlinks of any website.
Long Description : Check Backlinks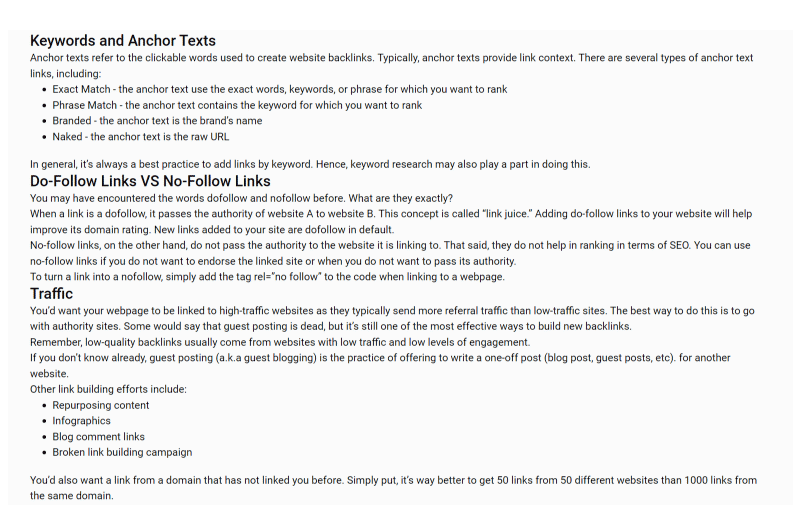 Description OpenLinkProfiler 
Backlinks are an important ranking factor on search engines. But how can you be sure of the quality of your current backlink profile? OpenLinkProfiler is an excellent backlinks tool that can be useful to you, beginner to SEO expert. 
What is OpenLinkProfiler?
OpenLinkProfiler is a free backlink checker that lets you check the link profile of any website. 
The tool allows you to do several things, including:
Monitor backlinks, internal links, and external backlinks

Determine the total number of backlinks

Create a link profile
Identify active links and spam links

Provide SEO metrics
This is valuable information which can be used to optimize your backlink campaigns. 
The tool can be accessed online directly through a browser. All you have to do is enter the domain name of the site you want to check and then click on the "get backlink data" button. 
The tool will then crawl the site and generate a report on its screenbacklink profile. The tool has an ergonomic and intuitive design that is highly appreciated by users. On review platforms, OpenLinkProfiler has received numerous evaluations where users call it the "best free backlink checker" 
. Indeed, despite all the backlink analysis features it's packed with, you can use the tool anytime without necessarily needing to subscribe to a paid plan 
first.If you're on a budget, OpenLinkProfiler is still probably the best alternative solution to Majestics and Ahrefs that you will find on the market 
OpenLinkProfiler: Available features
analysis

: After analyzing a backlink on Openlinkprofiler, the tool displays a glo report ball with several filters to further refine the results. 
For example, you can choose to display the backlinks obtained by the site over the last 30 days. 
Link Disinfection

: With this feature, you can identify all low quality backlinks that may be affecting your ranking on search engine pages. For each link identified, the tool displays: 
The date the backlink was obtained 

The anchor text

The page to which the backlink is directed 

And a percentage of risk
Source:
Stateofdigital
From this information, you can then go to Google Search Console to make a deletion request. 
Another cool thing with this feature is that you have the option to create a disavow link file when you find yourself facing a large number of bad backlinks that need to be removed.
Source: Stateofdigital
Anchor texts

: OpenLinkProfiler also offers you the possibility to identify anchor texts in order to repair cases of over-optimization. 
Source: Stateofdigital
Domain pages with maximum links

: This feature allows you to target your web pages that get the most backlinks. 
Source: Stateofdigital
What to distinguish the pages that need to be improved to generate more engagement from your target audience.
Link alerts

: For a good backlinks campaign, it is also important to set up an inbound link monitoring strategy. With Openlinkprofiler's "Alert" feature, you just have to enter any URL and your email address to be notified of newly acquired backlinks.  
Source: Stateofdigital 
This feature can also be useful for monitoring the acquisition of backlinks from your competitors. 
Statistics by country

: With this section, you can filter the information collected on the backlinks by country of origin. 
Source Stateofdigital: 
Distribution of the "Link Influence Score"

– The "LIS" is an OpenLinkProfiler metric for evaluating the influence of the links a web page obtains and is scored on a scale of 0 to 100%. With this feature, you can identify referring domains that point to your site with their individual LIS score. 
Don't be surprised if you notice more areas with low LIS scores. Focus on the number of sites with a high LIS and then adjust your backlinks strategy to get better results. 
OpenLinkProfiler: What you can do with the free version 
OpenLinkProfiler is certainly a free tool. You can access the tool an unlimited number of times without necessarily having to subscribe to a paid subscription. However, you may be limited in the functionality of the tool. 
Here is a list of tasks you are allowed to do with the free version of OpenLinkProfiler: 
See which pages are receiving the most unique links

See which industries are bringing the most backlinks to your competitors 

Identify the nature of the backlinks (Example: links from blogs, ebooks, interviews, reviews…)

See the anchor texts used for incoming links 
The free version of OpenLinkProfiler still has other limitations, including the quality of the information provided and the mode display. For example, it will be necessary to create a free SEOProfiler account
(OpenLinkProfiler comes from SEO Profiler)
before accessing any suspicious backlinks or exporting the competitive analysis report in PDF format. 
OpenLinkProfiler: What you can do with the paid version 
When you sign up for a paid SEOProfiler account, you have the opportunity to get up to 1500 keywords per day. You also have the ability to run more projects and get the full functionality available: 
Brand Monitoring 

Keyword Spying 

Domain Search; 

Etc.  
OpenLinkProfiler: Important Features to Note 
The collection of links is updated every five minutes. 

The database is updated monthly to add the latest backlinks.

OpenLinkProfiler has its own crawlers. The tool does not collect its data from external sources. 

The "Link Influence Score (LIS)" score is a metric set up by OpenLinkProfiler. 

With OpenLinkProfiler, you can export up to 200,000 links on each domain.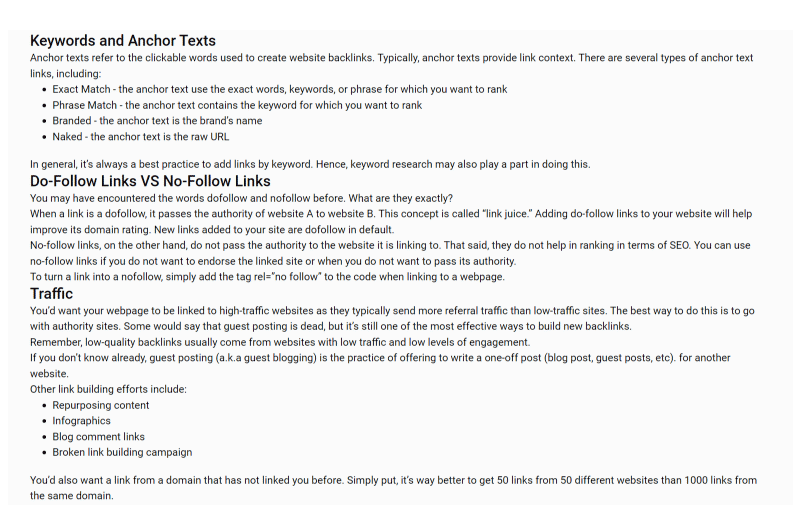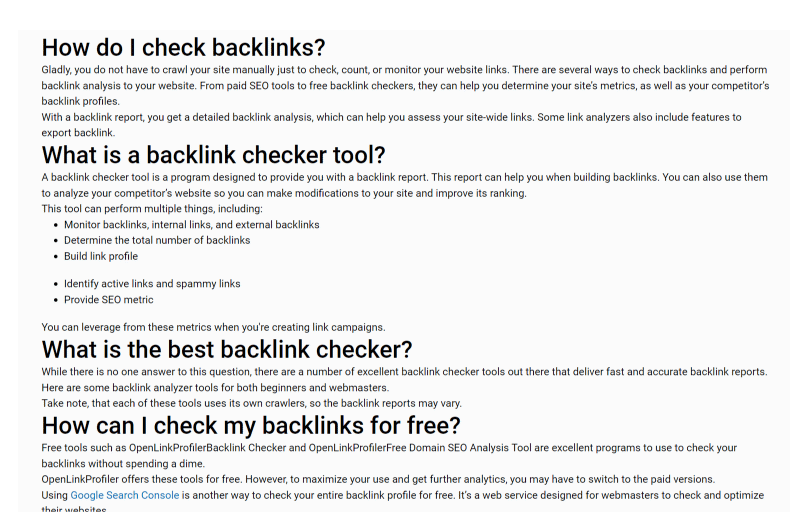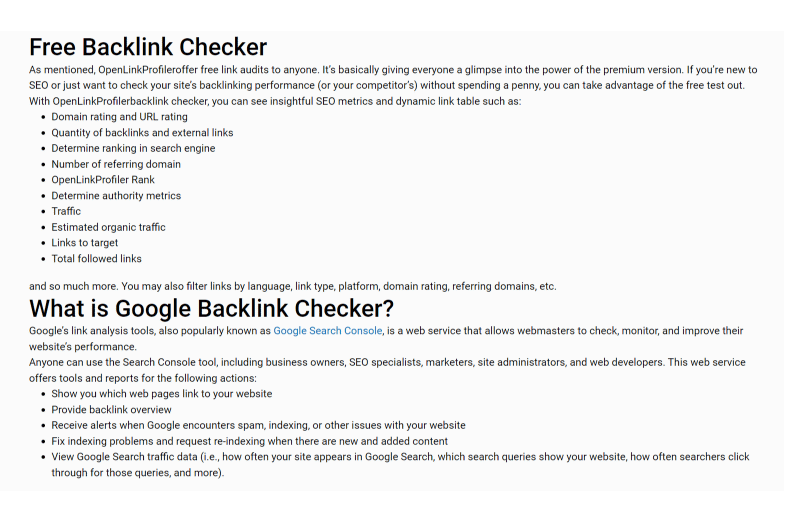 Company : Check Backlinks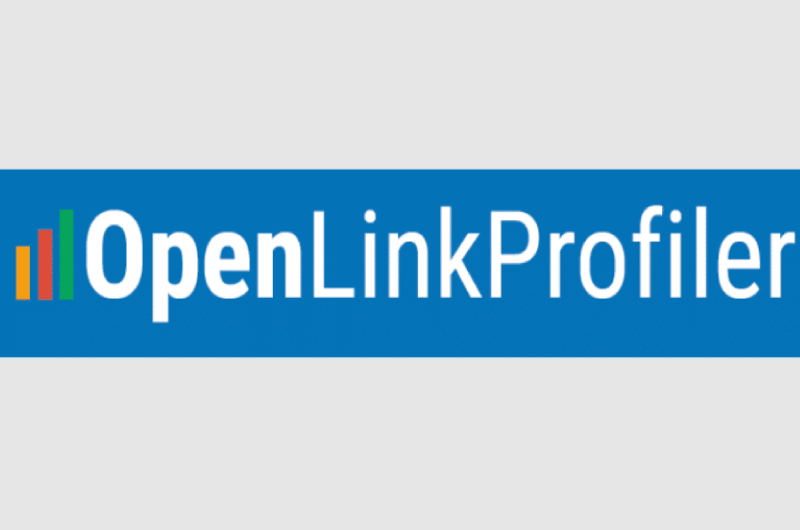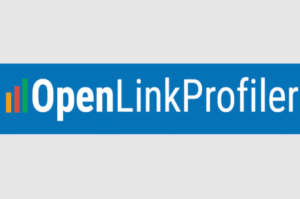 Open Link Profiler is a company that helps SEOs and marketers better grow their online business. He has developed a suite of free backlink checker tools.
These can help companies with sites to optimize the SEO of their website. The Open Link Profiler suite of tools also allows businesses to see relevant SEO metrics for their sites. 
Here are the metrics that Open Link Profiler allows its users to see:
Domain ranking;

URL ranking;

Mass of backlinks and external links;

Authority metric;

Traffic;

Etc.
Contact : Check Backlinks
Social Media : Check Backlinks
Others Tools : Check Backlinks
Alexandre MAROTEL
Founder of the SEO agency Twaino, Alexandre Marotel is passionate about SEO and generating traffic on the internet. He is the author of numerous publications, and has a Youtube channel which aims to help entrepreneurs create their websites and be better referenced in Google.