Spying on the Competition | GMBspy (Plugin) – Generations Digital
Short description : Spying on the Competition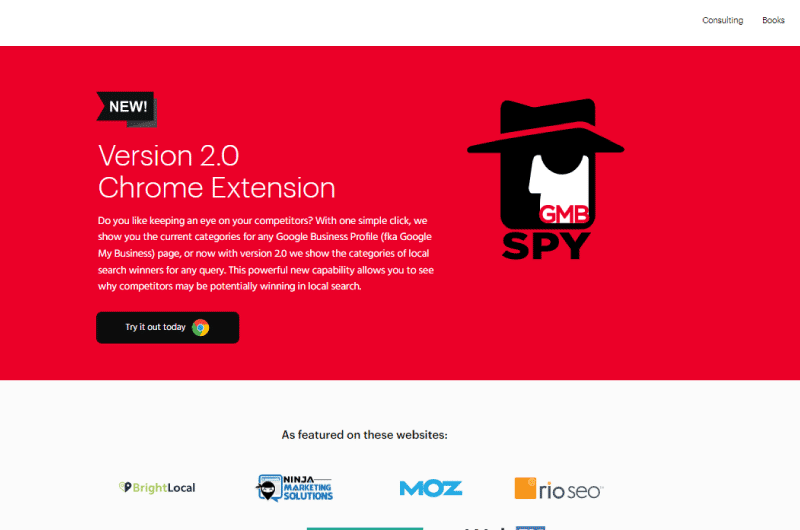 GMBspy is a free Chrome extension that lets you view Google My Business categories from any GMB page.
Long Description : Spying on the Competition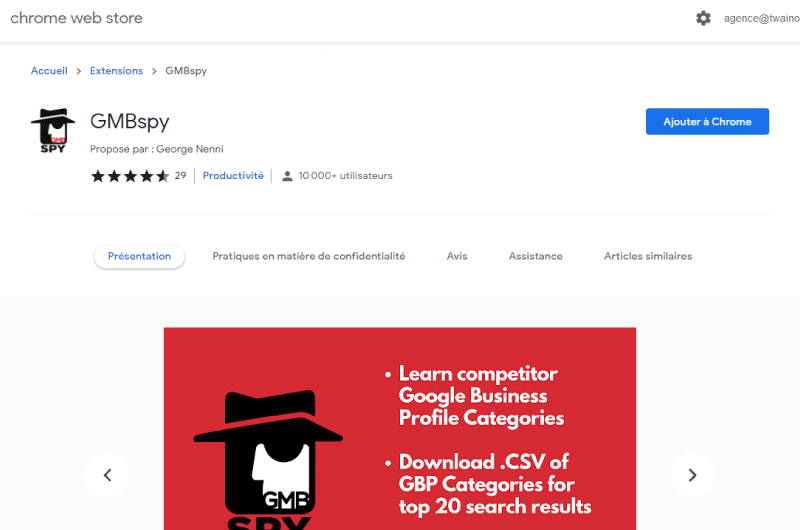 The GMBspy extension
Some companies have benefited from an increase in
61%
of calls between January and July 2020 thanks to their Google My Business listing.
This shows that businesses with a Google My Business listing increase the chances of consumers finding them, whether through a search on Google Search or Google Maps.
However, optimizing a Google My Business listing is not an easy task and companies must be able to define their category in the most precise way.
Even if it is possible to draw inspiration from the cards that appear first in Google results, it is much more difficult to be able to determine their category.
To achieve this, you can use the GMBspy tool, an extension capable of helping you extract the category from a Google My Business listing.
Through this description, we discover this tool and how to use it to optimize your own Google My Business listing.
What is GMBspy?
GMBspy is a tool that allows you to find out which Google My Business categories your competitors are using in Google Maps and Local Maps Pack.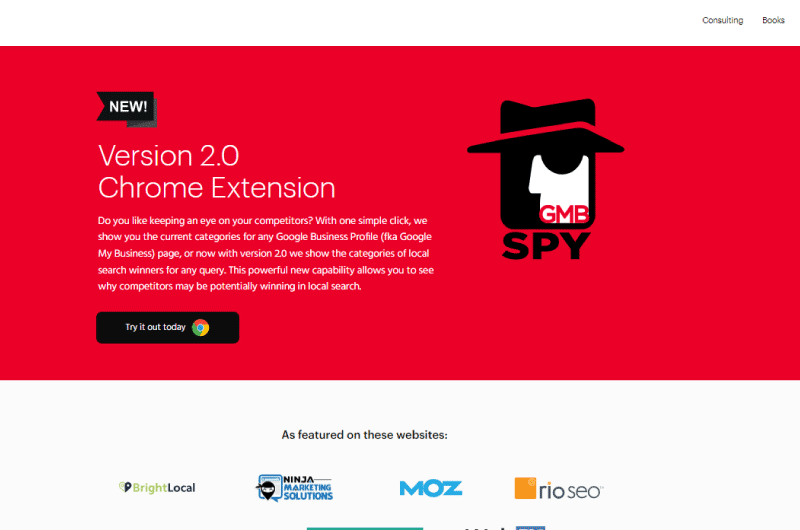 Google My Business (GMB) is a free, multi-functional business listing that local organizations can use to manage their presence on Google Search and Google Maps.
A Google My Business listing is reminiscent of listings in online business directories such as Yelp. But it appears directly in Google search results and Google Maps, and therefore does not require a visit to a third-party site.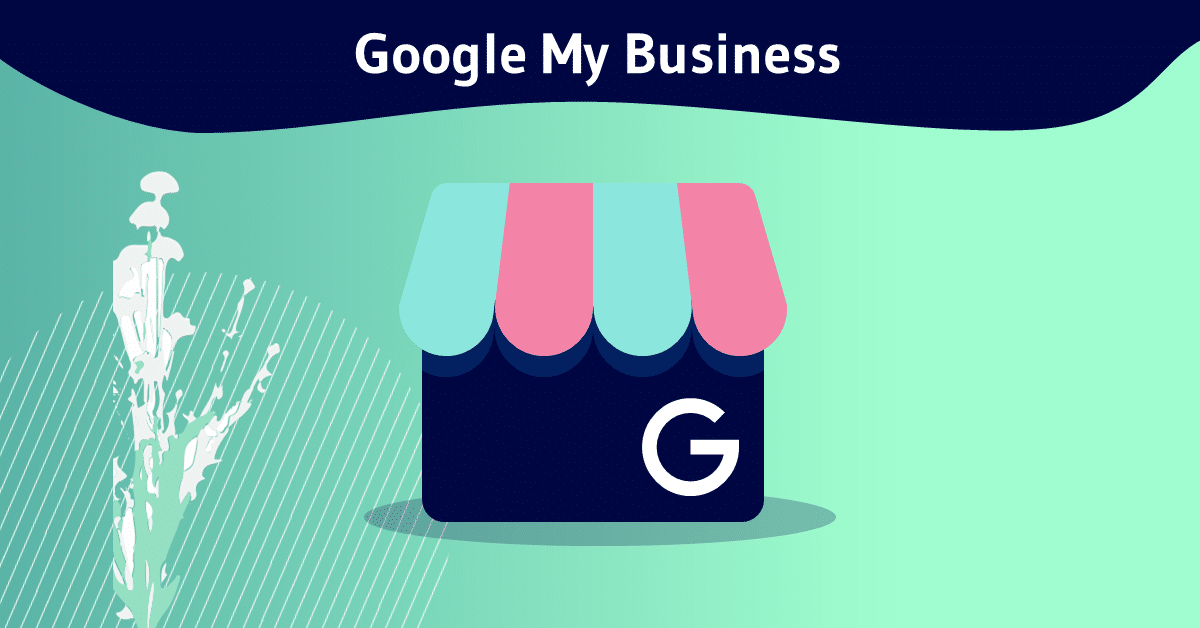 It may appear for example in Google's knowledge panel when a search for mark is made.
Google My Business may also appear in the Google Local Pack or Google Local Finder as well as in Google Maps. It is now seen as an essential part of local SEO, due to its many features and functions.
The GMBspy extension allows someone viewing Google Maps or Google Search to instantly view the categories of any GMB property.
It is also possible to find common GMB categories in the first 20 search results, both in Google Maps and in Google Local Finder.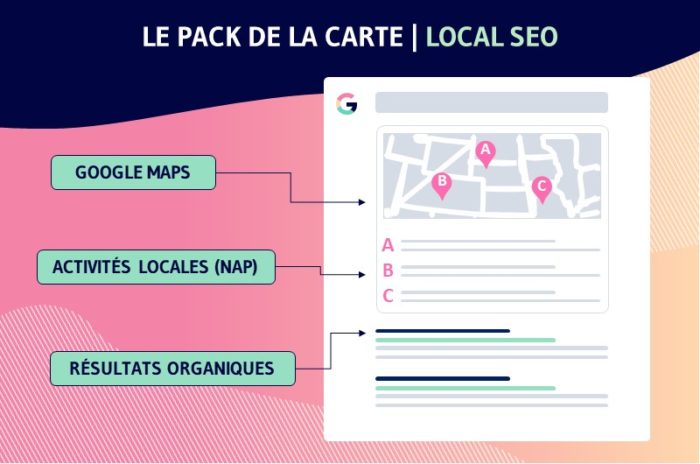 By determining the primary and secondary categories used by your competitors for search terms without brand, you can boost the reach of your own Google My Business profile.
You can also analyze your GMB page along with that of your competitors and find out if certain listings are winning in local search.
Previously, you had to dive into the source code of search results to find this important information. GMBspy discovers them with a single click.
Why are GMB categories so important?
Categories are part of Google's ranking factors for local SEO. These are important pieces of content that enrich Google's knowledge graph and can help you improve your local search rankings.
The ability of your business to appear in search results is extremely important, as it is estimated that approximately
97%
of people who search the Internet are looking for local businesses.
Recall that local SEO is a type of search engine optimization tactic that helps your business become more visible in local search results.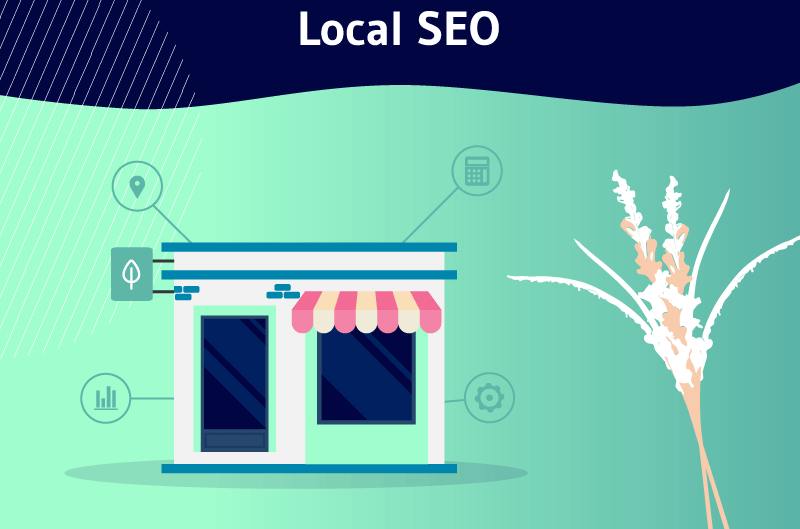 It consists of isolating searches coming from your region (or any other region you are targeting) and focus on those people so they see more of your pages, which will ultimately lead them to your site.
To optimize the SEO of the listing, it is essential to know how to choose the right GMB categories. 
Yes, the GMB category information is public, but it can be difficult for an average user to find this information manually in the HTML.
The GMBspy tool saves you hours of manual work, by making this "spying" process automatic. It even allows you to upload a comma separated file containing company names.
Whether it's car dealerships, small retailers, or large national brands, you'll find all of the relevant business categories listed in the search results.
That way, you'll be able to explain why one business might outrank another in local search on Google.
How to install the GBMspy extension?
The extension is currently only available on the Chrome browser. To install it, you have to search for it in the Chrome Store and simply add it.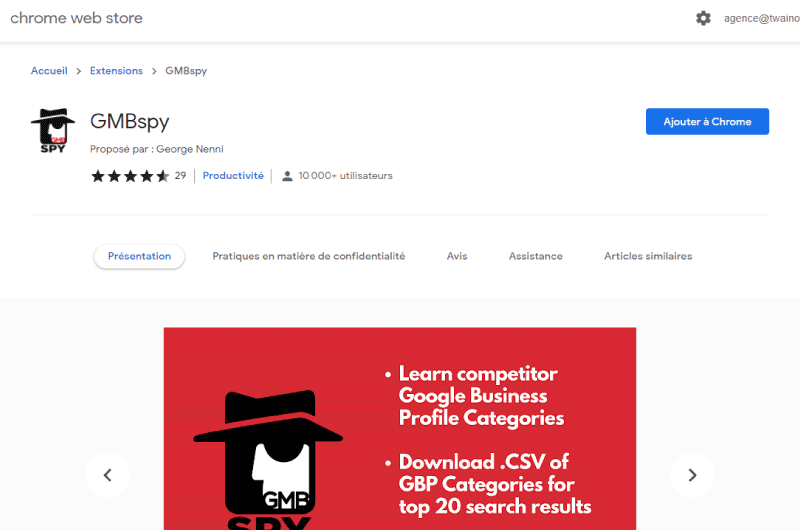 As soon as you have installed the GMBspy extension for Chrome, you will need to click on the pin icon at the top right of the Chrome toolbar in order to pin the GMBspy extension to it.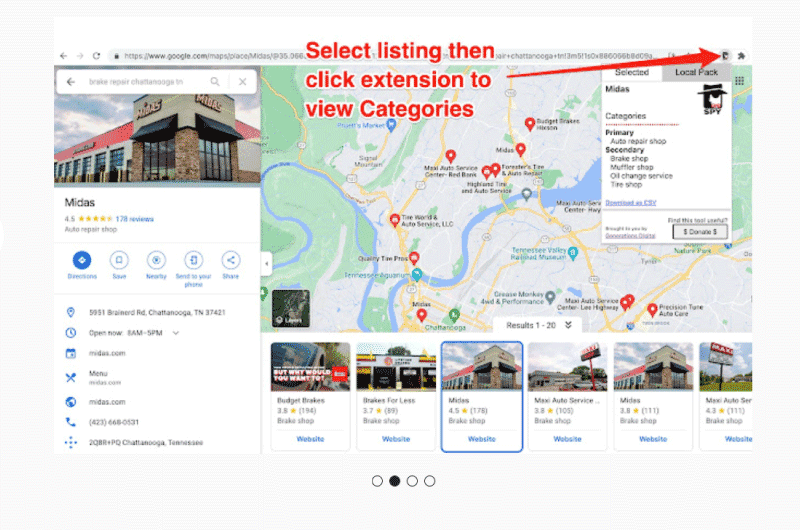 This way, it will always appear in the toolbar, and be ready to use.
How to use the GMBspy extension?
First, select a GBP listing in the Google search engine or Google Maps. Then launch the GMBspy extension to display the current categories for that selected individual listing.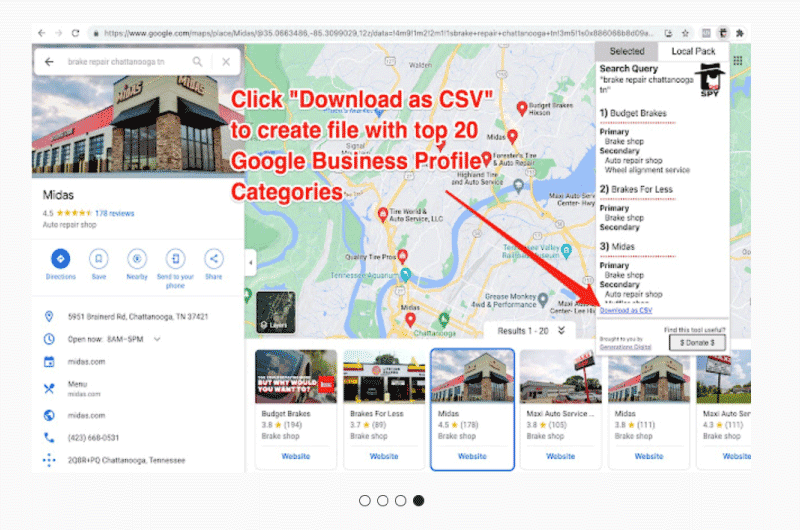 The default tab is "Selected", it shows the categories for the selected single GMB page. If you want to see the GMB categories for listings in the "Local Map Pack", just choose the "Local Pack" tab.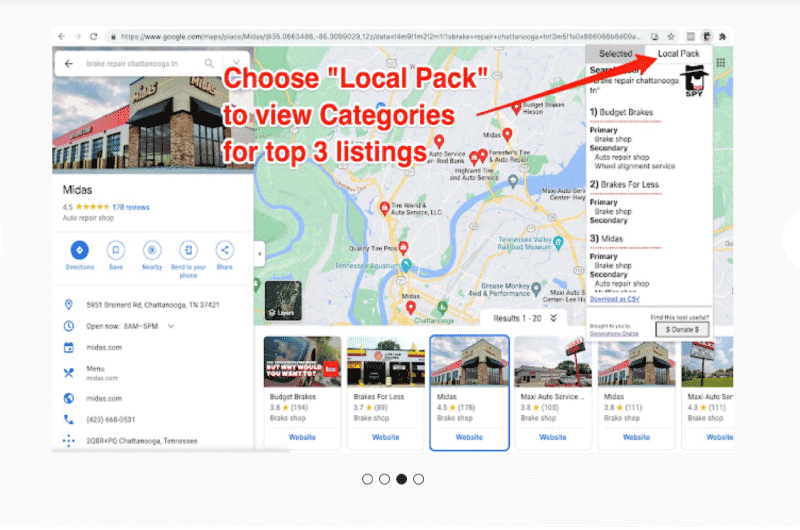 To download a Comma Separated Values ​​(.csv) file that contains the names, primary categories and secondary categories of the top 20 GBP listings, simply click "Download as CSV" at the bottom of the window.
Once the CSV file is downloaded, it can be opened and viewed by applications such as Microsoft Excel or Apple Numbers.
When you have trouble using GMBspy, here are some tips that can help you.
Before activating the GMBspy extension, be sure to select a Google Business profile.

The Local Pack tab is only functional when searching for a business category, not when searching for a specific business name. For example, you can search for "garage near me".

When the extension doesn't display the correct business categories or shows an error, simply refresh the Chrome browser window.

When all troubleshooting fails, you should remove the GMBspy extension and reinstall it from the Chrome Store.
Let's remember that GMBspy is a plugin that allows you to identify the categories assigned to any GMB file.
This can help improve your Google My Business listing optimization by correctly and more specifically assigning your business category.
Videos : Spying on the Competition
Images : Spying on the Competition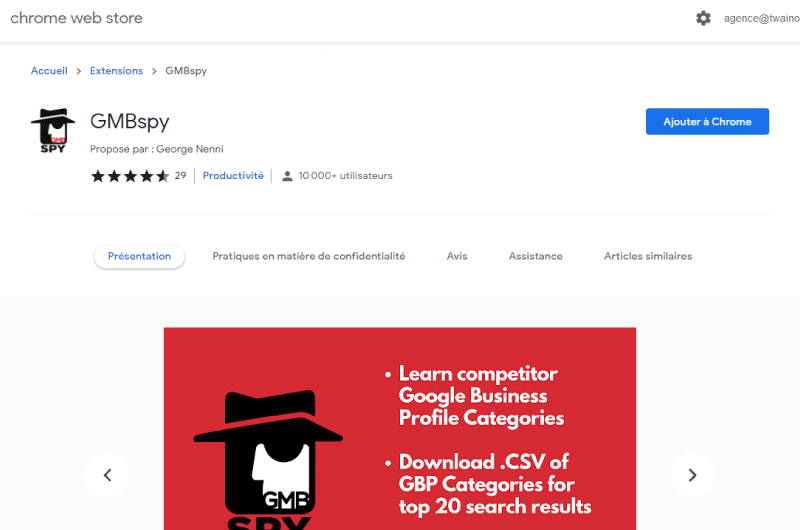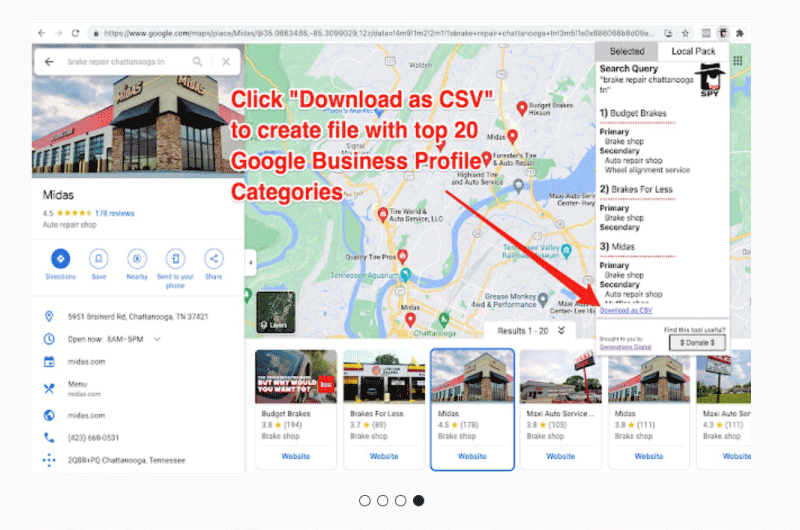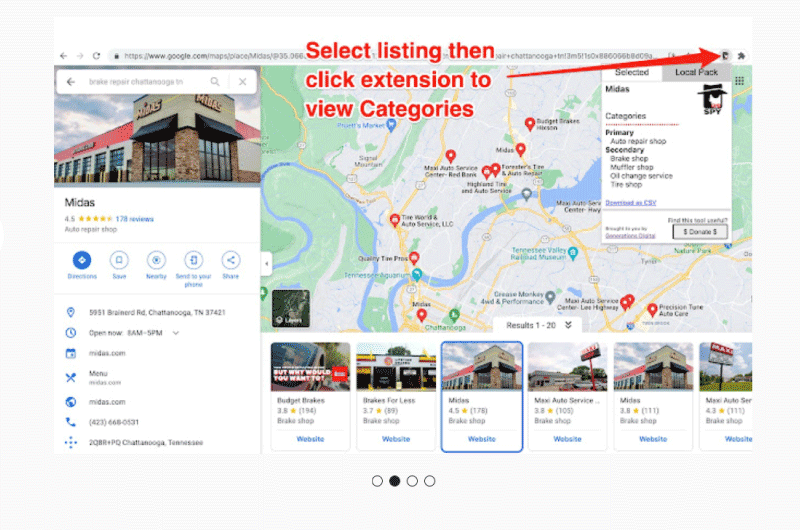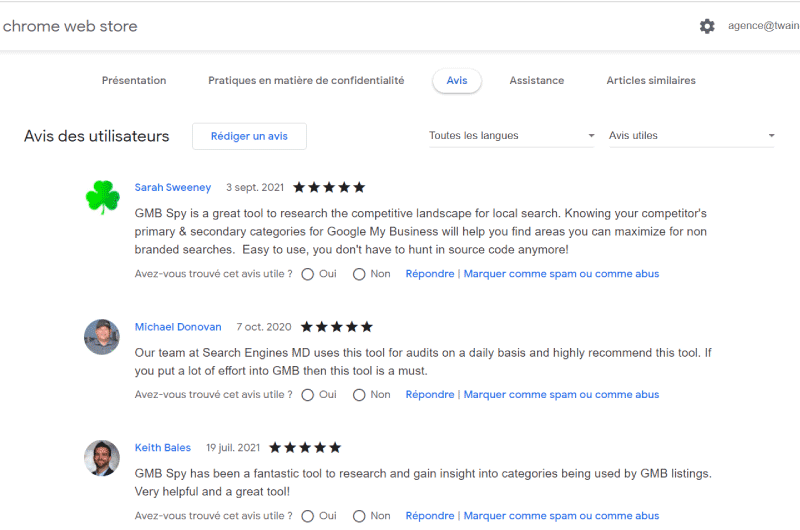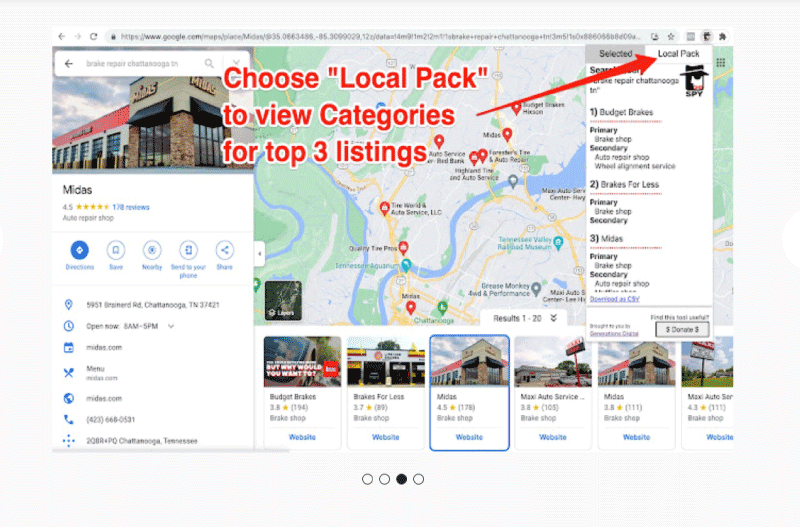 Company : Spying on the Competition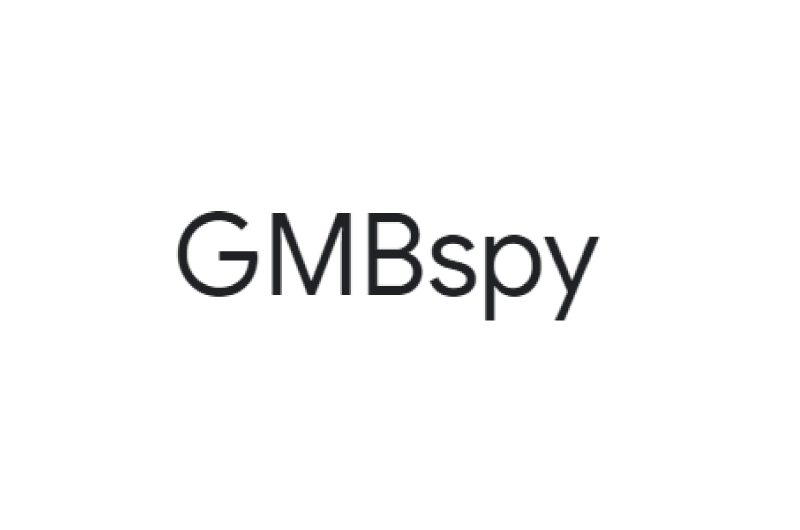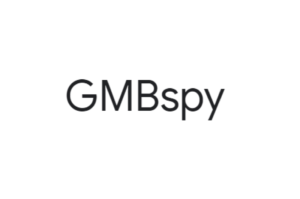 Generations Digital is a company founded and led by digital marketing specialist George Nenni. 
The latter created this company to allow car dealerships to have better advertising management in order to maximize their profits.
In order to allow SEO companies to keep an eye on their competitors, George Nenni created, through Generations Digital, the Chrome extension GMBSpy. 
This extension offers the possibility to its users, to check the current categories for the Google profile pages, as well as the local search ranking for each query made. 
It thus allows them to closely check the competition on search platforms and to spy on competitors in order to be able to opt for a better SEO method.
Generations Digital has many customers and users around the world. Their head office is based in Ohio in the United States.
Contact : Spying on the Competition
Social Media : Spying on the Competition
Others Tools : Spying on the Competition
Alexandre MAROTEL
Founder of the SEO agency Twaino, Alexandre Marotel is passionate about SEO and generating traffic on the internet. He is the author of numerous publications, and has a Youtube channel which aims to help entrepreneurs create their websites and be better referenced in Google.