Backlink Audit | Ahrefs – WordPress (Extension)
Short description : Backlink Audit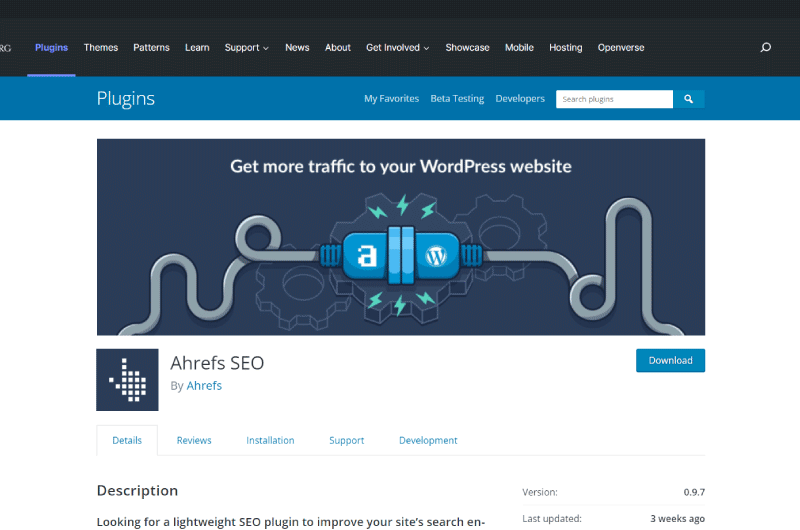 Ahrefs Plugin is a WordPress content analysis and optimization plugin developed by the webmarketing giant Ahrefs, to help webmarketers optimize their chances of ranking. 
Long Description : Backlink Audit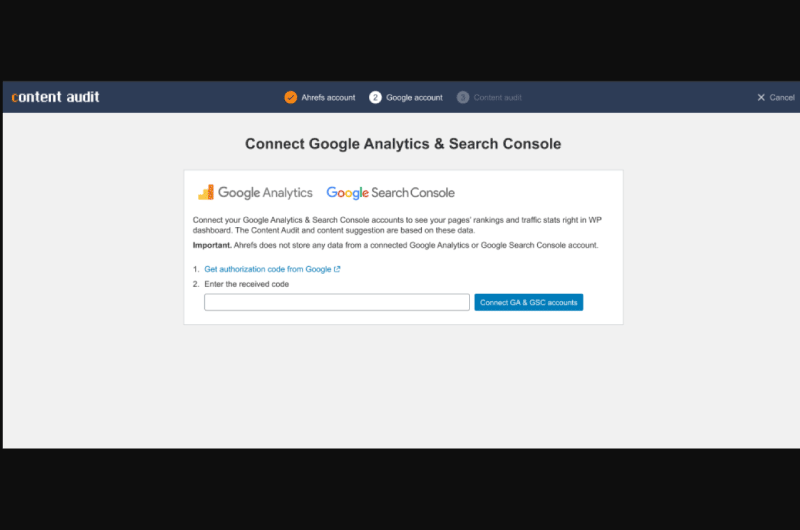 Description Ahrefs Plugin Of
With over
7.5 million
articles uploaded every day, it's clear that only the best optimized not only for search engines but also for readers can easily appear on the first pages of SERPs.
It is exactly in this role that Arefs stands with its WordPress plugin which helps you to have the best optimized content possible.
To learn more about this tool, I invite you to read this description.
What is Ahrefs Plugin?
As already said, this is a lightweight SEO plugin for performing content audits so you can optimize your content to drive more traffic to your website.
With this tool, you can do several important things like:
Get insight into content performance
It is important to note that the Ahrefs SEO plugin is primarily a web content optimization tool. It allows you to have an overview of the performance of the content of each page of your website.
Based on a score that starts from zero to one hundred, the tool lets you know approximately the quality and performance of your articles.
Depending on the quality and relevance of your content, the Ahrefs SEO plugin assigns it one of the following ratings: Performing
well;

Underperforming;

Not efficient;

Excluded.
In addition to categorizing your content into four classes, the plugin also displays the number of pages that fall into each of these categories.
Getting SEO Stats for Articles
To do SEO better these days, you need to rely on the numbers, aka the stats.
Precisely, the Ahrefs SEO WordPress plugin provides you with many important statistics on your content.
These statistics are assigned to an article based on the target keyword:
Ranking position;

Total traffic;

Organic traffic;

Number of backlinks.
This allows you to know your most winning content and those that need improvement for good SEO.
Get suggestions for improving content

 
Getting stats is great, but actually knowing how to optimize low-value content is even better.
For this, the Ahrefs SEO plugin tells you the best practices to adopt for each content of your site according to its mention the score obtained.
This makes content optimization super easy. Also, if you need more tips, you can click on the links under each recommendation to read detailed step-by-step guides from the popular Ahrefs blog. 
How to use the Ahrefs plugin?
The first step to using the Ahrefs is to download it and add it to your WordPress site.
When setting it up, the tool has a setup wizard that requires you to link your Google account. 
Once the required accounts are added, you can select which pages to include or exclude from the scope. 
The ability to disable pages that are not optimized for natural search, such as About and Privacy Policy, allows you to actually see your search engine performance scores. 
You also have the option of configuring the tool to automatically run content audits daily, monthly, or bi-weekly, as desired.
Content audit can take a bit of time due to multiple executions at once to deliver flawless result. 
Indeed, the audit process uses several Ahrefs APIs, Google analytics as well as the Search Console of the website in question.
Even during analysis, you can view the report using the blue button at the bottom of the progress bar.
At the end of the analysis, you will be shown a report with graphs that summarize the performance of your web content.
The report first contains a performance score, of all authorized web pages, expressed as a percentage.
Next, you have the summary of the suggested number of clickable items per action.
When you scroll down, you'll find a list of posts and pages with additional details.
The tool provides different action suggestions according to each page's performance based on important metrics like keyword ranking position, amount of traffic, and number of backlinks. 
Here are the categories of suggestions:
Do nothing: this statement will be made to you if your content is in the top three results for the keyword you want to target;

Update: This category is for the page that ranks 3-20 for its target keyword and the target term is unique across all pages. It is therefore recommended to optimize it by adding content with similar terms;

Merge: You have this attribute when your article ranks in the top 3-20 for its target keyword and the term is not unique across all pages, you will be recommended to combine resources from all articles related into one.
As you can see in the evaluation logic, it is essential to select and approve the correct target term.
You have the option to approve or edit each target keyword on each row.
Based on data from Google Search Console, the tool only suggests top-ranking keywords for you.
If you have a list of targeted keywords defined and up to date in another optimization plugin like Yoast, Ahrefs will automatically sync them with each audit.
Otherwise, you need to approve or edit the suggested keywords which definitely have high ranking potential.
Once a keyword is edited and approved, it will now be protected from further automatic editing. You must therefore modify them manually.
If you want to change the target term, the plugin will suggest other lower ranking keywords and keywords discovered using TF-IDF, giving you an idea of ​​other phrases the page could be optimized for. 
If you want to maximize your chances of appearing higher in search engine rankings, Ahrefs Plugin is a great tool that can help you in terms of page content optimization.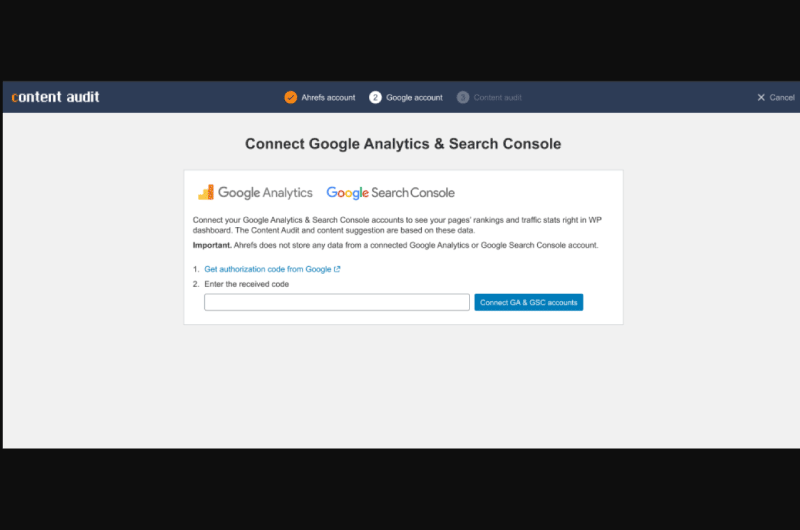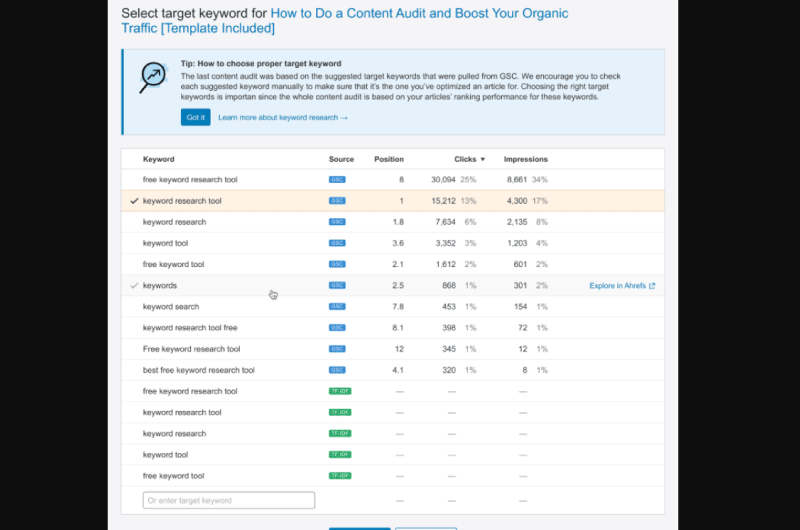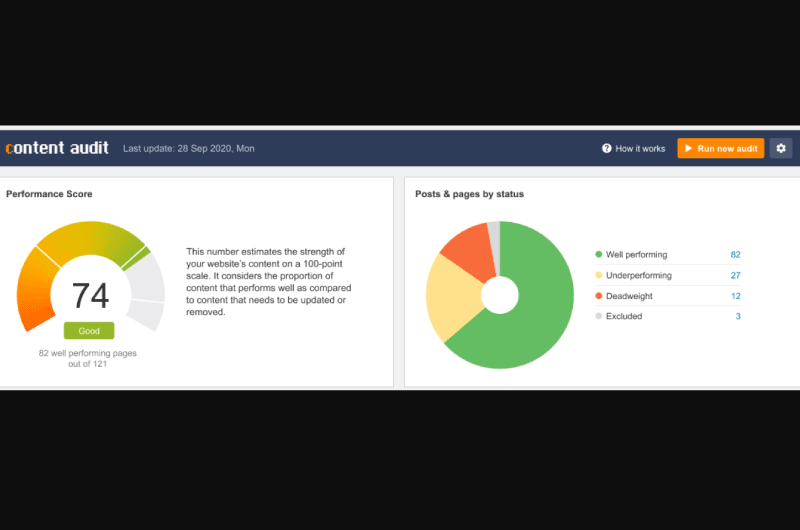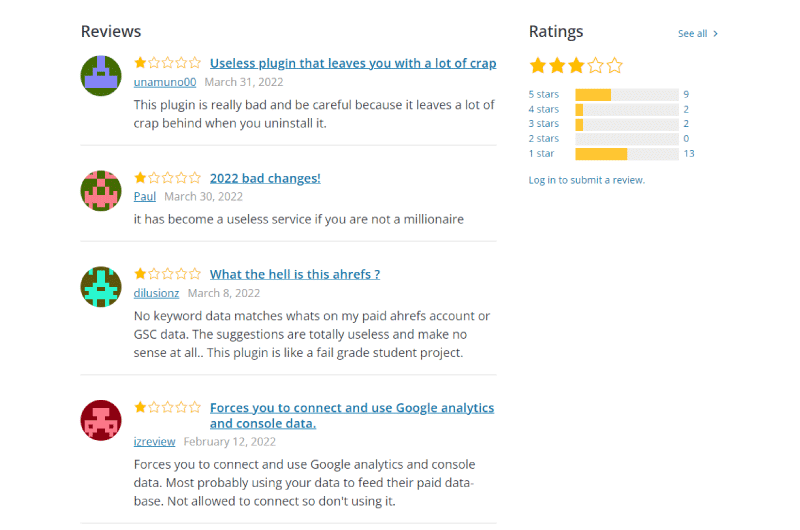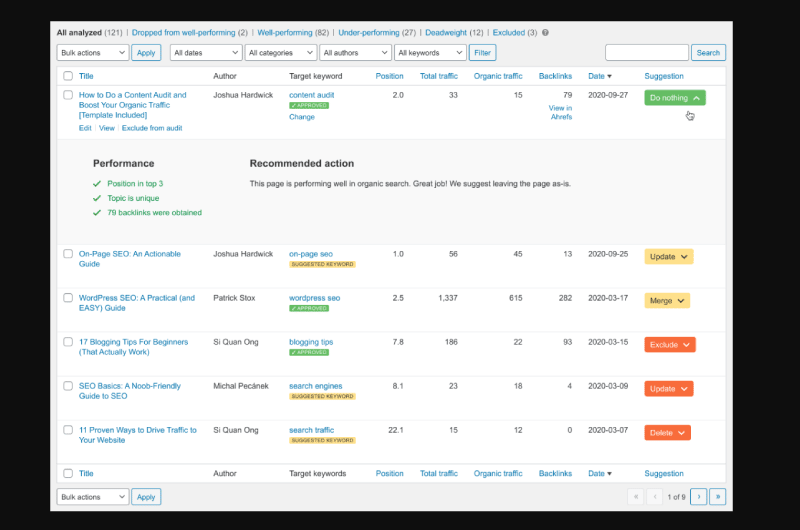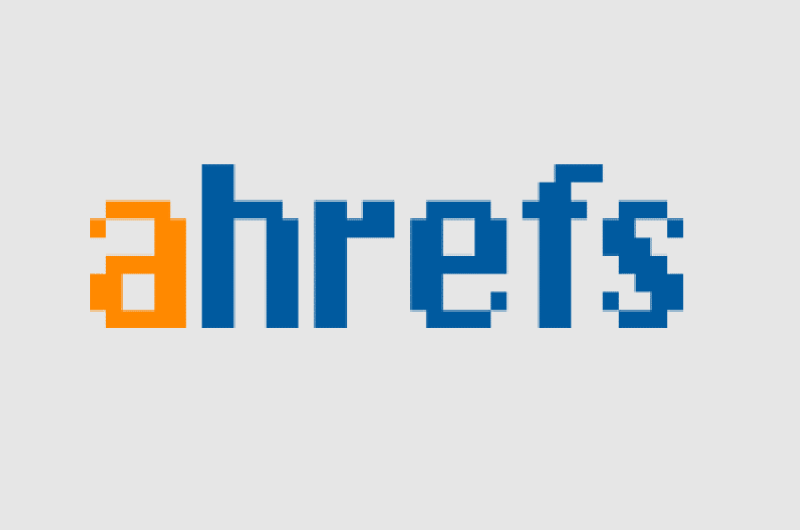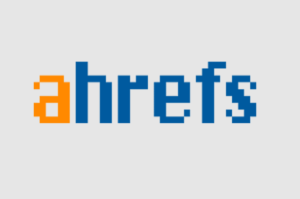 Ahrefs bears the same name as its famous Ahrefs tool, which is one of the most used tools in the SEO and digital marketing industry. In its early days, the tool was only intended for analyzing the backlink profile of a website. Today, Ahrefs has grown a lot and has become a suite of tools that allow you to perform several SEO tasks such as: building backlinks, keyword research, competitive SEO analysis, ranking monitoring and SEO audit. The tool is also known for the Domain Rating (DR) which is an insider indicator to evaluate on a scale of 1 to 100, the authority of a website according to the backlinks that point to its pages.
Social Media : Backlink Audit
Others Tools : Backlink Audit
Alexandre MAROTEL
Founder of the SEO agency Twaino, Alexandre Marotel is passionate about SEO and generating traffic on the internet. He is the author of numerous publications, and has a Youtube channel which aims to help entrepreneurs create their websites and be better referenced in Google.