Audit SEO | SmartCrawl – WPMU Dev
Short description : Audit SEO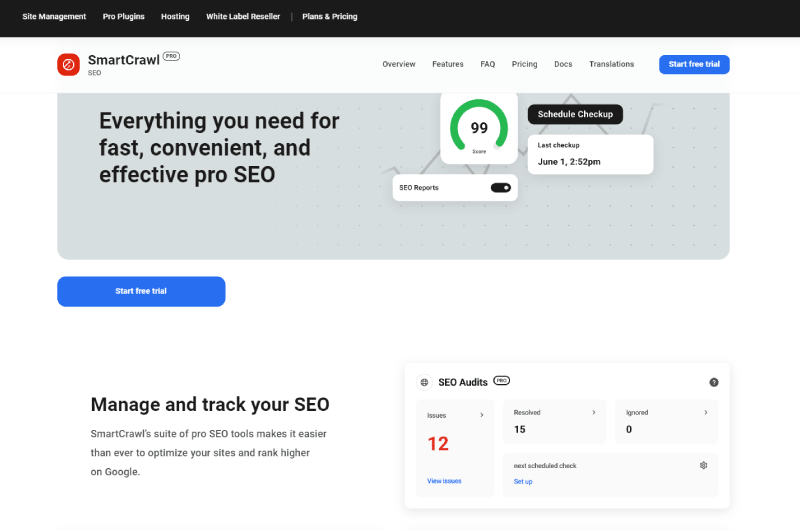 Discover SmartCrawl Pro, the suite of SEO tools that supports you in your SEO strategy to boost your visibility in the SERPs.
Long Description : Audit SEO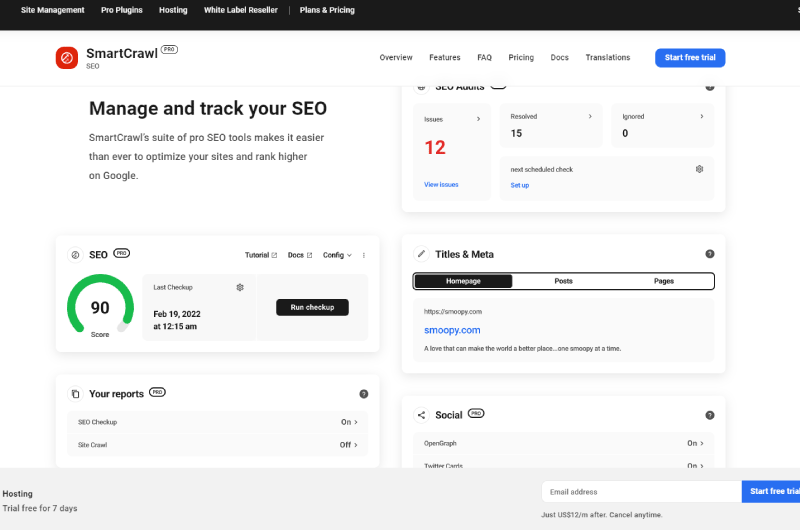 Description SmartCrawl Pro
Marketing professionals and especially those of SEO are often confronted with a problem of certainty in the implementation of their various digital strategies. This can be understood when we pay particular attention to the competition in their universe.
Between a high-performance website, good visibility and a good ranking on search engines, the latter often have trouble doing well. To do this, they are looking for SEO tools that will allow them to s serenely impose itself on the market.
Smart Crawl Pro is one such tool. In this description, discover its presentation and some of its features. Good reading.
Introducing Smart Crawl Pro
Smart Crawl Pro
  is a tool that accompanies you throughout your SEO strategy. It is precisely a set of tools that assists you in managing and monitoring your different behaviors in terms of SEO.
It is a more or less complete software package which promotes the optimization of the pages of your websites for search engines. By doing so, it positively affects the position of your website in the Google SERP.
With a simple interface, Smart Crawl Pro adapts perfectly to all your SEO efforts so that you have excellent results. It is therefore not daring to say that the tool can considerably participate in your content marketing.
Intuitive, the tool is aimed at all SEO professionals, marketing experts and even beginners in the world of SEO. 
To test out these different features, the developers are offering a one-week free trial so you can see what it can do for your SEO strategy. Anyway, making a subscription to benefit from all the features of Smart Crawl will allow you to better master the tool during at least 1 month. 
Moreover, unlike other tools, its monthly subscription is not very expensive. It only costs $7. If you are looking for professional, fast and convenient search engine optimization, Smart Crawl Pro may be what you need. Here are some of its basic features.
Some features of Smart Crawl Pro
It may be possible to list the different features of this WordPress plugin, but I will limit myself to a few. These are features whose use is very interesting from an SEO point of view.
SEO Audits and Reports 
The main objective of the SEO audit and report is to enlighten you on the overall SEO performance of your website. With this feature of Smart Crawl Pro, you can easily measure the effectiveness of your website against that of competing sites.
This feature allows you to cover the three fundamental axes necessary for your SEO strategy. These are:
SEO audit report of the technical aspects of the site;

SEO audit report of keywords, SEO and competition;

user experience SEO audit report.
In principle, the SEO audit is considered the key step in your SEO strategy. It sheds light on the right SEO approaches to adopt to boost the visibility of your site in the SERPs.
The latter, intrinsically linked to the SEO report, gives you an idea of ​​what works or what does not work on your website. You absolutely must know if your web performance can position you better and it is certainly the audit and the SEO report that will show you the right path.
Titles & Meta Descriptions
This feature of Smart Crawl Pro makes your search engine SERP ranking better. A well-written title and meta description gives you a better chance of winning over search engine algorithms.
These represent the first element of the SERPs that attracts Internet users to your site. Smart Crawl Pro understands this and has made this functionality available to you. It gives you directions and recommendations for optimizing your title and meta description for the SERPs.
Leverage Social Media Social
media allows you to have traffic. This can be used to boost your SEO performance. It is therefore essential to adapt to this general trend of SEO.
With the Leverage Social Media feature of Smart Crawl Pro, you can get more out of social media like Twitter or Pinterest. 
Precisely, this feature allows you certain actions. For example, you can optimize the appearance of your website on social media platforms. 
Anyway, this module of the suite assists you in your advertising campaigns. This means that the tool can also be used in the context of advertising marketing.
Full Schema Support
In the world of SEO, one of the great digital marketing solutions is schema markup. The latter is indeed the code associated with a website and which helps visitors to come into possession of more informative results from search engines.
This feature of Smart Crawl Pro boosts the visibility of your website in the search engine SERPs by giving more accuracy on what the content published on your website really represents. 
Smart Crawl Pro fully supports Schema through Full Schema Support. Mainly, this feature allows
you to: improve your website's communication with search engines;

design Schema types;

to have advanced features of Schema;

add social media accounts;

to perform Schema tests.
SmartCrawl Configs
Smart Crawl Pro as said above is a suite of SEO tools that supports you in your SEO. Except that I forgot to mention that the tool is quite flexible. 
Indeed, the present functionality of the tool allows you to make a configuration according to your needs and according to your SEO approach. This allows you to have an overview of the overall performance of your website.
Thus, you manage your SEO strategy as you wish. But what is more brilliant with this tool is that once configured to your liking, you can apply it to all your websites and this in one click. Really awesome, isn't it?
Advanced Tools
Smart Crawl Pro gives you access to advanced tools. These are features that give you the ability to better deploy your SEO strategy.
Indeed, the advanced tools of Smart Crawl Pro integrate perfectly with the various marketing approaches that you have put in place. They facilitate your visibility on the first page of search engine results.
These are tools that meet your specific needs when it comes to the performance of your website. 
In short, Smart Crawl Pro is a suite of SEO tools that supports SEO professionals and experts in their daily work. It allows them to improve their visibility and ranking in the SERP of search engines.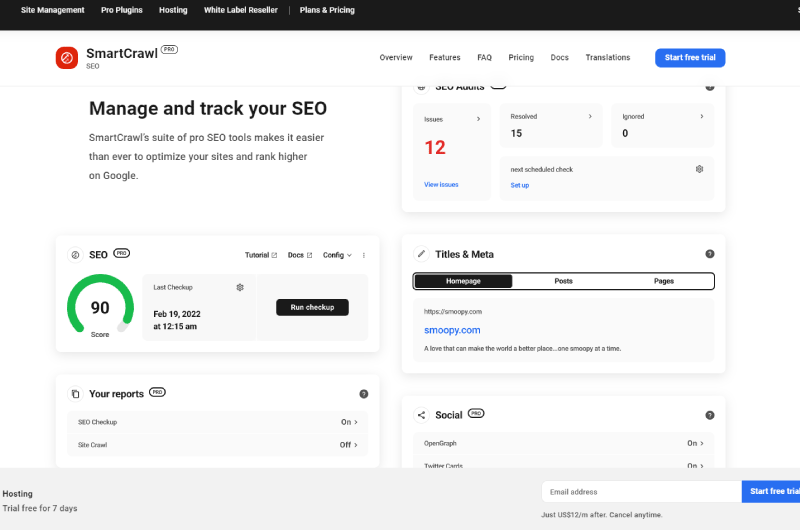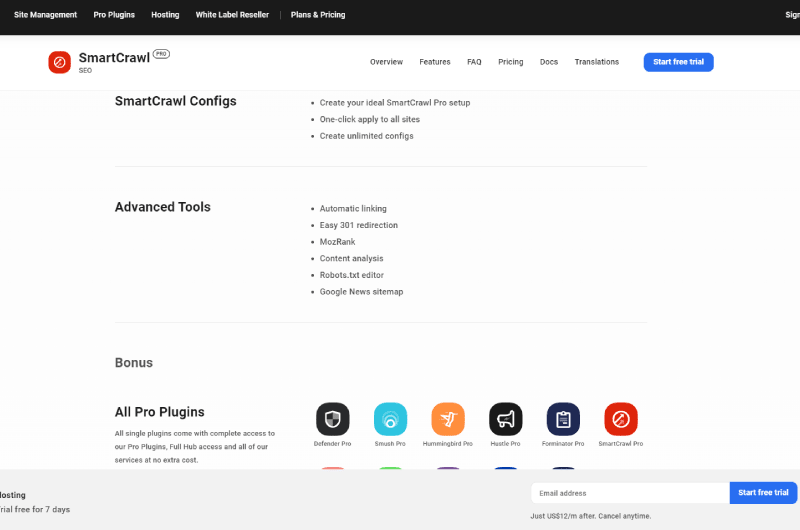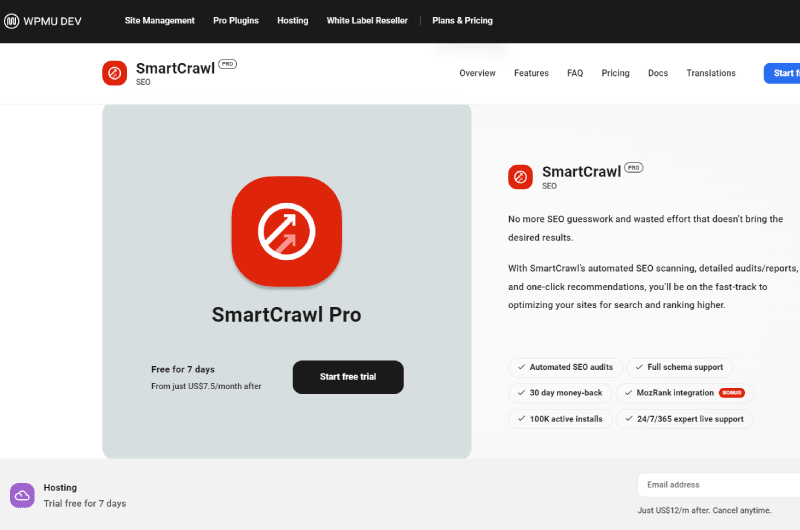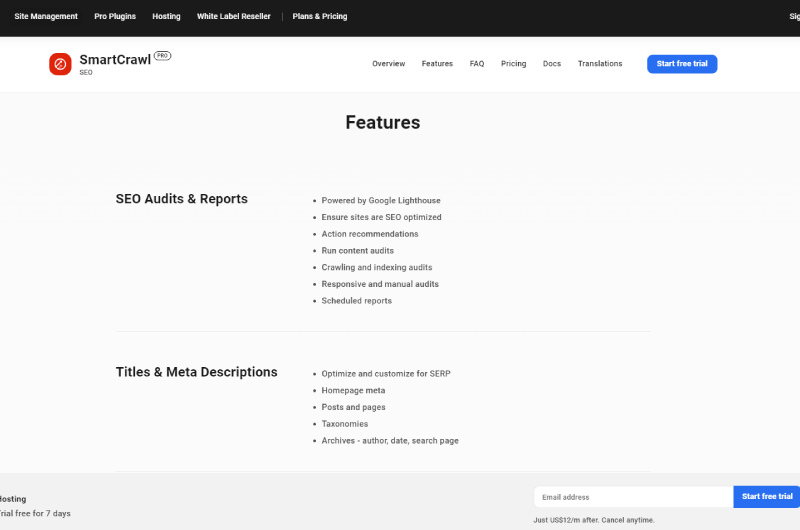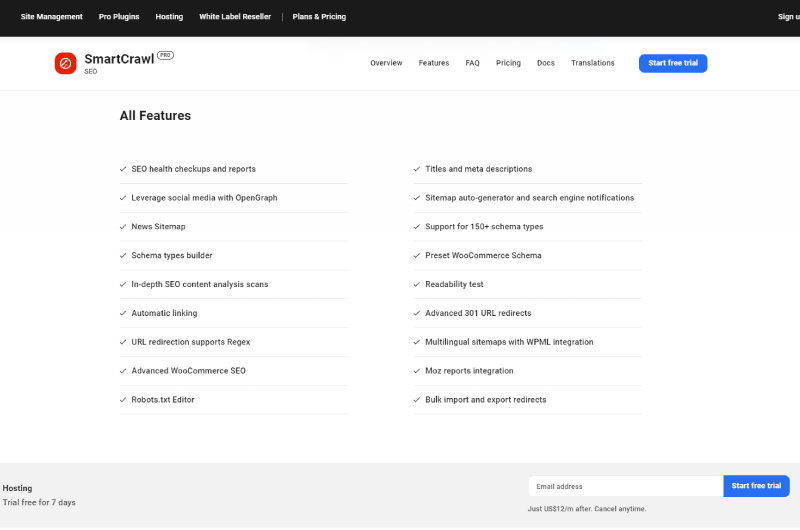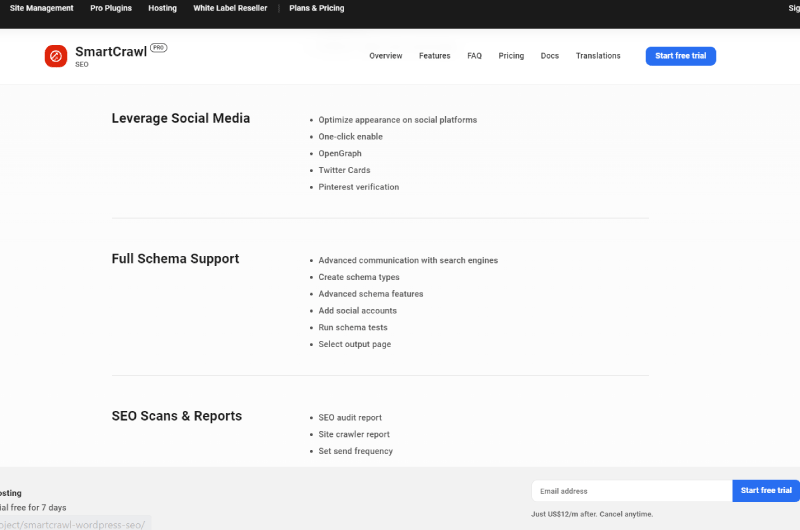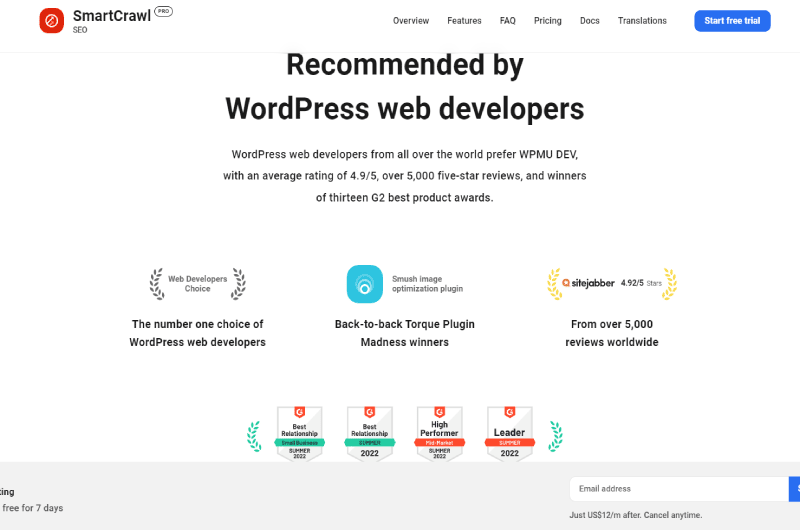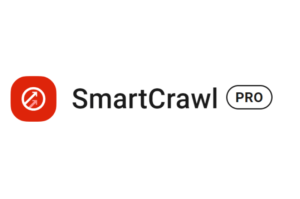 Smart Crawl is a WordPress tool that supports you in your various SEO practices. The tool offers you a professional optimization of your site for search engines quickly and efficiently.
Specifically, Smart Crawl is a suite of professional SEO tools that promotes the SEO of your site and contributes to a better ranking of the latter in the SERPs of Google.
Indeed, Smart Crawl has several features that allow you to explore the Internet in order to better manage and better monitor your SEO. It is a masterpiece of web developers for web developers.
Smart Crawl is also aimed at SEO professionals, digital marketers and web agencies.
Alexandre MAROTEL
Founder of the SEO agency Twaino, Alexandre Marotel is passionate about SEO and generating traffic on the internet. He is the author of numerous publications, and has a Youtube channel which aims to help entrepreneurs create their websites and be better referenced in Google.