Web Safe Colors | Internet Marketing Ninjas
Short description : Web Safe Colors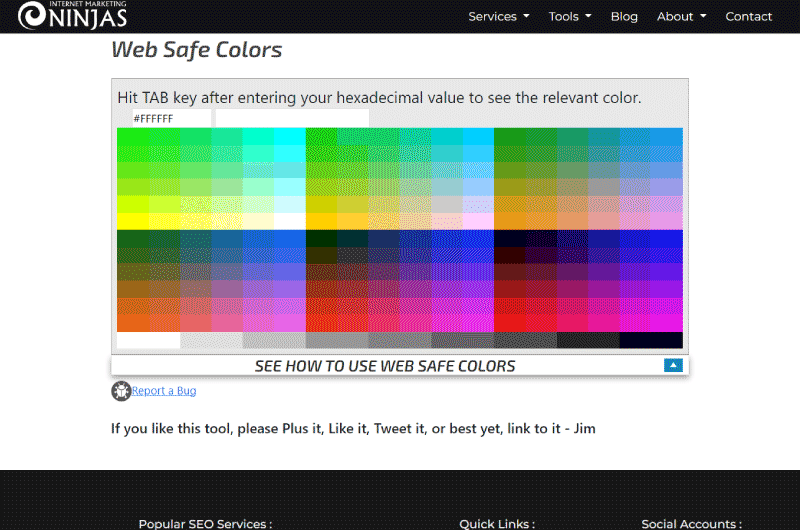 Need a web safe color chart? Check out Web Safe Colors – Internet Marketing Ninjas.
Long Description : Web Safe Colors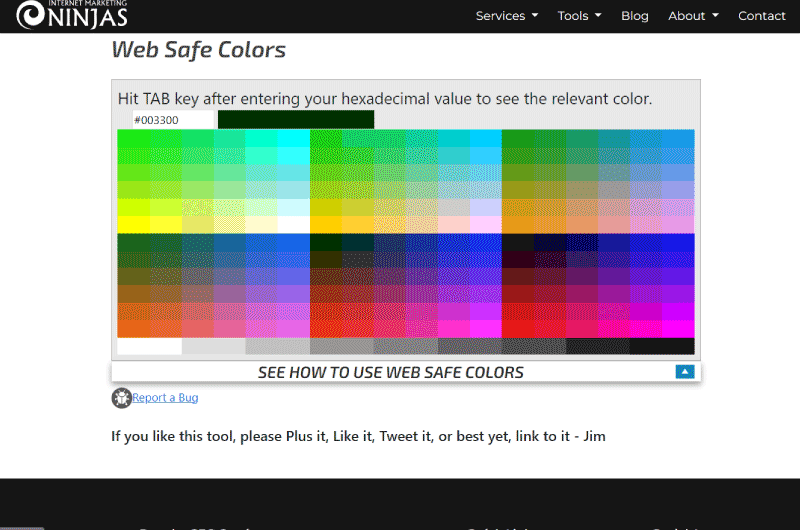 Web Safe Colors – Internet Marketing Ninjas When
building a website, it's common to see people use colors that look good to them or that meet their personal criteria.
In reality, the choice of colors should align with the technical aspects of its use and the extent to which it is user-friendly. There are a number of so-called web-safe colors to choose from.
Using internet-safe colors can help ensure that your website looks its best and displays well on all screens.
To find these so-called web-safe colors, you can use an online color chart. You can start with Web Safe Colors, a color chart offered by Internet Marketing Ninjas.
This tool shows a color palette that includes the different safe colors with their hexadecimal codes that all designers can use and have no display and usability issues.
Through this description, I invite you to discover Web Safe Colors and how you can choose safe colors for your web projects.
What is Web Safe Colors – Internet Marketing Ninjas?
Web Safe Colors is a tool from Internet Marketing Ninjas that will let you choose web safe colors and name.
Indeed, websites are often designed with a variety of colors, but not all colors are created equal.
Web-safe colors are those that are least likely to cause problems when viewed on various browsers or devices.
As you know, colors are an important part of the visual appeal of a website. With Web Safe Colors, you can choose the right colors for your website so that it stands out easily and generates more interest.
If you use the wrong color combination on your site, it can have a negative influence on the user. You must also be aware of the technical aspect of color adoption.
Different browsers and devices interpret colors differently. Designers should take this into account when choosing colors for websites.
With Web Safe Colors, you are sure to choose the right colors that adapt to different browsers and make your site user-friendly.
It offers you all of these colors that are displayed correctly on all web browsers. Web Safe Colors presents the palette of these colors from which you can select what suits you.
It is a fixed color palette of 216 web-safe colors that will be used on platforms whose graphics mode only has 256 colors.
Using the colors available in this web-safe color palette ensures that every visitor to your site, regardless of browser or browser version, will see the same colors as every other visitor.
The Safe Colors web tool will also provide you with the hexadecimal value of each color, which will help you define these colors more easily.
By using web-safe colors, you will avoid any potential problems when designing your website. Your site will look stunning on all devices with this design.
The Advantages and Disadvantages of Web Safe Colors – Internet Marketing Ninjas
With Web Safe Colors you are sure to use the colors that are safe for the web, which will make your site colors look good on a variety of devices .
Colors shown in this color palette are less prone to color banding and other defects.
Choosing safe colors for your website will make it load faster, as there is no need to download additional color profiles. In addition, your site will be easier to maintain and update.
Using web-safe colors is often more aesthetically pleasing than using custom colors, which may clash or clash with the overall design.
Moreover, Web Safe Colors is easy to use and has a fairly user-friendly interface where you won't be overwhelmed with advertisements.
As for the downsides, web-safe colors are less compatible with older browsers and devices than other hues.
How to use Web Safe Colors – Internet Marketing Ninjas?
Web Safe Colors allows designers to prevent their audience from being unable to see their work due to incompatibility. As soon as you land on the site, you will discover a selection of colors considered safe for web pages.
If you identify a color that you would like to use for your projects, simply clicking on that color will make it appear large along with its hex value.
You will only have to copy this value to use it for your project. It is the same approach that you will adopt for the other colors that you will choose to be part of your project.
Note that Web Safe Colors can also help you visualize the color corresponding to a hexadecimal value.
Indeed, when you enter a hexadecimal value in the white space and you press the tabulation key, the tool displays the corresponding color.
This feature may be necessary when you have already chosen your colors and now want to know if they are web-safe colors.
Finally, Web Safe Colors is a tool that gives you a standardized palette of 216 web-safe colors that display consistently across all major browsers.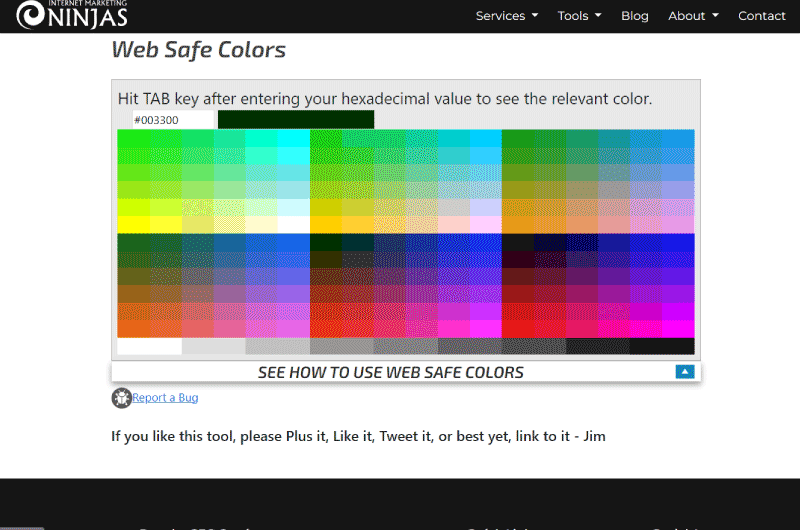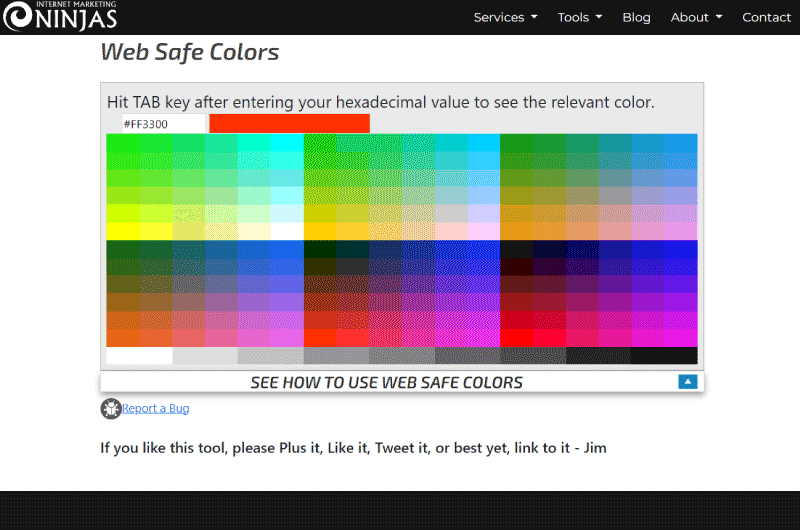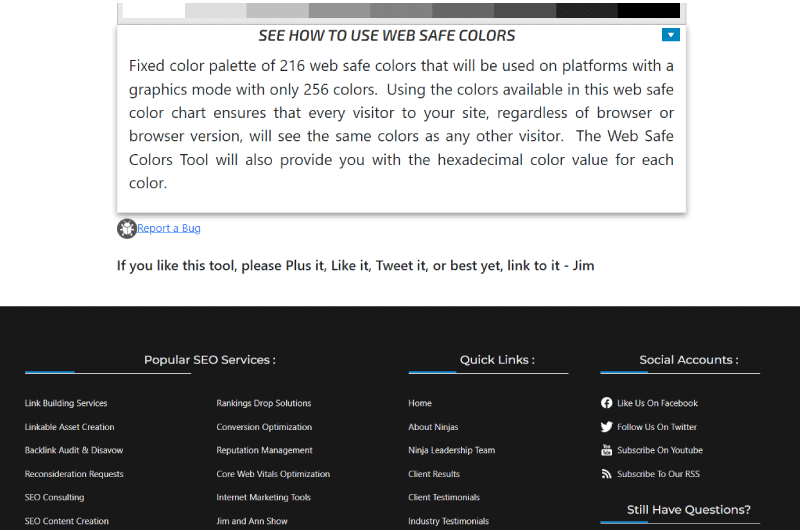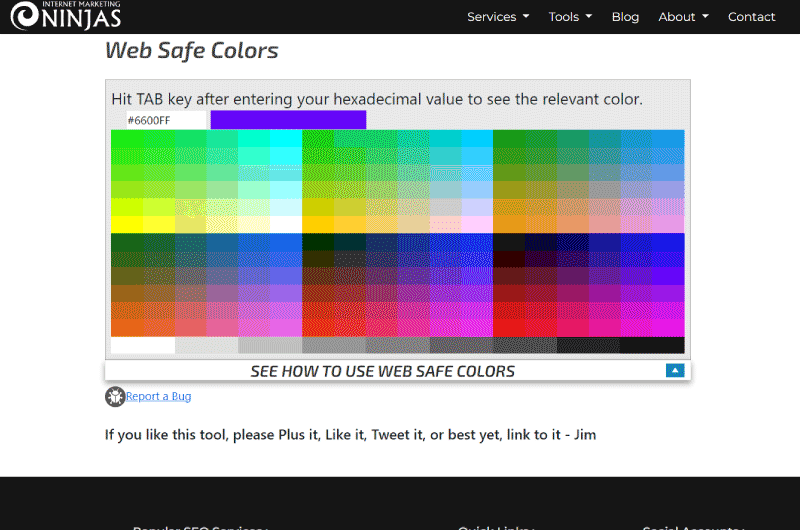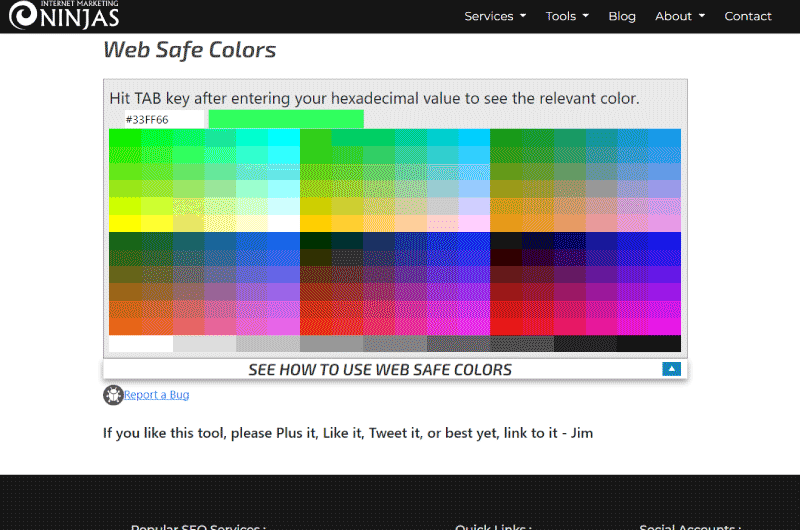 Company : Web Safe Colors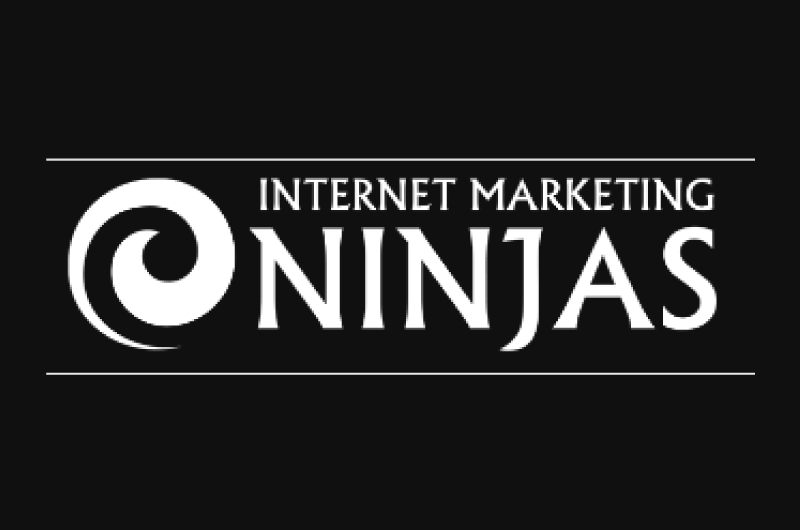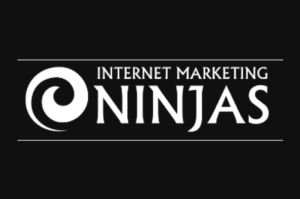 Internet Marketing Ninjas is a company founded in 1999 by Jim Boykin, with more than 10 years of experience in the field of SEO. The mission that the company has given itself is to support their customers to have better traffic to their websites through secure methods.
Internet Marketing Ninjas specializes in optimizing pages and websites for search engines. Based in the United States in Clifton Park, the company is made up of 50 members who are all experts in their fields
. Internet Marketing Ninjas offers the entire digital community complete digital marketing services, but also SEO services and tools. Among the 87+ tools developed by them, here are some free SEO tools they have developed:
Social Image Resizer Tool;

What's My Browser Size Tool;

HTML Source Code Viewer Tool;

Meta Tag Analyzer;

Domain Age Checker;

Meta Tag Generator & Snippet Preview;

Search Engine Spider Simulator;

Keyword Combination Tool;

URL Inspection Tool…
These tools are aimed at SEO agencies as well as marketing professionals, not to mention businesses. They will surely help to improve your various marketing strategies.
Contact : Web Safe Colors
Social Media : Web Safe Colors
Others Tools : Web Safe Colors
Alexandre MAROTEL
Founder of the SEO agency Twaino, Alexandre Marotel is passionate about SEO and generating traffic on the internet. He is the author of numerous publications, and has a Youtube channel which aims to help entrepreneurs create their websites and be better referenced in Google.