Text Generator | Prepostseo
Short description : Text Generator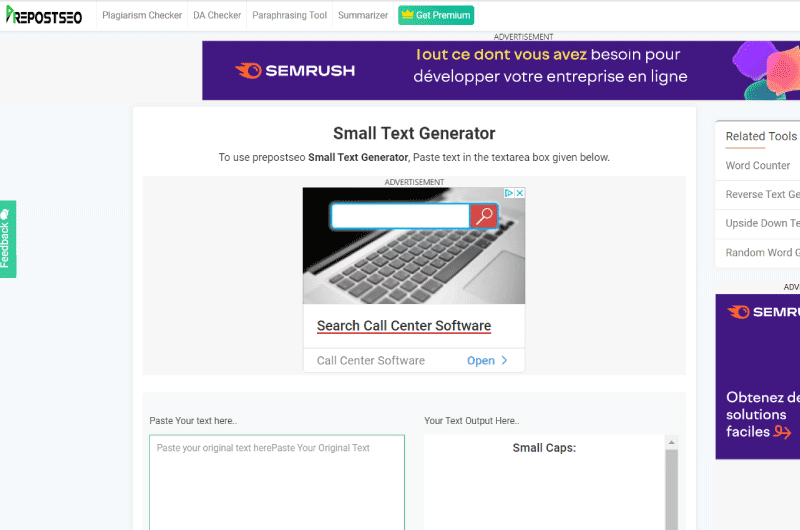 Use the Prepostseo Small Text Generator tool to efficiently generate small texts in different formats.
Long Description : Text Generator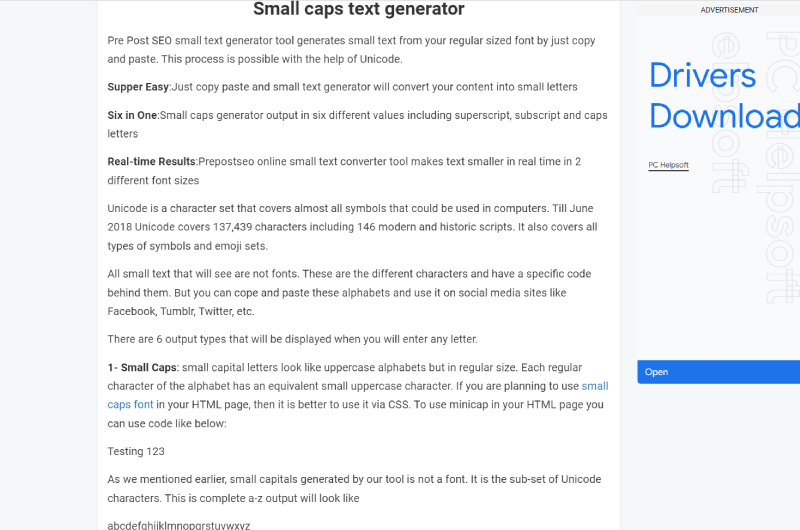 Description Small Text Generator – Prepostseo
Small texts correspond to a combination of various Unicode characters which are in principle shorter than texts using a normal font size. Widely exploited on social media platforms, theybetter attract public.
So, if you want your usual content to stand out to users on these different public media, you must think about converting it into small texts. To do this, you have the option of using online tools such as Prepostseo's Small Text Generator.
This is a fairly reliable tool and it is the latter that I want to talk to you about now. At the end of the reading, you will know what this tool is capable of.
Small Text Generator – Prepostseo
Small Text Generator also called Small Caps Text Generator is as its name suggests a small caps text generator. By small capitals, understand, small letters or small characters.
More exactly, Small Text Generator is a free online platform to convert the normal font size of your content into small texts. The converted texts are available mainly in three different font versions which are:
small caps;

superscript;

subscript…
This tool is based on an algorithm to perform the generation of small texts by itself. It therefore requires no user intervention. It is a fairly simple process that is done automatically with the help of Unicode.
Small Text Generator et Unicode
It is important to clarify here that the small texts generated by Small Text Generator are not really a smaller font, but a set of Unicode symbols. The latter is nothing more than a character system that encompasses practically all the symbols that can be used in computers.
So, converting your normal font sizes to smaller ones using this system can have a big impact on your SEO.
In particular, with regard to the usability of the website for search engines and the quality of user experience.
For this good reason, it is necessary for any web professional to define the font size of their content by referring to the specificities of the Internet.
Because the fonts used on the Internet for text processing and optimization are completely different from those usually used during printing. Which brings up the issue of units for measuring font sizes.
To
About font size measurement units
With Small Text Generator, you can only change the size of fonts in pixels in three formats:
lowercase;

Font size 11px; 

Font size 9px.
Generally speaking, font sizes are measured in points (pt) and/or pixels (px). Depending on the industry of the users, this size may differ. As such, it can also be measured as follows:
It should be understood that although pixels and points are the usual units of measurement, they are not equivalent to each other.
This is why a conversion is often necessary in certain web sectors such as the creation of web content. By nature, 12 dots equals 16 pixels on many devices.
The other units of measurement i.e. rem, em and percentages are relative font sizes and are the preferred method in website programming. Thus, in the design of the themes of the sites, this unit of measurement of size is used.
Now that you have learned some information about font size measurement units, you already have a small idea of ​​the potential users of Prepostseo brand Small Text Generator.
How does the interface of Small Text Generator look and who are most affected by its use? Let's talk about it quickly.
Small Text Generator interface and users
The interface of Prepostseo's Small Text Generator is simple, yet it remains effective. This facilitates its handling for users who are mainly web 2.0 players. In our case, these are:
web editors;

marketing and SEO agencies;

computer program developers;

E. traders…
If you are wondering how to use this tool, the rest of the reading willwill indicate it.
How to use Prepostseo Small Text Generator?
The use of this tool is not in itself complicated. The use is done almost in the same way as the multitude of tools of the same kind available on the Internet.
To use it, you don't need to register, just join the user interface by clicking on this link:
Small Text Generator – Small Caps & Tiny Text Generator (prepostseo.com)
which will instantly redirect you to the tool page like in this case.
Then, all you have to do is write the text of your content in the dedicated field or simply paste it.
The field we are talking about here is the largest available on the tool interface. Above this field, there is the mention "Past Your text here".
As soon as you paste the text, the tool automatically converts your initial text into different font versions. These versions are available right next to the paste field. At the top of this field is the words "Your Text Output Here".
At the end of the conversion, copy the versions directly from the tool for use on your various social media platforms.
The Smart Text Generator formats underlined at the top appear just below the "Past Your text here" and "Your Text Output Here" fields.
Now you have a clearer idea of ​​how Prepostseo's Smart Text Caps Generator is used. Test it! It may be useful to you.
All in all, Small Text Generator is a tool capable of efficiently generating attractive-looking small texts. This allows users to use it on all the platforms that interest them.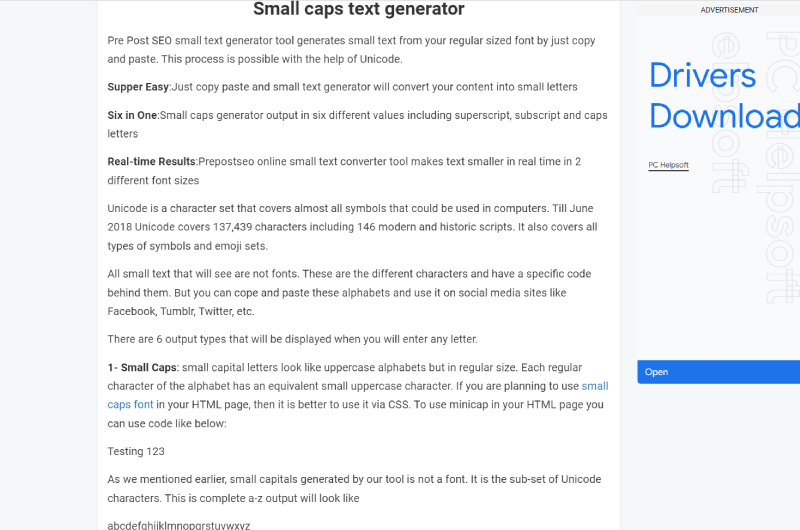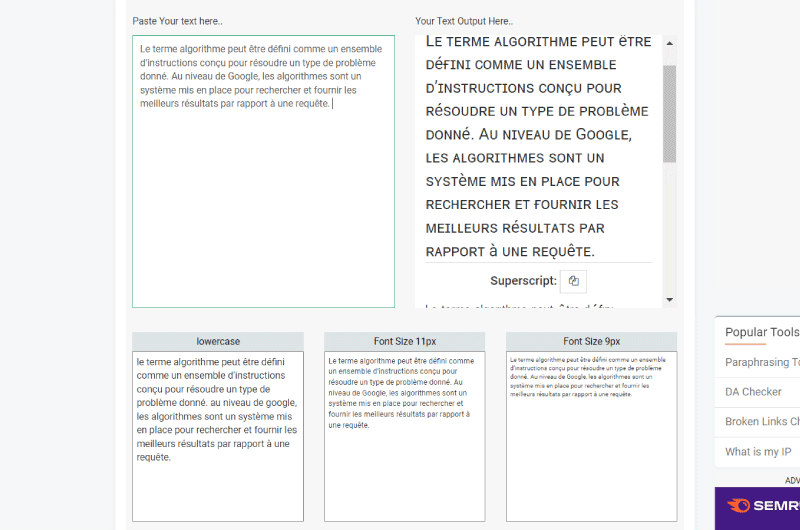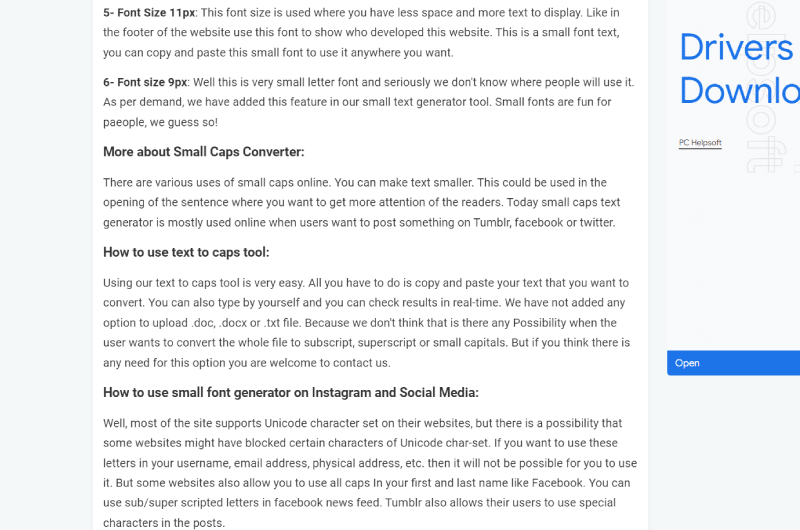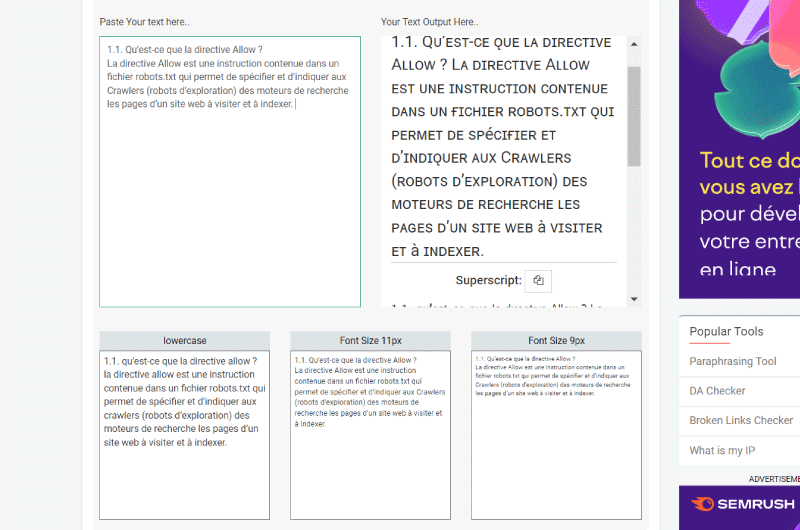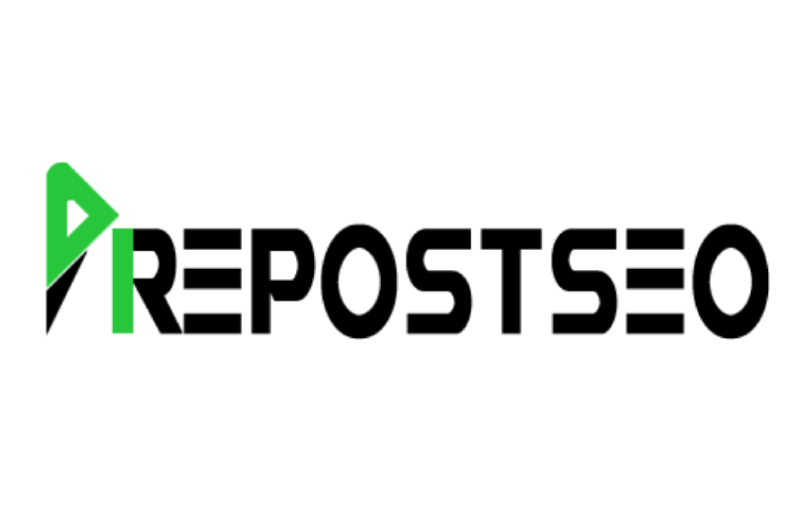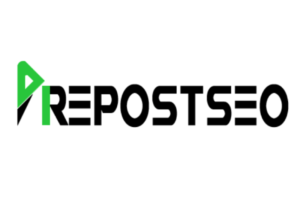 Prepostseo
is an agency founded by
Ahmad Sattar
, a web developer and his AR AS assistant to help
web editors
,
webmasters
and
SEO experts in
creating high-performing articles. 
Its main objective is to improve the content and referencing of websites. For this, it offers free tools to its users so that they can upload content without plagiarism and above all of quality. 
We can cite as tools the
DA Checker
, the
Paraphrasing Tool
, the
Plagiarism Checker
, the
Summarizer
, etc. Thanks to these tools, Prepostseo provides its users with the best SEO solutions. 
Thus, they can easily check: 
The plagiarism rate of an article;

The SEO score of a content;

Spelling and grammatical errors in an article;

Backlinks (return links);

Keyword density;

Domain authority, i.e. the quality of a website;

And much more. 
With these tools, the Prepostseo also helps to reformulate and summarize articles. All this to facilitate the writing of content optimized for the web. 
Social Media : Text Generator
Others Tools : Text Generator
Alexandre MAROTEL
Founder of the SEO agency Twaino, Alexandre Marotel is passionate about SEO and generating traffic on the internet. He is the author of numerous publications, and has a Youtube channel which aims to help entrepreneurs create their websites and be better referenced in Google.