Short description : People Also Ask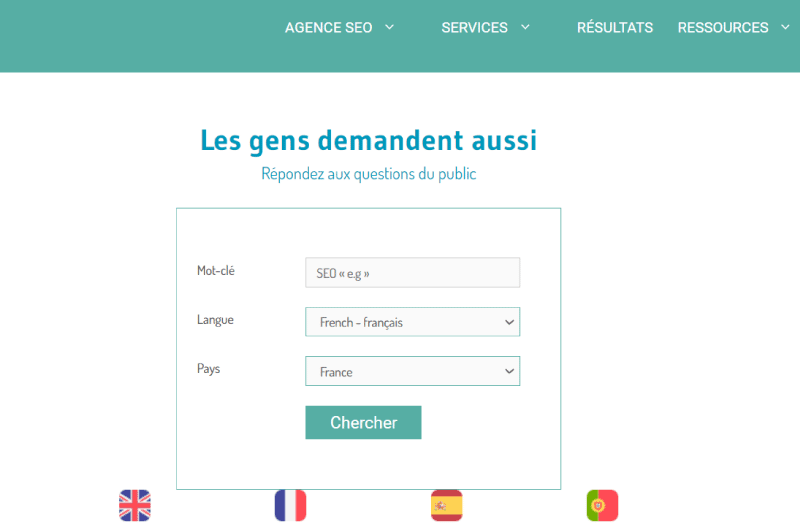 If you're looking for a way to make your content more engaging and useful to your readers, try the People Also Ask SEO tool.
Long Description : People Also Ask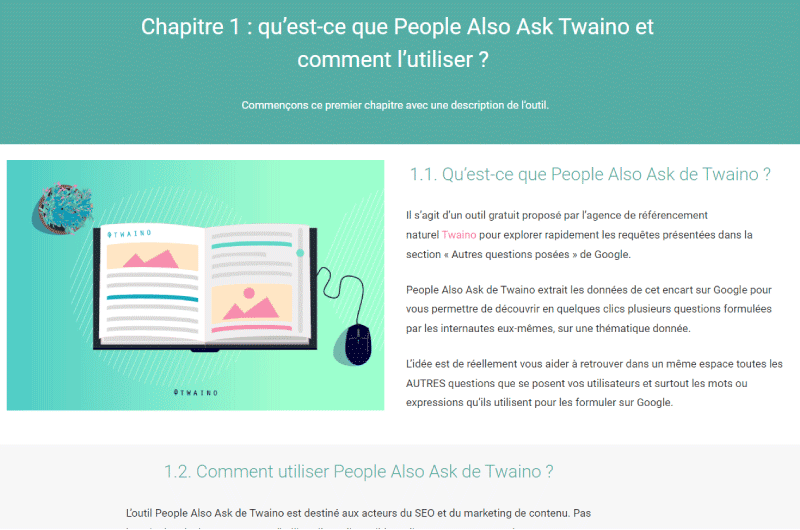 Description of the People Also Ask tool
Apart from the word and character counter, the SEO audit tool, the image integrator and the SERPs simulator, you will also find on the Twaino platform, the People tool Also Ask. 
This is a free tool set up by Twaino that allows users of this site to browse to a certain extent the queries that the Google search engine displays in the "other questions asked" section. 
With
91.8
million blog posts published each month on the internet, it is more important than ever that your content is relevant and adapted to the search intent of Internet users.
As you can see, with this very high number of publications, if you do not offer high quality content, it will be difficult for you to create a place for yourself in the search results. 
What can affect your site and prevent it from evolving as you wish. 
You will therefore need to create relevant content, but also, you must match it to the search intent of Internet users. 
To achieve this goal, several SEO tools can help you. One of its tools is without doubt "People Ask Also" by Twaino. 
Who is Twaino's People Ask Also tool for? 
This
tool
is intended for both the various SEO players and those who deal with content marketing. It will allow them to have an idea of ​​the queries frequently made by Internet users when looking for products or information concerning their sector of activity. 
It will also allow them to know in which direction to orient their content so that it is relevant and corresponds to the search intention. 
Moreover, having an idea of ​​the questions most frequently asked by Internet users will make it easy for them to come up with new ideas for content. 
Better still, they will be able to detect the urgent needs of Internet users and offer products or services to better meet these different needs. 
What are the features of Twaino's People Ask Also tool? 
In terms of functionality, the Ask People Also tool allows you to:
Search for keywords; 

Research from a wide variety of spoken languages; 

And also by choosing several locations. 
All of this may be useful if your goal is to do specific research. 
Indeed, with the People Ask Also tool, you have the possibility of doing broader research. Just select in the country box "no selection". 
Also, note that you can display your search results in two ways. 
The first comes in the form of a Silo architecture;

And the second can be in the form of a list. 
Also note that to enable you to make good use of your People Ask Also data, Twaino has deemed it useful to give you the option of downloading this data in csv format. 
You will therefore be able to dispose of it as you see fit in order to organize and create content that takes into account most of the questions.
How does Twaino's People Ask Also tool work? 
As I just mentioned, the People Ask Also tool allows you to get an idea of ​​the questions that Internet users frequently ask about a given subject. 
It is a very simple and easy to use tool. 
For example, to identify the questions that Internet users frequently ask about a request as simple and broad as the following keyword: SEO
Just go to the Twaino site and search for the People Ask Also tool. 
You can find it by clicking on resources and choosing tools; 

Then click on it and wait for the new page to load to see the tool displayed;

Once it is displayed, all you have to do is fill in the three boxes that appear and press search. 
By choosing to search for the word SEO, simply enter it in the keyword box and fill in the other two boxes, namely: languages ​​and countries. 
Once this information is indicated, all you have to do is press search and then wait for the page to load. 
You will actually see displayed after said loading the various questions that Internet users ask on Google and which relate to this request.  
You will see for example that they wonder about:
How to do SEO? 

How does SEO work? 

What does SEO mean? 

What is the difference between SEO and SEA? 
As you will see, each question is subdivided into many other questions. 
Similarly, if you go from one view mode to another, you will notice that the questions that are displayed in silo mode are not exactly identical to those that are displayed when you switch to list mode. 
Anyway, with all these possibilities, there is no doubt that the People Ask Also tool is a godsend. 
It will therefore cost you nothing to use it to create good quality content and make it competitive in the SERPs.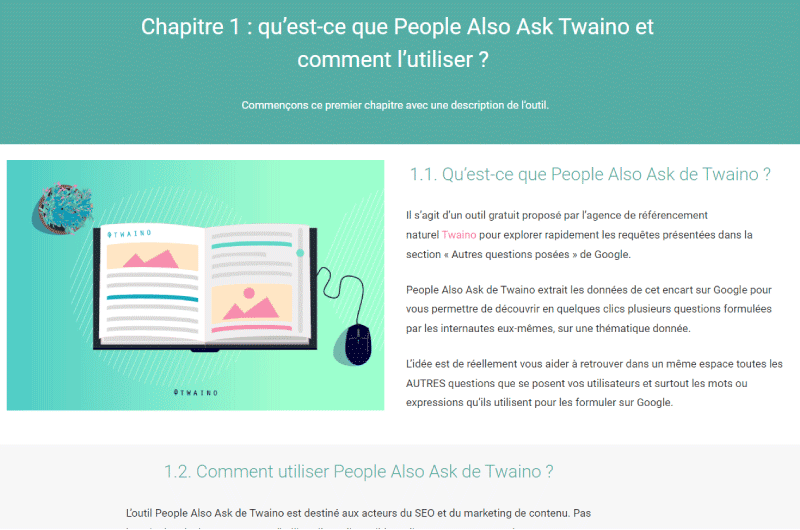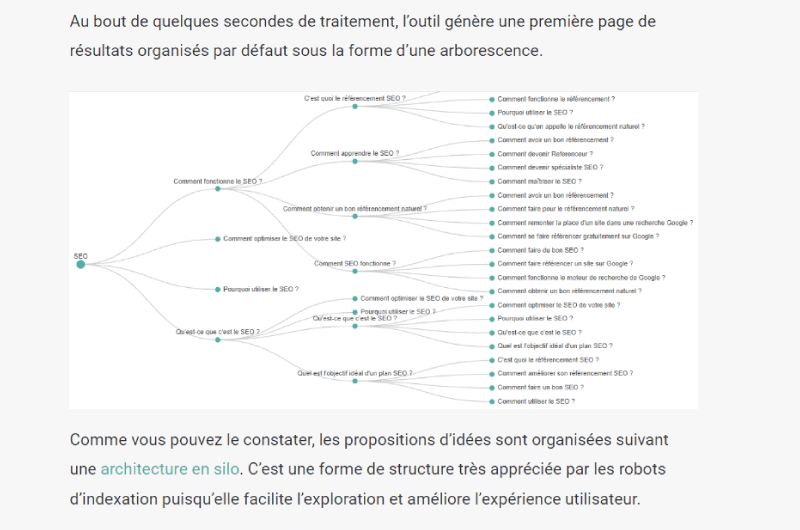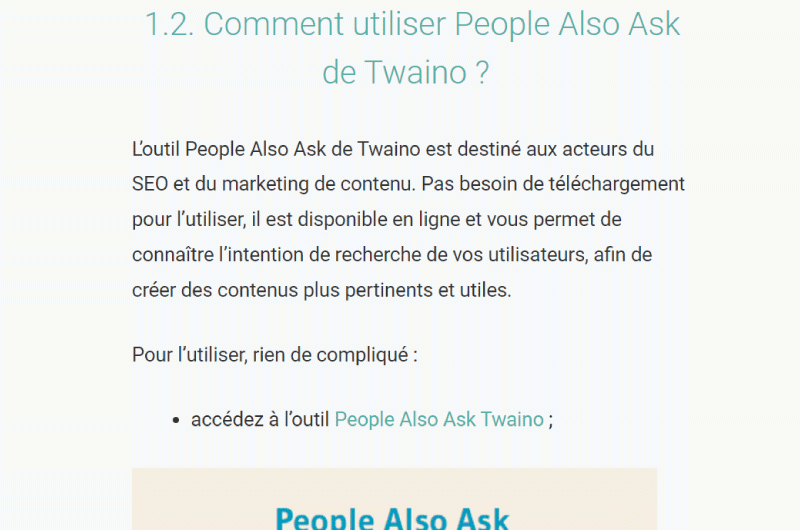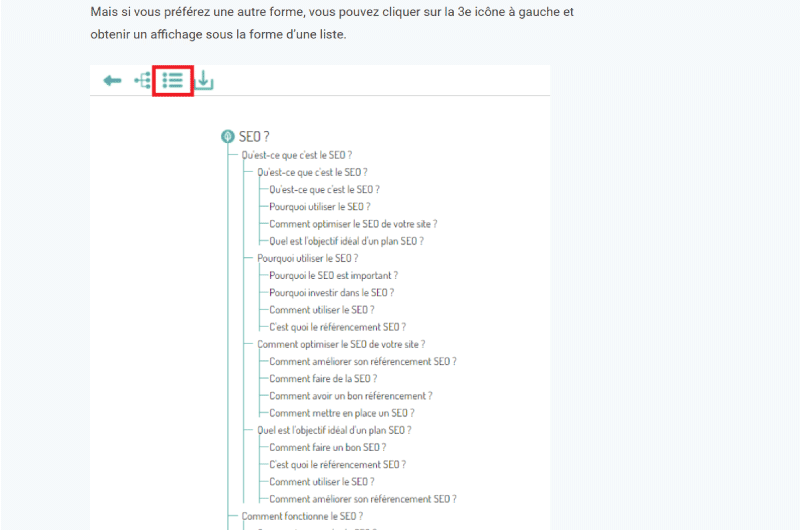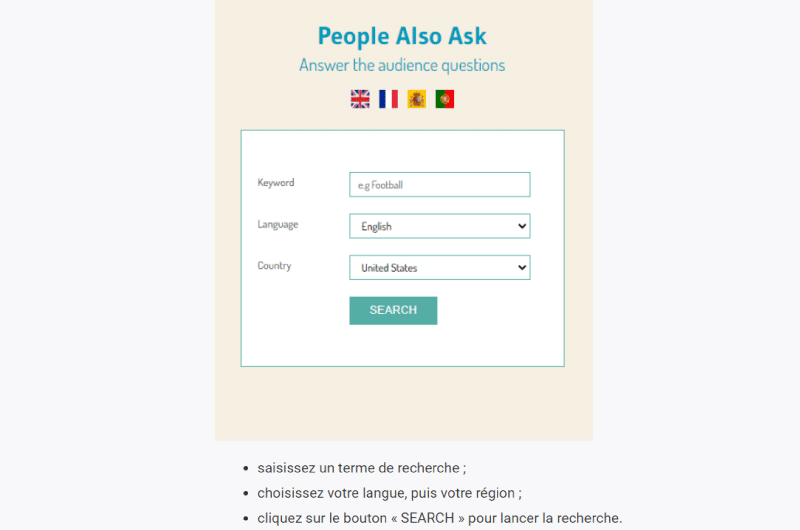 Company : People Also Ask


Twaino is an SEO agency based in the 10th Arrondissement of Paris and present in several cities in France. Its main objective is to support companies, merchants, service providers and organizations to develop their activities through sustainable organic growth of their website. For this, Twaino has set up a list of SEO services such as SEO Audit, SEO Campaign Management, Local SEO, Netlinking and SEO Training. The agency also offers other complementary services such as SEO Web Writing and the Creation of personalized visuals or illustrations. But in order to popularize and deepen SEO concepts, the agency has created a blog on its site where content is regularly published. The most interesting remains its SEO tools which are accessible for free and which help users in their various SEO optimization tasks. 
Other tools from the same company: 
Word counter; 

SEO audit; 

FAQs; 

SERP Simulator; 

Image integrator.
Contact : People Also Ask
Social Media : People Also Ask
Others Tools : People Also Ask
Alexandre MAROTEL
Founder of the SEO agency Twaino, Alexandre Marotel is passionate about SEO and generating traffic on the internet. He is the author of numerous publications, and has a Youtube channel which aims to help entrepreneurs create their websites and be better referenced in Google.