Browser Size | Internet Marketing Ninjas
Short description : Browser Size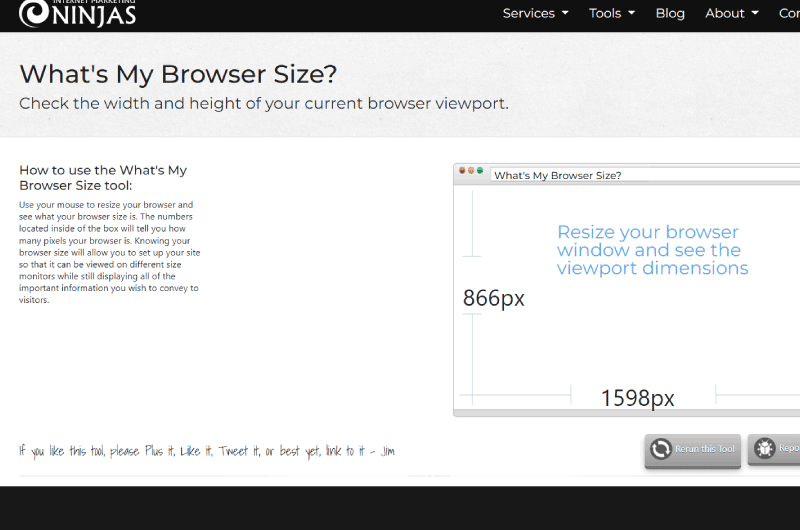 Use the What's My Browser Size tool to find out your browser size and optimize your site.
Long Description : Browser Size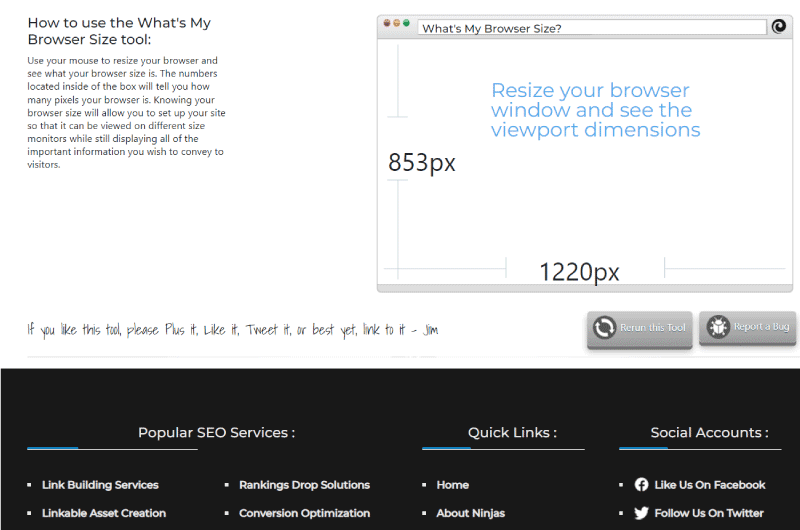 Description What's My Browser Size 
Competition on the web is tough, and webmasters need to make sure their sites adapt to users' devices. 
For example, they must ensure that their site displays correctly on different browsers, otherwise visitors will be frustrated and may not return to the site.
Checking the size of the browser is nowadays something simple to do, because there are many tools that allow you to do it. Among these tools, we have What's My Browser Size from Internet Marketing Ninjas.
In this description, we discover the Browser Size tool as well as its functionalities on the development of websites.
What is Internet Marketing Ninjas What's My Browser Size?
What's My Browser Size is a free online tool that allows you to determine the size of your browser on any type of screen. 
Present on the web interface of the Internet Marketing Ninjas company, it makes it possible to see the areas of a page viewed by Internet users from the size of their screen. This tool is used to check the screen size of a browser. 
It directs how elements of a website look on different browsers. The purpose of this tool is to allow web developers to know the size of the browser window for the layout of a page.
But SEO agencies, marketers and companies also use it in the development of their various marketing strategies. Using the tool, they can check the width and height of a browser's viewport.
By knowing the size of a browser, they can configure their sites so that they can be viewed on screens of different sizes while displaying all the important information they want to convey to visitors.
Features The What's My Browser Size
tool guides SEO agencies and businesses on how browser software works. It allows you to check the display height and width of your software. 
In terms of natural referencing, the What's My Browser Size tool is an element of SEO that can impact your Google ranking. Otherwise, it optimizes the keywords on your sites.
If you want people to use your site effectively on any type of device (mobile phone, tablet, computer, etc.), your browser's SEO is important. This affects search engine positioning and site performance.
So, when people search, your site is likely to show up in the top 10 results on the search page. This process gives you the perfect profile to find enough clients.   
How do I use the What's My Browser Size tool?
This browser size checker, while simple and free to use, provides quick results to customers. So, to better understand
how the What's My Browser Size tool works
, you need to experiment with it. 
To do this, using your mouse, resize your web browser to better understand the dimensions required to display your website. The data obtained directs you to the number of pixels of your browser. 
Indeed, a
pixel
is the smallest element that a digital image has on a screen or a telephone. 
Besides, it is possible that you configure your website for more traffic on monitors of different sizes. This helps display relevant information that you want to convey to visitors.
Basic parameters of the What's My Browser Size 
tool The What's My Browser Size tool estimates the size of your browser based on certain basic parameters. This is your site's browser size and performance ranking. 
Browser Size Ranking 
For websites, the recommended browser size is 500KB. The majority of sites can save over 250KB of space when you maximize images. Deleting an image can therefore increase the functionality of your site. 
But if your site has a video that advertises your services, you'll need a slightly larger browser size, as it can take up quite a bit of space. With that, you'll want to keep it on your site if that shared video improves your sales. 
Performance of your website 
The size of the browser affects the development of your website. Therefore, it is important to make use of the What's My Browser Size tool in order to expand your page size and optimize the loading speed. 
We then offer you some easy methods: 
Use plugins to compress your images and videos on your site;

Reduce browser size by optimizing your content while avoiding large fonts; 

Check the height and width of your browser window.  
What's My Browser Size is an effective online tool for checking browser size. By following the instructions of this tool, you can adapt it to the width as well as the height of your browser. 
This tool also helps marketing experts to have more traffic by allowing Internet users to have easy and readable access to their sites, regardless of the screen format of their mobile device.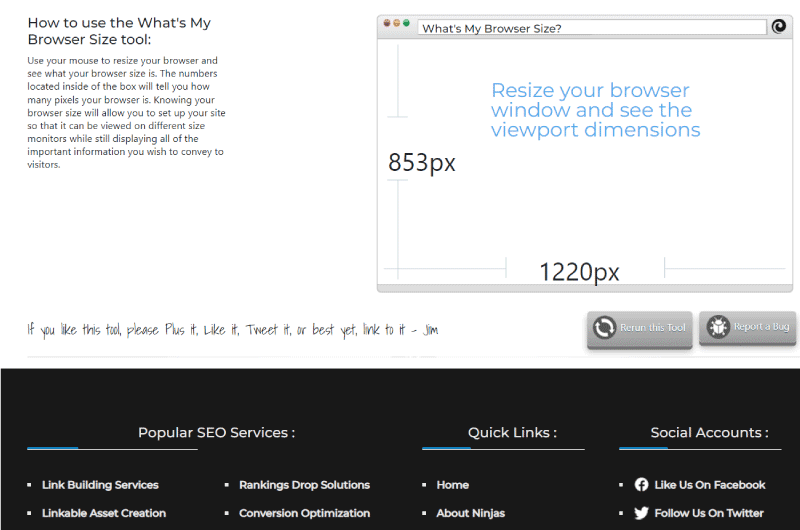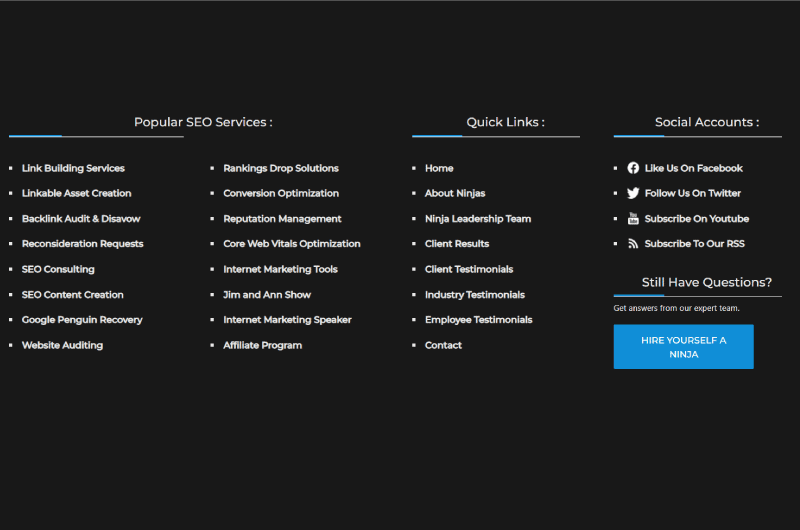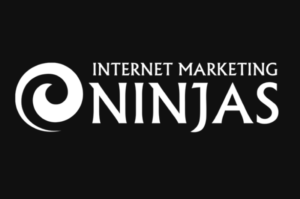 Internet Marketing Ninjas is a company founded in 1999 by Jim Boykin, with more than 10 years of experience in the field of SEO. The company's mission is to help their customers get better traffic to their websites through secure methods.
Internet Marketing Ninjas specializes in optimizing pages and websites for search engines. Based in the United States in Clifton Park, the company is made up of 50 members who are all experts in their fields 
. Internet Marketing Ninjas offers the entire digital community complete digital marketing services, but also SEO services and tools. Among the 87+ tools developed by them, here are some free SEO tools they have developed:
Social Image Resizer Tool;

What's My Browser Size Tool;

HTML Source Code Viewer Tool;

Meta Tag Analyzer;

Domain Age Checker;

Meta Tag Generator & Snippet Preview;

Search Engine Spider Simulator;

Keyword Combination Tool;

URL Inspection Tool…
These tools are aimed at SEO agencies as well as marketing professionals, not to mention companies. They will surely help to improve your various marketing strategies.
Social Media : Browser Size
Others Tools : Browser Size
Alexandre MAROTEL
Founder of the SEO agency Twaino, Alexandre Marotel is passionate about SEO and generating traffic on the internet. He is the author of numerous publications, and has a Youtube channel which aims to help entrepreneurs create their websites and be better referenced in Google.