Ninja URL Inspection Tool | Internet Marketing Ninjas
Short description : Ninja URL Inspection Tool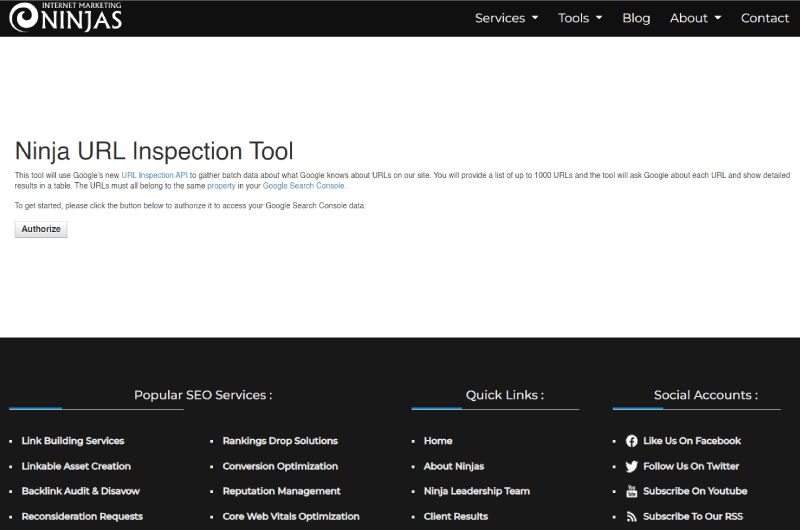 Ninja URL Inspection is an inspection tool developed by internet marketing ninjas that helps you identify SEO issues on your website by revealing what Google knows about accessibility and indexability of your URLs and allowing you to test URLs in real time.
Long Description : Ninja URL Inspection Tool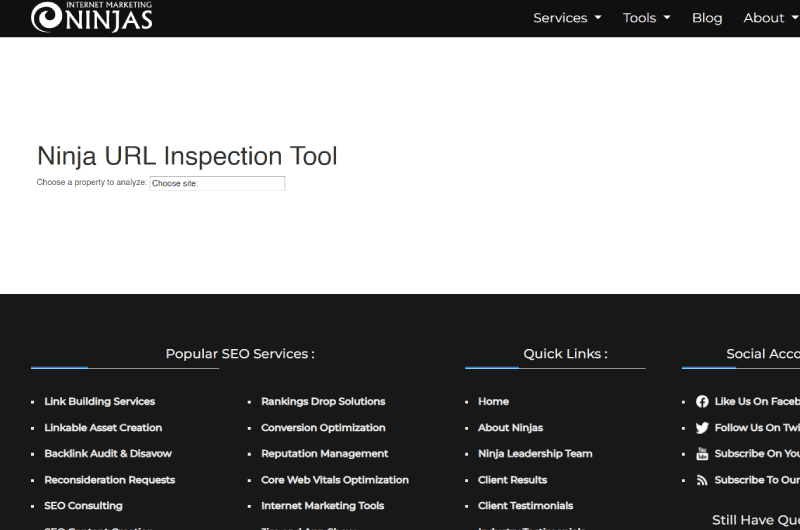 If you have a sizable website, you will definitely have a significant number of URLs that you want search engines to index all of.
In this case, it is therefore necessary to ensure that each of your URLs works well and can appear on search results pages without any restrictions when requested by users.
To this end, Ninja URL Inspection is a URL inspection tool developed by internet marketing ninjas to help you identify which URLs on your website are not working properly and how you can fix the problem.
To understand how the internet marketing ninjas url inspection tool works, I invite you to continue reading this description.
The Ninja URL Inspection tool from internet marketing ninjas uses Google's new URL Inspection API to collect bulk data about what Google knows about URLs on your site. 
The necessary condition here is that all URLs must be associated with the same Google Search Console property.
This clearly suggests that the Ninja URL Inspection tool from internet marketing ninjas only shows data present in Google search console. The reality is that there are a few differences which shows the usefulness of the tool.
To use the URL tester, you must go to the tool's page then click directly on the button, you must click on the "Aurorize" to authorize the tool to access your Google Search Console data of your website.
Once authorized, the tool will try to connect to your Google search console account by asking you for your Google password.
From this moment, the tool can use the Google API to inspect each of the URLs present on your website.
What information can you find on the inspection report?
Once the inspection is complete, the tool presents you with a report full of quality information like the following:
Crawling:
This will tell you when Google last crawled your URL and retrieved the indexed version of your web page to update search results pages so that users see your new address. 
Indexing:
The URL of your web page that appears when you inspect it does not necessarily mean that it will appear in search results.
Service Information:
Google search results are not just a list of sources that happen to be relevant to your query. They are in fact provided to give you the best possible, most relevant result, based on a number of factors taken into account by Google's algorithm;
URL is an ALT version:
The web page in question has alternate versions of the same page that are referred to as an Amp/Canonical pair group or a desktop or mobile version page pair. The index cover section displays the selected canonical version of your website. If your URLs fall into this category, you just need to make sure that the requested version of the web page is the one intended.
The URL is not on Google and has indexing errors in the inspection tool:
If this simple section appears on your inspection report, it means that there is at least one critical error preventing the URL indexing. The URL will therefore not appear in Google search results until the issues are resolved.
The URL is on Google but has indexing problems:
If this message appears, it means that Google has indexed your webpage, but has found that displaying this page in search results does not would certainly not be possible for him. The issue is likely related to associated AMP pages or malformed or outdated structure data for the page's rich results. To fix the problem, you just need to follow the instructions provided by Google regarding fixing possible errors for that particular page.
The URL seems to be healthy, but has indexing errors in the inspection tool:
The presence of this simple section on your inspection report page means that a critical error is present and must be fixed to allow search engines to index and display the url more easily on search results pages.
Temporarily Blocked:
Checking Google's URL removal section lets you see if the URL is blocked. The inspection tool will show if the URL appears on search results pages. Thus, the report groups in this section all the URLs that are temporarily blocked and cannot work according to the logic.
In general, if you are looking for a URL inspection tool to ensure that every link on your page can not only display on search results pages, but also lead the user in from one point to another, Ninja URL Inspection may be a great option for you.
Videos : Ninja URL Inspection Tool
Images : Ninja URL Inspection Tool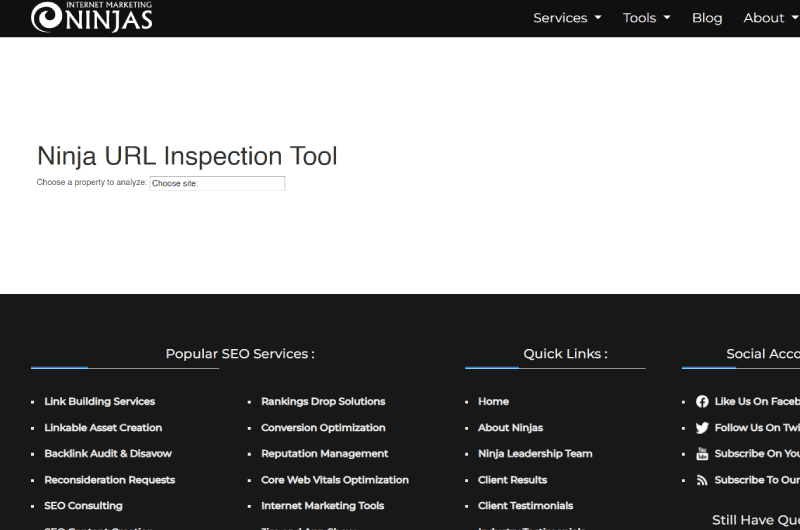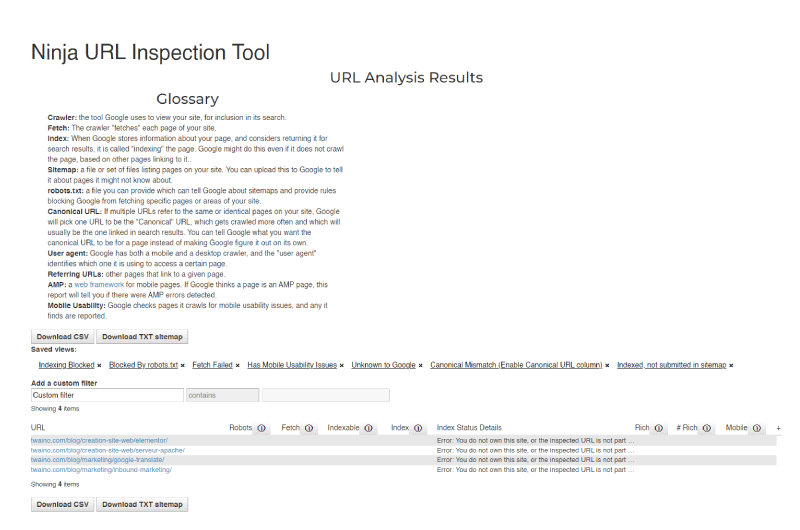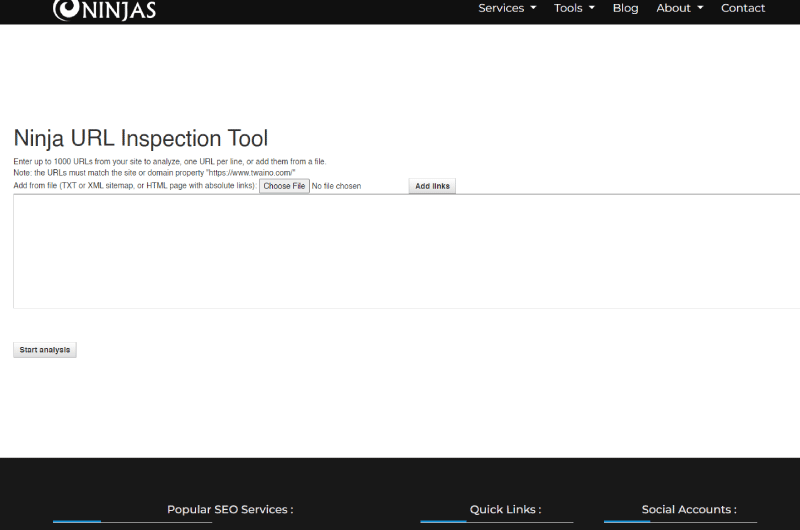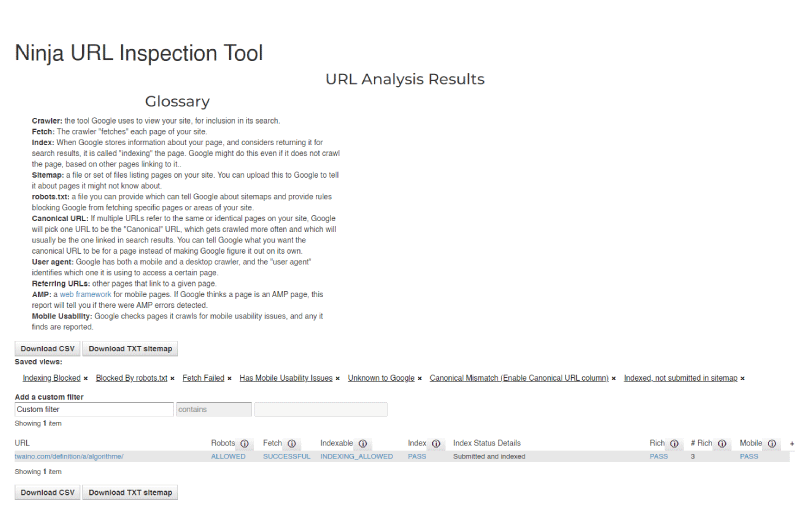 Company : Ninja URL Inspection Tool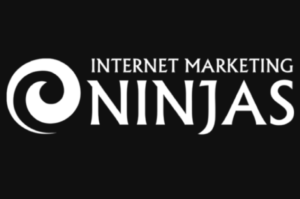 Internet Marketing Ninjas is a company founded in 1999 by Jim Boykin, with more than 10 years of experience in the field of SEO. The company's mission is to help their customers get better traffic to their websites through secure methods.
Internet Marketing Ninjas specializes in optimizing pages and websites for search engines. Based in the United States in Clifton Park, the company is made up of 50 members who are all experts in their fields 
. Internet Marketing Ninjas offers the entire digital community complete digital marketing services, but also SEO services and tools. Among the 87+ tools developed by them, here are some free SEO tools they have developed:
Social Image Resizer Tool;

What's My Browser Size Tool;

HTML Source Code Viewer Tool;

Meta Tag Analyzer;

Domain Age Checker;

Meta Tag Generator & Snippet Preview;

Search Engine Spider Simulator;

Keyword Combination Tool;

URL Inspection Tool…
These tools are aimed at SEO agencies as well as marketing professionals, not to mention companies. They will surely help to improve your various marketing strategies.
Contact : Ninja URL Inspection Tool
Social Media : Ninja URL Inspection Tool
Others Tools : Ninja URL Inspection Tool
Alexandre MAROTEL
Founder of the SEO agency Twaino, Alexandre Marotel is passionate about SEO and generating traffic on the internet. He is the author of numerous publications, and has a Youtube channel which aims to help entrepreneurs create their websites and be better referenced in Google.