Meta Tag Analyzer | Internet Marketing Ninjas
Short description : Meta Tag Analyzer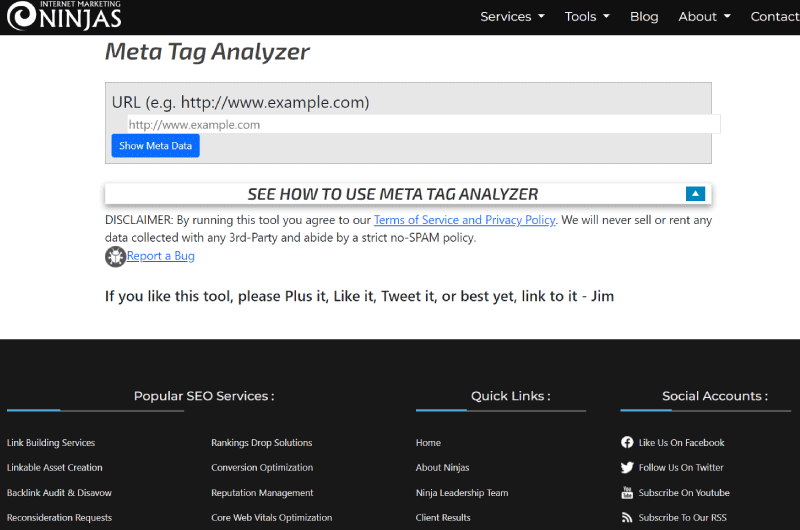 Use Internet Marketing Ninjas Meta Tag Analyzer to analyze the Meta tags of your pages.
Long Description : Meta Tag Analyzer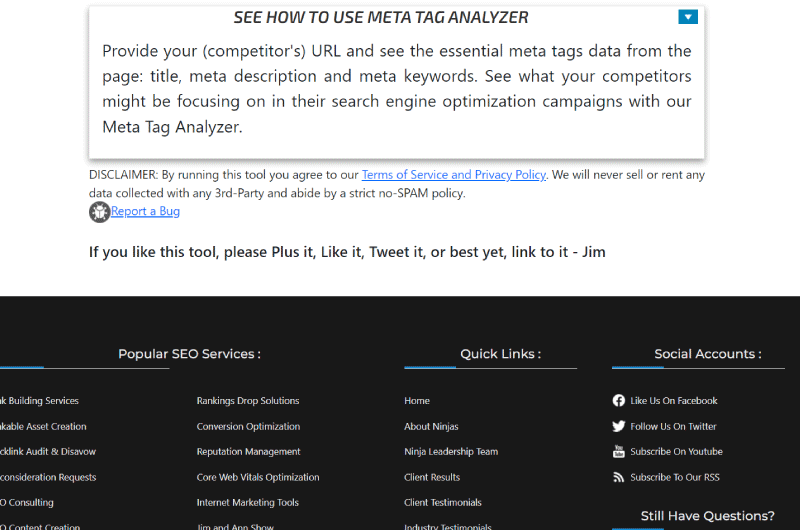 Meta Tag Analyzer
Meta tags, these small descriptors of content, even if they are not really part of a content, are just as important as the content.
They tell search engines what a web page is about and tell users what they will find in your content.
But it is clear that many content creators trivialize these Meta tags and simply leave the fields empty or prefer to use a generic tool to generate them.
The fact is that it can cause problems since it allows search engines to better understand the content of a page. That's the point of checking these tags for your web pages.
I suggest you use the Internet Marketing Ninjas Meta Tag Analyzer tool to run some checks to see the status of these tags for your pages.
In this description, it will be a question of getting to know this tool and how it could help you.    
What is Internet Marketing Ninjas Meta Tag Analyzer?
As you know,
meta tags are a great way to provide web indexes with information about
your site's pages.
tool
Meta Tag Analyzer
is available to allow website owners to examine the meta tags of their pages in detail.
This tool analyzes the meta tags of the page as well as the keywords, including those contained in the images, title tags and the necessary URLs.
While reviewing metadata is highly debatable, determining the meta information of your competitor's "description" and "keywords" can help you uncover strong keyword language.
Indeed, determining the meta information of your competitors allows you to see how they add the keywords in the Title and in the Meta description.
Also, while meta tags don't have a significant impact on how your page appears to visitors, they help search engines understand what your page is about and what content will appear when it's indexed.
That's the point of checking your meta tags with Meta Tag Analyzer. This will allow you to optimize them for search engines.
This is a necessity, as search engines are one of the best ways to attract visitors to your blog or site.
In addition to optimizing meta tags to improve your site, you can find out how your competitors are persuading visitors with their meta tags, including title and meta description.
With the Internet Marketing Ninjas Meta Tag Analyzer tool, you can also improve your site using a variety of strategies such as using different types of meta tags.
Meta Tag Analyzer also allows you to see the character count of your meta tags, as this is a factor to consider when writing your meta.
How does Meta Tag Analyzer help you?
Meta tag evaluation tools are generally essential to analyze your personal meta tags as well as those of competitor sites and provide you with a comprehensive analysis of the value of your meta tags.
This Meta Tag Analyzer from Internet Marketing Ninjas not only checks if your Meta tags are placed correctly, but also if they are appropriate for the page. It is one of the most effective tools when it comes to checking meta tags.
How does the Meta Tag Analyzer tool work?
It is common to see people using automatic meta tag generation tools for their web pages.
Although a meta tag generator tool can be useful, you will still need to determine if the tags are working as expected.
Internet Marketing Ninjas' Meta Tag Analyzer inspects your Meta tags to see how people are reading this data from your pages.
To use it, paste the URL of the page you want to display in the content field and click "Show meta data".
After analyzing your page, Meta Tag Analyzer gives you the report which informs you about three aspects, namely:
Meta title
: The first step is to check your Meta Title. Not only does it tell you how long your title should be, but it also checks its relevance to ensure that your page content is accurate.
Remember that most search engines have a character limit for titles.
Meta description
: The description is then inspected. You should do everything possible to ensure that the description is within the required length. 150 characters is a good goal for your Meta description.
Meta Keywords
: It is also much easier to analyze your Meta Keywords than Meta Tag Analyzer. However, using tools such as analyzing the keywords you use on your page will help you fix any Meta tag length or relevance issues.
Most search engines ignore end-of-sentence words like "and", "your", "or" or "of" when indexing keywords. That said, you can see errors in length and where those words are from your tags too.
The Benefits of Meta Tag Analyzer
Meta Tag Analyzer is a free tool that provides all the information you need to make an informed decision and then guides you through the process of choosing the ideal Meta tags.
With this tool, you will be able to get the most out of your Meta tags and see what they are to make sure you are putting them to good use. They help improve your blog or website for crawlers.
The tool can also be used to analyze your competitors. The process is simple and the accuracy of the results is guaranteed.
After analyzing your competitors' meta tags and understanding your capabilities, you can renew yours to see how they affect rankings and online visibility.
The Meta Tag Analyzer is fast, simple and reliable. It provides details in seconds, without any usage restrictions. By doing so, it saves you a lot of time. You can use it at any time and on the device of your choice.
Disadvantages of Meta Tag Analyzer
The Meta Tag Analyzer is not intuitive and its interface remains basic. The tool also does not display the number of characters for each tag to allow users to know immediately when there is a problem.
Videos : Meta Tag Analyzer
Images : Meta Tag Analyzer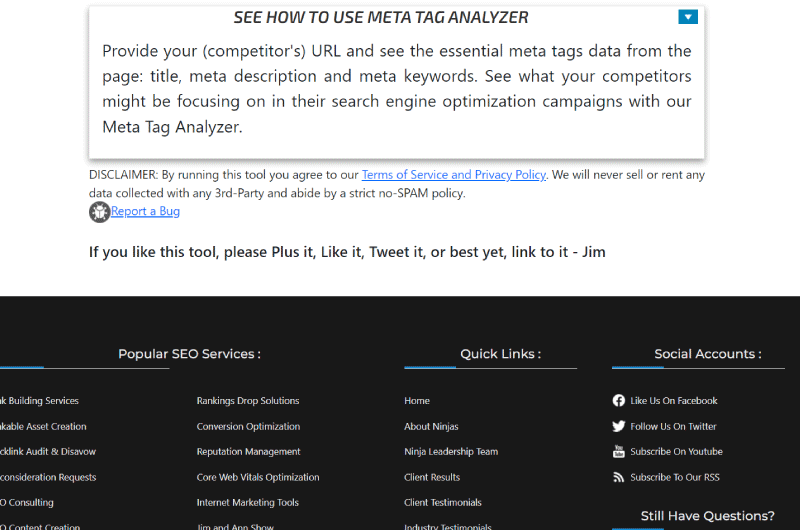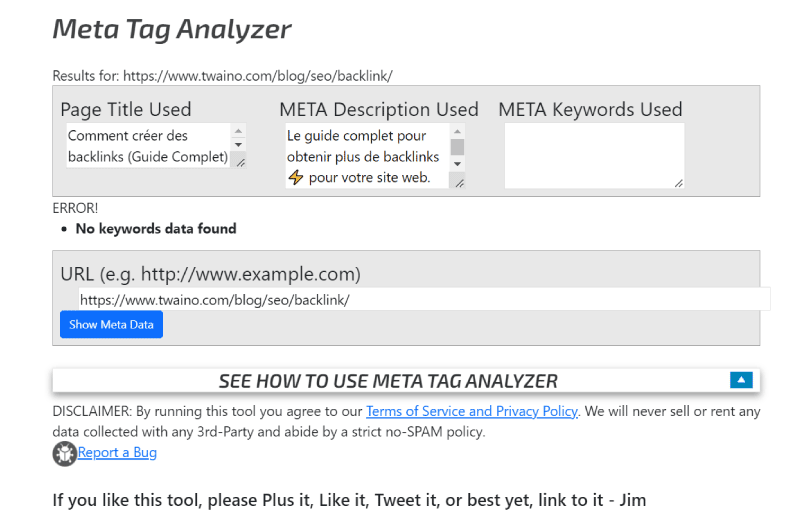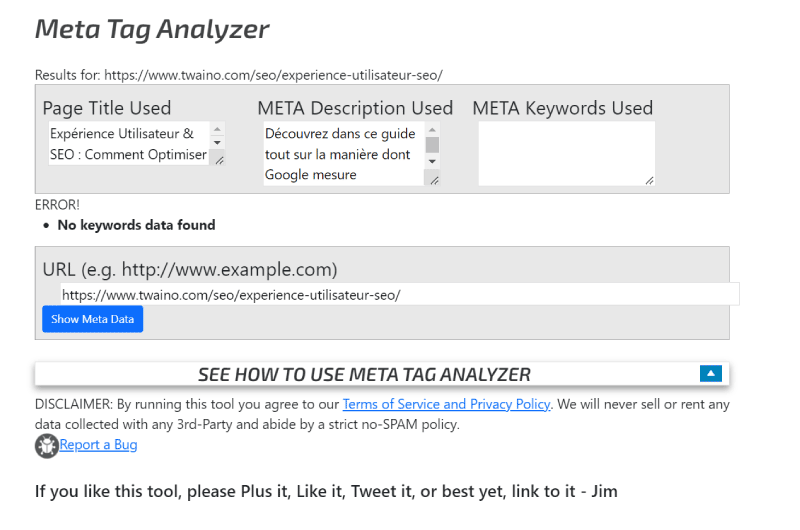 Company : Meta Tag Analyzer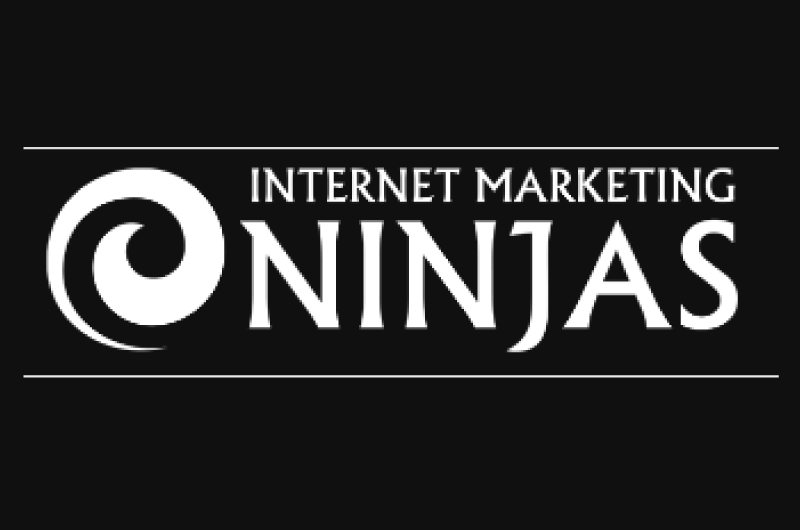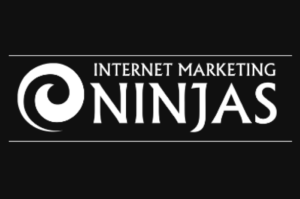 Internet Marketing Ninjas is a company founded in 1999 by Jim Boykin, with more than 10 years of experience in the field of SEO. The company's mission is to help their customers get better traffic to their websites through secure methods.
Internet Marketing Ninjas specializes in optimizing pages and websites for search engines. Based in the United States in Clifton Park, the company is made up of 50 members who are all experts in their fields. Internet Marketing Ninjas offers the entire digital community complete digital marketing services, but also SEO services and tools. Among the 87+ tools developed by them, here are some free SEO tools they have developed:
Social Image Resizer Tool;

What's My Browser Size Tool;

HTML Source Code Viewer Tool;

Meta Tag Analyzer;

Domain Age Checker;

Meta Tag Generator & Snippet Preview;

Search Engine Spider Simulator;

Keyword Combination Tool;

URL Inspection Tool…
These tools are aimed at SEO agencies as well as marketing professionals, not to mention companies. They will surely help to improve your various marketing strategies.
Contact : Meta Tag Analyzer
Social Media : Meta Tag Analyzer
Others Tools : Meta Tag Analyzer
Alexandre MAROTEL
Founder of the SEO agency Twaino, Alexandre Marotel is passionate about SEO and generating traffic on the internet. He is the author of numerous publications, and has a Youtube channel which aims to help entrepreneurs create their websites and be better referenced in Google.