Link Building Campaign | Linkody
Short description : Link Building Campaign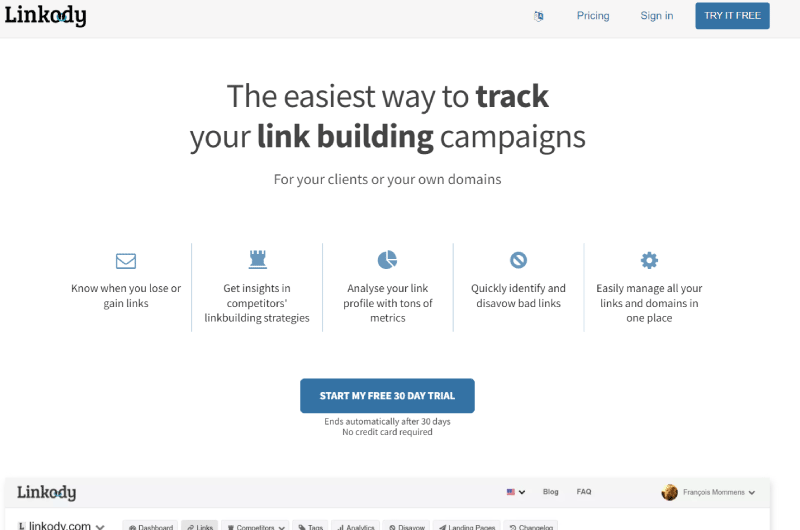 The easiest way to track your link building campaigns For your clients or your own domains
Long Description : Link Building Campaign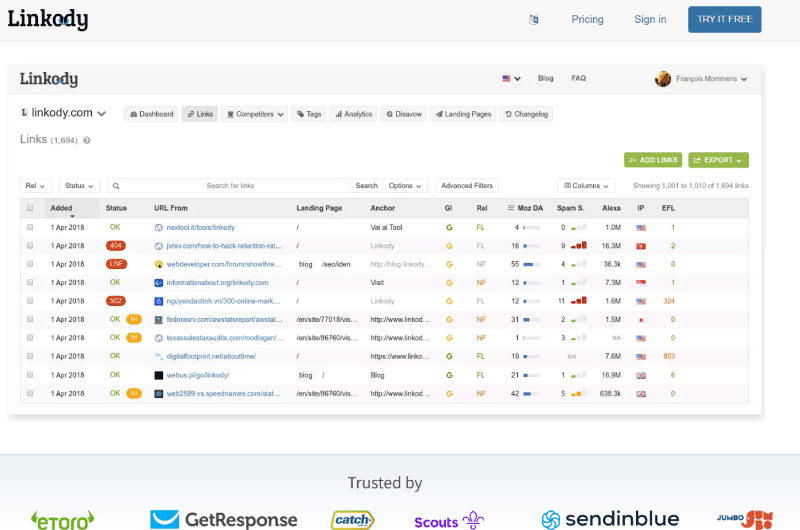 Description of Linkody
As you will see once you land on this platform's website, Linkody is a tool put together by the Dutch agency Linkody. It enjoys a good reputation and is well known on popular platforms such as "etoro" and "Getresponse". 
Through this tool, the agency gives you the possibility to easily and simply follow the link campaigns that you create at the level of your sites or those of your customers.There is no doubt that following the links of a website is an important activity.This 
activity allows the owners of the websites to collect data in order to analyze the level of user engagement on their site or to see how the site generates traffic as well as the sources of this traffic.It 
also allows them to identify the parts which can be considered important or less important and which therefore require improvements to the website.With 
the Linkody link tracking tool, you have access to these different data, but also, you have the possibility of knowing in real time: 
When you lose and win nose links; 

What you need to know about your competitors' link building strategy; 

Know the profile of the links from a multitude of measures; 

Have control over all your links and domains. 
Who is the Linkody tool for? 
In view of all that I have just said, the linkody tool is naturally aimed at all those who are in charge of the process of creating and monitoring links at the level of a website.
As such, it may therefore be of interest to webmasters, natural referencing professionals or even private individuals who own a website and who take care of its management themselves. 
What are the features of the Linkody tool? 
Linearly, Linkody supports you with multiple users. This allows use by teams. 
It has a link disavowal tool and allows you for example: 
To effectively locate a link on the source page; 

Check if the links on your page are indexed by Google; 

Monitor your website landing pages 

Perform analytics from different metrics and create reports with your brand logo; 

Analyze and export data; 

Monitor your backlinks; 

To see unmissable link building opportunities; 

Etc.
How much does it cost to use Linkody? 
The use of Linkody is chargeable, but currently the platform offers a trial period of the tool over a period of 30 days and which does not require a request for information relating to your credit card. With this offer, you have plenty of time to take advantage of the tool's performance and determine if you really need it. 
As far as the plans for the tools themselves are concerned, Linkody offers you the choice between five (5) price plan proposals, namely: 
The webmaster plan which is 14.90 per month. This plan entitles you to one user account and lets you track two domains and 500 links; 

The advanced plan which costs you $24.90 and provides access to one user access, 5 domains and 2000 monitored links; 

The pro plan charges at 49.90 a month. This plan allows you to connect three users and 20 domains and gives you the possibility of being able to monitor 5000 links. 

The Agency plan which entitles you to 5 user accounts, 50 domains and 20,000 links. It is offered at $99.90; 

Finally, you have the Agency XL plan which is offered at $153.90 and which entitles you to 10 user accounts, 100 domains to connect and the possibility of following 40,000 links.
Subscribing to any Linkody site plan allows you to have access to the basic functionalities which are: 
Sending reports by e-mail; 

Analysis based on certain SEO measures; 

Analysis of links and their management; 

The ability to view a link and disavow it if it is toxic. 
In addition, it should be noted that during your 30-day free trial the application gives you access to the following features: 
2 domains;

500 links;

Report of new or lost new links and Competitor Links;

All SEO data;

Simplified SEO link disavowal at the landing page level;

The ability to locate instant links.
How to use the Linkody platform? 
To use Linkody, you can start your 30-day free trial by simply creating an account from: 
your email;

Your first name ;

And a password.
Once the account is created, you can have access to your dashboard and enjoy the features that Linkody makes available to you for 30 days. But before anything else, you need to add a domain first. 
to do this: 
click on add a domain and enter the URL address of your website 
Once the domain has been added, the site automatically displays a new page containing information on the links of the domain you added
As you you will be able to see it, the new page 'displays information such as: 
The links of the analyzed site;

HTTP status;

Their origins;

The landing page;

The anchor;

Indexing by googling or not;

The "Rel" attribute;

Domain authority;

The spam score;

The link popularity ranking;

The country where the link is hosted;

The country corresponding to the domain;

The total number of external tracking links.
All this information can be exported and analyzed even during the trial period. What better way to allow you to have an idea of ​​the performance of linkody and use it to improve the links of your website. 
Take advantage of it!
Videos : Link Building Campaign
Images : Link Building Campaign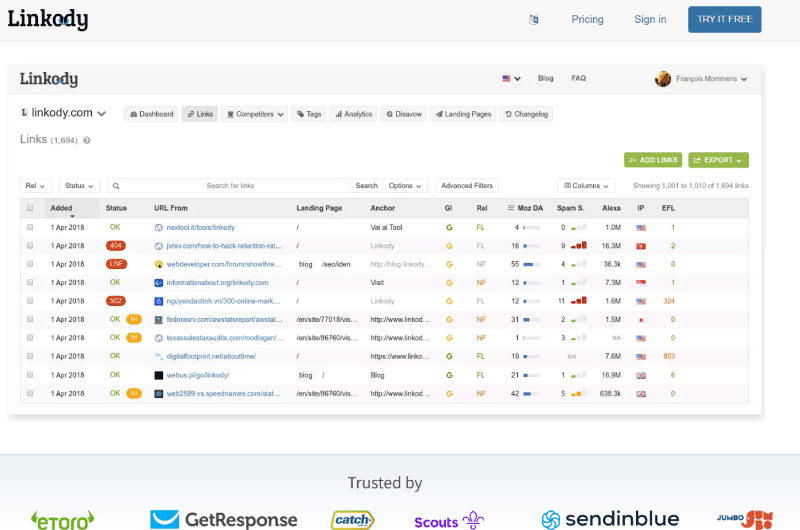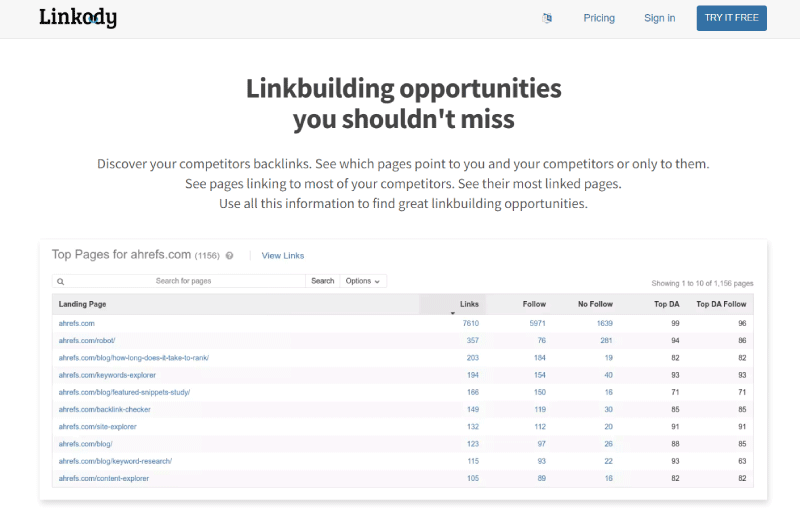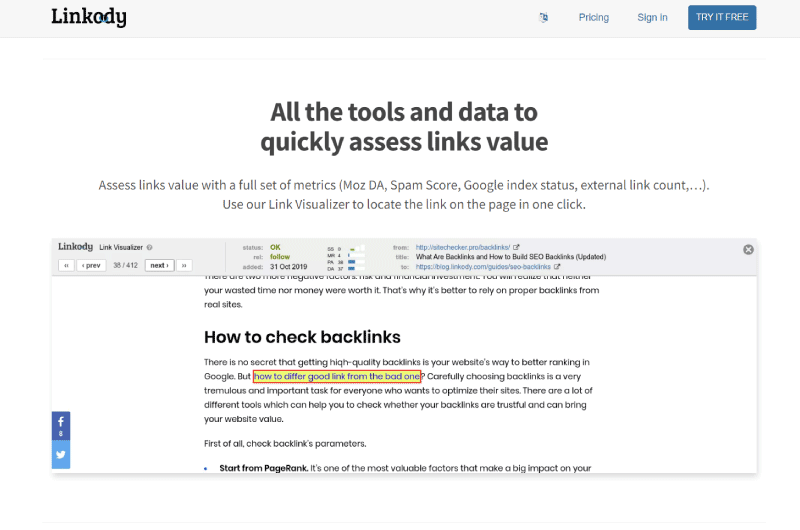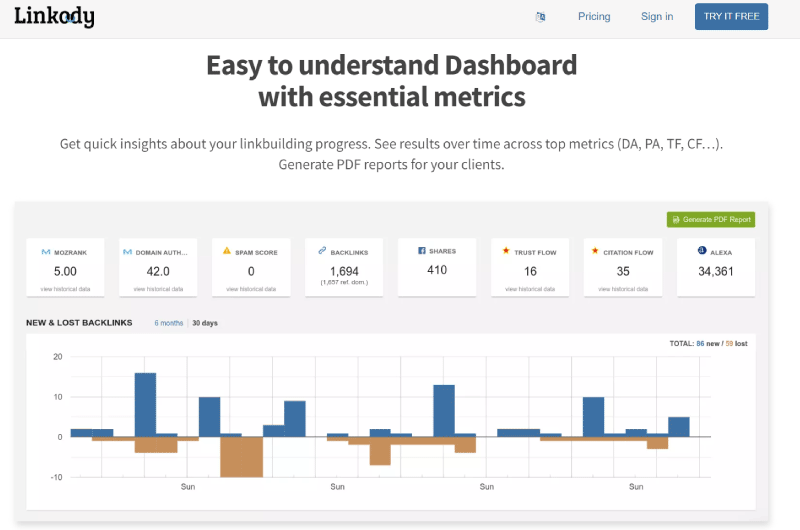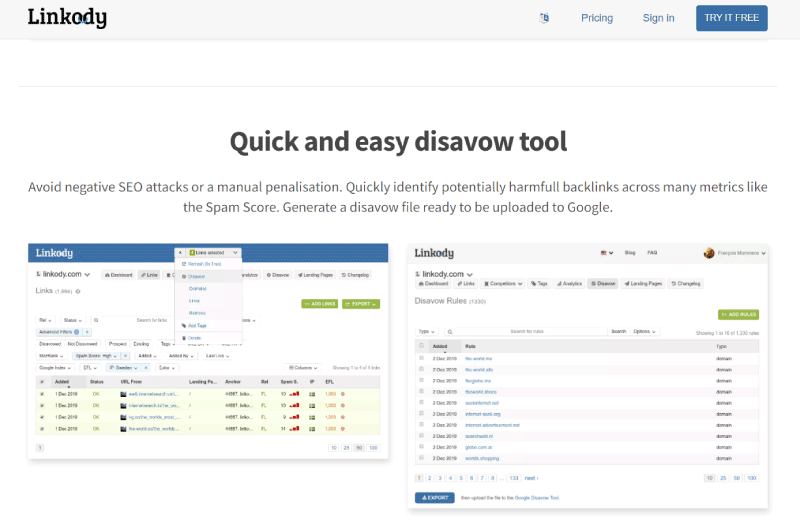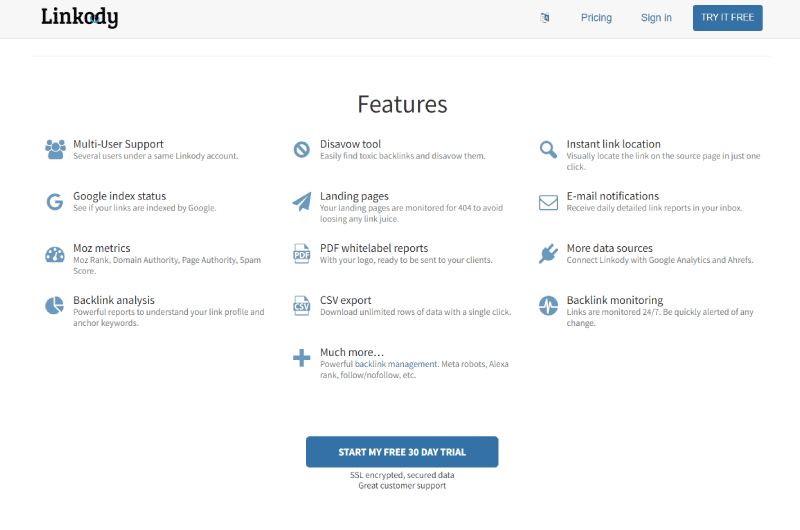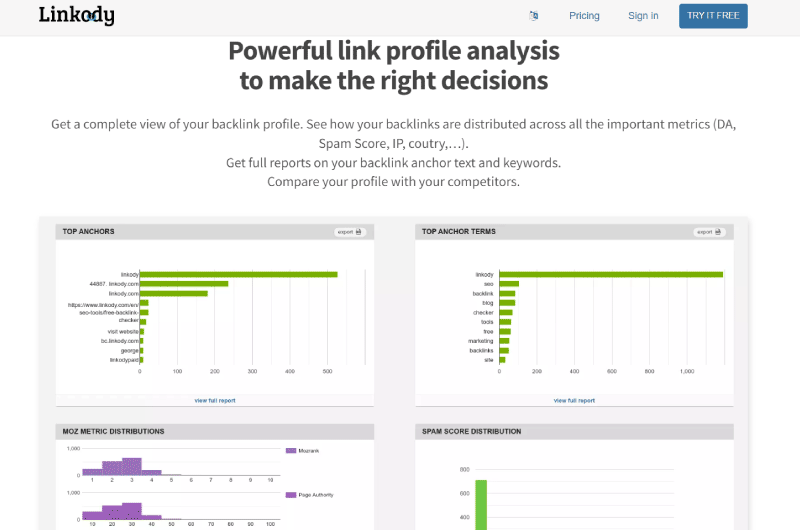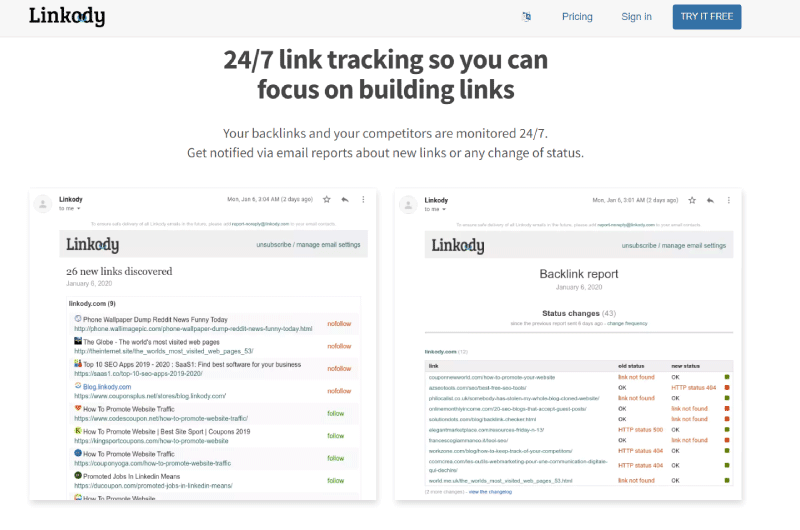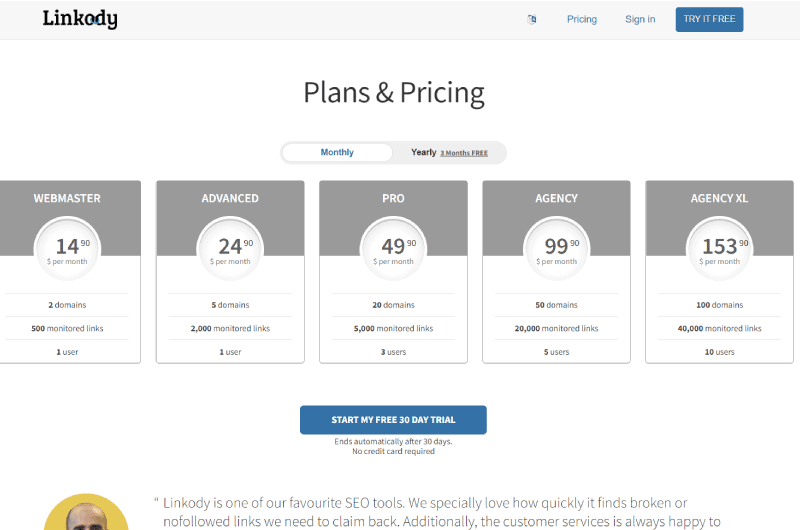 Company : Link Building Campaign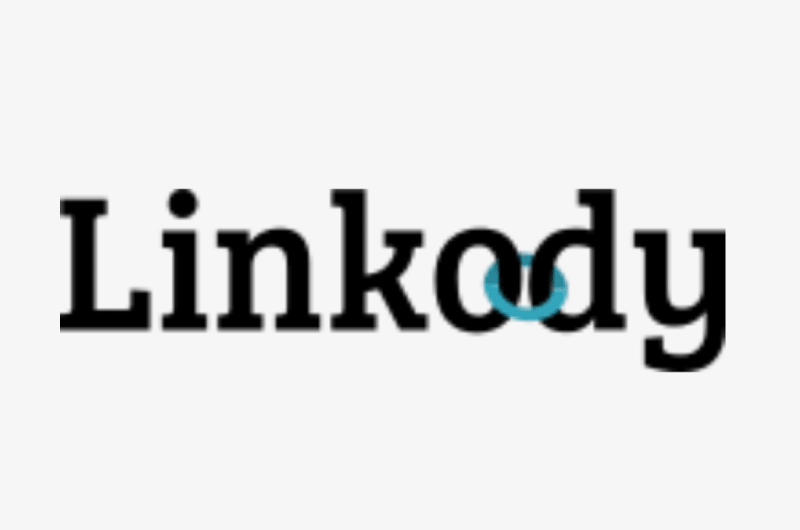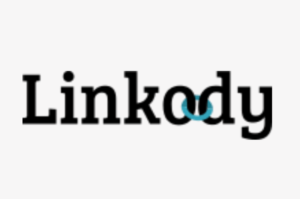 Linkody is an inbound link monitoring tool. It was designed to assist SEO agency managers, SEO consultants and digital marketing experts in their task. 
Specifically, Linkody makes it easier to manage link acquisition campaigns for your domains or for your customers. It promotes powerful link analysis to enable its users to make good decisions regarding which SEO or marketing strategy to adopt.
It is a tool that also and above all allows you to:
Stay informed when you gain or lose links;

Spy on your customers' link acquisition strategy;

Analyze your link profile through several essential indicators;

Spot and promptly disavow bad links.
Contact : Link Building Campaign
Social Media : Link Building Campaign
Others Tools : Link Building Campaign
Alexandre MAROTEL
Founder of the SEO agency Twaino, Alexandre Marotel is passionate about SEO and generating traffic on the internet. He is the author of numerous publications, and has a Youtube channel which aims to help entrepreneurs create their websites and be better referenced in Google.