Compare Website Speed | Sand Box Web
Short description : Compare Website Speed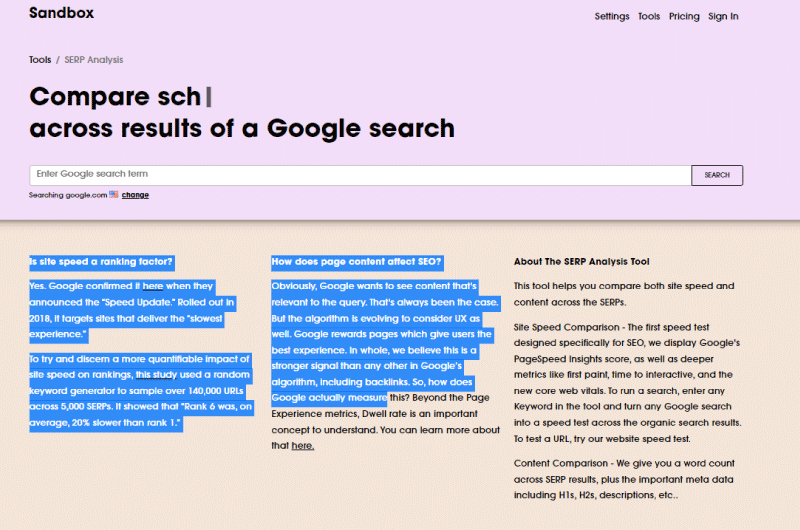 Use Sandbox to compare both site loading speed and SERP content.
Long Description : Compare Website Speed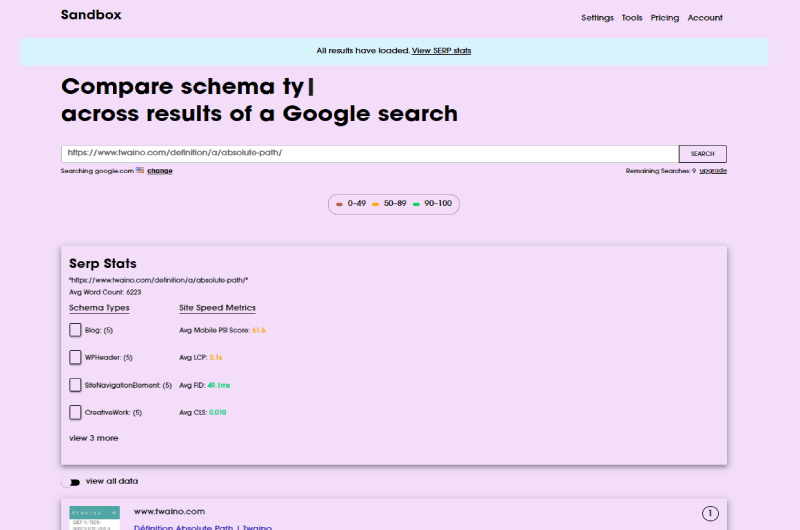 Description of Sandbox 
In general,
Sandbox Web
is an American company that works on SEO techniques related to the user experience.  
It was founded by a developer and creator of SEO tools and aims to offer new solutions to enable companies to develop their user experience.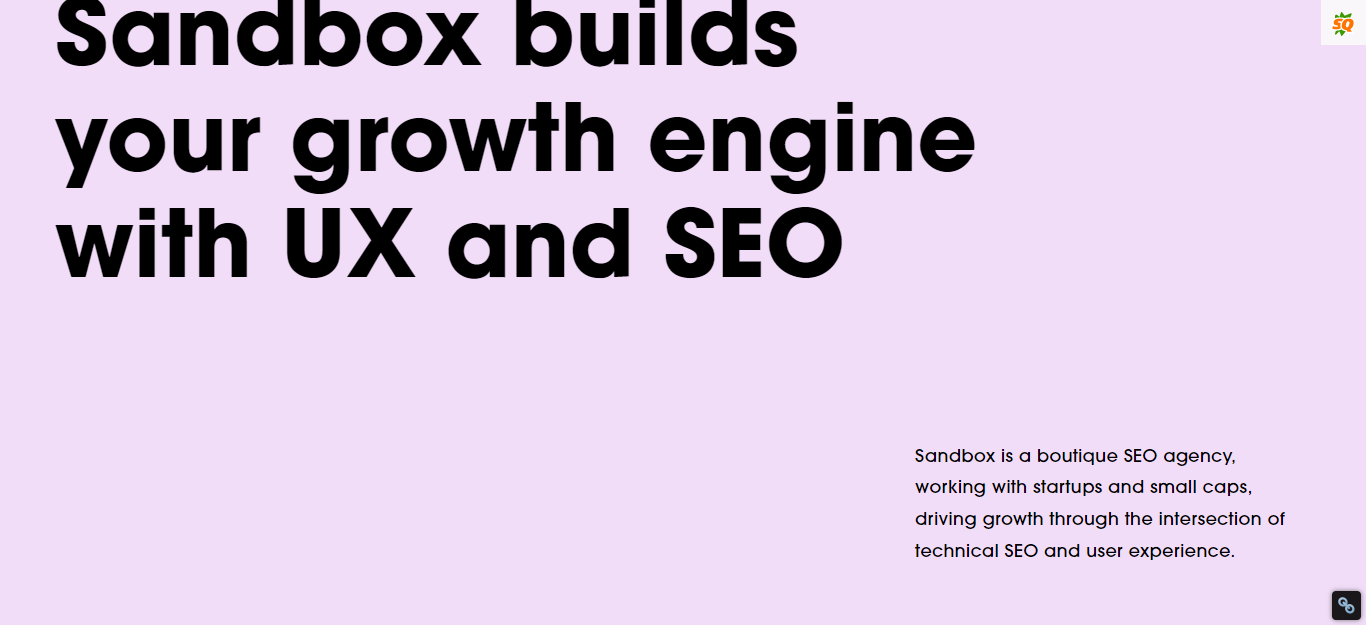 With tools like SERP Analysis, Website Speed ​​Test, Google Says, and Keyword Suggestions, Sandbox comes as a suite of SEO tools you can use to: 
Compare site speed and content of the page in Google search results; 

Run a speed test from different samples to get good accuracy;

Look for tweets from the Google team on SEO;

Get unique keyword suggestions provided by GPT3. 
Who is the SEO Sandbox suite of tools for? 
Sandbox is a suite of four (4) SEO tools. It goes without saying that it is much more useful to those who deal with web referencing. 
It will thus be able to help them to achieve the referencing of their website much more easily or to analyze the sources of the difficulties that they encounter during their journey.  
However, it may also be of interest to some Internet users who are probably curious to know what the loading speed of a web page represents or to discover a detailed study on how a website presents itself in the SERPs. 
Why is Sandbox important? 
The Sandbox platform is interesting firstly because it offers several SEO tools. The tools offered are interesting and all relate to essential aspects of SEO. 
For example, thanks to the content analysis tool that appears in the SERPs, you can now make the link between the loading speed of the website and their content in order to see how these two factors affect natural referencing.  
For its part, the keyword suggestion tool which is based on a powerful artificial intelligence system and algorithms based on massive data sets and generating natural language. 
Sandbox also allows you, through its "Google says" tool, to follow up on Google's news from the Twitter social network. 
What are the features of Sandbox? 
As we have already mentioned, Sandbox is a set of tools. These features are therefore multiple and vary depending on the tool you are using.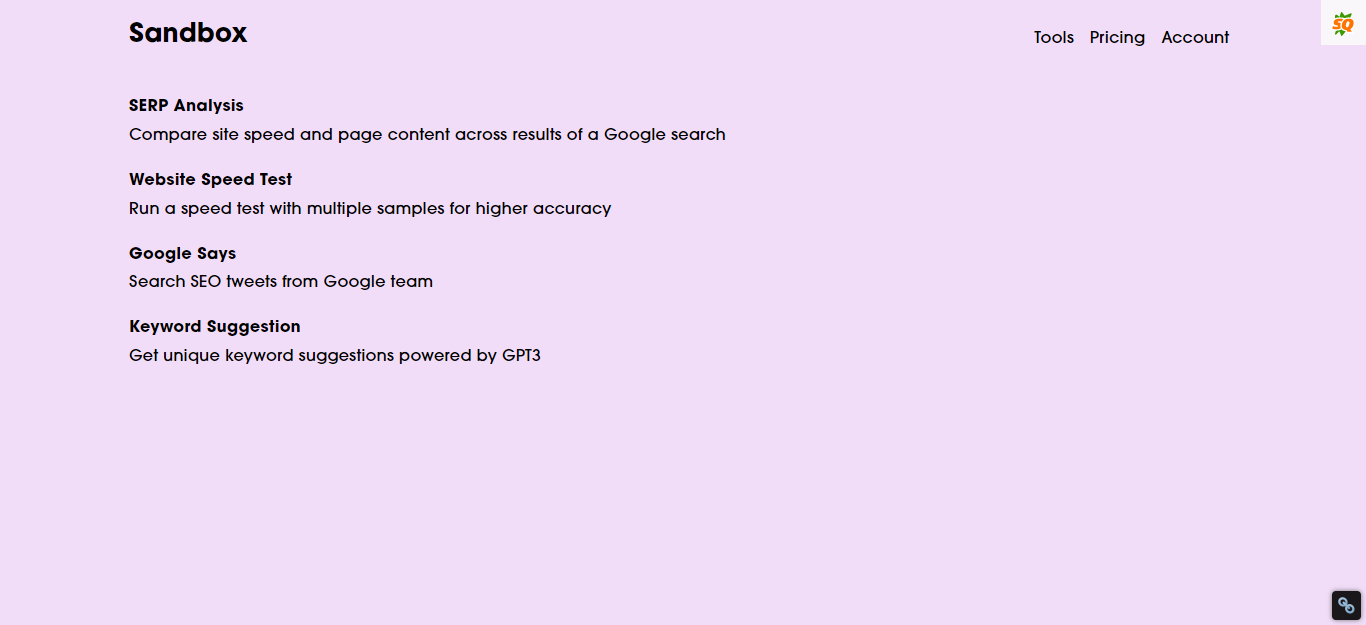 Overall, however, Sandbox allows you to display relevant keywords based on information collected on a very powerful system. 
It also allows you to perform speed tests of your site or web page from several types of data, namely: Land data and laboratory data. 
You also have the SERPs analysis tool which allows you to display, for a given search term, information relating both to the content of the SERPs and to the various measures relating to the speed of the website concerned. 
How much do Sandbox platform services cost? 
As you can see, the tools found in Sandbox are both free and paid.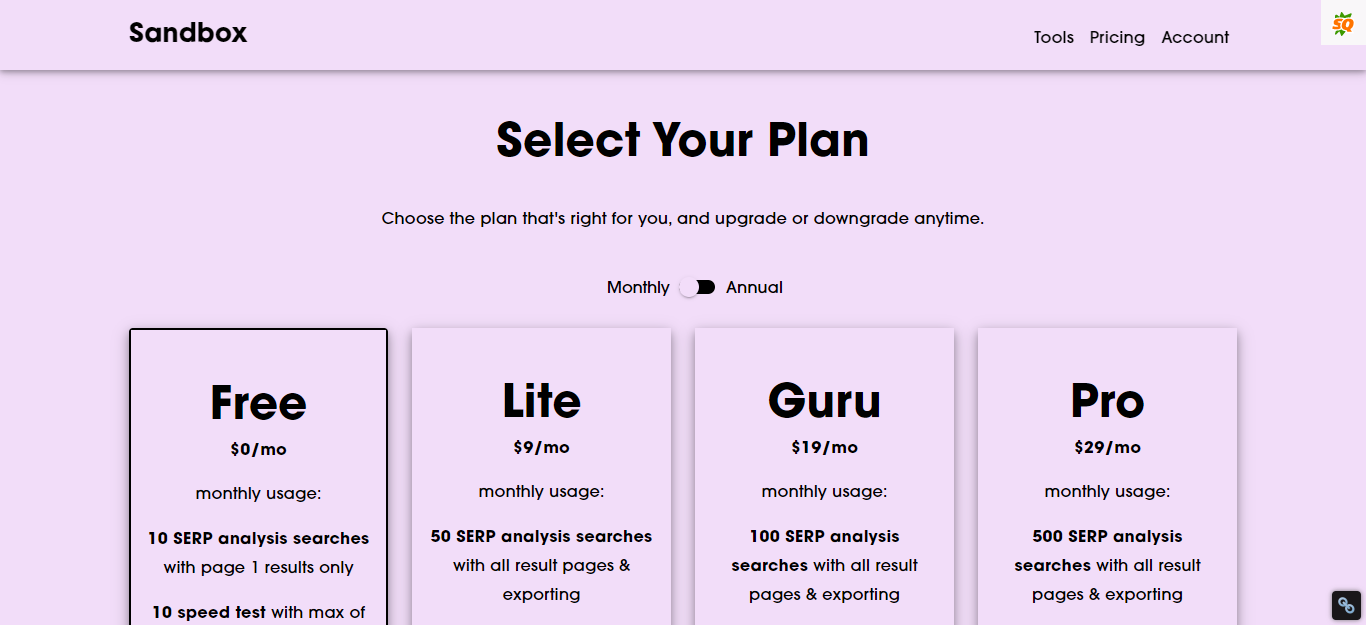 For this, their use is subject to subscriptions which may be monthly or annual. The proposed plans are four (4) in number. 
You have: 
The free plan: This plan does not cost anything on the financial aspect. It gives you access to 10 SERP analytics searches with first page results only. You are also entitled to 10 test speeds with a maximum of 3 test samples and 20 GPT3 keyword suggestions; 

The lite plan: This plan is valued at $9 per month and increases the number of search tools to 50 with 200 keyword suggestions and 5 sample sites for the speed test; 

The Guru Plan: Priced at $19 a month, it lets you double the number of searches the lite plan offers. It increases the number of GPT3 keyword suggestions to 500 keywords

And the pro plan: Finally you have the pro plan which costs $29 a month and allows you to perform 500 SERPs analysis searches with all the results pages, 250 speed tests with 10 samples and 1000 GPT3 keyword suggestions. 
How does the Sandbox platform work? 
All the tools offered by this platform are accessible and easy to use.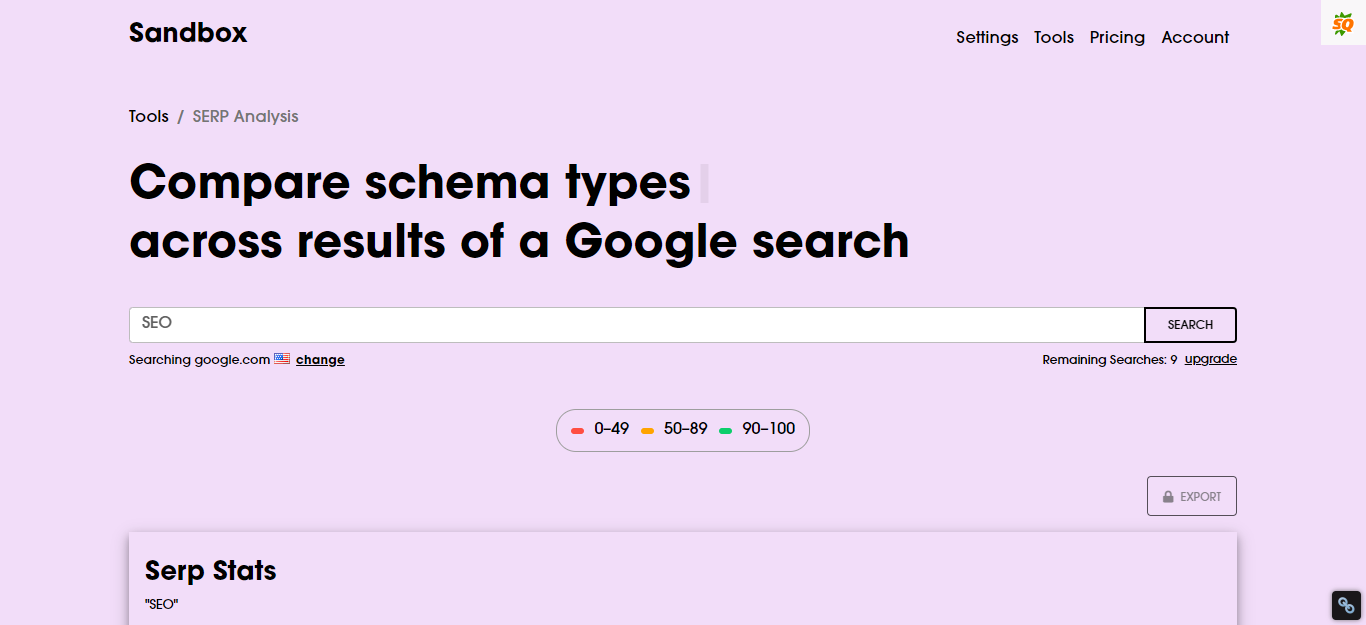 Indeed, to carry out research or tests on all the tools offered by SANDBOX, all you have to do is enter a word or a URL address and launch the search and then see the results of your search appear after a short time.
Videos : Compare Website Speed
Images : Compare Website Speed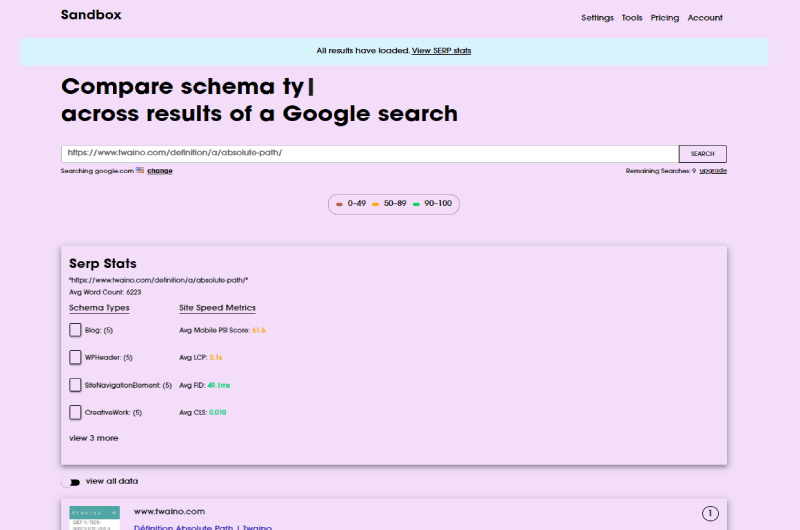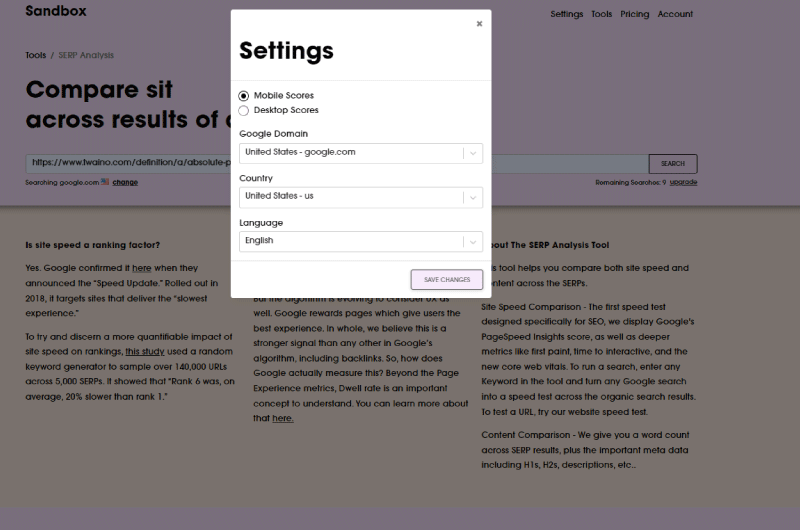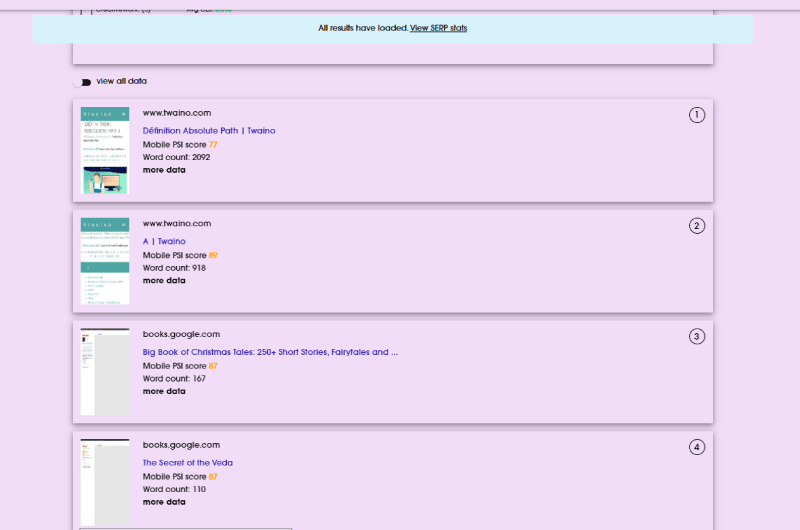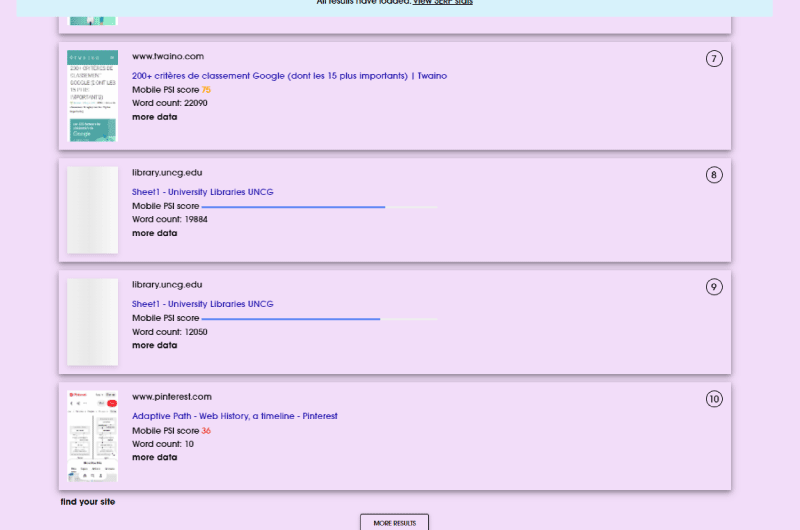 Company : Compare Website Speed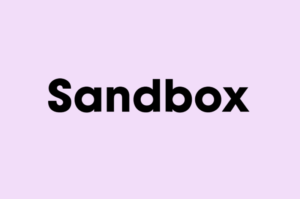 Sandbox Web
Sandbox Web is an American company that works on SEO techniques focused on UX. It was founded by a developer and creator of SEO tools. 
Sandbox Web is primarily targeted at companies and agencies that primarily conduct their business on the web.
Sandbox Web provides a better user experience for businesses by providing a particular optimization method. She works on the UX keys, which act directly on the sessions, in turn generating traffic on the content. 
Sandbox Web also provides companies and web professionals with several optimization tools.
These include:
the SERP analysis tool;

website speed test;

the keyword suggestion tool;

of the SEO tweet search tool, Google Says.
Contact : Compare Website Speed
Social Media : Compare Website Speed
Others Tools : Compare Website Speed
Alexandre MAROTEL
Founder of the SEO agency Twaino, Alexandre Marotel is passionate about SEO and generating traffic on the internet. He is the author of numerous publications, and has a Youtube channel which aims to help entrepreneurs create their websites and be better referenced in Google.