Keyword Trends | Search Trends
Short description : Keyword Trends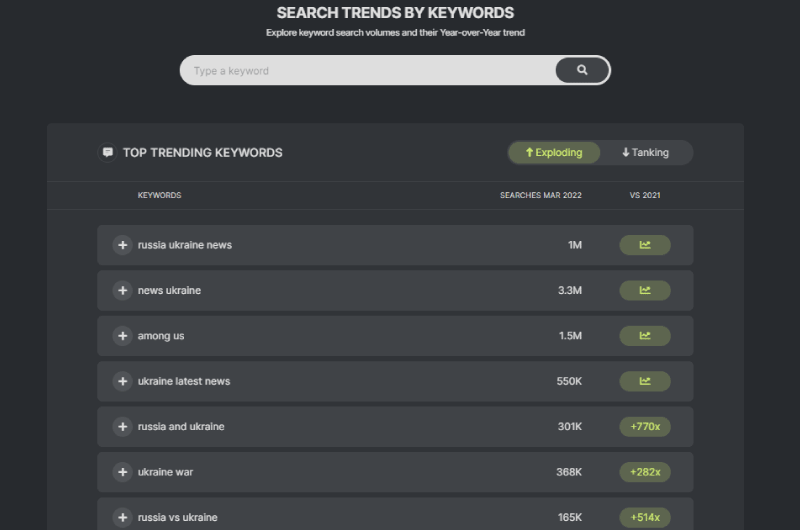 SEOmonitor is an SEO tool that provides web marketers with current statistics related to their websites and projections of future results.
Long Description : Keyword Trends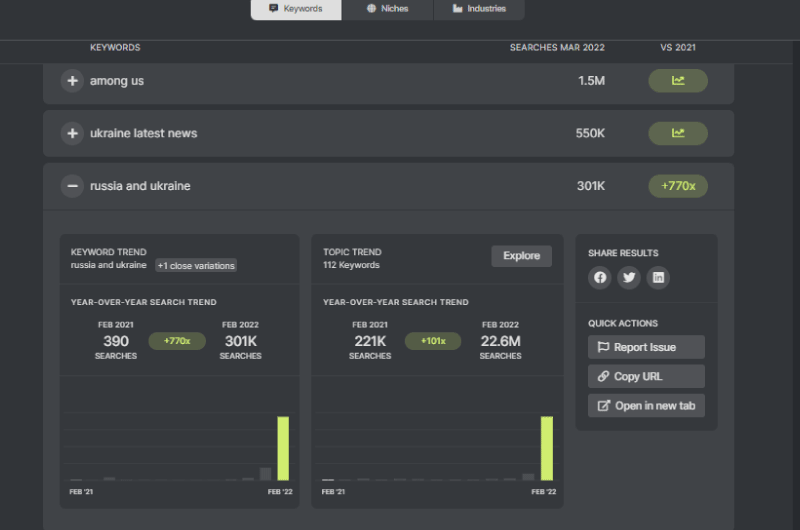 Description SEOmonitor
Forecasting your SEO results is a better way to see how well current resources at your disposal like keywords are performing.
Thus, SEOmonitor is an SEO tool that not only allows you to find high-potential keywords for your content, but also to project into the future to see where your current strategy can take you.
The tool offers several other important features to improve your website's ranking on search engine result pages.
Let's find out in this description how SEOmonitor works.
At its core, SEOmonitor is software that aims to help marketers gain better insight and organic reach into their website traffic.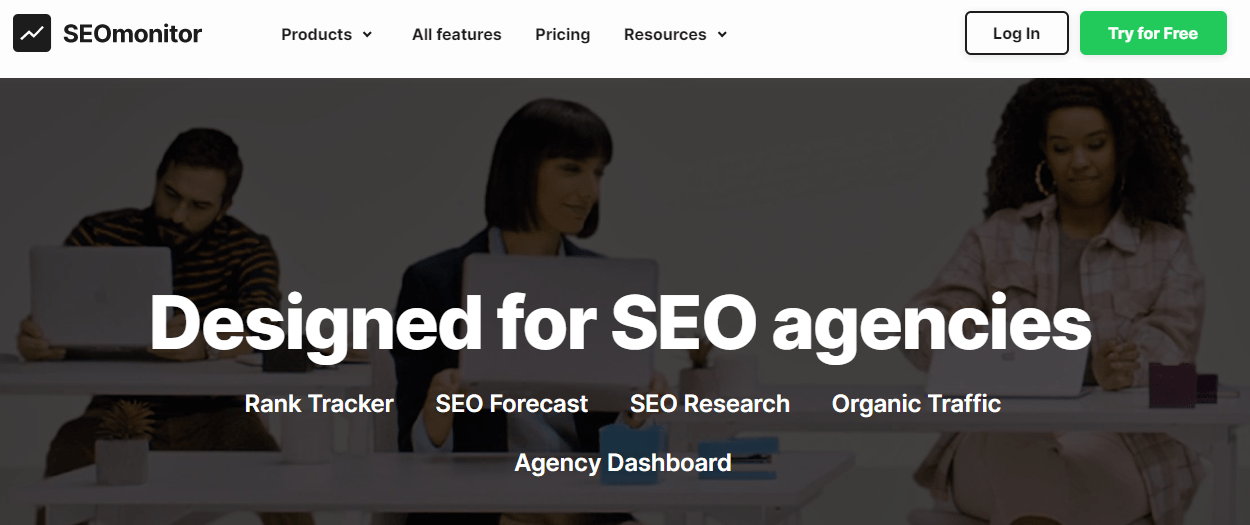 The tool brings together several features to achieve its objective on your website. Features include:
Organic traffic data analysis;

Constitution of referencing campaign;

Keyword research;

Overview of the competition;

Content performance analysis;

Commercial forecasts;

Etc.
Let's go through each of these features in detail:
Automatic Keyword Research
Good SEO necessarily starts with an increased understanding of the competitiveness and relevance of the keywords you are targeting.
For this, SEOmonitor reveals not only the relevant keywords for your website, but also their difficulties in ranking in the first 10 results of the SERPs.

In addition to this, the tool allows you to understand the values ​​you should expect if you manage to find a place in the top 10 search results.
It is particularly useful to consolidate all this keyword data into a single tool.
Rank Tracking Rank 
tracking is a task that requires site owners' extreme attention and makes them more tired.
This is why SEO monitor has initiated the visibility score to allow you to follow the changes in the position of your pages for your keywords.
Expressed as a percentage, this score gives a simple overview of your visibility in the SERPs for all the keywords you are targeting. 
In fact, the visibility score is calculated from your impression share on the SERPs, i.e. the number of times your website has been visited compared to the total number of searches for your keywords- keys.
For example, if your page ranks #1 on search result pages, that means your impression share is 100% for that keyword. 
If you rank on the second page, your impression share is 0%.
Content performance review
When we talk about content analysis here, we refer to external content that redirects to your website.
Thus, the tool provides you with a clear and precise view of how your marketing or awareness campaigns are performing.
From this report, you will get many important metrics related to backlinks, such as:
Domain ranking;

Shares obtained on social networks;

The visits and conversions of this link to your website;

The state of the link;

The anchor text;

Etc.
On top of that, you can see the impact of that specific page on your website's visibility score.

This report is regularly updated to allow you to have concrete information and to be informed of changes.
Business forecasting
Today, it is becoming increasingly more fashionable for companies to forecast the results of their activities than to expect a surprise.
This is the reason why SEOminitor initiates this feature to allow business owners to have an estimate of their bottom line.
Otherwise, SEOmonitor is able to provide solid information about the potential future results of the business. 
For this, you just need to choose from some of your keyword groups, select the average position you expect to reach to plan your goal.
In return, the tool displays a report for a graph to summarize what you can achieve with your current resources.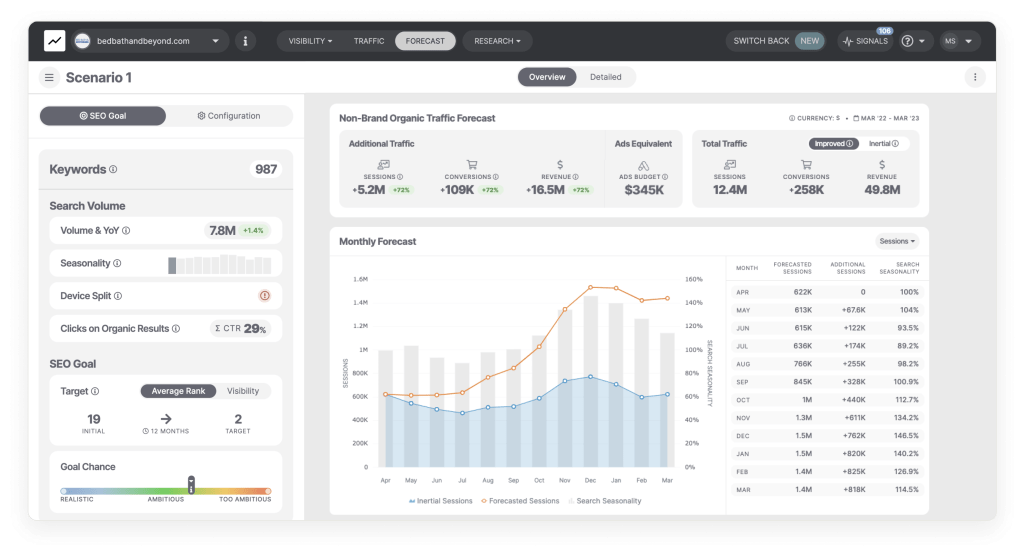 This is a great feature for SEO agencies because you can easily offer SEO services based on your projected results like the number of brand-related organic monthly visits and the number of conversions that new traffic will generate. 
Organic Traffic
To measure your website's organic traffic, SEOmonitor gives you the option to add your Google Analytics and Adobe SiteCatalyst account.
This makes it a great traffic measurement feature, as most tools don't allow more than one login software.
And once you connect your analytics package to SEOmonitor, you'll get more than just organic traffic metrics, including: 
Organic conversion rate;

Organic conversions;

Organic revenue.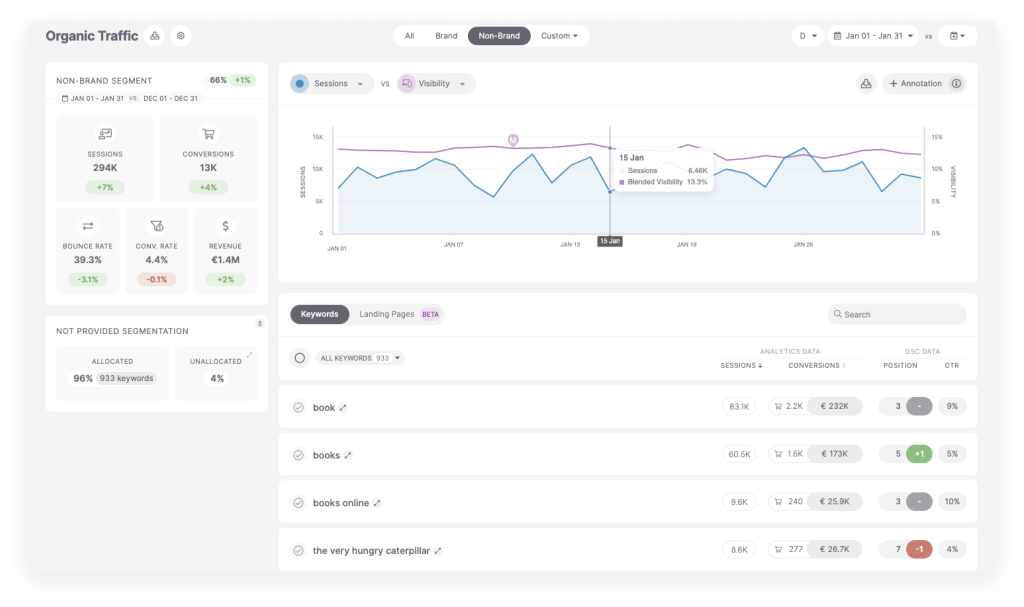 All this data related to the monitoring of your campaign allows you to make more precise and informed decisions. By integrating query data from Google Search Console, you'll begin to get an idea of ​​which keywords are actually driving traffic, as well as identify topics to optimize for.
Additionally, during setup, this feature gives you the option to set SEOmonitor to separate branded traffic from non-branded traffic so that you have a more accurate view of your overall website traffic.
Overview of the competition
When you focus on SEO for your website, you will eventually feel the need to compare yourself to competitors to measure your performance.
With the "Competition Insights" feature, you can get the visibility score of your competitors and how it has evolved.
You'll also see their top keywords, how many keywords you have in common, and their domain score.
Detailed metrics show you exactly how these competitors rank, what type of winning content they use, the strategies that helped them scale.
You can hover over each item for even more details on what kind of content works for the competition.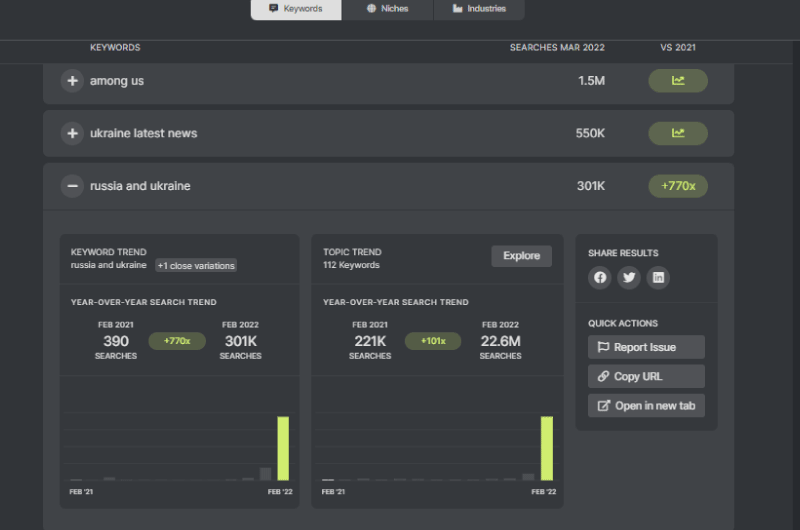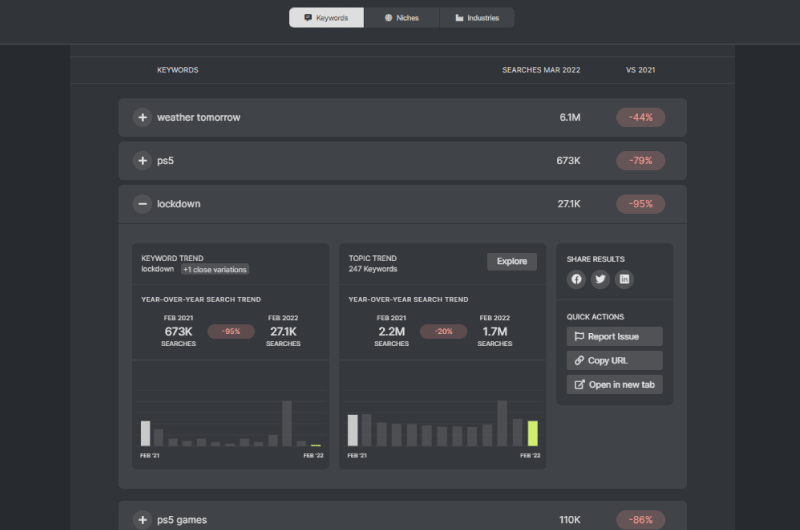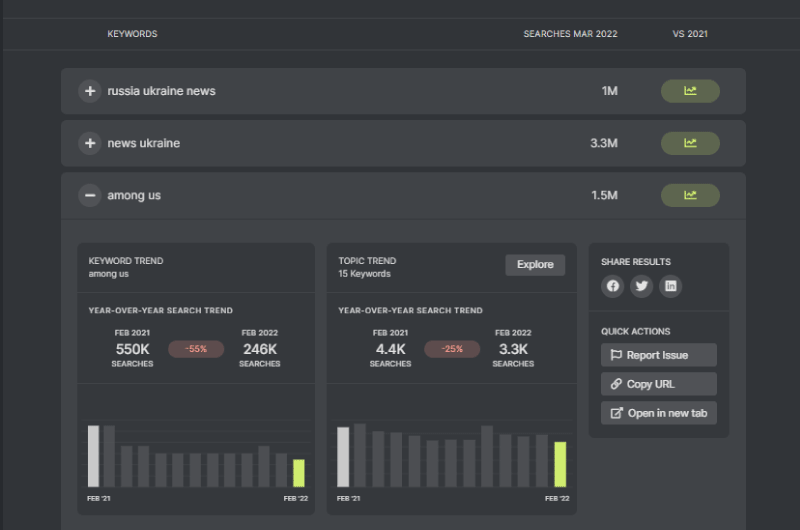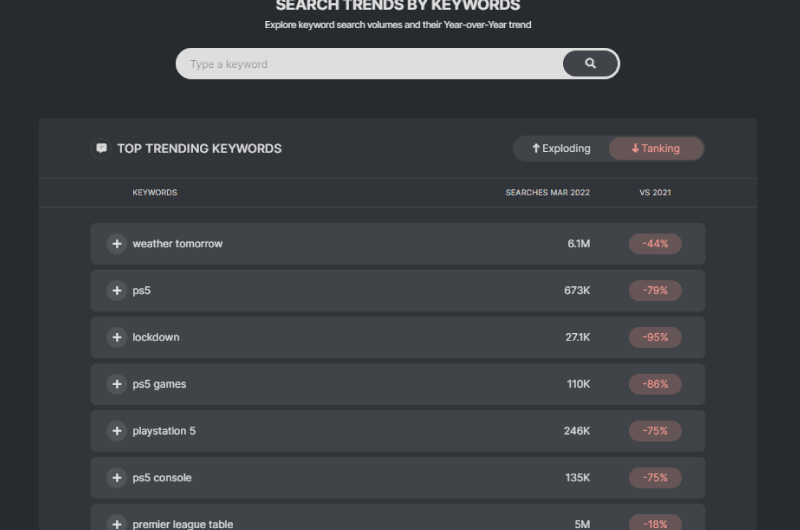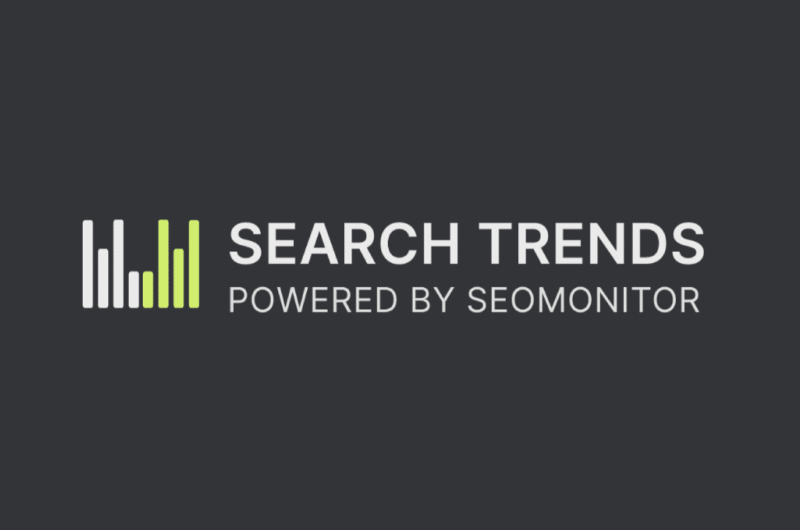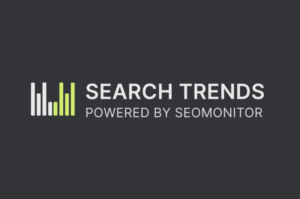 Search Trends is a comparative data platform. It allows you to discover precise changes in search volumes on a site, based on annual trends. 
This way, you will be able to check if the search trends are up or down. You can also search by sector for more details.
Search Trends also allows you to check how often a given search term is entered into Google's search engine. This frequency can be measured against the total search volume of the site over a given period (a day, a month, a year, etc.). 
It can also be useful in benchmarking keyword research to uncover event-triggered spikes in keyword search volume.
Social Media : Keyword Trends
Others Tools : Keyword Trends
Alexandre MAROTEL
Founder of the SEO agency Twaino, Alexandre Marotel is passionate about SEO and generating traffic on the internet. He is the author of numerous publications, and has a Youtube channel which aims to help entrepreneurs create their websites and be better referenced in Google.