Inclusive writing | Textmetrics
Short description : Inclusive writing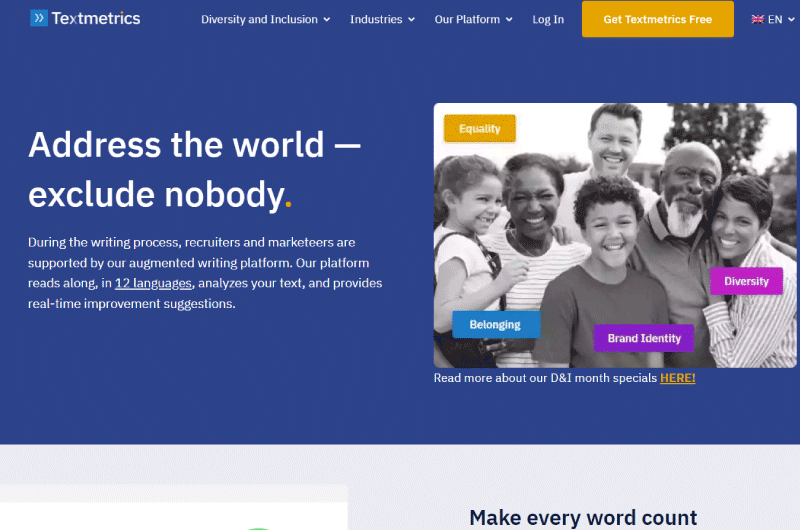 During the writing process, recruiters and marketers are supported by our augmented writing platform. Our platform reads, analyzes your text and provides suggestions for improvement in real time.
Long Description : Inclusive writing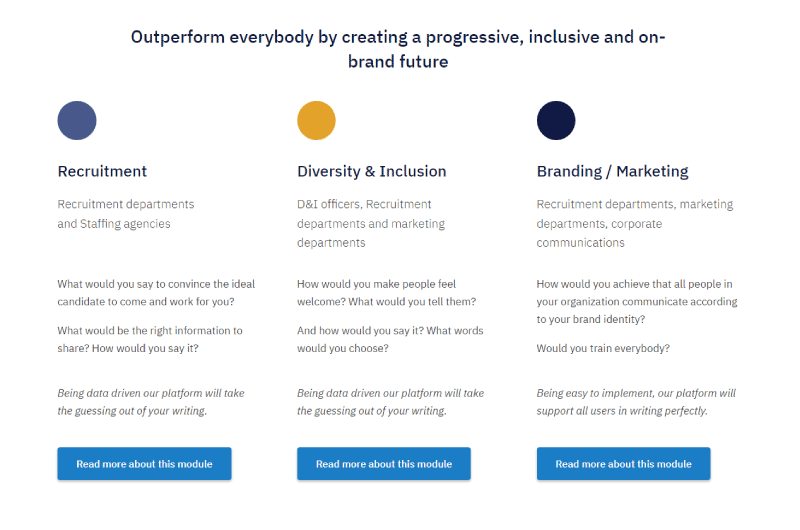 Description Textmetrics 
Textmetrics, formerly known as Webtexttool, is an assisted writing tool that helps businesses improve the quality and conversion rates of their written content. 
What is Textmetrics? 
Powered by Artificial Intelligence and Machine Learning technology, Textmetrics manages to offer relevant suggestions to help you write high-quality content that truly meets the expectations of your target audience. 
Source:
Textmetrics
Additionally, the tool provides SEO recommendations to help you properly optimize your content to earn top search engine rankings. 
No matter your level in web content creation, Textmetrics can help you improve your content with suggestions generated in real time during and after the writing process and available in
12 different languages
. 
For more convenience, the tool also offers integration possibilities to allow you to find Textmetrics functionalities on your favorite content management systems such as WordPress, Joomla, Google Workspace, Drupal, etc. 
If you are looking for a simple tool to write better content for the web, without even having special SEO skills, Textmetrics may be a good choice for you. 
Textmetrics: Everything you can do with the tool 
1. Get real-time optimization suggestions during the writing process 
Textmetrics has a text editor where you can start writing your articles or paste blocks of texts. But unlike traditional editors, Textmetrics gives you real-time suggestions to improve the quality of what you write.
Source:
Textmetrics
These suggestions appear in a section next to the editor with color schemes for better tracking. 
2. Analyze the SEO quality of your content 
Textmetrics also allows you to analyze your content from an SEO point of view to improve its ranking potential on search engines. 
3. A keyword research tool 
Textmetrics also offers a keyword research tool to help you discover terms and phrases to target. 
These are relevant keywords that you may have missed that you can insert into your content to attract user engagement and improve your visibility on the SERPs. 
Source:
Capterra
For each suggested keyword, the tool provides important SEO metrics such as search volume and level of competition to gauge the profitability of the keyword. 
You can then sort and identify the keywords that you consider really relevant to you. 
4. A content quality optimizer 
Textmetrics can also be used as a content quality optimizer to improve the conversion rate of your content. 
Source:
G2.com
 For this, the tool provides recommendations to improve the readability of your content and increase its chances of conversion. 
5. Access to the latest optimization rules and techniques in the SEO industry 
Textmetrics claims to be always up to date with the latest information on how search engines work. A way to guarantee platform users the latest optimization rules and trends in the world of SEO. 
6. PageRank and an integrated SEO optimization tracker
Textmetrics has a PageRank that allows you to evaluate the SEO optimization score of your content. 
Source:
Capterra 
With Textmetrics, you can also track the ranking of your content on Google pages. A way to be notified about your rankings in order to make changes to your SEO strategy in the event of a loss of position or to boost your ranking. 
Textmetrics: How to use the tool? 
1. The Textmetrics
editor The Textmetrics editor is the workspace in which you can write or paste lines of text in order to optimize them for better understanding for Internet users and search engines. 
At the top of your Textmetrics editor, you have a few fields to define and optimize your page titles and meta description on your main keywords. 
Source:
WordPress.org
If you have existing content (online or offline), Textmetrics offers you the possibility to
import the content of a file or the content of a web page
. 
2. The Textmetrics toolbar 
Like any text editor, Textmetrics has a fairly comprehensive toolbar useful for formatting your texts. With this toolbar, you can: 
Source:
Pitiya 
Propose H1 to H6 level headings

Bold, italic, underline or strikethrough your texts 

Highlight sections of text 

Change the color of your texts 

Create lists using bullets or numbered 

Change the alignment of your texts 

Insert hypertext links and media (images and videos)

Present your pages in HTML
3 format. The content analysis tool 
To the right of your Textmetrics editor, you have a section where suggestions are displayed to improve the SEO performance of your text with an overall SEO score. 
Source:
Wordpress.org
These suggestions are generated in real time, ie they appear automatically as you write or modify a text. 
But as for the SEO score, you will have to click on the "Analyze to update it" button. 
4. Other features 
Still on the right menu of the Textmetrics text editor, you also have some tabs with practical features such as: 
Optimize
: This tab allows you to analyze and improve the SEO aspects of your content
Keyword
: With this tab you can specify your keywords. The tab also offers a
feature
to analyze your keywords and list what are actually beneficial to target. 
Monitor:
In this tab, you will find the PageTracker tool which allows you to track the ranking of your content on Google pages. 
Import & Export:
Import your existing documents or page URLs here directly to the Textmetrics text editor. 
Tools
: This tab gives you access to other Textmetrics features such as:
Checking for accessibility issues 

Extracting keywords from a web page or URL

Checking

keyword density

. 
Version history:
This tab allows you to find and restore previous versions of your content. However, you must first click on the "Save" button before you can find a later version.  
Settings:
In the "Settings" tab, you can configure some settings on the content being edited such as: 
Criteria for determining the SEO score 

Automatic recording 

Sharing options 

Etc. 
Textmetrics: Integrations
You can find Textmetrics on other platforms in the form of: 
Videos : Inclusive writing
Images : Inclusive writing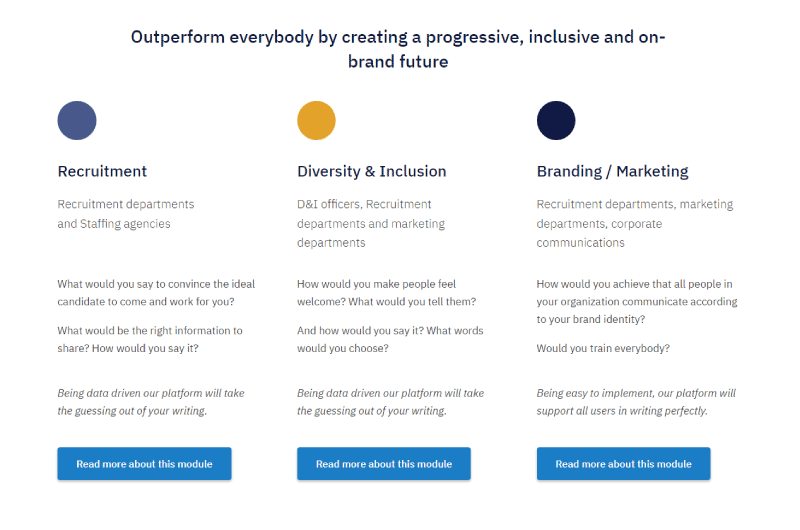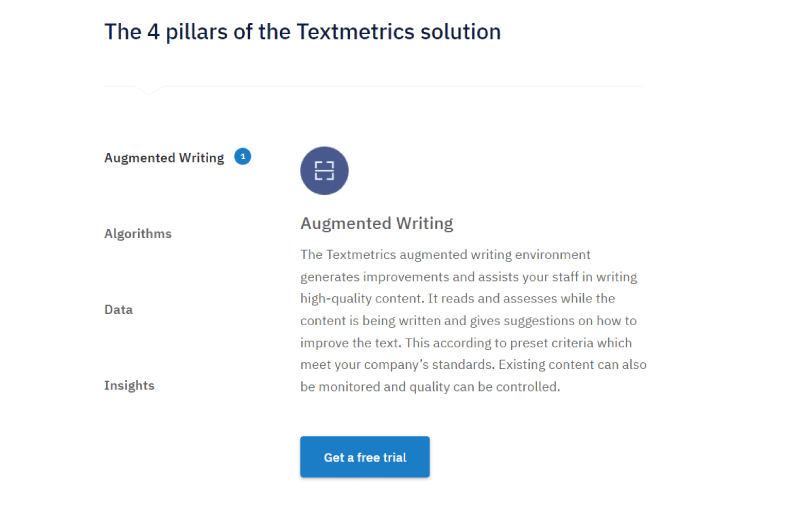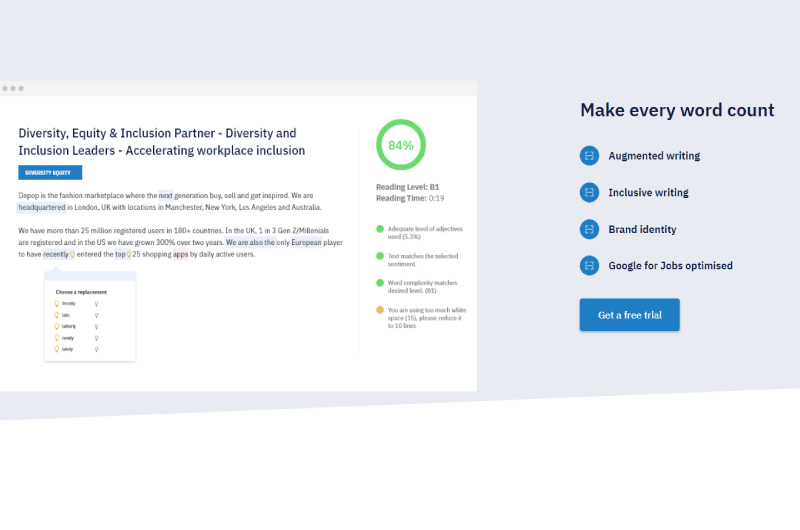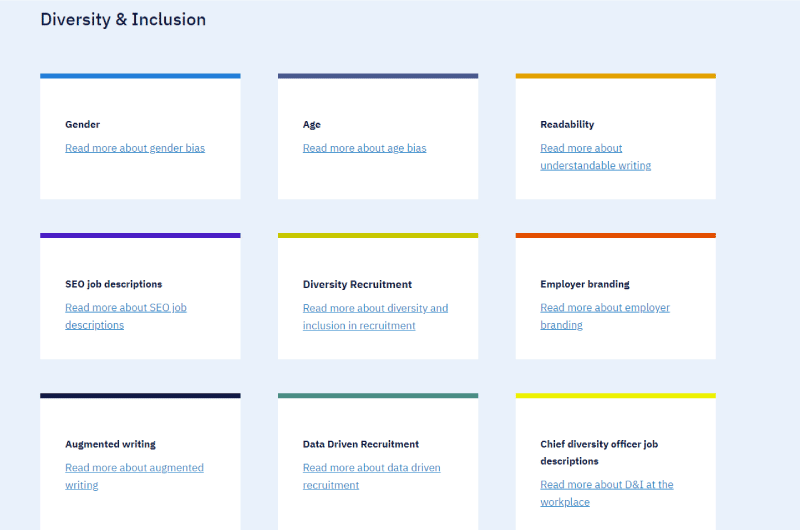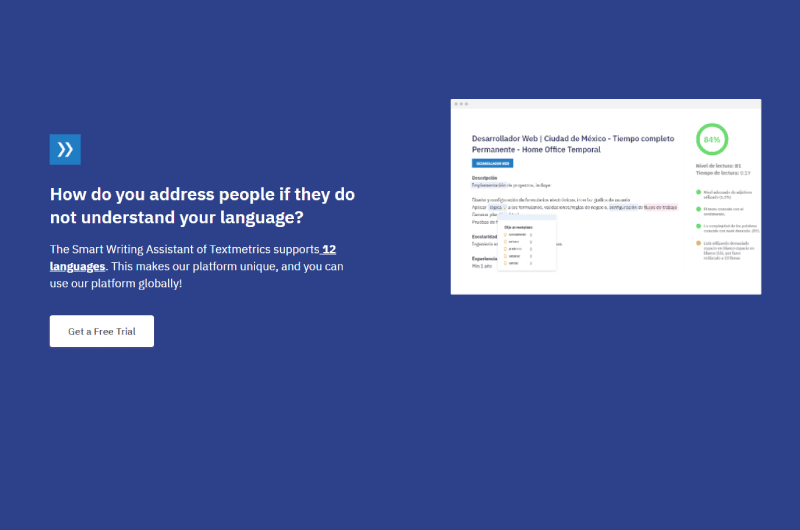 Company : Inclusive writing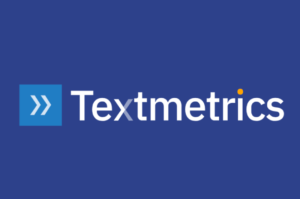 Text Metrics is an optimized content platform that uses Artificial Intelligence (AI) algorithms. The said platform helps companies design and manage high-quality content. 
Through AI, Text Metrics gives another dimension to the content requested by its customers. In practice, the platform contains a set of algorithms that has the skills to evaluate any wording and recommend changes when creating content.
Specifically, Text Metrics' AI technology is able to detect and recognize certain aspects of the content requested to be written. These are its:
formal/informal aspect;

easy/sophisticated appearance;

friendly/neutral aspect…
Contact : Inclusive writing
Social Media : Inclusive writing
Others Tools : Inclusive writing
Alexandre MAROTEL
Founder of the SEO agency Twaino, Alexandre Marotel is passionate about SEO and generating traffic on the internet. He is the author of numerous publications, and has a Youtube channel which aims to help entrepreneurs create their websites and be better referenced in Google.