HTML to PHP Converter | Internet Marketing Ninjas
Short description : HTML to PHP Converter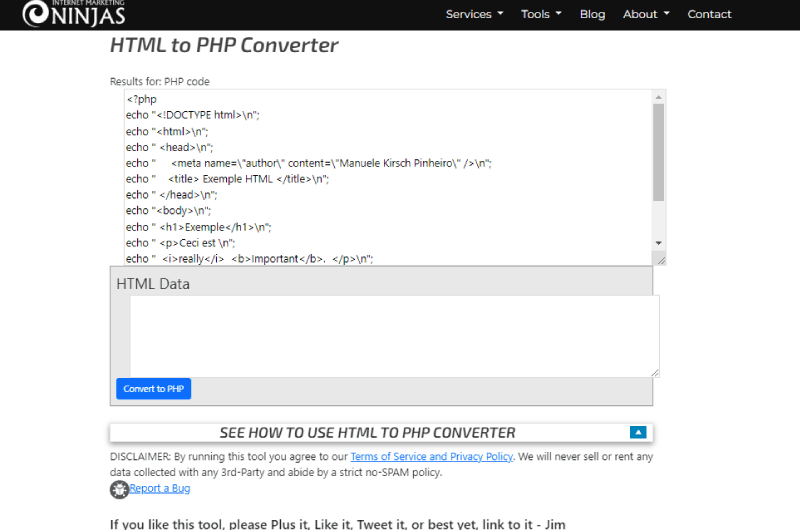 Convert HTML to PHP, anyone? Discover HTML to PHP Converter, an efficient converter.
Long Description : HTML to PHP Converter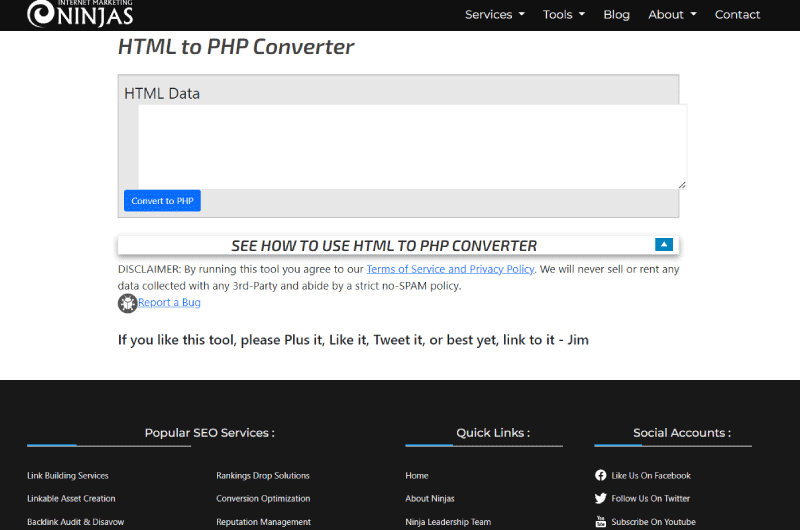 HTML to PHP Converter
Sometimes developers want to convert HTML documents to PHP. Nowadays, this remains a practically simple operation to carry out, since there are a number of tools that allow you to do it.
However, not all tools provide satisfactory results when you convert an HTML file to PHP or have restrictions.
If you want to convert HTML to PHP and you are facing these difficulties, Internet Marketing Ninjas offers a converter that will allow you to get effective results.
Called HTML to PHP Converter, Internet Marketing Ninjas' converter is free and has no restrictions. In this description, I take you to discover this converter and how you can use it to convert HTML to PHP.
What is HTML to PHP Converter — Internet Marketing Ninjas?
HTML to PHP Converter is a tool that allows you to perform HTML to PHP conversions instantly.
Webmasters can copy and paste the HTML code into the text box and click the "Convert to PHP" button to get the corresponding PHP code.
Indeed, it is always exciting to convert HTML code to PHP code using online tools. With HTML to PHP Converter it's even easier and you don't need to install any software or be a PHP expert.
This can come in handy for printing HTML code via the PHP printing functions used in most CMS and PHP frameworks.
Quote and backslash characters will be appropriately escaped with backslashes so that strings print correctly.
By using this tool offered by Internet Marketing Ninjas to convert HTML to PHP, you won't be overwhelmed with popups like most free tools.
HTML to PHP Converter can be used infinitely, as the tool does not have a daily limit. You also don't need to register for HTML to PHP Converter before you can enjoy this converter.
Because the privacy of its users is always its first concern, Internet Marketing Ninjas ensures the security of your data.
HTML to PHP Converter does not send your HTML data to its servers for conversion, the process is done entirely in your web browser. This is what makes HTML to PHP Converter the safest and fastest converter on the market.
Since Internet Marketing Ninjas does not save the final code, you can take advantage of this converter at any time and in any way.
How to use HTML to PHP Converter?
If you're looking for the best way to use this free online HTML to PHP converter, note that it's still easy to use. To do this, follow these steps:
Access the HTML to PHP Converter;

Copy your HTML code then paste in the white space;
To convert your HTML code to PHP, just click on the "Convert to PHP" button.
 Your HTML code in PHP is displayed under the heading "Result".
Additional resource about the HTML to PHP Converter tool
To understand the interest of using this tool, let's look at the HTML and PHP languages.
HTML
The first is a markup language intended for the creation of web pages and their structure.
It is this language that promotes the creation of structured sections, paragraphs, titles, links and other aspects of a website. In the same way that a skeleton provides the framework for the human body, it creates the basic structure of a website.
HTML has always caught the attention of software developers over the years and with each new version new tags have been added.
By itself, HTML is not a programming language, it is a formatting language, to be precise. It is often used to generate static web content.
HTML files end in .html or .htm and can be viewed using any web browser. The web browser interprets the HTML file and displays its contents to the user.
Old browsers may not accept new HTML tags, and some browsers are slow to implement new features, leading to a trivial issue.
PHP
If you work in web development, you must know PHP and its importance. It is a common open source scripting language that interprets and executes scripts on the server.
PHP is widely used today, with over 20 million websites and applications on the Internet created using this technology.
The majority of these sites and applications are related to social media (Facebook, Digg), blogs and CMS (WordPress, Joomla), as well as e-commerce platforms such as PrestaShop, OpenCart and Magento.
A PHP document is a file with the .php extension. The PHP file can include any type of text, HTML, CSS, JavaScript, and PHP code. This script is executed on the server to generate plain HTML in the browser.
This language was created to facilitate the generation of dynamic web content and work with files on the server.
You can use it for a number of actions like creating, opening, reading, writing, deleting and closing files.
Additionally, you can store form data, send and receive cookies securely, and encrypt data.
It is currently available on a wide range of platforms and supports all servers and databases.
HTML VS PHP
While these two languages ​​are both open source and free, they are used for different purposes.
Unlike other programming languages, HTML is unique in that it cannot create dynamic web pages. To enable dynamic functions, you must include JavaScript or the PHP backend language.
PHP is a server-side scripting language that integrates with HTML. It is widely adopted due to its dynamic capabilities and compatibility with databases and servers. The php file often runs on the server to generate HTML for the browser.
All in all, HTML to PHP Converter will allow you to convert HTML code to PHP in just a few clicks.
Videos : HTML to PHP Converter
Images : HTML to PHP Converter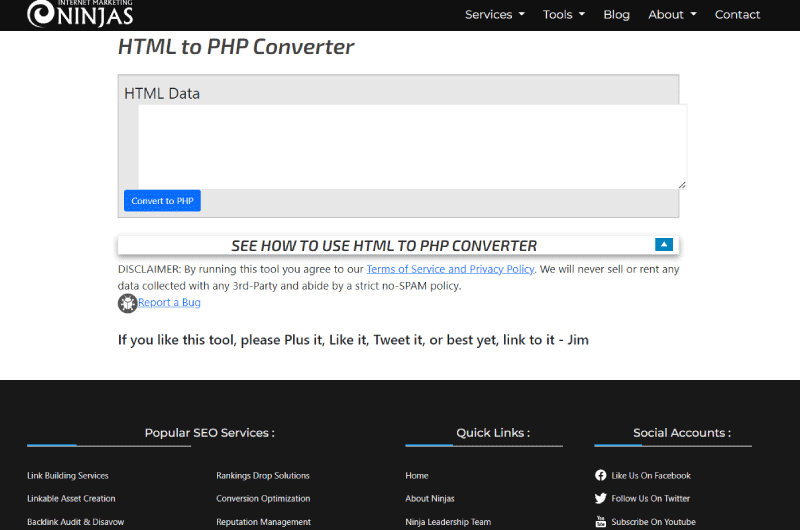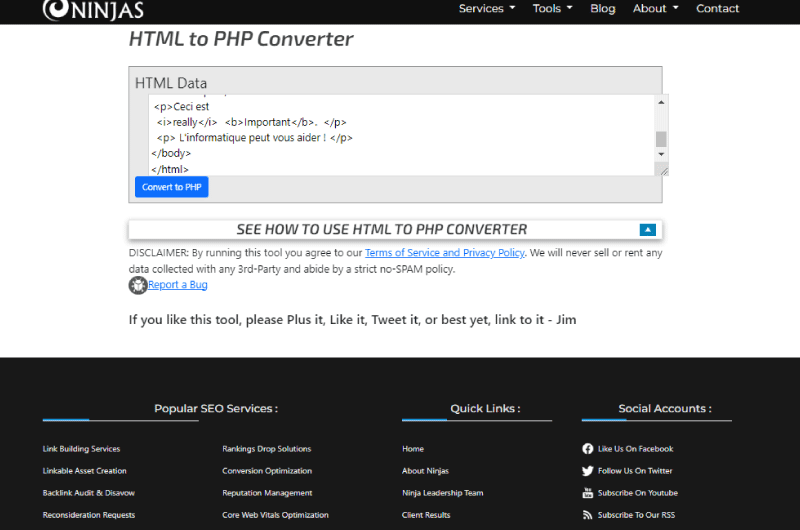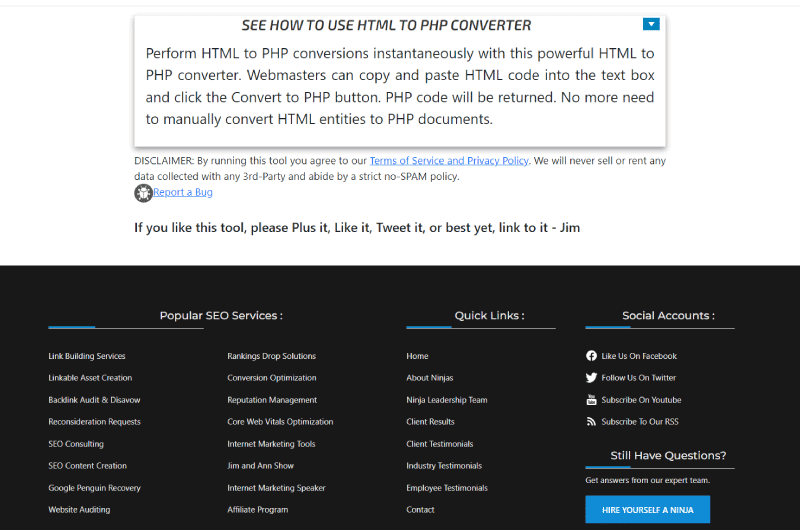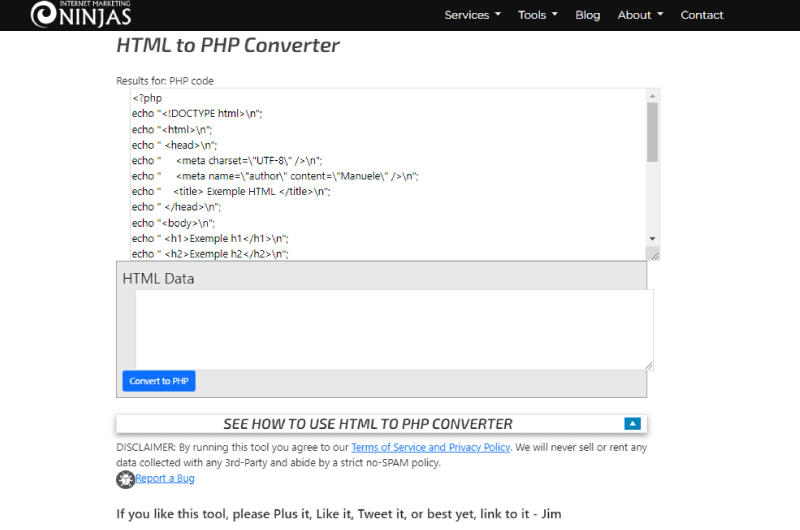 Company : HTML to PHP Converter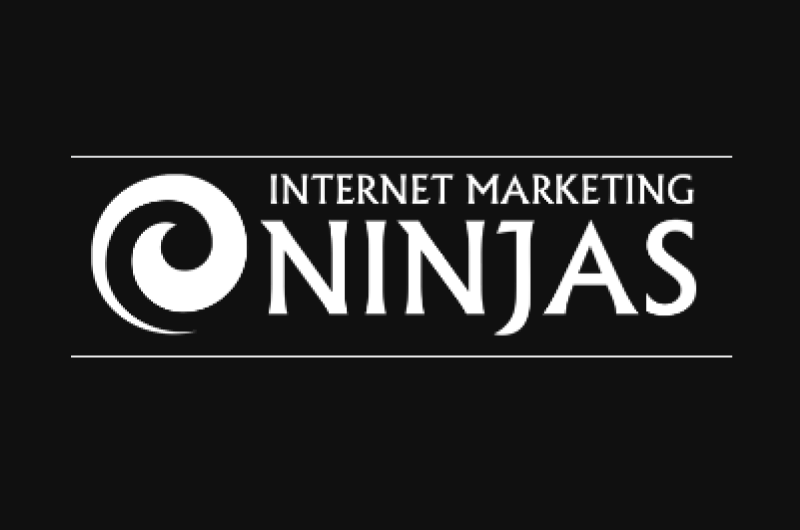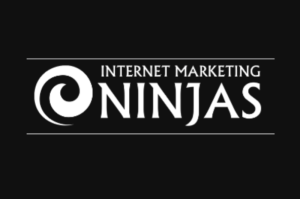 Internet Marketing Ninjas is a company founded in 1999 by Jim Boykin, with more than 10 years of experience in the field of SEO. The company's mission is to help their customers get better traffic to their websites through secure methods.
Internet Marketing Ninjas specializes in optimizing pages and websites for search engines. Based in the United States in Clifton Park, the company is made up of 50 members who are all experts in their fields
. Internet Marketing Ninjas offers the entire digital community complete digital marketing services, but also SEO services and tools. Among the 87+ tools developed by them, here are some free SEO tools they have developed:
Social Image Resizer Tool;

What's My Browser Size Tool;

HTML Source Code Viewer Tool;

Meta Tag Analyzer;

Domain Age Checker;

Meta Tag Generator & Snippet Preview;

Search Engine Spider Simulator;

Keyword Combination Tool;

URL Inspection Tool…
These tools are aimed at SEO agencies as well as marketing professionals, not to mention companies. They will surely help to improve your various marketing strategies.
Contact : HTML to PHP Converter
Social Media : HTML to PHP Converter
Others Tools : HTML to PHP Converter
Alexandre MAROTEL
Founder of the SEO agency Twaino, Alexandre Marotel is passionate about SEO and generating traffic on the internet. He is the author of numerous publications, and has a Youtube channel which aims to help entrepreneurs create their websites and be better referenced in Google.