Google Analytics Alternative | Simple Analytics
Short description : Google Analytics Alternative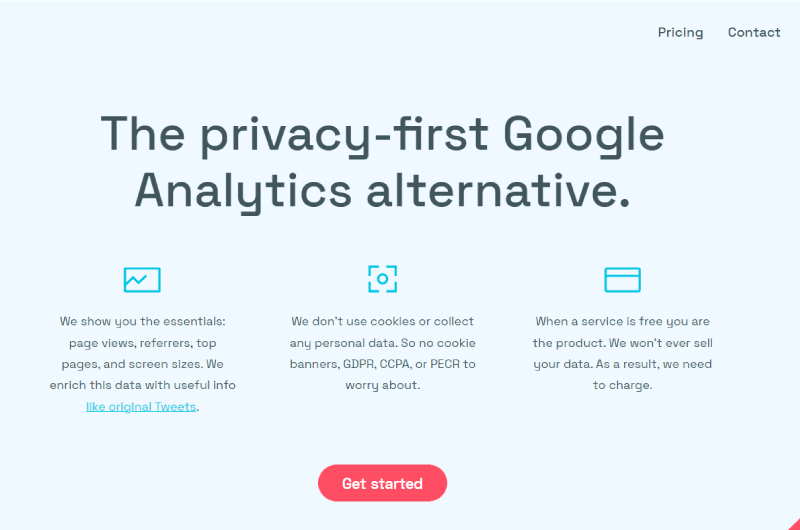 Simple, clean and analytics friendly for traders.
Long Description : Google Analytics Alternative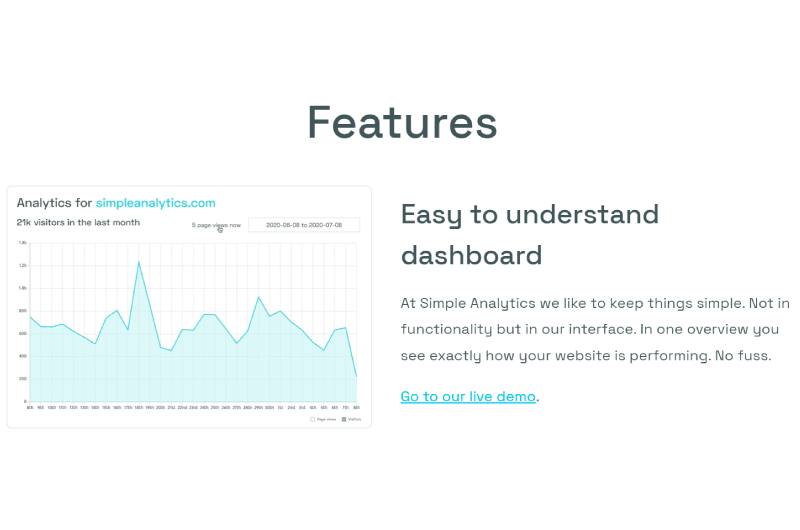 Description Simple Analytics 
Some SEO analytics tools can sometimes get cluttered with all the metrics they present. 
Simple Analytics takes another approach by only generating "essential" metrics and promises not to collect personal data to respect the privacy of its users. 
What is Simple Analytics? 
Simple Analytics is a web analytics tool that lets you analyze your website traffic with simple, easy-to-understand reports.
The tool is different from other SEO analysis solutions by simply offering some data that it deems essential and sufficient to analyze the performance of a site on search engines. 
In other words, unlike other SEO analytics tools that can overwhelm the user with heaps of metrics, Simple Analytics only shows you a handful of "essential" metrics on your website namely: 
https:/ /assets.simpleanalytics.com/videos/2022-05-05-dashboard-light/video.mp4
Page views 

Top pages

Referrers 

And screen sizes. 
For the brand, these are basic metrics that are enough to analyze most websites and track their progress on search engines.
Simple Analytics also promises not to collect data about the privacy of its users. 
For this, the tool does not use cookies and does not collect any personal data. By using Simple Analytics, there are no cookie banners or GDPR regulations to worry about. 
To use Simple Analytics? 
Here are some major points that distinguish Simple Analytics from other SEO analysis tools: 
1. Simple Analytics protects the privacy of its users 
On the official page of the tool, we can see that the brand has set itself the mission of giving the fastest, simplest and most ethical information on the SEO performance of its users while respecting their privacy. 
In addition, to play the transparency card, Simple Analytics
publicly shares its own metrics
(revenue, costs, number of customers, traffic, etc.). 
Source:
Simple Analytics 
2. Simple Analytics encrypts its users' data
In addition to respecting the privacy of its users, Simple Analytics does not seem to give less importance to their data.  
The brand also has data encryption at rest and in transit to reinforce the security of its servers. 
These servers are fully encrypted with a two-factor authentication system to render your data unusable in the event of theft. 
3. Simple Analytics also respects the privacy of your website visitors 
To provide metrics on your website's SEO performance, some analytics tools collect your visitors' IP addresses to easily track their activities on future visits. . 
To stay true to its privacy policy, Simple Analytics relies on browser-side cues to establish your site's SEO metrics. No personal information about your visitors is therefore stored. 
4. Simple Analytics is a company based in the European Union with servers hosted here in Europe
Simple Analytics has chosen to base itself in Europe and set up its servers there, again for data security reasons. 
The European Union has always been recognized as an area that takes the privacy of its citizens to heart. 
Source:
Hwh
To benefit from all the diligent regulations required in the EU area, Simple Analytics has chosen to base its facilities in the Netherlands with a local hosting provider. 
5. Simple Analytics offers the possibility to download your data
Although your data is not stored, the tool offers you the possibility to download it at any time. You can then decide to save them on your own media or delete them after use. 
Simple Analytics: Features available 
Simple Analytics has several features such as:
Importing Google Analytics data 
Google has announced that all
standard installations of Universal Analytics will stop working
on July 1, 2023. If you are a user of the service, Simple Analytics offers you the possibility to keep your data by importing it to your dashboard.
Source:
Virendra Singh
The tool offers a feature that makes it easy
to import Universal Analytics properties and Google Analytics 4 properties
. 
Email Reports
Simple Analytics automatically generates analytics reports that are delivered to users weekly or monthly by email. 
Source:
Simple Analytics documentation 
A way to help them keep an eye on their SEO performance without necessarily having to constantly consult their Simple Analytics dashboard. 
To enable email reporting, configure
your website settings here
. 
Bypass ad blockers
If you have ad blockers on your website, these programs may block Simple Analytics preventing the tool from analyzing your website. 
But you have a feature that allows you to
configure a bypass
of these ad blockers in order to let the tool access your site's SEO statistics. 
This workaround will essentially consist of masking the server name by redirecting a subdomain to the Simple Analytics domain.
Source:
Simple Analytics 
Hide spam links
Simple Analytics also has a feature that allows
hide spam links
that point to your website so as not to "pollute" your statistics. 
Source:
Simple Analytics 
Generally, to hide a spam link, it is necessary to perform some complex configurations. 
With Simple Analytics, this feature is enabled with just the push of a button. 
Integrate a graph on your site
With Simple Analytics, you also have the possibility of
integrating a graph of statistics on your website
. This is a feature that can be useful if you want to share your SEO results with your audience.  
Source:
Simple Analytics 
You also have some customization options to make the chart more attractive and suitable for your website design. 
An extension to block your own visits in the SEO statistics
Simple Analytics also offers you the possibility of not taking your own visits into account in the SEO statistics of your site. 
To do this, you need to
install a Simple Analytics extension
thatclick to allow data to load when you visit your site. 
Source:
Simple Analytics 
Note
: The extension is available on
Google Chrome
,
Firefox
, but also in a
mobile application version on iPhone
and a
desktop application version for Safari
.  
Find Simple Analytics on iOS? 
For more fun analysis of your website, you can find all the features of
Simple Analytics directly on your iPhone
on the tool's iOS application with superb widgets. 
https://assets.simpleanalytics.com/videos/2022-05-06-iphone-widgets-light/video.mp4
The tool also exists in a desktop application version for Mac. 
Creation of events
Simple Analytics also offers you the possibility of creating certain events which will be triggered automatically in a specific condition. 
You can create an event for example that will be triggered when you click on a specific button. 
For those without programming knowledge, the tool offers an
automated event script
that gathers events for downloads, outbound links, and email link clicks. 
Simple Analytics: Integrations & APIs
Simple Analytics has APIs to integrate the tool with other tools you already use to bring your data from multiple sources together in a single workspace. 
With these integrations, you can for example connect to an external database or exchange data or files. 
To make these integrations possible, Simple Analytics has developed:
Many

framework plugins

frontend 

Exporters to programs such as Power BI, Google Data Studio or data lakes. 
Simple Analytics: Pricing
Simple Analytics offers 3 pricing plans: 
Starter
$19/month OR $228/year
100,000 datapoints per month

1 user

10 sites

Events

Aggregated Export

Support Email
Business
$59/month OR $708/year
Access to all Starter plan

1 million datapoints per month

10 users

100 websites

raw level export
Enterprise
$99/month
Access to all Business plan features 

1+ million datapoints per month

10+ users

1000 websites

Email-priority email
Videos : Google Analytics Alternative
Images : Google Analytics Alternative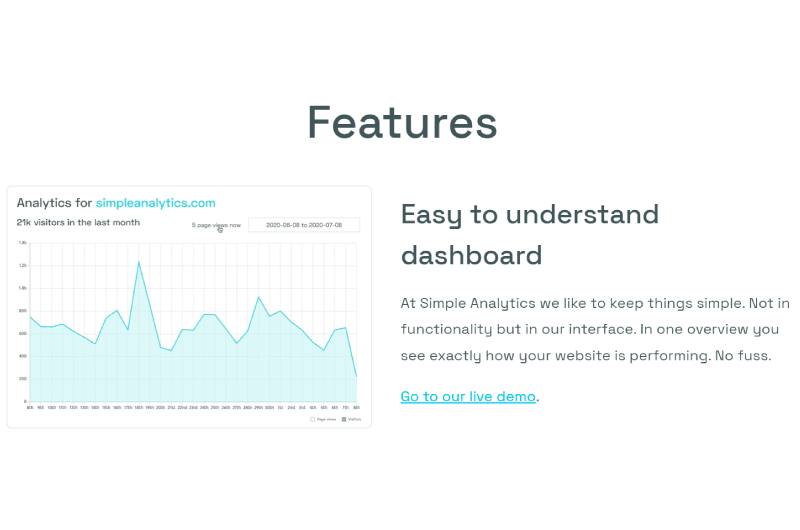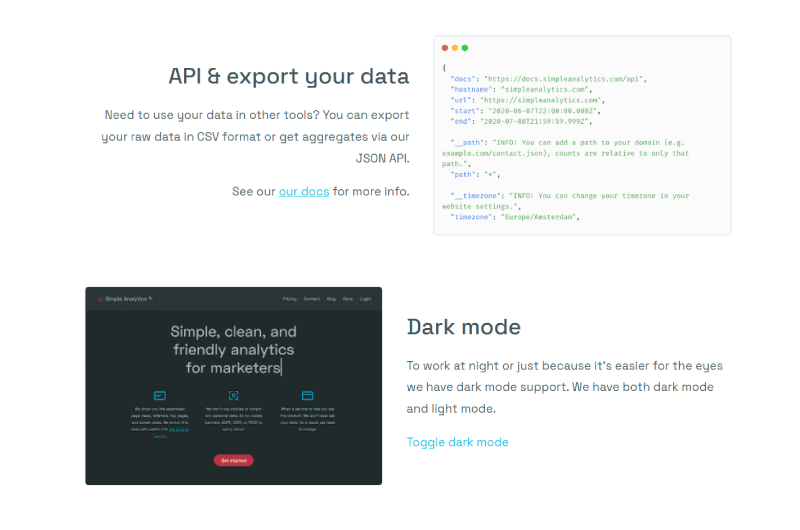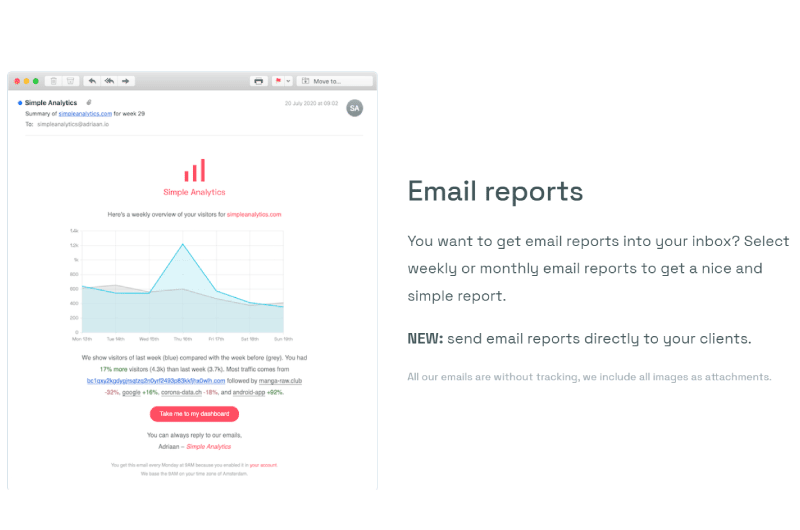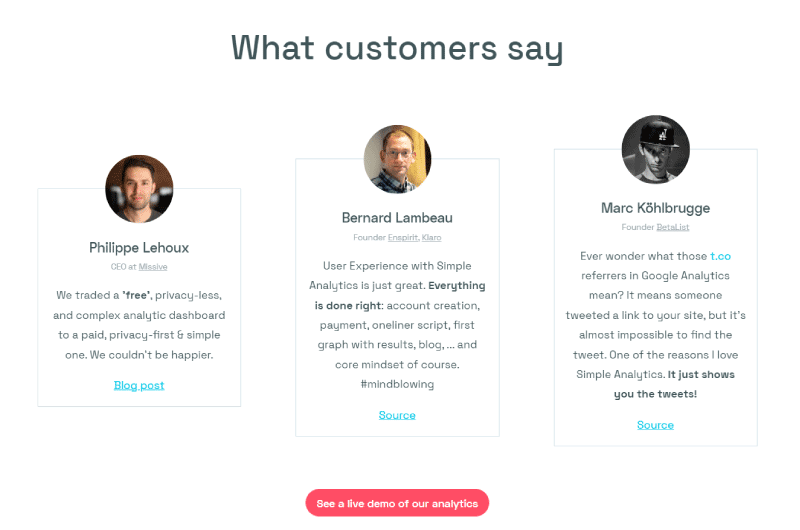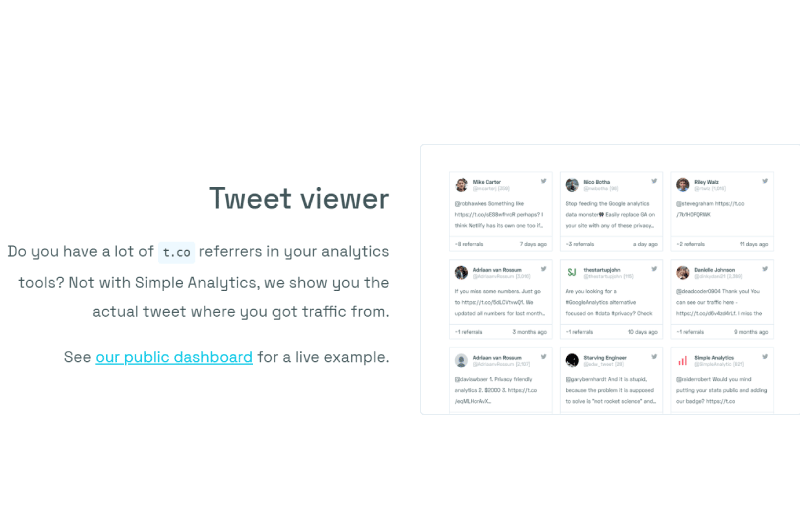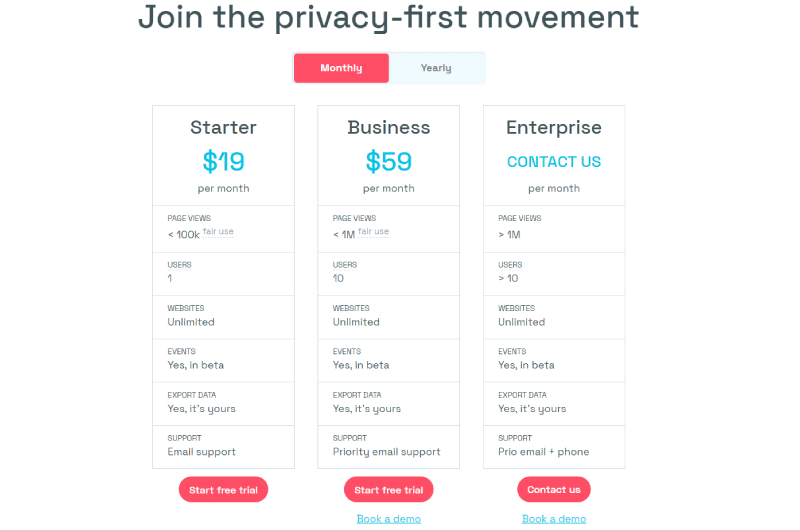 Company : Google Analytics Alternative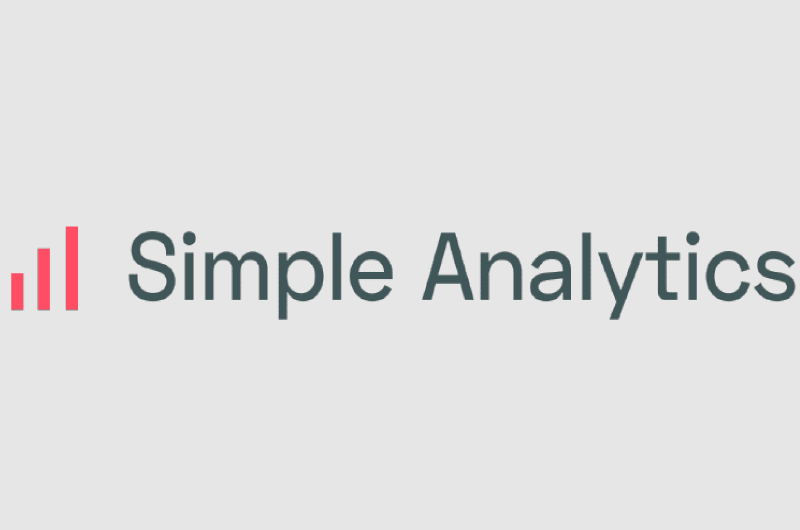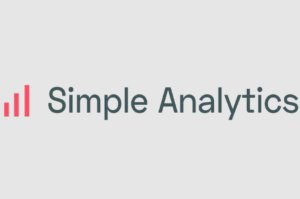 Simple Analytics
Simple Analytics is an SEO tracking tool, developed in 2018 by Adrian Van Rossum. It allows web page owners to closely monitor the performance of their content. 
The tool has a slick interface and provides detailed reports on content flow, rankings, and even competitive input. It also offers audit reports via email as well as data usage via APIs.
Simple Analytics also ensures data protection. Indeed, unlike other tools, the latter works with completely encrypted data. Which makes it popular with many SEO experts and many big brands.
Contact : Google Analytics Alternative
Social Media : Google Analytics Alternative
Others Tools : Google Analytics Alternative
Alexandre MAROTEL
Founder of the SEO agency Twaino, Alexandre Marotel is passionate about SEO and generating traffic on the internet. He is the author of numerous publications, and has a Youtube channel which aims to help entrepreneurs create their websites and be better referenced in Google.