Short description : Domain Analysis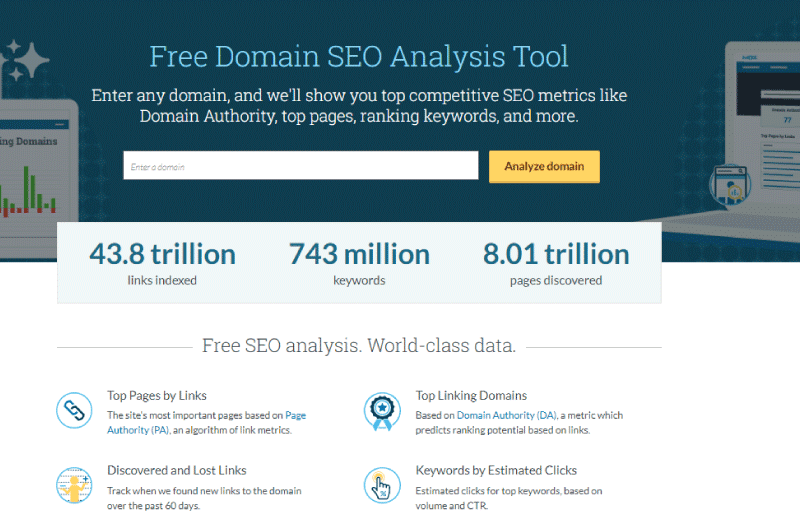 Want to assess the authority of your domain or the competition? Use Moz DA Checker.
Long Description : Domain Analysis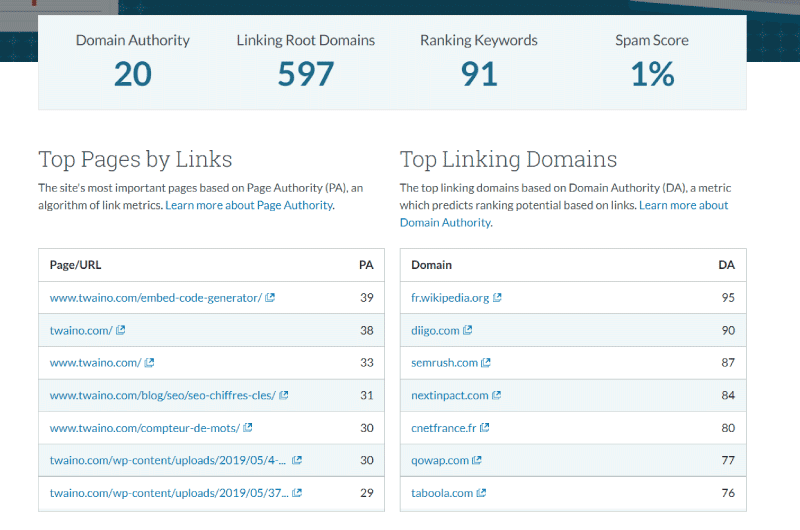 Moz DA Checker
Domain Authority (DA) is one of the key SEO metrics for assessing the value of a domain.
Although many paid tools now allow you to calculate domain authority, there are still free tools with which you can obtain the DA of any site.
This is the case of Moz DA Checker which, in addition to helping to calculate the DA, also makes it possible to calculate the authority of a web page. Through this description, we discover this tool offered by Moz and how to use it.
We then walk through the other metrics this tool provides after analyzing your site. Finally, we'll explore a few ways to take advantage of this tool.
What is the Moz DA Checker?
Moz DA Checker is a free domain authority checker that lets you easily predict a website's or page's ranking in the SERPs. Using this tool, you will be able to calculate the authority of your domain and web pages.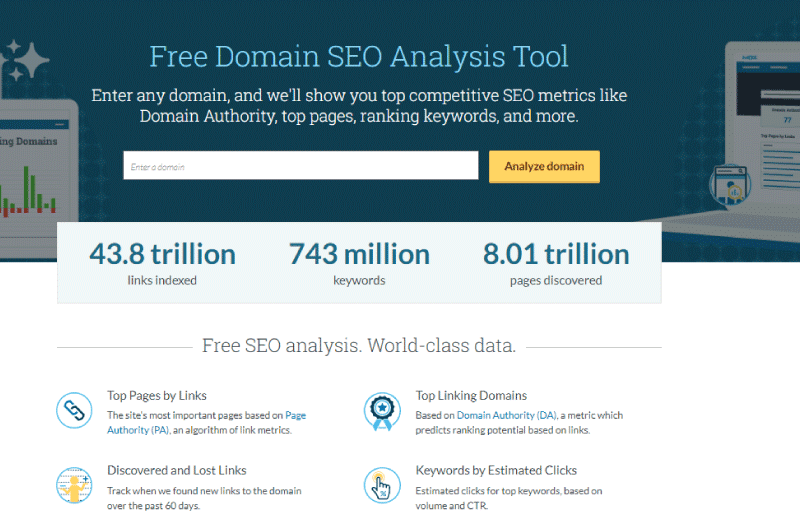 DA is a search engine ranking metric developed by Moz to help website owners gauge the "ranking strength" of their sites.
That is, the likelihood of it being featured in search results. Using a machine learning algorithm, the tool makes predictions and assigns your domain a domain authority score ranging from 1 to 100.
The higher the domain authority score, the higher the likelihood of ranking. big. Regarding page authority, it is a score that is assigned to your pages individually.
PA reveals the ranking potential or performance of a single page. And when a significant number of your pages have a high PA, this naturally increases your DA.
The Moz DA Checker uses a compilation of data from Moz Web Index, a database of over 43.8 trillion links.
It can be used to determine your ranking and that of others, making it easier to improve your own ranking and partner with well-ranked domains.
By using the Domain Rank Checker tool, you will be able to roughly assess the state of your own website and that of others.
How does the 100 point score system work?
The Moz DA Checker is based on a 1 to 100 point system as we mentioned earlier.
Sites with a large number of high-quality external links will rank higher, while new websites start with a score of 1.
That said, the main factor influencing DA is the number, quality, and relevance of links to your website from trusted sources.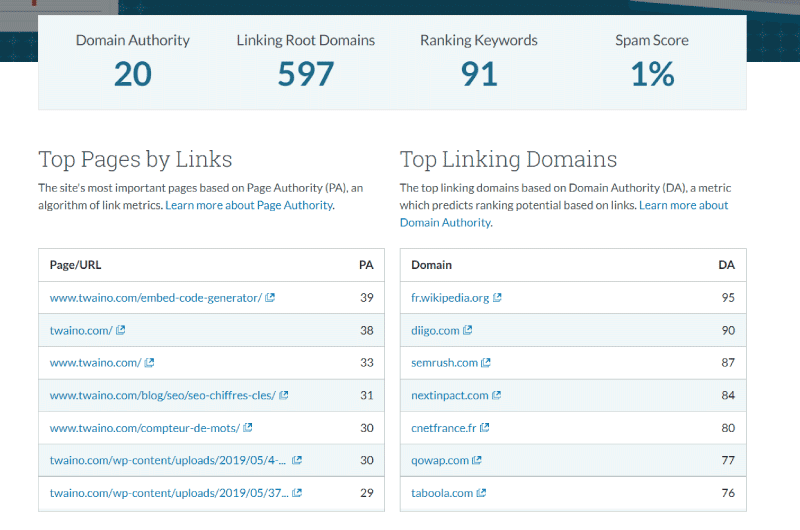 Backlinks help search engine algorithms trust your site, recognize the high quality of your pages, and qualify you for higher rankings.
Having a high PA and DA means that authoritative websites vouch for you by linking to you. Whenever such links are created to your site, the "link juice" boosts your own PA and DA.
Also note that a website's DA score is easier to increase in the beginning, and more difficult later.
How to check domain authority and page authority?
The Moz DA Checker not only reveals domain and page authority, it also shows other useful SEO metrics, such as:
Important linking pages;

The most related areas;

Top ranked keywords.
To get these metrics, just check the domain authority by following these 3 steps:
Open the Moz Domain Authority Checker;

Enter a domain, for example, thriveagency.com;

Display your DA and other useful SEO metrics.
What are the SEO metrics presented by the Moz DA Checker?
Along with domain and page authority, you'll get high-level insight into several SEO metrics for your or your competitors' website to identify potential SEO opportunities.
Keywords by Estimated Clicks
The Keywords by Estimated Clicks tool uses ranking position, search volume, and estimated click-through rate (CTR) to estimate the number of clicks each keyword generates for the domain in question.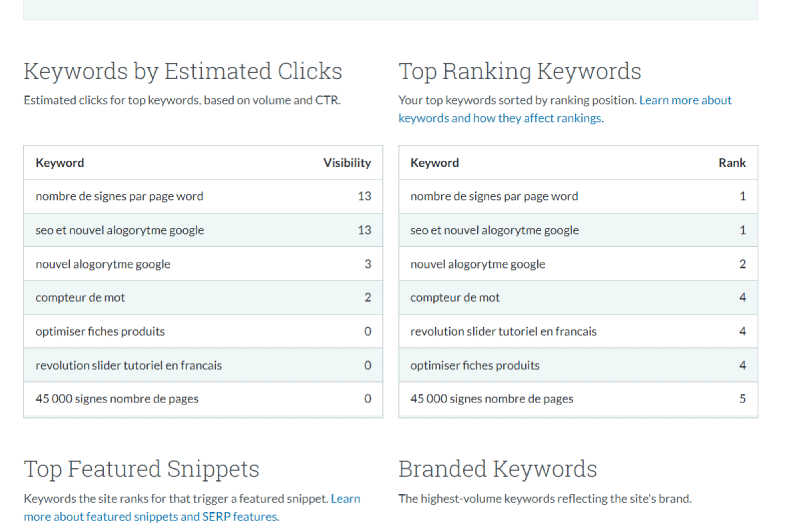 Top Featured Snippets
The Top Featured Snippet feature tells you what keywords a site is ranking for that trigger a Featured Snippet.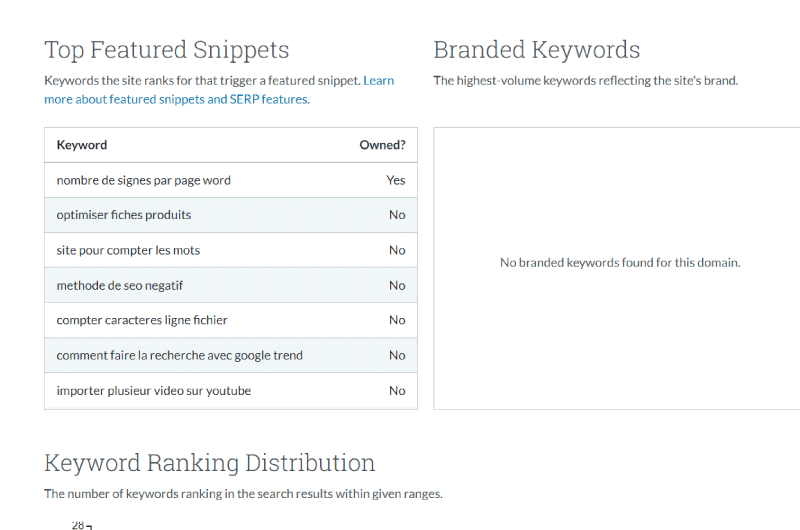 Brand Keywords Brand
keywords are a type of navigation query by which users search for a particular site or brand.
Historically, it's hard to know what a site's branded keywords are. This feature of Moz DA Checker provides you with the largest keywords reflecting the brand of the site.
As other metrics you can get with the Moz DA Checker tool, we have:
Links root domain;

Number of keywords ranked;

main pages;

Discovered and Lost Links;

spam score;

Most related domains;

Top ranked keywords;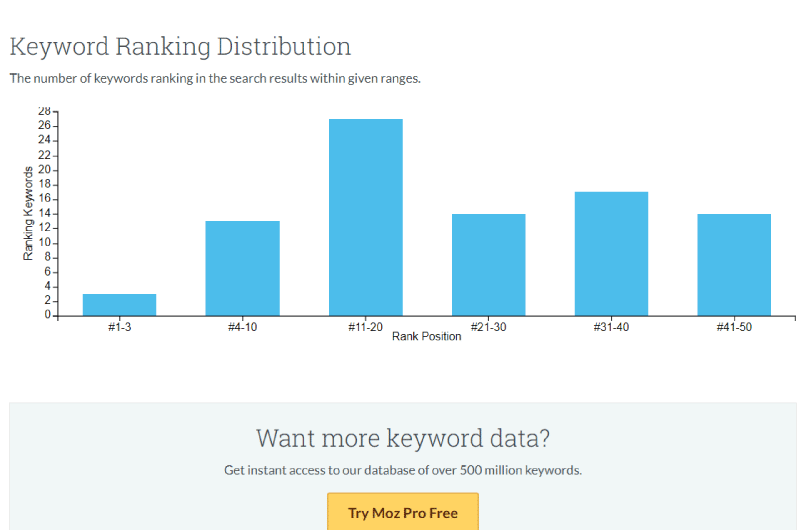 Keyword ranking distribution;

Most Wanted Competitors;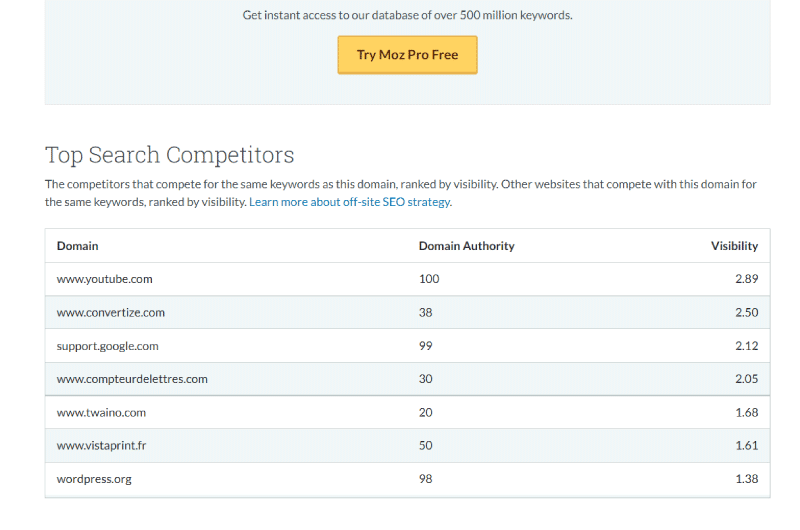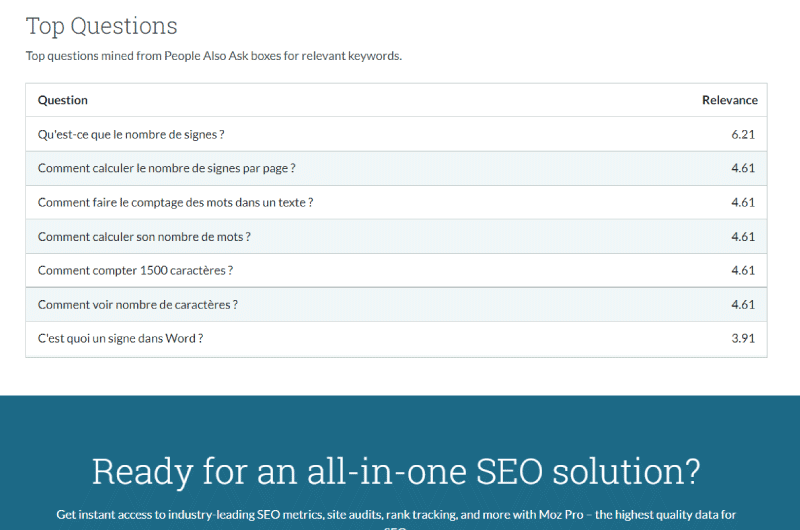 How to take advantage of the Moz DA Checker tool?
Thanks to the AD, PA and other measurements that this tool provides, it is possible to use it for several purposes.
Analyze your historical domain authority
It is important to regularly check your domain authority in order to have a history of your DAs in order to be able to evaluate your results from one year to the next.
This will obviously allow you to track and analyze your online performance to see how your actions are beneficial to your site.
Focus on your pages with high Page Authority
It is essential to promote your best performing pages. Using this tool, you learn how other pages are linking to your site by analyzing changes in your PA.
Use data to improve your digital marketing strategies
You can study your high PA pages, find patterns and make them work in your favor.
From the keyword information, you could also publish a very successful blog post to an audience or invest more in a marketing tactic that boosted backlinks on a particular page.
In short, Moz DA Checker is an SEO tool to assess the value of a site and a web page. This tool will allow you to carry out your link building campaigns by evaluating the value of your partners' domains.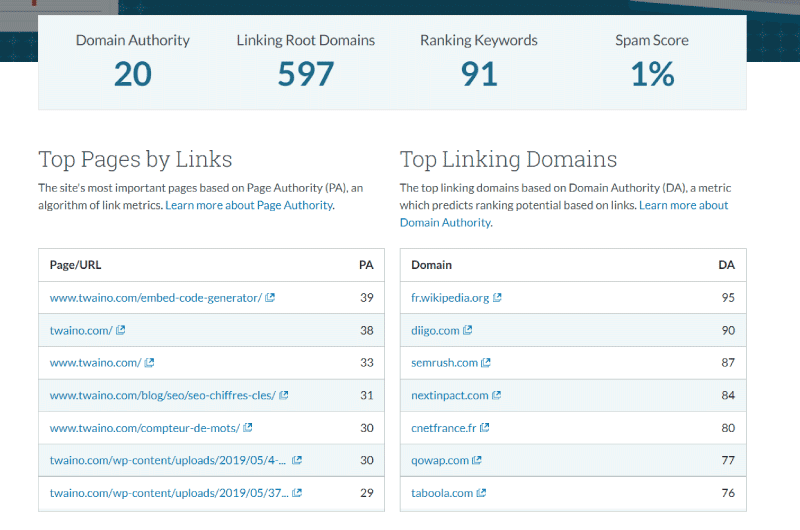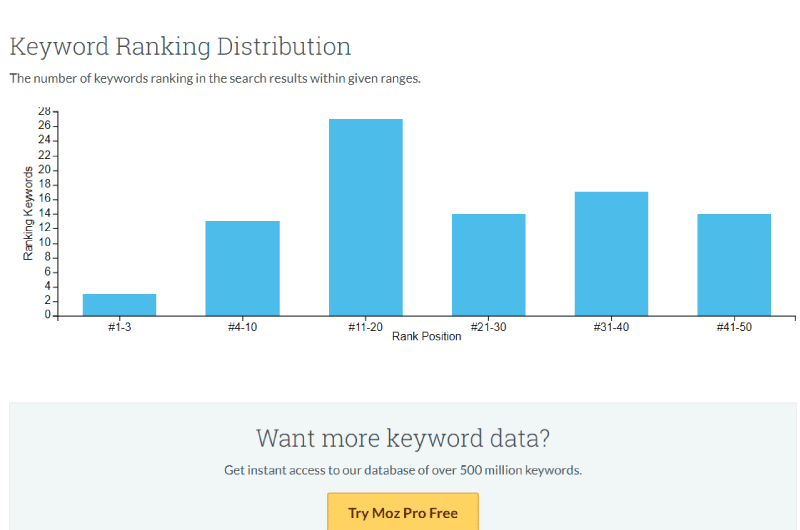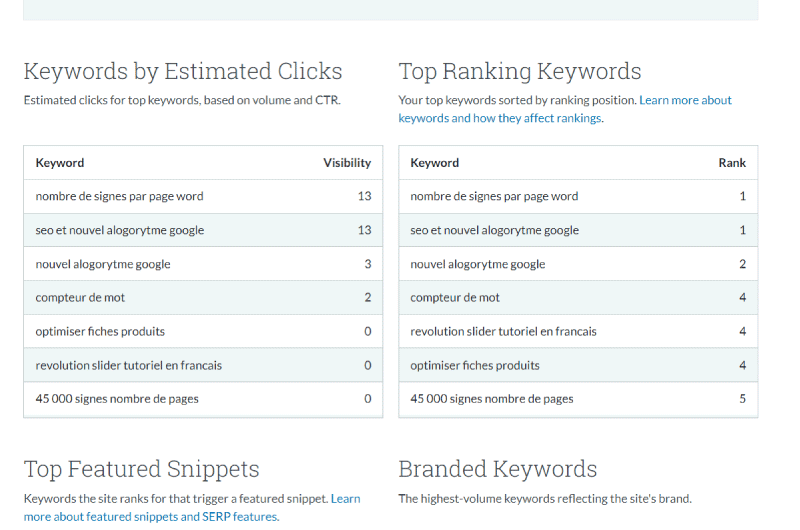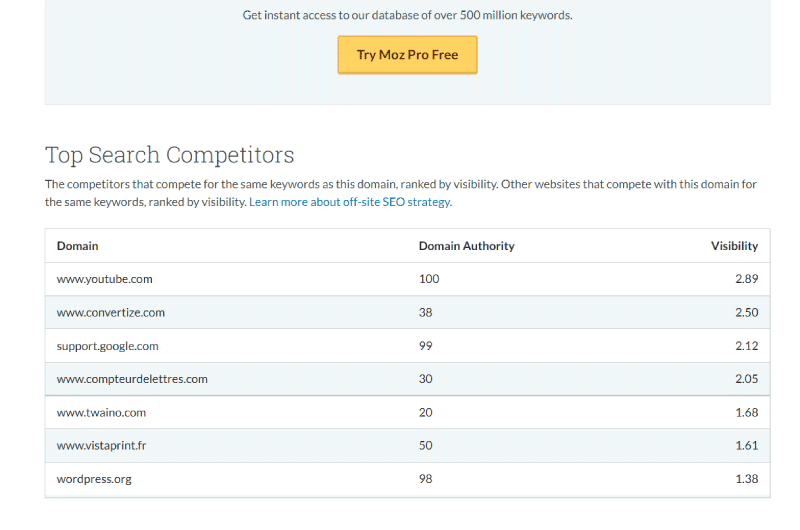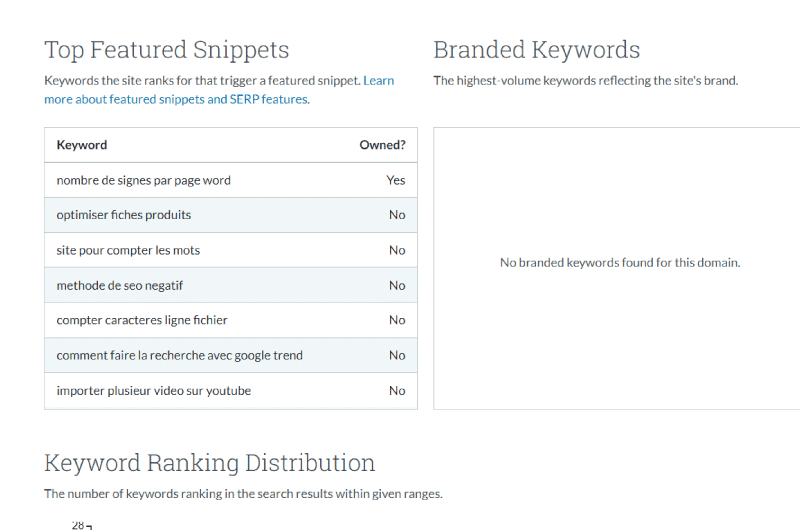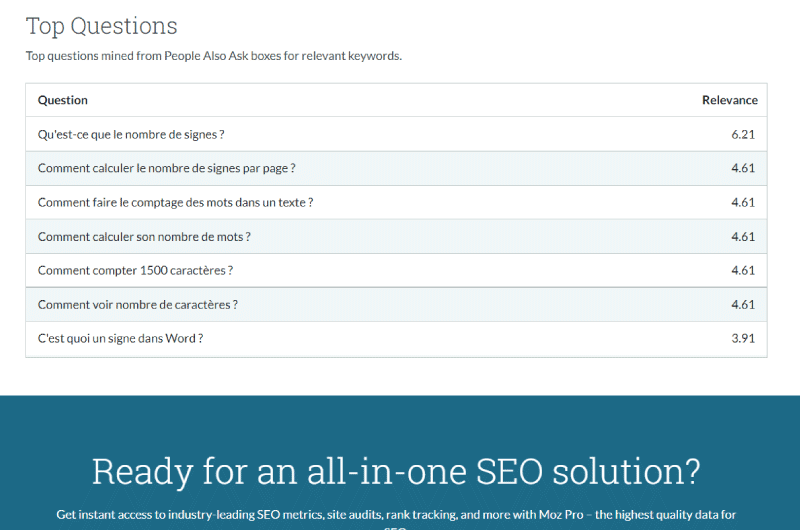 Company : Domain Analysis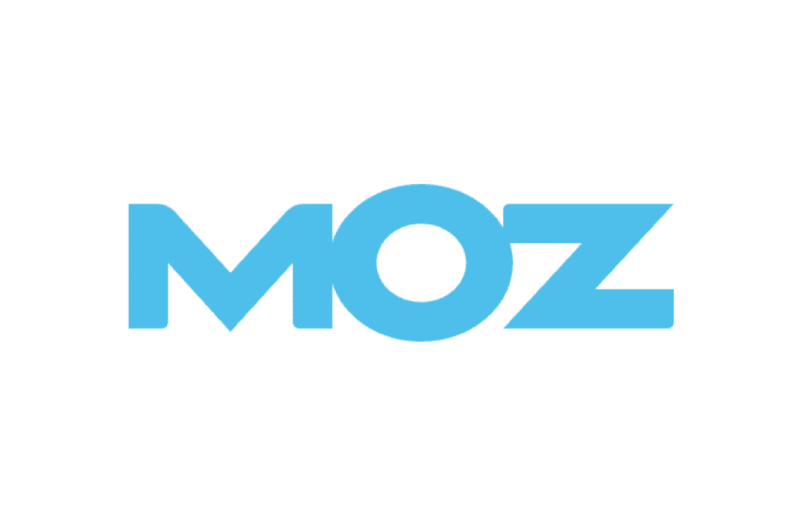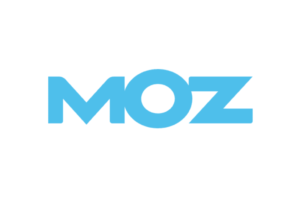 Moz is an American digital marketing agency created in 2004 by Rand Fishkin and Gillian Muessig. Even if its main objective is to allow companies to access the best SEO strategies, it is recognized for its tool.
In the beginning, Moz was just a simple SEO blogging agency, and was called "SEO Moz". Today, Moz is an agency more focused on digital strategies, especially SEO. 
Indeed, the Moz agency offers its customers products such as Moz Pro and Moz Local, which help companies improve their SEO. 
These products are highly appreciated by customers, as evidenced by the many favorable reviews for this purpose. It also offers many other services such as:
site audits;

ranking monitoring;

analysis of backlinks;

Keyword research.
Moz is a very versatile and dynamic agency, which covers many countries. It has its offices in two countries, namely in Seattle in the United States and in Vancouver in Canada. It has a community of around 500,000 digital marketers, as well as many partner companies, like Trivago, Zillow, Alaska, etc.
Contact : Domain Analysis
Social Media : Domain Analysis
Others Tools : Domain Analysis
Alexandre MAROTEL
Founder of the SEO agency Twaino, Alexandre Marotel is passionate about SEO and generating traffic on the internet. He is the author of numerous publications, and has a Youtube channel which aims to help entrepreneurs create their websites and be better referenced in Google.