Content improvement | Clearscope
Short description : Content improvement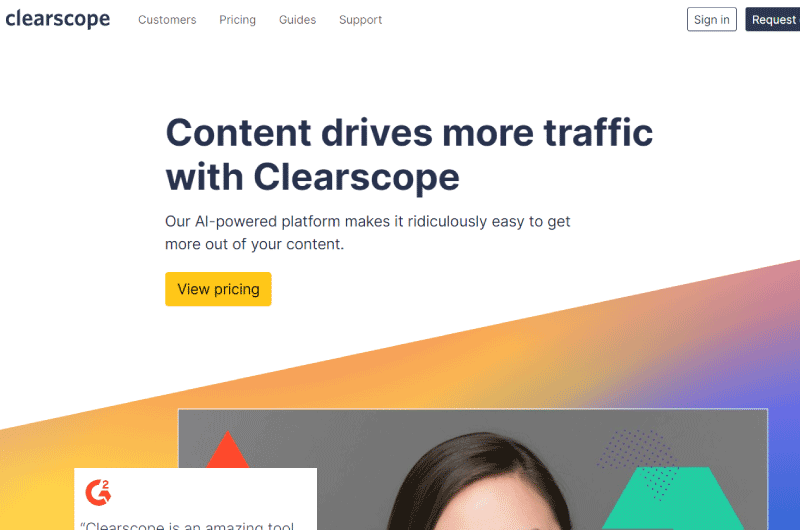 Our AI-powered platform makes it ridiculously easy to get the most out of your content.
Long Description : Content improvement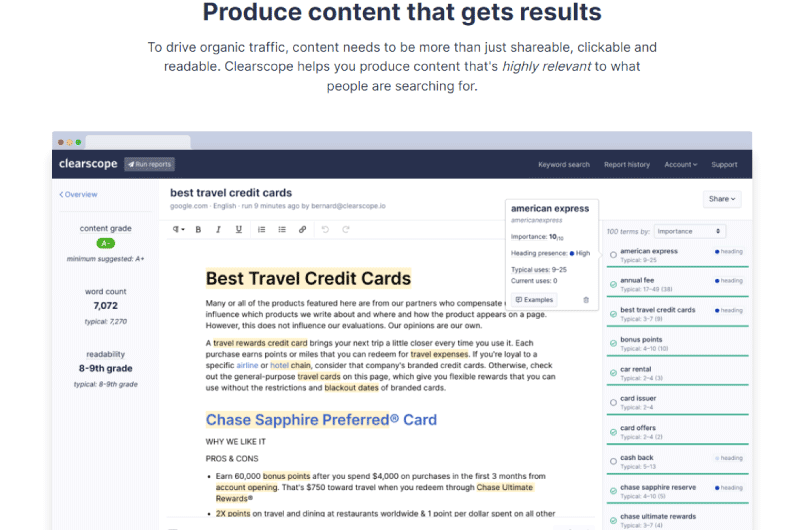 Description of the tool Clearscope 
Clearscope
is one of the tools you would definitely like to have for keyword research and improving your content on the internet. 
It is a tool of a writing tool that was set up to help users streamline their content and make it more relevant to search intent, but also to Google search engine. 
To put it simply, Clearscope is a tool whose ambition is to help website and blog owners increase their performance in terms of SEO and content marketing.
Without content, there would probably be no website and this is probably one of the reasons why the search engine emphasizes the need for quality content to rank well in the search engines. SERPs. 
Indeed, as you know, content is a key element in any on-page SEO strategy. This content must be optimized to target the keywords that best match the user's search intent. It must also contain the necessary elements to give a satisfactory answer to the requests of the Internet user. 
However, creating quality content is not easy. Better, it often requires taking into account several elements that the present tool that I propose to you to discover will be able to put at your disposal. 
Who is the Clearscope tool intended for? 
As you can imagine, this all-in-one writing tool is intended for both web editors and actors involved in the creation and optimization of the various content that can be found on their website. 
It allows them to access and take advantage of the best strategies and practices required to create quality content. It is therefore a way for them to have a guide and help at their side throughout the process of creating the content of their websites. 
This allows them to have a good understanding of what they do in order to do what is necessary to make the content available on Internet users more competitive.  
Why should you use the Clearscope tool? 
The first reason that justifies the importance of using a tool such as Clearscope is in the first place in the fact that the content of websites is an important element that can affect both negatively and positively the referencing of any website. 
Another reason comes from the fact that content optimization is one of the elements that Google places particular emphasis on in the SERPs. 
What are the features of Clearscope? 
The functionalities of Clearscope revolve around the following elements:
Optimization of content with a text editor specific to the tool;  

Creation of summary and content plans; 
The ability to integrate add-ons into existing workspaces like Google docs; the WordPress editor, etc.
Keyword research and identification of search intent that may match. 
In addition, please note that apart from these functionalities, the Clearscope tool provides you with a quality assistance service which aims to help you make better choices. It also gives you the possibility of exporting and sharing the results of the use of the tool as well as that of switching from one subscription to another according to the needs you express. 
Also note that for each feature, the Clearscope platform offers
resources
in both text and video format. The objective is to ensure that you effectively master the basics of the tool's operation in order to make really useful uses.  
How much does Clearscope cost? 
Clearscope is not a free tool. To use it, you will therefore need to appropriate these different functionalities. That is to say, subscribe to a monthly subscription. 
The site offers three subscription plans namely: 
The Essential Plan: This plan valued at $170 per month is accessible with three user accounts, 20 content report credits, 100 keyword discovery credits, Google integration docs and WordPress and support in five languages
​​The Enterprise Plan: Priced at $1200, this plan is the one to go for when you need access for more than three people. It comes with unlimited user seats, 100+ content reporting credits, custom integration and content inventory monitoring. 
And the personalized enterprise plan: Here the pricing can be personalized, you have in addition to the functionalities found in the other plans, personalized reports for discovery of keywords and monitoring credits and personalized Google TLDs. 
How does Clearscope work? 
When you connect to your member area on clearscope, you will see a space where you can run reports or view your old reports. 
source:
Backlinko
Everything actually starts with the search for keywords. So just type in the keyword you plan to rank for and press run report to allow Clearscope to show you the top ranking pages for that keyword along with statistics and graphs. 
Once the report is displayed, you must then click on optimize. This option allows you to bring up a new tab giving you the possibility to write your content. This content is then rated on the basis of the results present in the report resulting from the search for keywords. 
source:
Backlinko
While writing, the tool can offer you lists of long-chain keywords that you will integrate into your content when they make sense to you. 
So what are you waiting for, you too can take advantage of this powerful tool for optimizing the content of your website.
Videos : Content improvement
Images : Content improvement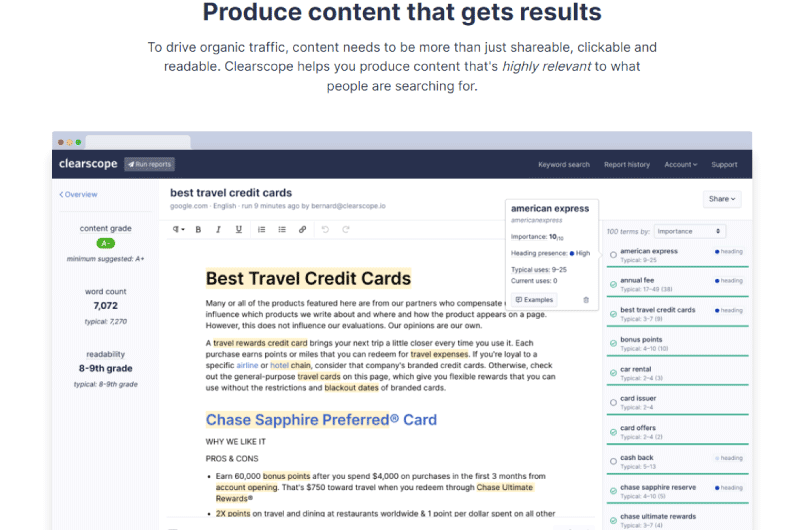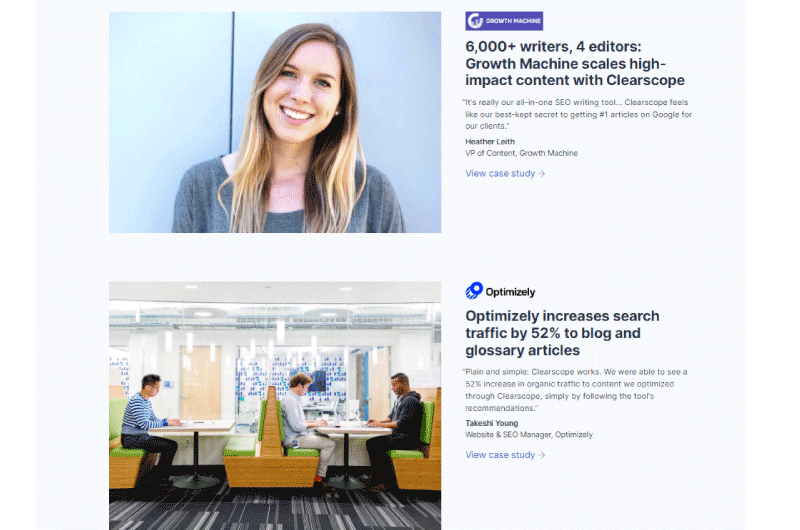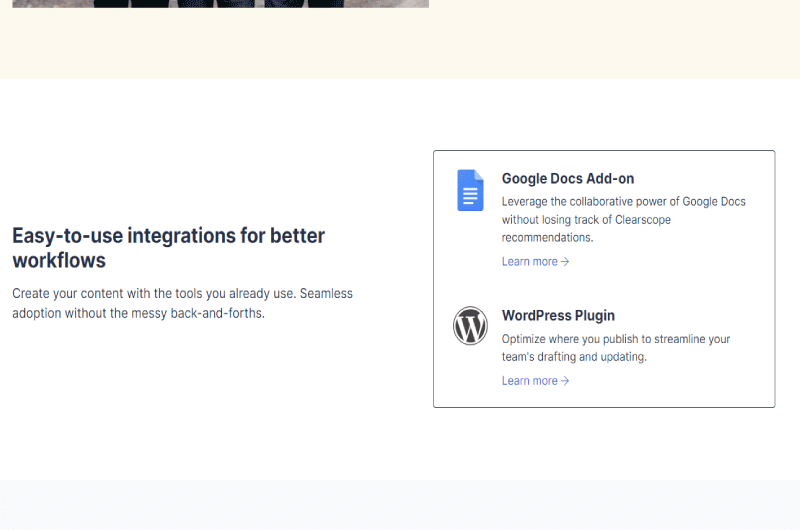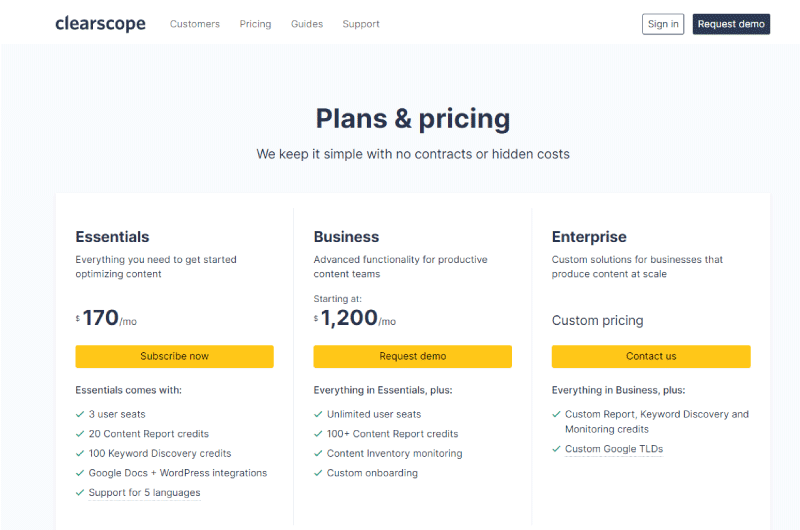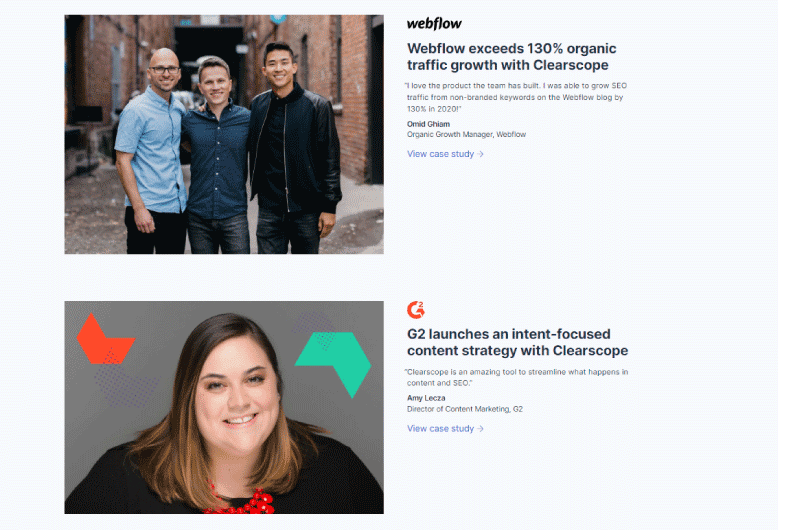 Company : Content improvement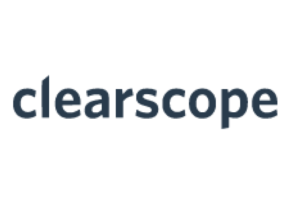 Clearscope is an SEO platform. It allows businesses to get the most out of their content, helping it generate more traffic. 
Clearscope is an AI-powered platform to further enhance and enhance content. 
It thus helps companies to produce relevant content that is in symbiosis with what their customers are looking for.
Clearscope offers easy-to-use integrations for better workflows. 
It also has many clients, including internationally renowned companies such as Deloitte, Shopify, Adobe, etc.
Contact : Content improvement
Social Media : Content improvement
Others Tools : Content improvement
Alexandre MAROTEL
Founder of the SEO agency Twaino, Alexandre Marotel is passionate about SEO and generating traffic on the internet. He is the author of numerous publications, and has a Youtube channel which aims to help entrepreneurs create their websites and be better referenced in Google.