Competition Analysis | iSpionage
Short description : Competition Analysis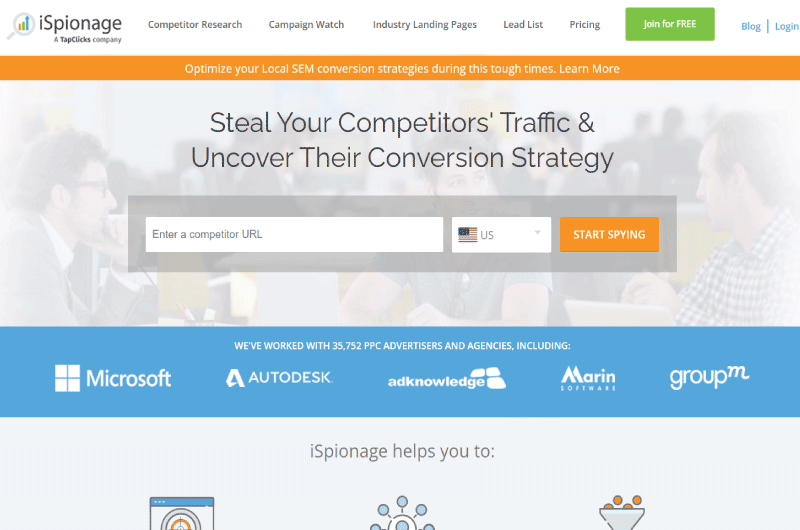 ISpionage is a tool that aims to provide webmarketers with competitive monitoring and actionable steps to improve their PPC strategies. Otherwise, it helps you track the marketing strategies of your competitors.
Long Description : Competition Analysis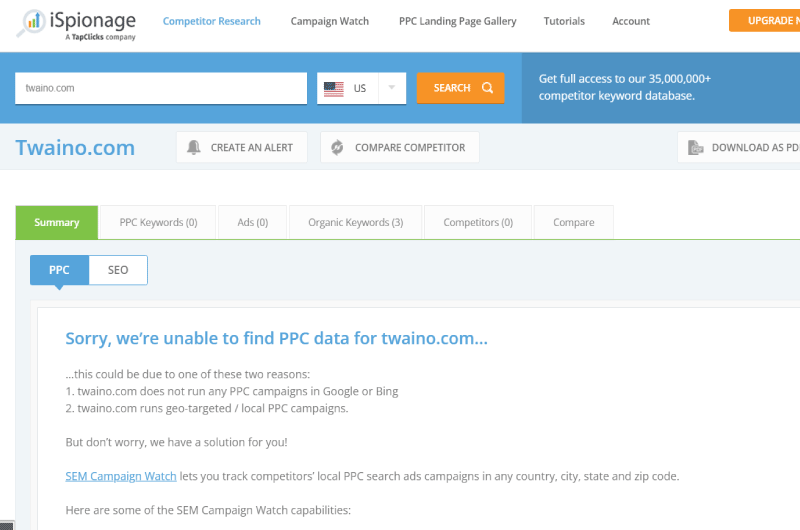 Description Ispionage
To outrank your size competitors, it is important to understand the marketing strategies they are adopting in order to do better.
Ispionage is therefore a tool that allows you to spy on your competitors to easily grasp their biggest secrets.
This is a better way to discuss better ranks in search engine rankings.
To understand how this tool works, I invite you to continue reading this description.
We can read on their website that Ispying is a marketing tool whose tem has worked with more than 35,000 advertisers and agencies.
The tool has a considerably large database to be able to cover the largest search engines, namely:
database spy includes 92 million keywords, 108 million ad copy variations, and 45 million domains.
This makes the tool a complete source of competitor data for your niche.
Let's see in detail, the best features of this tool:
Competitor Advertising Analysis Analyzing competitor
advertising decisions is one of the most important tricks you can practice with iSpionage. 
With this feature, you can view your competitors' landing pages, their PPC ads, and their target audiences. 
With this information, you can truly understand their goals and methods in order to apply what works best to your own website.
Historical SEO and PPC data is available, which means you can see how certain SEO and PPC keywords have performed over time. 
Having this knowledge is invaluable for understanding market trends and choosing great keywords that drive more traffic. 
By understanding your competitors' strategies over time, you can better understand their overall strategy.
Here you have the option to download brand competitor reports which is a perfect way to gather more resources for your marketing campaigns.
These reports include all the essential data to understand competitors such as PPC strategies and profitable keywords. 
Accessing these reports is also a great way to track and store changes in competitor positions.
Competitor Budget Estimation
In terms of spying, this feature is even more as it allows you to estimate the approximate advertising and PPC budget of your competitors.
From pricing trends and your competitors' current Google AdWords strategies, iSpionage can build an approximate budget on which you can then base your own financial decisions.
It's as if you have one of your competitors financial situation, which gives you a huge advantage to make your own decisions about advertising and PPC spending.
Ad Effectiveness Index
There may be times when your campaigns like Facebook posts or random banners on other websites get no response or clicks. 
In fact, you can use the Ad Effectiveness Index to identify which of your competitors' ads are actually attracting new visitors.
So you can build new advertising campaigns from their winning strategies.
Click Through Rate (CTR)
Improving click through rate is the primary goal behind most online advertising campaigns.
In this case, Ispoinage can help you place your advertisements effectively and in the right places to attract more people to your website.
SEM Performance Tracking SEM Performance
Tracking is also one of the handiest and incredibly useful from iSpionage.
You just need to enter some information like domain name and keywords to get a report on your SEM performance of your advertising campaigns.
Of course, you can do the same for your competitors to track their improvements over time.
This report includes information such as average ad position and number of new ads.
A/B Test Monitoring
This quite interesting and smart feature allows you to monitor your A/B tests to make the best decisions. 
In addition to tracking the success of your own A/B tests, you can also see what works best for your competitors.
Such insights give you the resources to copy your competitors' successful ads without having to test them to see what works.
Landing Page Tools
The landing page search gallery and side-by-side landing page comparison tools help you understand how to create a good landing page full of conversion potential.
To do this, iSpionage allows you to organize several different landing pages with the options of each next to each other.
You can curate competitor landing pages and enable alerts to get notified of changes.
This is an effective way to monitor your competitors' advertising strategy and copy anything that could help you outrank them with your ads.
Email Alerts Email
alerts as mentioned earlier, contain all the marketing changes that one of your competitors has made during the previous week. The steps described in these emails remain relevant and actionable so that you stay up to date in terms of knowledge.
Another great function of these email alerts is to notify you of new competitors entering the market. 
SERP Snapshots
Finally, SERP Snapshots simply show you how specific keywords appear on search engines during a specific time period. 
You can change the search date to analyze and ensure that you are consistently ranking well and taking traffic from your competitors.
Overall, iSpionage is a great competitor analysis tool that can help you with its rich database.
Videos : Competition Analysis
Images : Competition Analysis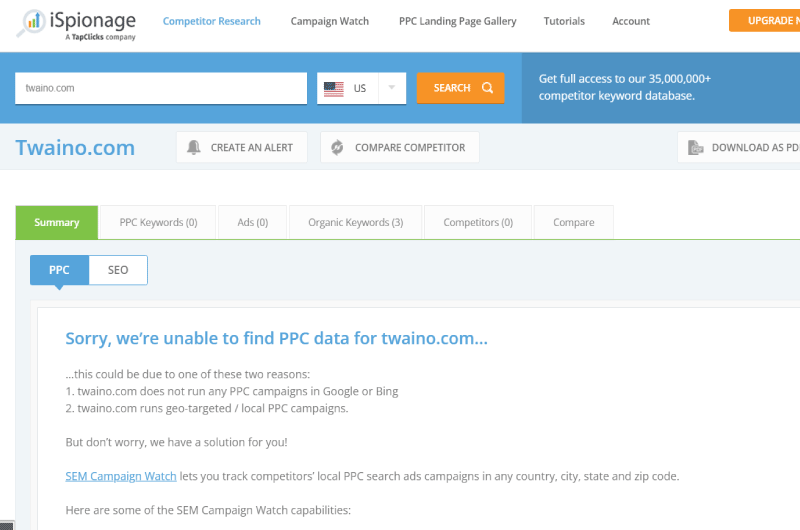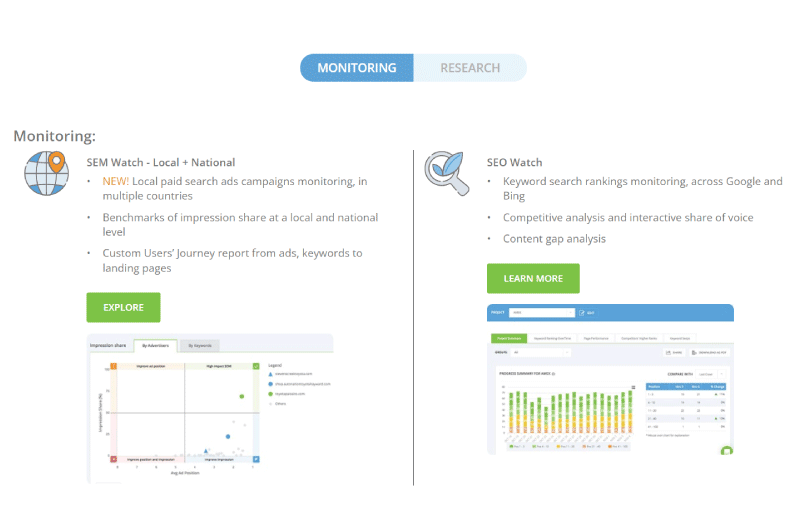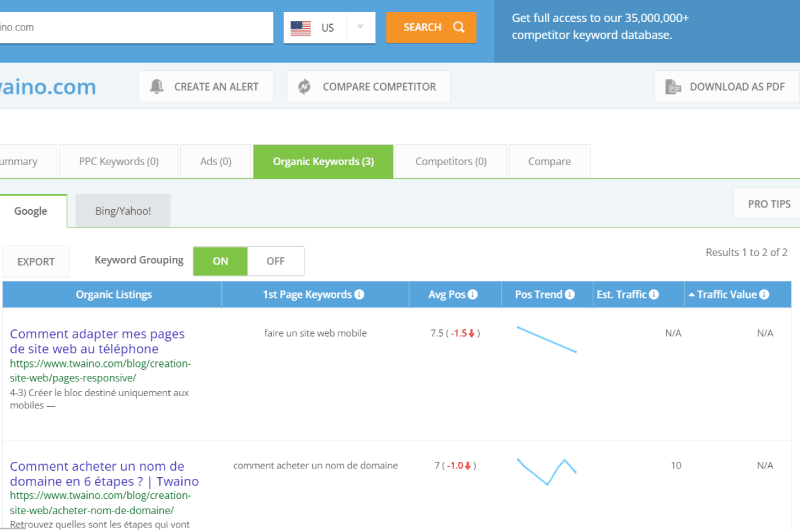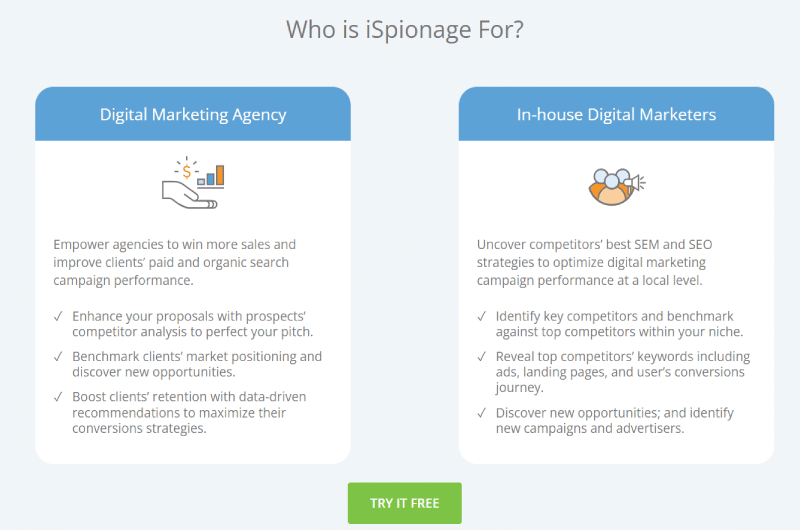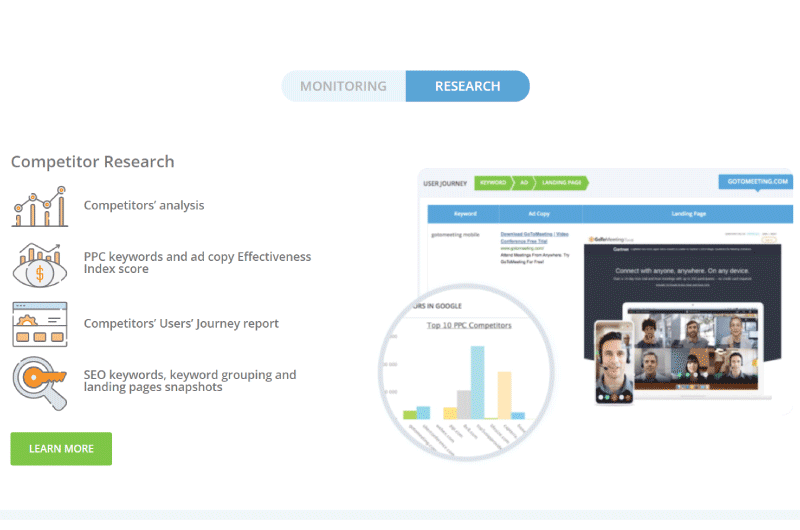 Company : Competition Analysis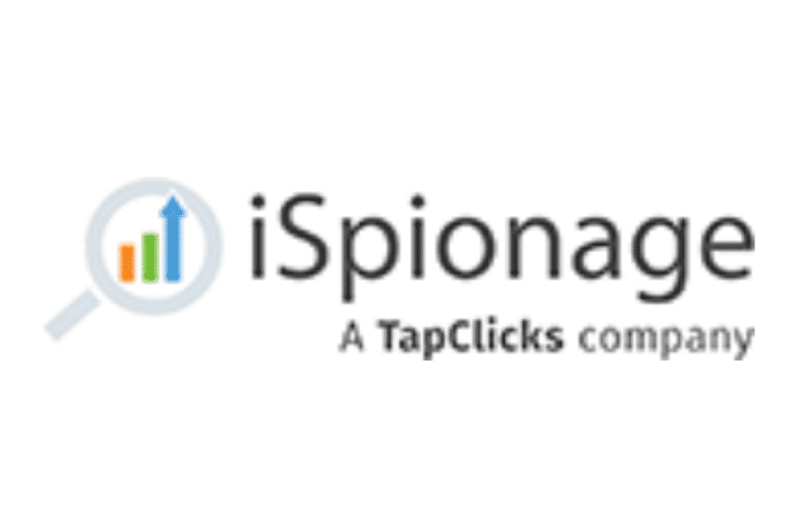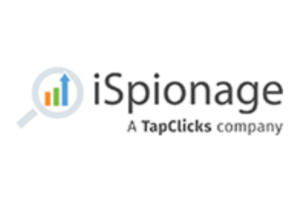 iSpionage is one of the leaders in digital marketing intelligence. It was founded in 2008 by developers from Silicon Valley. 
The powerful technology that iSpionage has built helps digital marketers and agencies gain a competitive edge in the search marketing environment. 
iSpionage's mission is to provide best-in-class profitable information with the intention of helping them achieve their marketing goals. At least 35,000 digital marketers trust them to get actionable insights. 
iSpionage therefore helps these agencies and digital marketers to:
find targeted traffic;

generate more leads;

increase the conversion rate.
Contact : Competition Analysis
Social Media : Competition Analysis
Others Tools : Competition Analysis
Alexandre MAROTEL
Founder of the SEO agency Twaino, Alexandre Marotel is passionate about SEO and generating traffic on the internet. He is the author of numerous publications, and has a Youtube channel which aims to help entrepreneurs create their websites and be better referenced in Google.