Base64 Encoding Decoding | Internet Marketing Ninjas
Short description : Base64 Encoding Decoding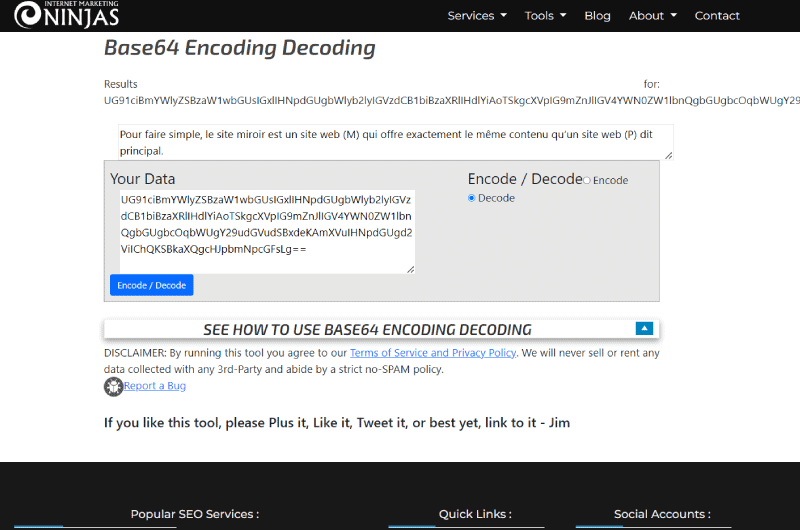 Base64 Encoding Decoding is a tool from IM Ninjas that allows you to easily encode/decode your data into a human-readable format online.
Long Description : Base64 Encoding Decoding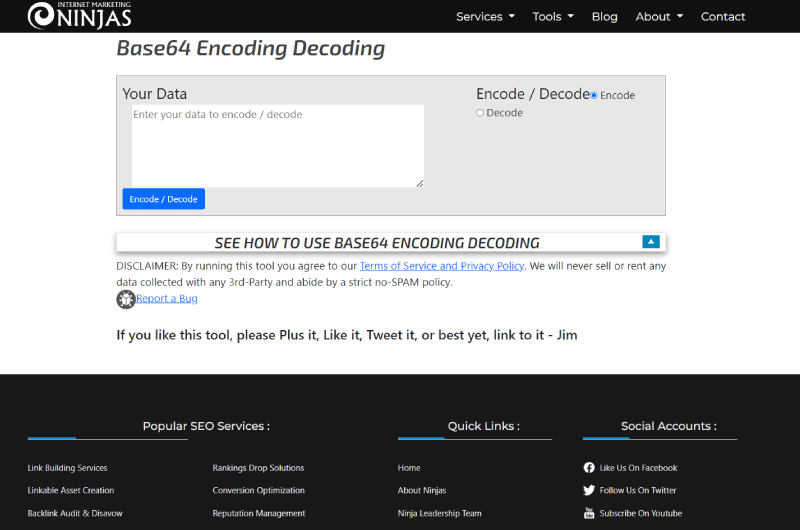 Description Base64 Encoding Decoding – Internet Marketing Ninjas 
One of the most well-known platforms in the world of digital marketing remains Internet Marketing Ninjas. This platform is known for its many free tools that allow users to improve their website's ranking on search engine results pages.
Base64 Encoding Decoding is also a tool developed by Internet Marketing Ninjas. It is an online tool that easily encodes and decodes data from Base64 encoding. 
What is Base64 Encoding Decoding – Internet Marketing Ninjas? 
Base64 Encoding Decoding is a tool that lets you encode/decode data online into a format understandable to human users. The tool has a simple interface and works with Base64 encoding. 
The tool remains a simple and accessible way for everyone, including beginners, to easily decode and encode their data online. 
Base64 Encoding Decoding – Internet Marketing Ninjas: How to use the tool? 
Base64 Encoding Decoding remains a very simple to use: 
To get started, go to the Internet Marketing Ninjas home page then search the platform's toolbox for the Base64 Encoding Decoding tool

Or access the tool directly by clicking on this link

https://www.internetmarketingninjas.com/tools/base64-encoding-decoding/

 

Once on the page, enter the data to encode or decode 

Check one of the ENCODE or DECODE options depending on whether you want to encode or decode the data 

Then click on the "Encode/Decode" button
Additional resources 
What is Base64? 
Also known as Base64 Content-Transfer-Encoding, Base64 is a technique that allows you to convert binary data into ASCII text format and convert ASCII back to binary.
Source:
woolha
It is commonly used to encode data before it is transferred to another medium that only supports ASCII formats, such as email messages on Multipurpose Internet Mail Extension (MIME) and Extensible Markup Language (XML) data. .
How does Base64 work?
Base64 is a widely used binary-to-text encoding method for transmitting content-based information over the internet. It works by breaking the three bits of binary data into six-bit chunks.
Data, again and in a 64-base numeric system, is now also represented as seven-bit ASCII text. 33% larger than the original due to splitting each bit into two bits, the conversion was successful.
How to encode/decode data with Base64 encoding? 
Just like given data, when you encode data in Base64, the result is not readable for a human user. This is where a Base64 data decoding tool can come in handy. 
Base64 Encoding Decoding is an IM Ninjas tool that allows you to convert Base64 data into something that ordinary people can understand. The interface is easy to use and simplifies Base64 encoding.
Videos : Base64 Encoding Decoding
Images : Base64 Encoding Decoding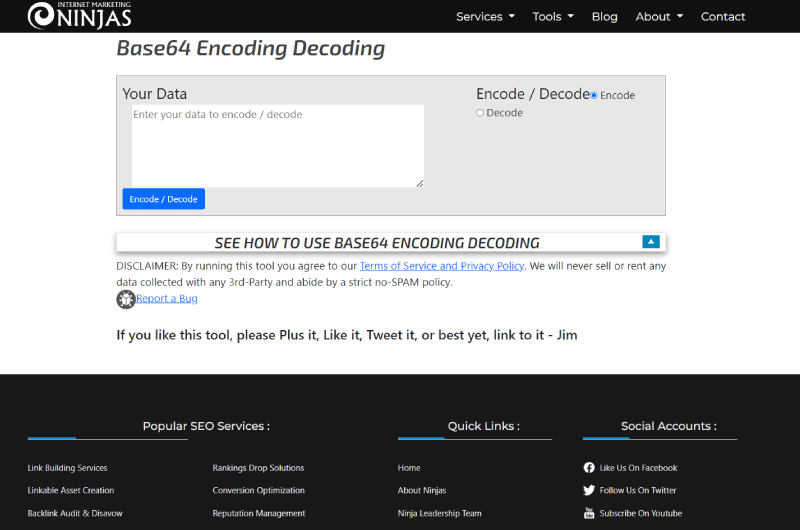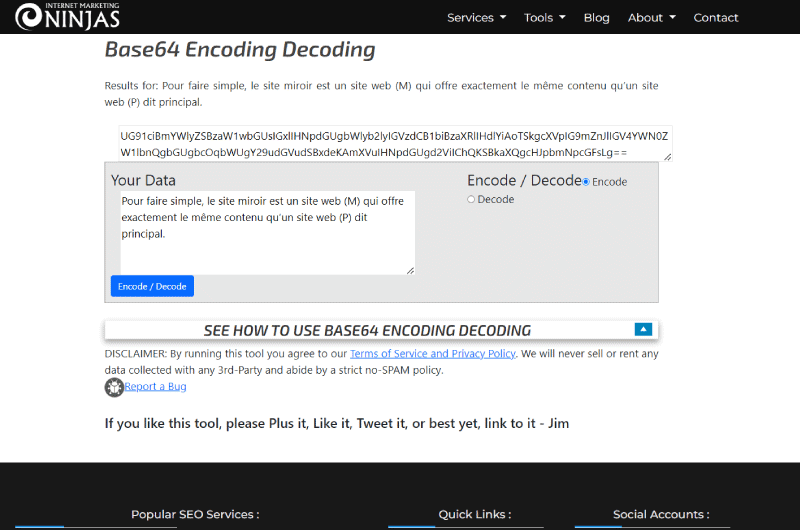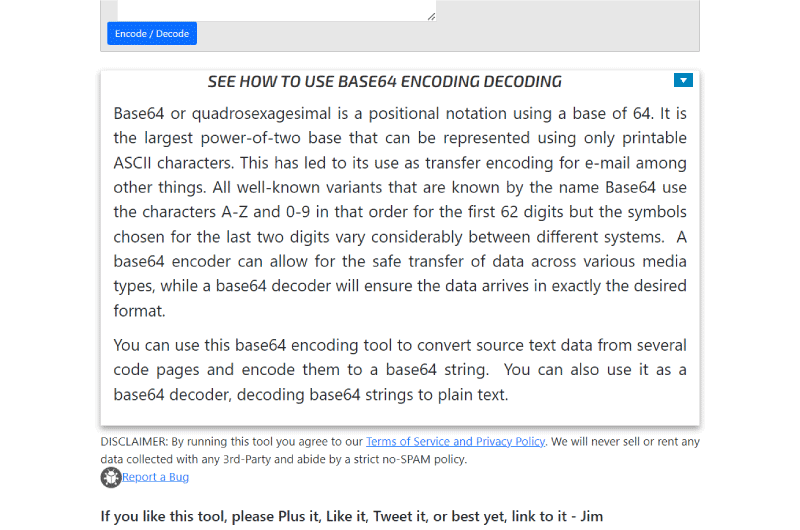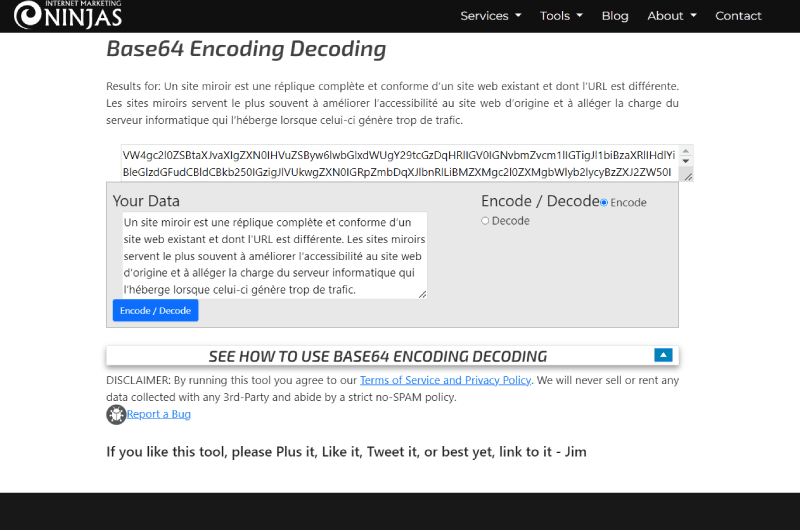 Company : Base64 Encoding Decoding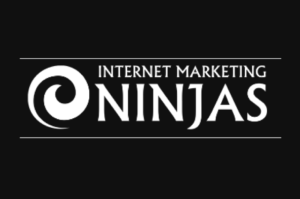 Internet Marketing Ninjas is a company founded in 1999 by Jim Boykin, with more than 10 years of experience in the field of SEO. The company's mission is to help their customers get better traffic to their websites through secure methods.
Internet Marketing Ninjas specializes in optimizing pages and websites for search engines. Based in the United States in Clifton Park, the company is made up of 50 members who are all experts in their fields
. Internet Marketing Ninjas offers the entire digital community complete digital marketing services, but also SEO services and tools. Among the 87+ tools developed by them, here are some free SEO tools they have developed:
Social Image Resizer Tool;

What's My Browser Size Tool;

HTML Source Code Viewer Tool;

Meta Tag Analyzer;

Domain Age Checker;

Meta Tag Generator & Snippet Preview;

Search Engine Spider Simulator;

Keyword Combination Tool;

URL Inspection Tool…
These tools are aimed at SEO agencies as well as marketing professionals, not to mention companies. They will surely help to improve your various marketing strategies.
Contact : Base64 Encoding Decoding
Social Media : Base64 Encoding Decoding
Others Tools : Base64 Encoding Decoding
Alexandre MAROTEL
Founder of the SEO agency Twaino, Alexandre Marotel is passionate about SEO and generating traffic on the internet. He is the author of numerous publications, and has a Youtube channel which aims to help entrepreneurs create their websites and be better referenced in Google.