Keyword Combination Tool | Internet Marketing Ninjas
Short description : Keyword Combination Tool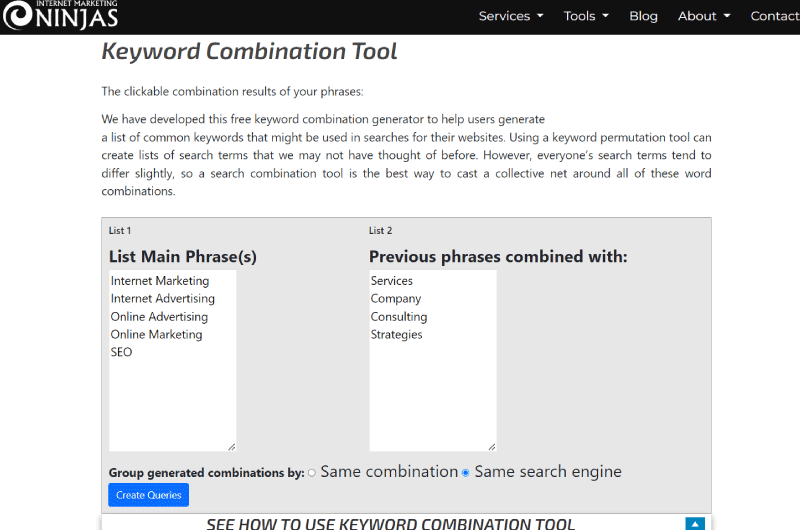 Combine your keywords to improve your SEO with Keyword Combination Tool, a free keyword combination generator.
Long Description : Keyword Combination Tool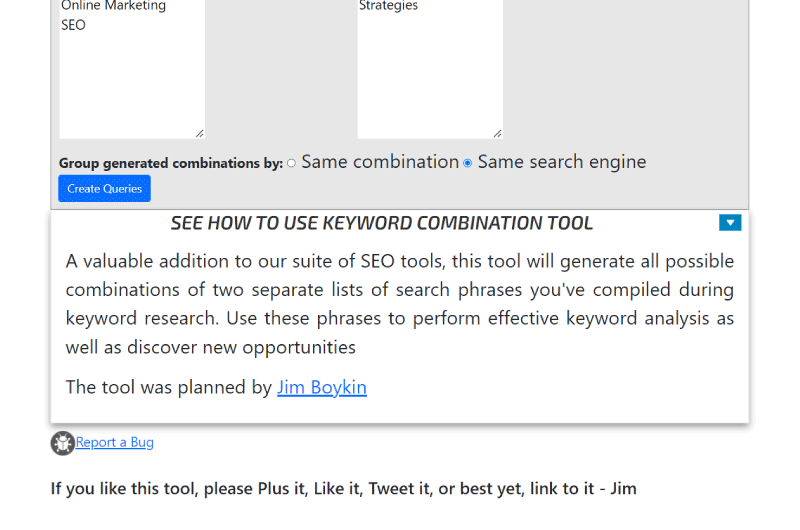 Description Keyword Combination Tool
What people type into the search engine search bar is their search query. The latter allows said engines to display in their SERPs relevant websites that constitute the response to the intention in question.
These sameare comparable to keywords. So, if you are struggling to improve traffic to your website or want to have better visibility, you can opt for a combination of these keywords.
Not only will you satisfy the search intent of Internet users, you will have the opportunity to work better on your SEO. To achieve this, you need to find excellent SEO tools.
This is the case of Keyword Combination Tool. By continuing to read, you will discover the basics of this tool, but you will also have an idea of ​​how it works. Good reading !
Introducing IM Ninjas'
Keyword Combination Tool Keyword Combination Tool is an SEO tool developed by Jim Boykin, the founder and CEO of Internet Marketing Ninjas. As its name suggests, it is a free keyword combination generator.
It is an SEO tool that allows you to design from a few keywords usable in the sentences of your content a list of common expressions used by Internet users. 
More precisely, Keyword Combination Tool generates a list of trending keywords that could be used in searches of its users' websites. 
Moreover, about the users, it is useful to know that the tool is aimed at SEO specialists, but also at marketing professionals. In this, Keyword Combination Tool can participate in your content marketing and the implementation of your marketing advertising campaigns. 
The tool supports the main search engines used by Internet visitors. Basically, I'm referring to these: Google, Yahoo, and Bing. 
In fact, a combination of keywords drawn from the different queries of Internet users allows you to easily create a list of long tail keywords.
Moreover, the interface of Keyword Combination Tool is simple and its handling is not very complicated. But how does his tool work?
Operation of Keyword Combination Tool
Operation of Keyword Combination Tool is normally easy. It's not that different from other keyword combination tools. You just need a few prerequisites which mainly concern the keywords chosen for writing your sentences.
In fact, what makes using Keyword Combination Tool more dynamic is the fact that you can generate a combination of keywords in two different ways. You can make combinations generated by group, either by same combination (Same combination) or by same search engine (Same search engine).
Anyway, here's how this tool works. First of all, you must go to the tool's homepage via your default browser. By going to the said Keyword Combination Tool page, you will see two spaces for two lists noted List 1 and List 2.
It is in these spaces that you will enter the search phrases that you have collected during the keyword search . Said phrases are in a way words or expressions used by Internet users during a search on a search engine.
After entering these search phrases, make sure that they are each on one line. In other words, you should not put on the same line in the white space two Internet user search phrases.
Once these conditions have been met, you can create the various possible requests from Internet users with just one click. To do this, click on the blue "Create Queries" button at the bottom of the two spaces.
If the explanation seems a bit fuzzy or you want some concrete illustrations, keep reading.
Illustration of the use of Keyword Combination Tool
To use the tool, click on its
link
.
After the click, you will be redirected to the tool's homepage.
To avoid complicating the illustration, we will keep the search phrases already available in the spaces denoted List 1 [List Main Phrase(s)] and List 2 [Previous phrases combined with]. 
Then click on the blue button in order to launch the automatic process of creation of the requests of the Net surfers by Keyword Combination Tool. But before that, remember to choose between the "Same combination" option or the "Same search engine" option.
But hey, whether it is the first option or the second option, there is not really a particular difference. In my case, I still chose an option: Same search engine, the default option.
As you can see, the Ninja logo is rotated next to the blue button, showing the process to start. A few seconds later, you will have a list of creation of requests.
Not downloadable, you still have access to links that redirect you to the SERPs of the main search engines used by Internet users. To see this, click on one of these combinations.
Let's take the example of the combination "Internet Marketing Services" and check the SERPs.
Usefulness of Keyword Combination Tool
Put groups of words together in order to have lists of keywords. That's kind of the goal of Keyword Combination Tool. But what is its use?
Keyword Combination Tool can help improve your ranking in SERPs. Thus, in your niche of activity, you can have an idea of ​​the trending words relating to you and those relating to your competitors. It is a tool to consider in your digital marketing approach.
Videos : Keyword Combination Tool
Images : Keyword Combination Tool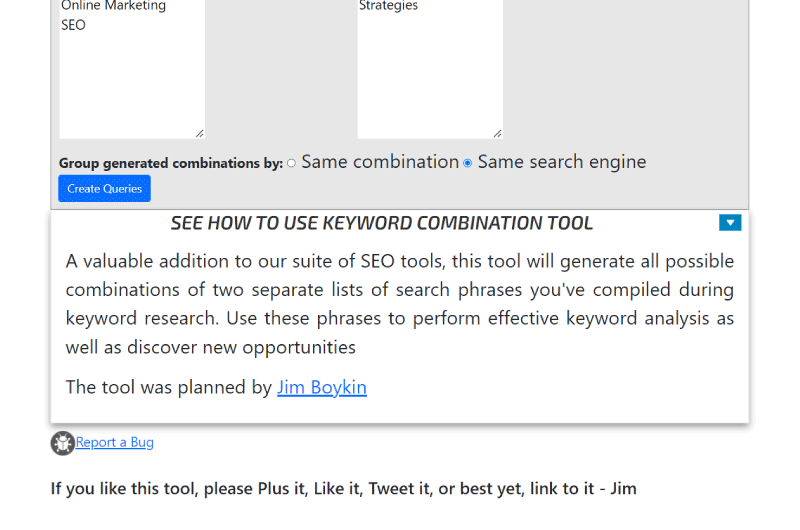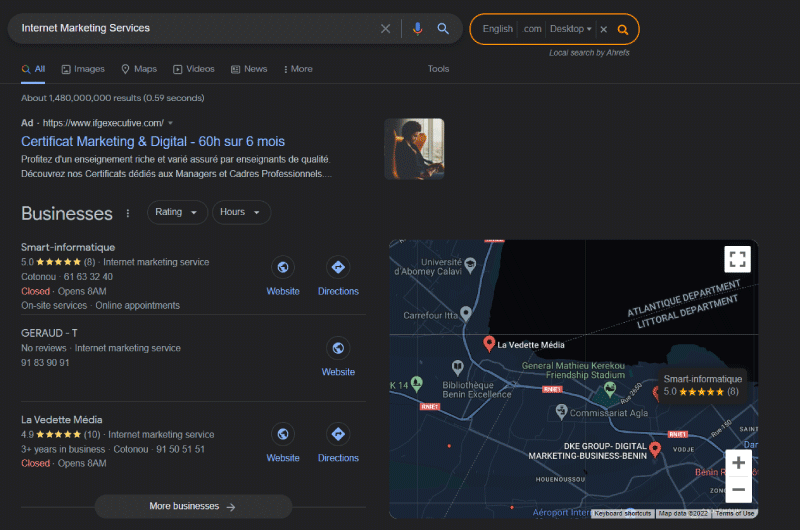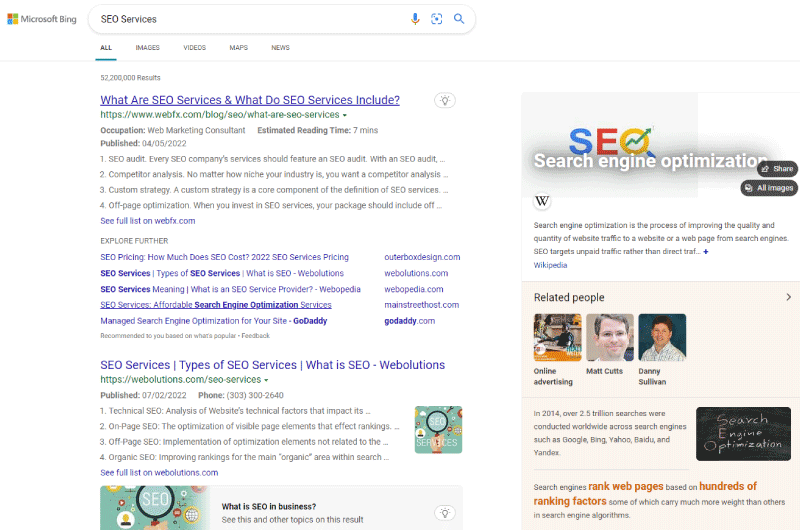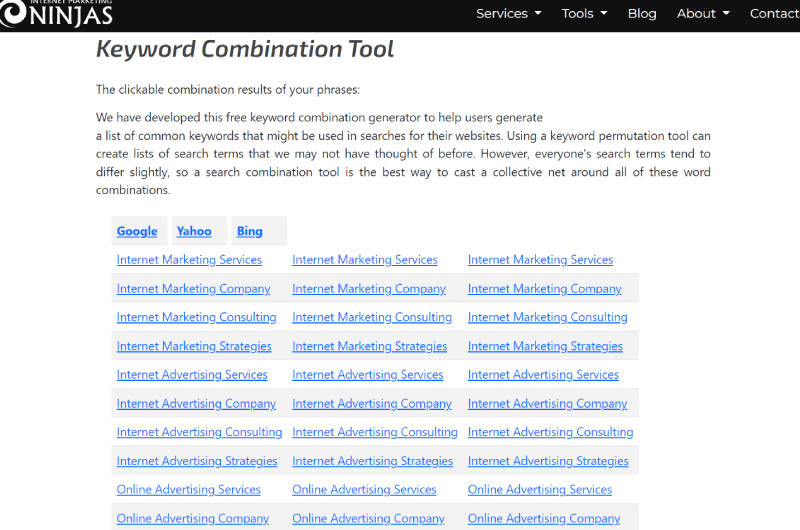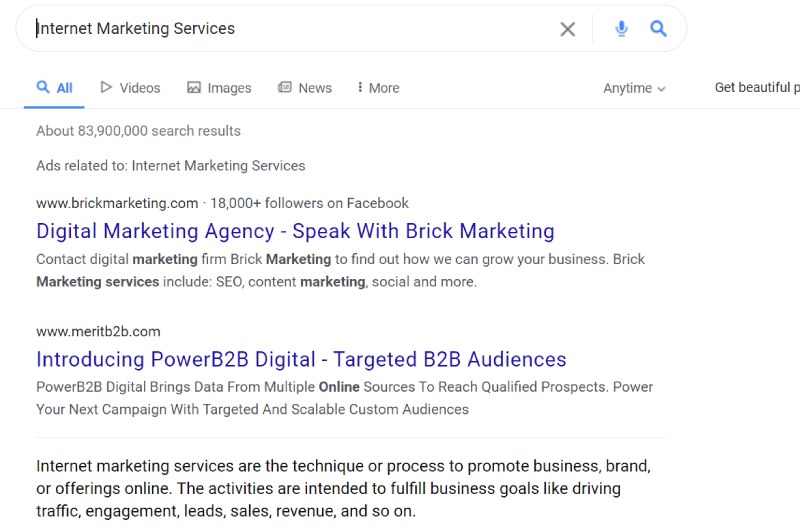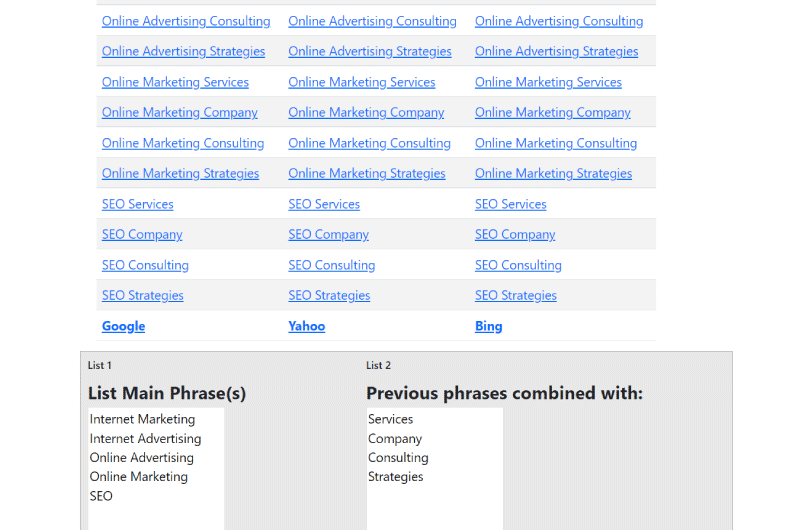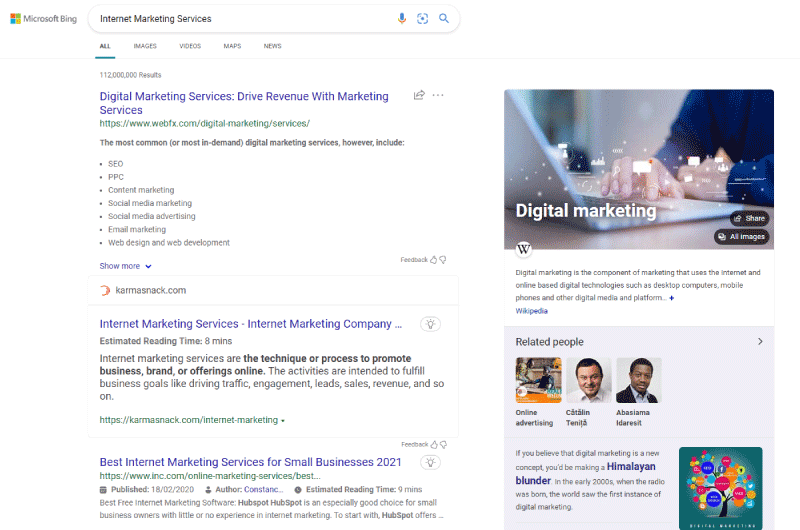 Company : Keyword Combination Tool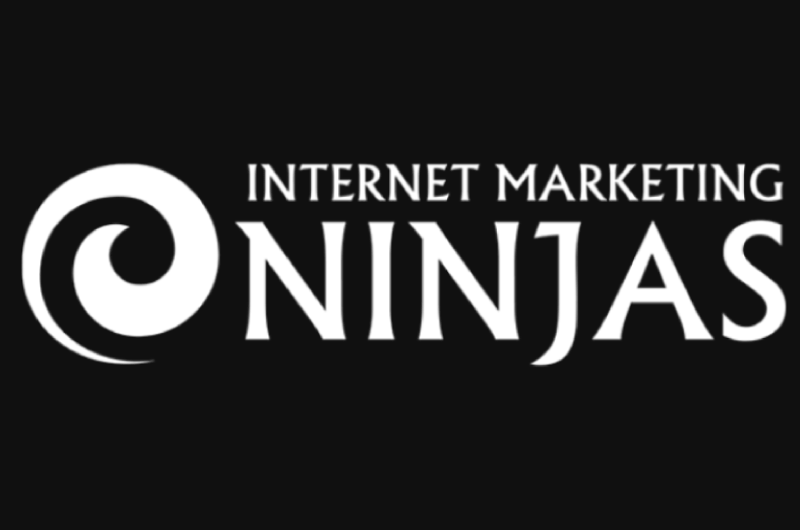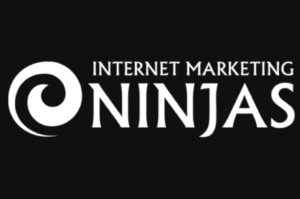 Internet Marketing Ninjas is a company founded in 1999 by Jim Boykin, with more than 10 years of experience in the field of SEO. The company's mission is to help their customers get better traffic to their websites through secure methods.
Internet Marketing Ninjas specializes in optimizing pages and websites for search engines. Based in the United States in Clifton Park, the company is made up of 50 members who are all experts in their fields 
. Internet Marketing Ninjas offers the entire digital community complete digital marketing services, but also SEO services and tools. Among the 87+ tools developed by them, here are some free SEO tools they have developed:
Social Image Resizer Tool;

What's My Browser Size Tool;

HTML Source Code Viewer Tool;

Meta Tag Analyzer;

Domain Age Checker;

Meta Tag Generator & Snippet Preview;

Search Engine Spider Simulator;

Keyword Combination Tool;

URL Inspection Tool…
These tools are aimed at SEO agencies as well as marketing professionals, not to mention companies. They will surely help to improve your various marketing strategies.
Contact : Keyword Combination Tool
Social Media : Keyword Combination Tool
Others Tools : Keyword Combination Tool
Alexandre MAROTEL
Founder of the SEO agency Twaino, Alexandre Marotel is passionate about SEO and generating traffic on the internet. He is the author of numerous publications, and has a Youtube channel which aims to help entrepreneurs create their websites and be better referenced in Google.