Forecast on Google Sheet | Forecast Forge
Short description : Forecast on Google Sheet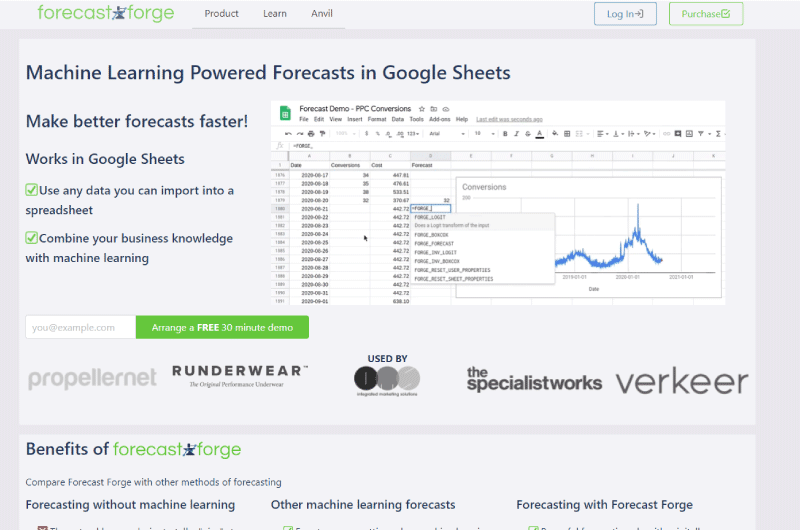 Equipped with an artificial learning model, Forecast Forge is a tool that allows you to make data forecasts directly on Google Sheet.
Long Description : Forecast on Google Sheet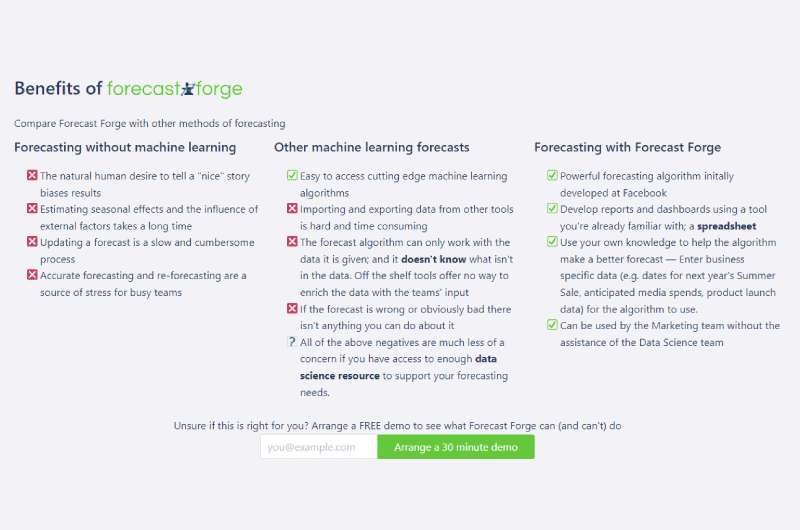 Description Forecast Forge
As an SEO, you will at some point be called upon to make predictions when analyzing your data.
However, due to the number of unknown factors to consider such as the impact of Google's algorithmic updates or changes in demand, forecasting data in SEO is still a bit of a complicated task to tackle. 
Forecast Forge is a tool that allows you to combine your business knowledge with Machine Learning technology to quickly and accurately make forecasts directly on Google Sheets. 
What is Forecast Forge? 
If you want your SEO analysis to continually include forecasts, Forecast Forge is a tool that can help you. 
It's an online platform where you can combine your professional expertise with
Facebook Prophet
, a Machine Learning model to produce quick and accurate estimates of what will happen in the future.
Despite its power and analytical precision, the tool is still easy to use, as it is an add-on to the traditional Google Sheets and it works with any type of data. 
In addition, you have on the Forecast Forge site many
guides
and
tutorials
that focus on data forecasting. 
Forecast Forge: How to install and configure the tool? 
Here are the different steps to install and configure Forecast Forge: 
Step 1: Install the Forecast Forge addon 
To get started, go to Google Workspace Marketplace then search for Forecast Forge or

click directly on this link

Then click on the "Install" button to launch downloading the extension. 
But, it will be necessary to accept permission from the setup wizard to continue the task. 
If you have multiple Google Accounts connected to your browser, the page may have problems loading. 
As a workaround, try logging in from a private browser window or logging out of your other accounts altogether, then try again with the "Install" button. 
Step 2: Activate the Forecast Forge addon 
Usually, when you download a new addon, you need to activate it before you can use it on Google Sheet. 
The step of activating the Forecast Forge addon is a step that you must repeat on each new Google Sheet on which you want to use the
FORGE_FORECAST
. 
To activate it, choose a Google Sheet spreadsheet or

click here

to open a new sheet. 

Once the spreadsheet is fully loaded, click "Forecast Forge" in the add-ons drop-down menu, then select "Enable". 
When you first open Forecast Forge, you will be asked to give permission to the Step
3: Enter your API key 
After installing Forecast Forge, a sidebar will appear with a button that says "Enter your API key.
Check your subscription confirmation page or log in to your
user area
to find out your API key 
Copy and paste the API key into the text box and click the "Verify key and save" button
Step 4: Use Forecast Forge 
After entering a correct API key, your Google Sheet sidebar should change and display some tips for using the
FORGE_FORECAST
,
you can start using the tool to
create your first
data 
forecastFeatures
1. Automatic Learning of Weekly and Yearly Seasonality
Forecast Forge is powered by Artificial Intelligence that can learn weekly and yearly trends that are important to your business to help you create useful and relevant forecasts. 
2. Understand the difference between market trends and seasonal fluctuations
With Forecast Forge you can easily see the distinction between anticipated seasonal changes and general market movements.
3. Create and compare scenarios for your forecasts 
With Forecast Forge, you can add columns to create scenarios and compare what might happen to your forecasts. 
4. Learns the effect of local holidays
With Forecast Forge, you can also specify a country and the tool will take care of automatically taking all holidays in that country into account in the forecast. 
5. Use custom functions or an interactive menu
6. Works directly on Google Sheets
Another feature of Forecast Forge is that the tool works directly on Google Sheets. So you don't need to connect and import or export the data before using it. 
Forecast Forge: Pricing
Forecast Forge offers several pricing plans: 
Standard plan
  at $28 per month 
Full access to Google Sheets extension

Make forecasts in any number of sheets
Small Team plan
at $89 per month 
Training up to 5team members

custom forecast models
Large Team
to $179 per month 
Train up to 12 team members

Help with Richard with up to 8 custom forecast models
Videos : Forecast on Google Sheet
Images : Forecast on Google Sheet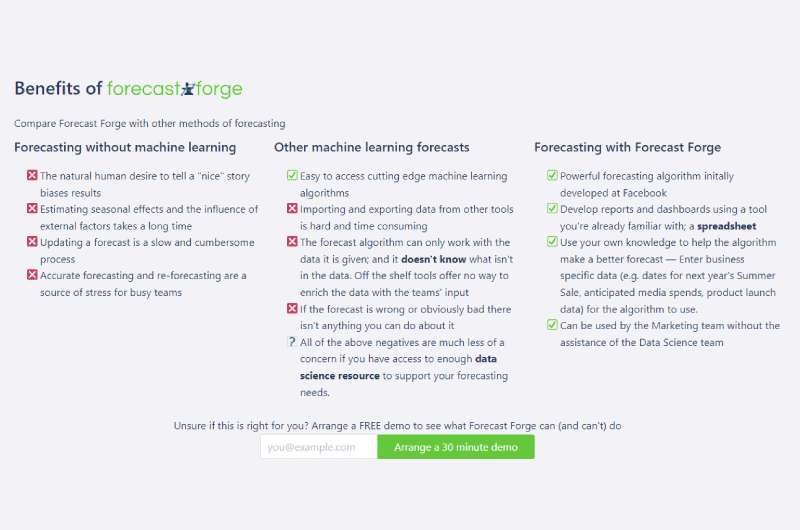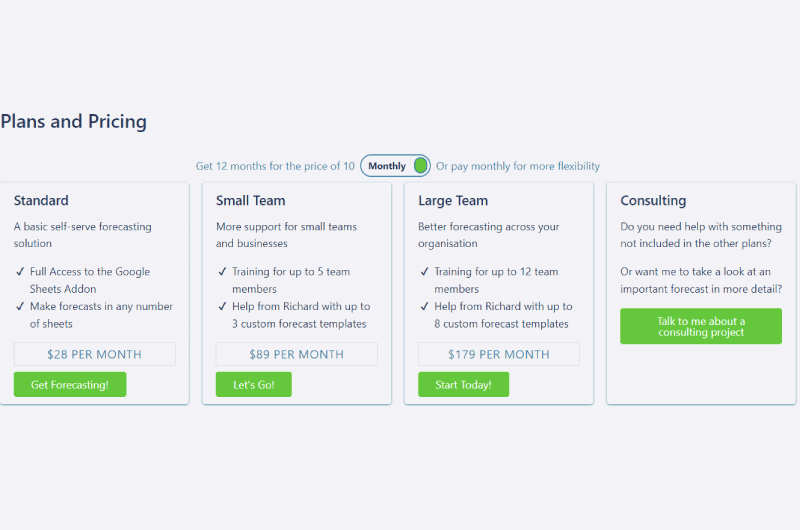 Company : Forecast on Google Sheet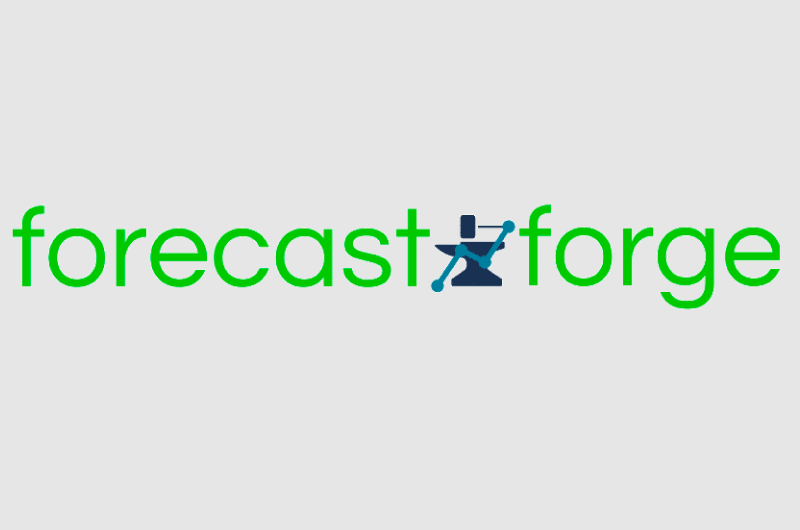 Forecast Forge is a platform for making forecasts. It uses a forecasting algorithm that works well for a wide variety of metrics. 
It has a user interface where users can import data, enrich it with their own information and interact with the final results to duplicate much of what a spreadsheet does. 
It should be noted that Forecast Forge works more on spreadsheets, especially on spreadsheets like Google Sheets. 
The tool makes it possible to forecast seasonal elements (weekly or annual). Thus, it captures the repetitive patterns that occur every week or every year. A week-to-week or month-to-month trend that does not vary too much and is not too large.
Contact : Forecast on Google Sheet
Social Media : Forecast on Google Sheet
Others Tools : Forecast on Google Sheet
Alexandre MAROTEL
Founder of the SEO agency Twaino, Alexandre Marotel is passionate about SEO and generating traffic on the internet. He is the author of numerous publications, and has a Youtube channel which aims to help entrepreneurs create their websites and be better referenced in Google.