Bing Webmaster tools | Bing
Short description : Bing Webmaster tools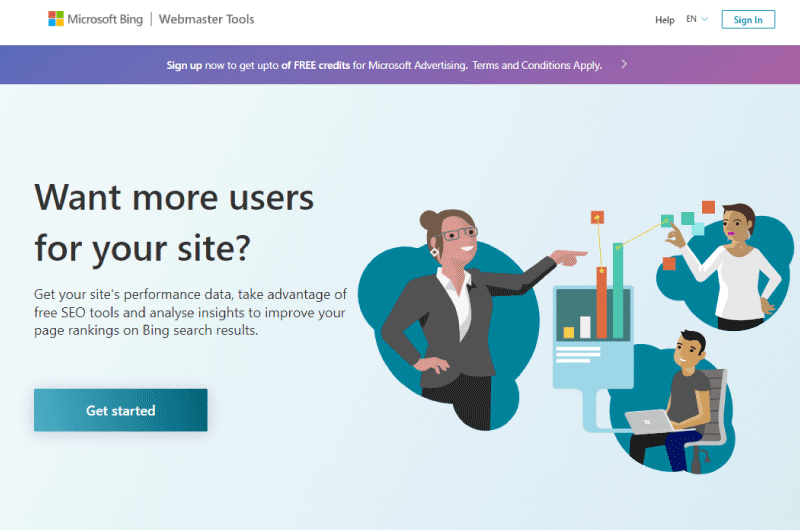 Want to analyze the performance of your site on Bing? Discover Bing Webmasters Tools and its functions.
Long Description : Bing Webmaster tools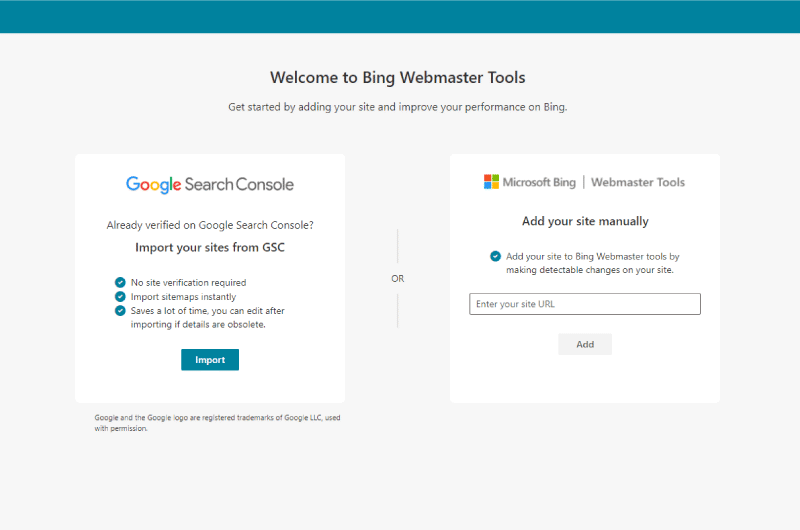 Bing Webmasters Tools
Bing is the second largest search engine with
2.88%
market share. This percentage is not that impressive.
But Bing is above all
1.3 billion
unique visitors per month and an estimated search volume of 12 billion worldwide. This means that your site can get a significant amount of traffic from that search engine.
Therefore, it is essential that your site is classified there. Like Google Search Console, Microsoft's search engine provides site owners with a set of tools called Bing Webmasters Tools.
In this description, we find out how to use this toolkit to submit your site to Bing. Finally, we also go through the features of the Bing Webmasters Tools.
What is Bing Webmaster Tools?
Bing Webmaster Tools is a free tool from Microsoft through which website owners and managers can add their sites to Bing's crawling index and ensure they are available on Bing Search.
Using this tool, you can see the performance you are getting from the Bing search engine and it allows you to troubleshoot and manage your website's presence on Bing Search.
Why is Bing Webmasters Tools important?
This set of tools will help you monitor the overall health of your site and tell you how your users are finding your site.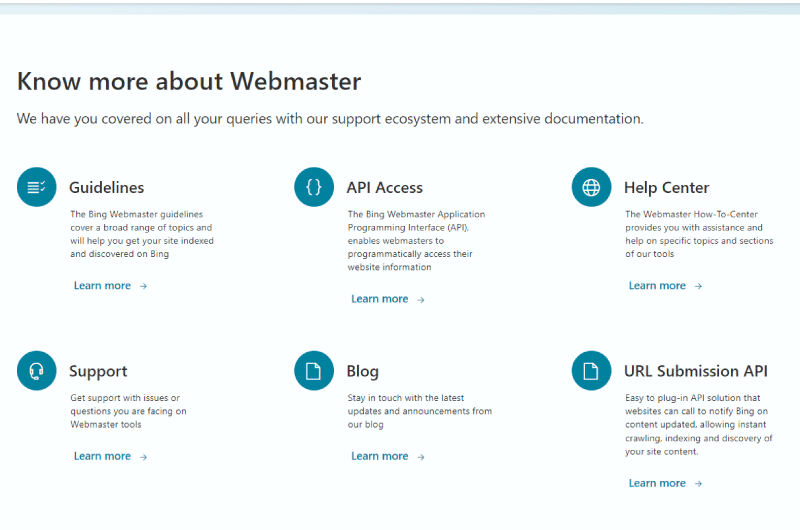 From this set of tools, you will be able to:
Monitor your site's performance for given keywords;

See how Bing crawls and indexes your site;

Submit your site or web resources for crawling;

Block any content that you do not want to appear in search results;

Disavow links.
All of these give you an idea of ​​how Bing perceives your website, so you can make appropriate adjustments to improve your rankings.
How do I configure websites for Bing Webmaster Tools?
To get started, you need an account. To do this, sign up for Bing Webmaster Tools. Then you can start submitting and verifying your URLs.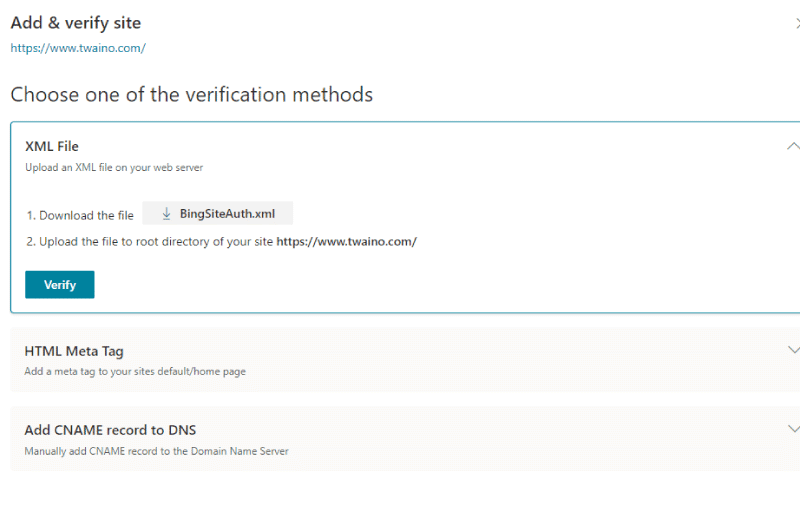 When your site is submitted to Google Search Console, all you need to do is import the settings and you're done.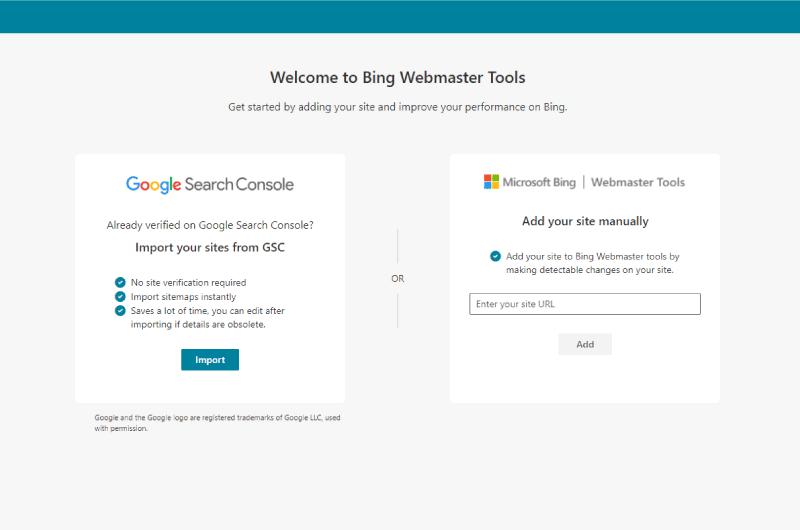 Features of Bing Webmasters Tools 
This tool provides numerous reports to help webmasters understand their sites.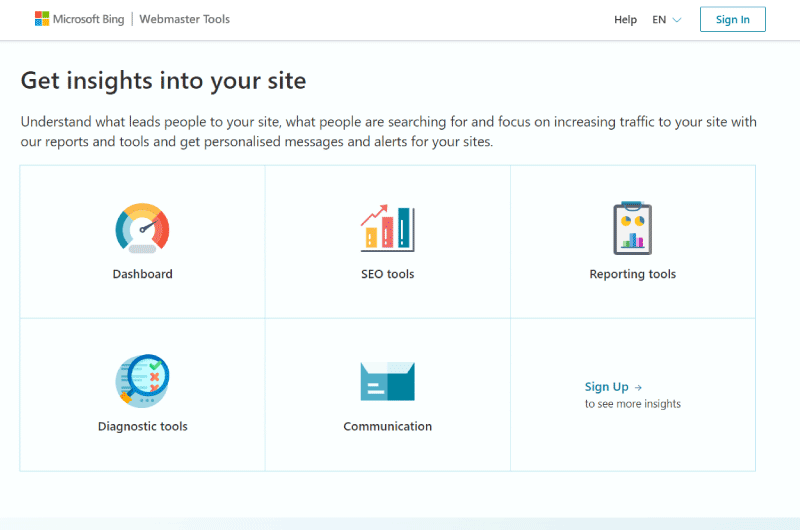 Tracking Search Performance on Bing Search Arguably
feature that website owners and marketers seek out is the ability to track search performance on Bing.
With the tab of the same name, you can quickly track search performance. In the Search Performance report, you'll see four main metrics to track:
Total clicks;

Total number of impressions;

average CTR;

Average search position.
It is possible to choose a period of seven days, 30 days, three months, six months or any other custom date. 
Below the section dashboard, you can filter search performance by keywords.
This filter feature allows you to see the exact performance of any keyword or any page. This way, you will be able to know which keywords and which pages are the most important for your organic traffic on Bing.
Sitemaps and URLs to submit
In the Sitemaps section, you will see:
Known sitemaps (previously submitted);

Any errors in current sitemaps;

Any warnings on current sitemaps;

And the total number of URLs discovered in said sitemaps.
Additionally, you can submit or resubmit sitemaps for your websites by clicking "Submit sitemap" and entering your sitemap link.
The most important thing is to check when Bing last crawled your sitemap and if the crawl was successful.
Also, make sure that the number of discovered URLs matches your sitemap. If it doesn't match, it should be submitted again.
In case of persistent problems, note the missing URLs since you will be able to submit the URLs directly to Bing's crawlers. To submit URLs directly, go to the "URL Submission" section and click on "submit URLs".
Bing Webmaster Tools SEO Features
If you want to improve your SEO performance to increase organic traffic to your website, Bing Webmasters Tools offers you a series of SEO tools.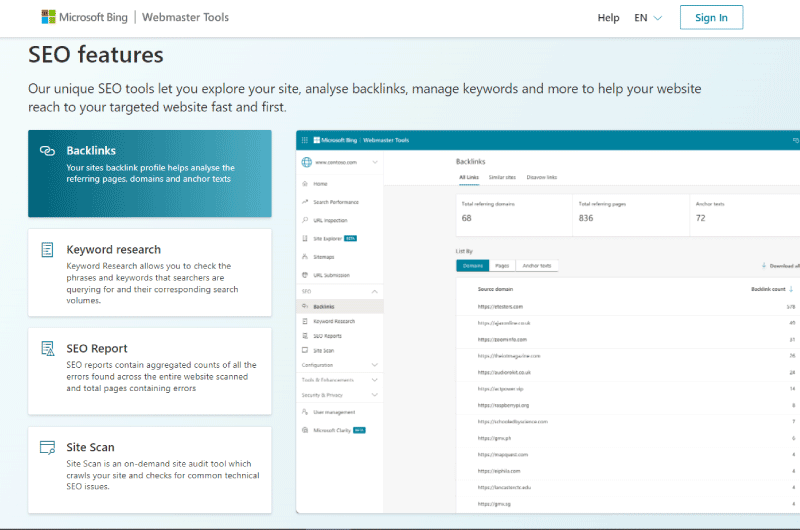 Backlinks
With the Backlinks tool you can see all backlinks, backlinked pages and anchor texts. This way, you can easily determine which domains refer to you and which are the referring pages.
One of the interesting functions of the "backlinks" tool is the "similar site" function. This can be used to compare you to your competitors and see how well your backlink profile matches that of your competitors. 
Keyword Research
Using the Bing Webmaster Tools Keyword Research tool, you'll discover new keywords and keyword combinations to use in your SEO strategy.
The keyword filter can be used by country, language, device and time period. 
After searching for a keyword, you'll see how many impressions that keyword garnered in a given time period, with an overall breakdown of impressions by country. 
The tool also suggests related keywords for any query you just made. You can also see a trendline with the impression that said keyword got.
SEO reports and site analytics SEO
reports let you know if your pages have SEO issues that you need to address.
It makes identifying errors a quick process, and then walks you through how to fix those issues. Additionally, you can perform an analysis of your entire website, sitemap, or list of URLs.
The goal is to analyze common technical SEO issues with your website that you can fix to improve performance on Bing.
Crawl Control, Blocking URLs, Testing Robots.txt
In the settings tab, you can control how Bing crawls your website. You will also find a URL blocking function that allows you to block specific URLs that will not be indexed on Bing Search.
You can also test and edit your robot.txt files under the "Tools and Enhancements" tab.
Adding users in the Bing Webmaster Tools
Bing Webmaster accounts for each site can have multiple users and each user can have different restrictions depending on your needs, including:
Administrators;

Read-only;

Read-write.
Adding users is simple, click the "Add User" button, give an email address, role and access field.
In sum, Bing Webmaster Tools is an SEO toolkit for tracking the performance of organic traffic from Bing.
Videos : Bing Webmaster tools
Images : Bing Webmaster tools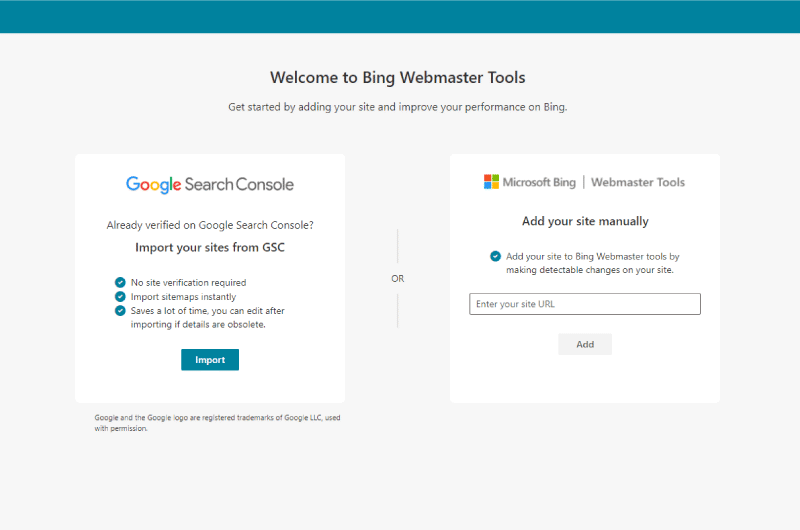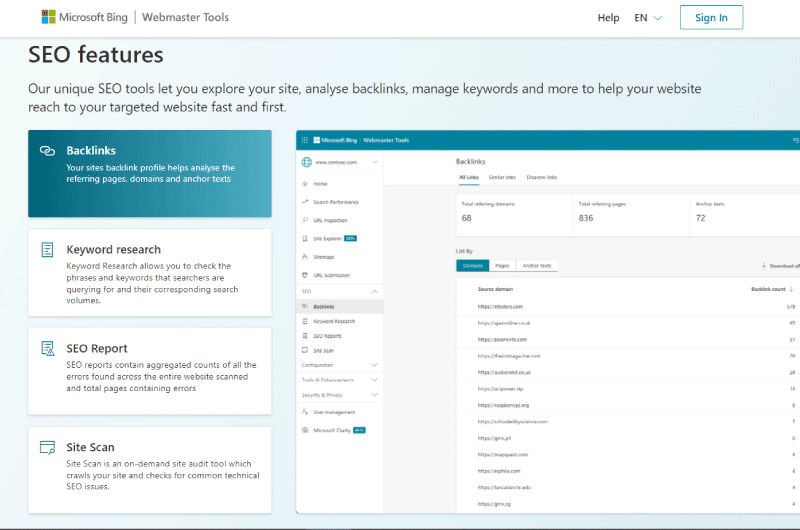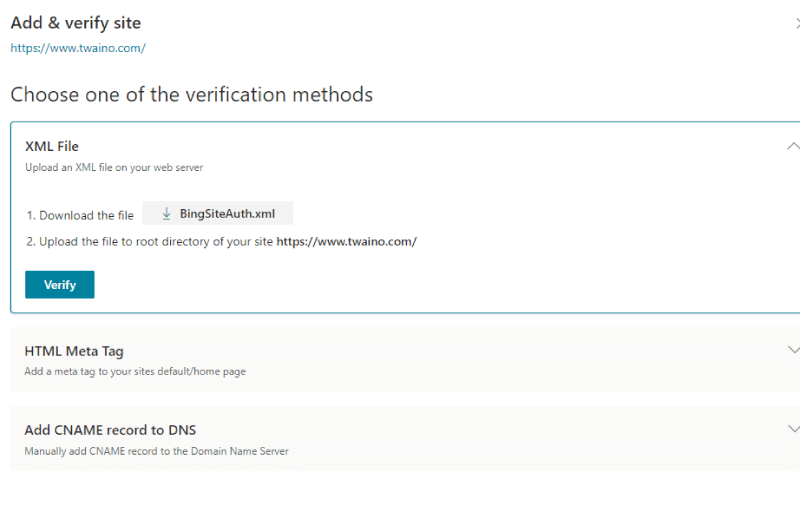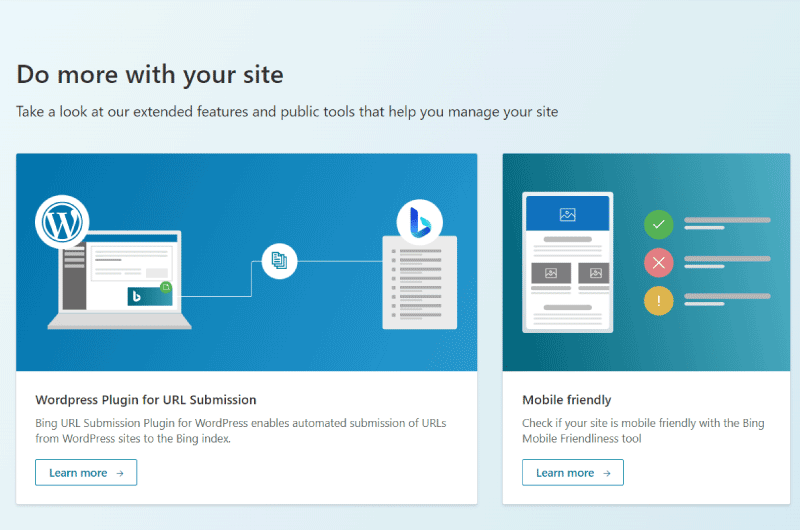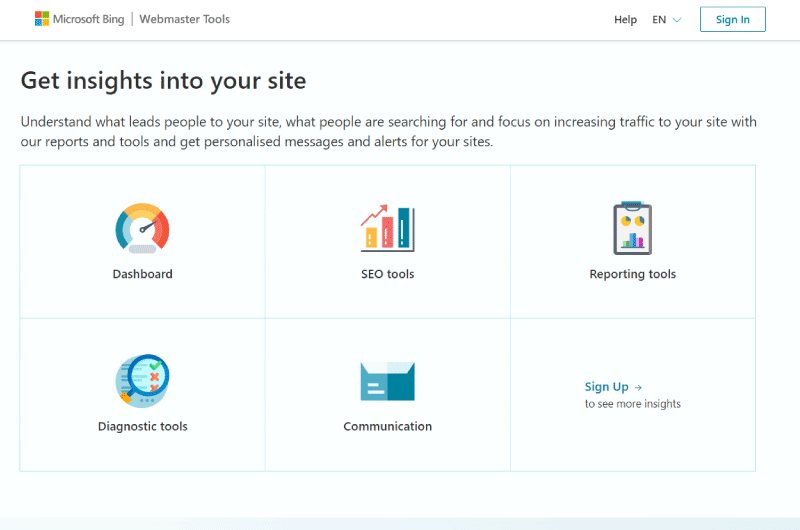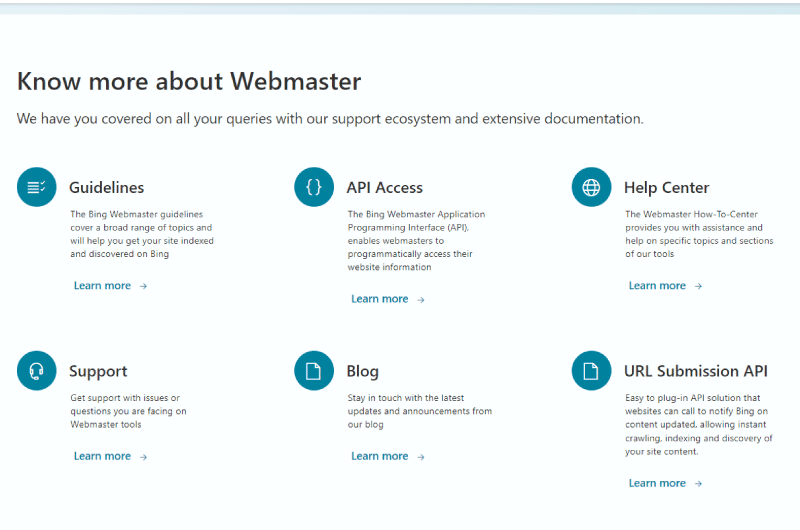 Company : Bing Webmaster tools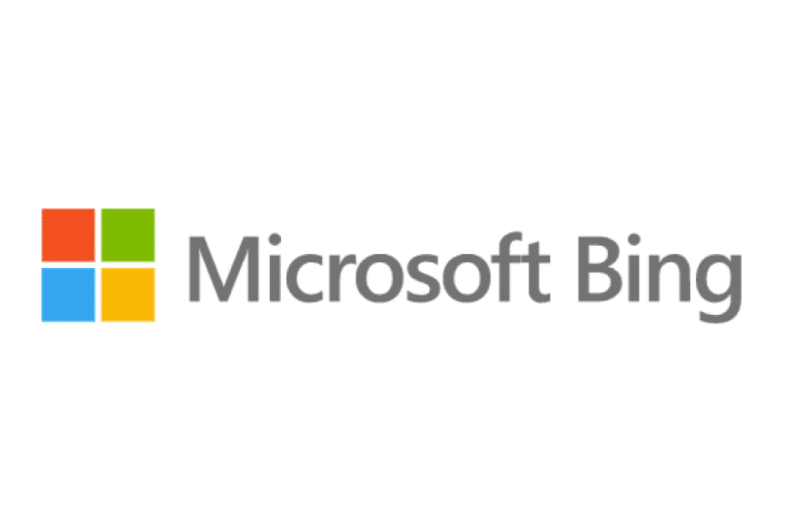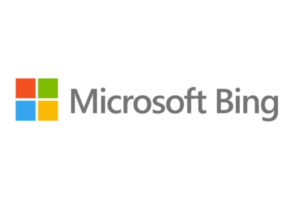 Microsoft Bing, or simply Bing, is a search engine developed by Microsoft. It was released in 2008 and went public on June 3, 2009. Bing's release revealed a shift in Microsoft's business strategy, which separated its search engine from its suite of Windows Live applications.
Bing provides its users with many tools such as the Bing Webmaster tools for the SEO management of their sites. 
These tools make it possible to obtain information on the performance of sites in terms of research, links, keywords and indexing. 
The Bing Webmaster tools tool has the overall aim of ensuring better analysis of site data in order to facilitate their optimization so that they appear at the top of the rankings in its search engine.
Contact : Bing Webmaster tools
Social Media : Bing Webmaster tools
Others Tools : Bing Webmaster tools
Alexandre MAROTEL
Founder of the SEO agency Twaino, Alexandre Marotel is passionate about SEO and generating traffic on the internet. He is the author of numerous publications, and has a Youtube channel which aims to help entrepreneurs create their websites and be better referenced in Google.