WordPress caching | WP Rocket (Plugin)
Short description : Wordpress caching
WP Rocket: More than just a caching plugin, WP Rocket also offers other features to boost the performance of your Wordpress site
Long Description : Wordpress caching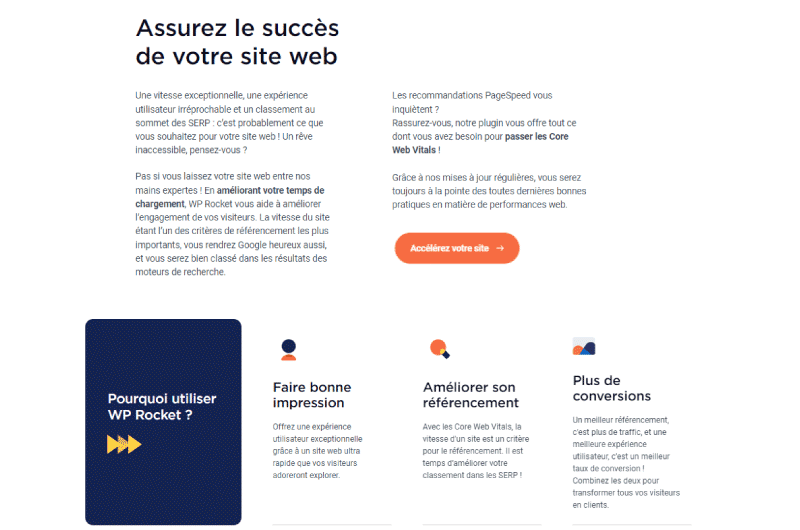 Description WP Rocket
WP Rocket is a premium caching plugin cache designed to help WordPress website owners optimize their site's loading speed for better
SERP
. 
More than a caching solution, WP Rocket also offers other automated SEO features such as file optimization, lazy loading, cache preloading, Javascript code execution deferral, removing unused CSS resources and much more.
These are important features that can dramatically improve your site's loading speed and user experience for visitors. Which can potentially translate to higher rankings on search engine pages and improved conversion rates. 
What is WP Rocket? 
WP Rocket is a caching plugin developed especially to help WordPress website owners improve their loading speed and achieve good rankings on
SERPs
. 
WP Rocket was launched in 2013, in a context where most caching solutions developed at the time were old-fashioned and difficult for users to learn. 
WP Rocket has therefore revolutionized the caching plugin market by offering a modern and intuitive interface that is easy to use with excellent technical support. 
Source:
WP Rocket Documentation
Today, the plugin is considered one of the most powerful in its category and powers over 90,000 websites. 
WP Rocket: The main features 
WP Rocket is a premium solution for setting up a caching system on your WordPress site. 
But at the same time, there are a host of other caching plugins that are popular and completely free on WordPress. 
To justify its premium price, WP Rocket also offers other SEO features that generally help improve the performance of your website. 
To discover the extent of these features, let's take a tour of the WP Rocket dashboard of a real client: 
Note
: If while changing a setting, you feel lost or confused, you always have a "Need help" button that you can click on and bring up a pop-up window directly on your Wordpress dashboard. 
Source:
Winning Wp
1. Basic configurations on WP Rocket 
One of the interesting things about WP Rocket is that the plugin works automatically the second you activate it. 
Most of the built-in features already work without you needing to do any configuration. Which is very practical for beginners in SEO. 
Source:
AAWP
Without going into the settings, you can already benefit from: 
Page

caching Browser caching

And GZIP compression
These are 3 factors that can dramatically improve your site's performance. 
The rest of the settings are optional features that you can do without. 
However, if you still want to boost your SEO performance, here are the rest of the WP Rocket features to discover through the different tabs present on the dashboard: 
2. The Dashboard 
tab The Dashboard tab does not have any settings as such, but we thought of adding it to the list of features because it allows you to perform some quick tasks. 
Concretely, from the Dashboard tab you can empty your used CSS cache and activate cache preloading.
Source:
WP Rocket documentation
3. The Cache
tab The "Cache" tab allows you to modify some parameters in the caching system of your site: 
Source:
WPBeginner 
Among the modifiable parameters, you have the possibility of: 
Activate the caching for mobile users
to provide a better user experience of your site on both desktop computers and small screens. 
Enable caching for logged in visitors
. WP Rocket reserves a separate cache for visitors who have a personal user space on your website. 
But if you do not offer the creation of personal accounts, it will not be necessary to activate this feature. 
Set cache lifetime
. This is the time limit that WP Rocket must keep the version of a page in cache before deleting it. 
By default, the lifetime of caches on WP Rocket is 10 hours. Depending on your preferences, you can lengthen or shorten this duration. 
4. The File Optimization tab
As the name already indicates, this tab allows you to optimize the CSS and Javascript files present on your website.
Source:
WPBeguinner 
For this, the plugin offers features like: 
Ability to delete unused CSS files 

Delay Javascript execution

Minify CSS files

Combine 

Javascript

Combine JavaScript files

And many more. 
5. The Media tab 
In the "Media" tab, WP Rocket offers features that mainly serve to boost the loading of your media files such as images, videos, etc.
Source:
WPKube
Among the features you will find in the Media tab, we have: 
The Lazy Load

so as not to load all the images and videos contained on a page in bulk, but as the visitor scrolls down the page

One YouTube statistics preview image

to load the actual video only when the user clicks on the preview image

 Automatically add missing image dimensions

to prevent layout changes. 
6. The Preload tab
What is observed on the majority of other WordPress caching tools is that a page is taken into account in the cache only after having received a visit. 
As a result, when a cache is emptied, the FIRST visitor who comes immediately after will not benefit from a cached version of the page. 
This can affect the site's conversion rate, especially if it receives a fairly limited number of visits. And even for a frequently visited site, this can still be a potential conversion loss. 
WP Rocket has therefore offered a feature that allows you to preload a cache, even if the page has not yet recorded its first visit. 
Source:
Code Tahiche 
It is also in the Preload tab that you can prefetch DNS queries and fonts to give a boost to the loading of certain files. 
7. Advanced rules tab 
If you are not an expert in the field, you can ignore this tab. 
Source:
WP Rocket Documentation 
As its name suggests, it essentially allows you to perform advanced settings such as: 
Exclude certain URLs from the caching system such as form pages for example

Remove certain cookies and user-agents from elements to cache

Indicate the URLs whose caches must be emptied systematically before a new article is put online  

Force the caching of pages in certain contexts
8. The Database tab
During the lifetime of a website, its database is called upon to store a bit of everything.
WP Rocket allows you to clean up and rid your database of content that is not really necessary for the operation of the site such as: 
Post revisions 

Automatic draft saves 

Spam content

Etc. 
Source:
WP Rocket
You also have the option of configuring database cleaning so that WP Rocket does it for you periodically. 
9. The 
WP Rocket CDN tab also gives you the option to use a content delivery network (CDN), useful for improving the loading speed of your pages on your visitors' devices, even those who are online. other side of the world. 
Source:
WP Rocket 
For this, WP Rocket offers two integration possibilities: 
Use

official Rocket CDN

, the official CDN service offered by WP Rocket 

Or other external CDN services (KeyCDN, StackPath, Amazon CloudFront…)
You can go further further by defining which files to consider and exclude from CDN delivery.
10. The Heartbeat tab 
Since 2013, WordPress has implemented the Heartbeat API which continuously broadcasts requests to the server of WordPress sites in order to maintain real-time reception and synchronization of data. 
Although it makes it easier to perform certain tasks on WordPress, the Heartbeat API can saturate your server since it is constantly under pressure. 
Thanks to the Heartbeat tab of WP Rocket, you can control the frequency of activity of the Heartbeat API or disable it altogether. 
Source:
WP Rocket
11. The Add-ons
tab This tab offers the possibility to add certain add-ons to extend the functionality of WP Rocket. 
Source:
WPKube
The add-ons offered are: 
Varnish

WebP Compatibility

Sucuri

 Google Tracking

Facebook Pixel

Cloudflare
WP Rocket: Advantages and Disadvantages
Advantages 
User-friendly and easy-to-use interface

Excellent support (also available in French)

documentation

with video tutorials 

Possibility of reimbursement in 14 days after purchase in the event of dissatisfaction

All-in-one solution that frees you from installing separate plugins to perform other tasks (minification, lazy loading, database optimization, report execution of Javascript codes, removal of unused CSS resources, CDN, etc…)

Frequent updates with new features added

Easy configuration compared to plugins like W3 Total Cache (WP Rocket already works from activation without even make any settings)

Caching features and more 

Accessible to beginners
Disadvantages
Does not offer no free version or free trial period

Some advanced features may be difficult for beginners to understand even with documentation

Technical support does not offer live chat

High price compared to some competitors

Some additional features may be charged extra
WP Rocket: Who is the tool for? 
WP Rocket is suitable for a wide user profile: 
Beginners due to the simplicity and ease of use of the plugin

SEO specialists and Webmasters for advanced features
WP Rocket: Pricing 
WP Rocket is a premium plugin that offers 3 licenses to choose from according to your needs: 
Infinite at €237 per year
Click here to find out more.
Videos : Wordpress caching
Images : Wordpress caching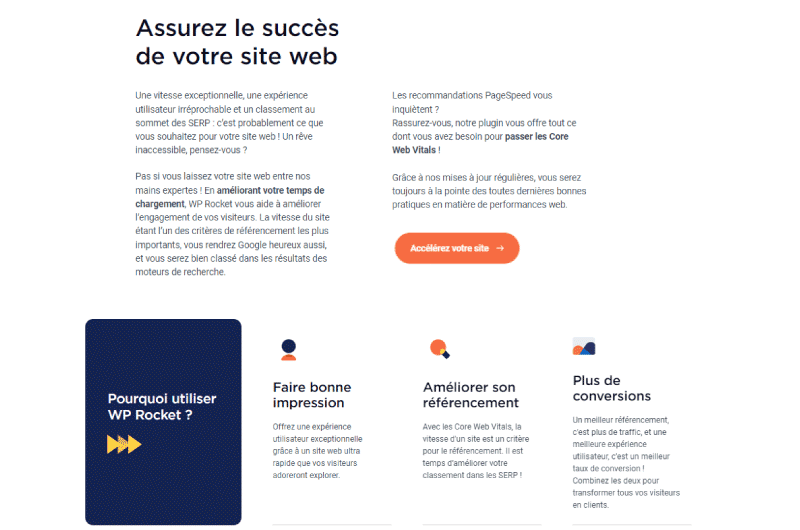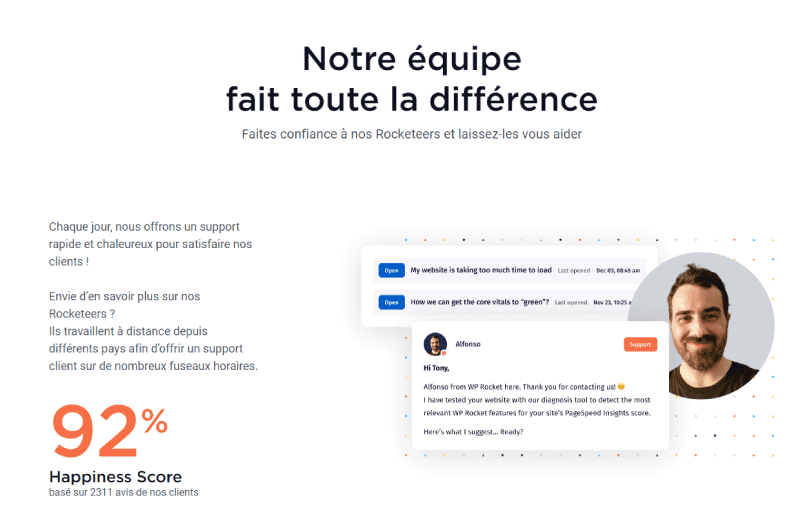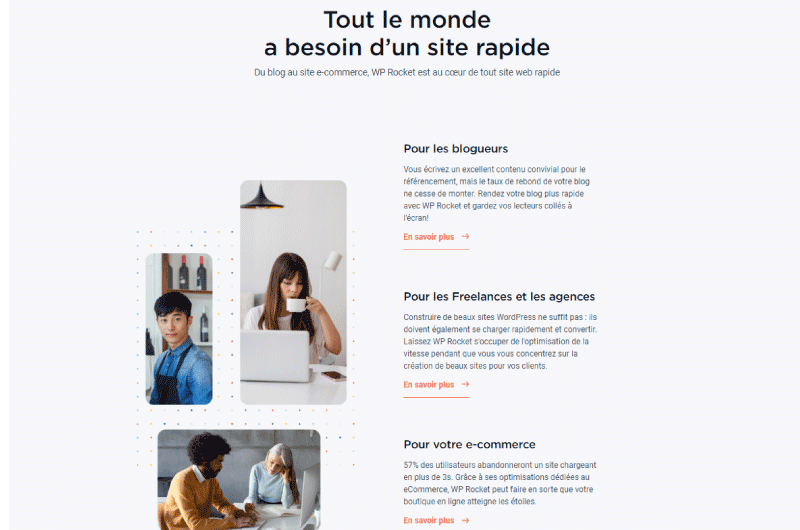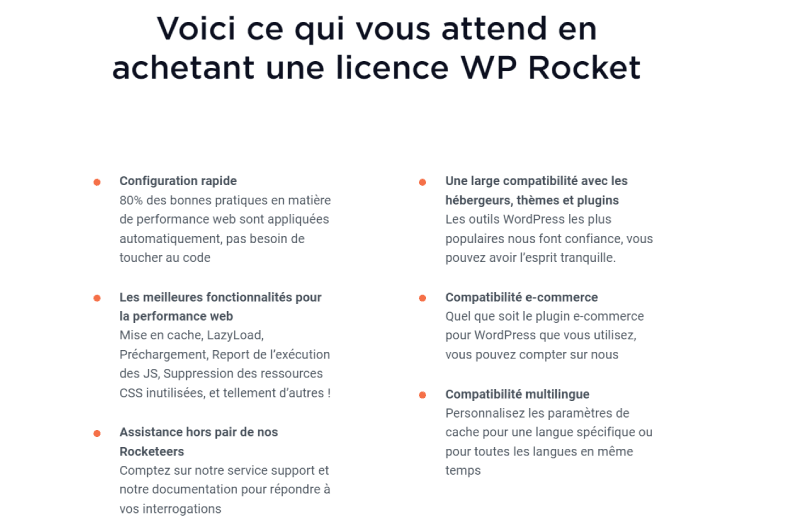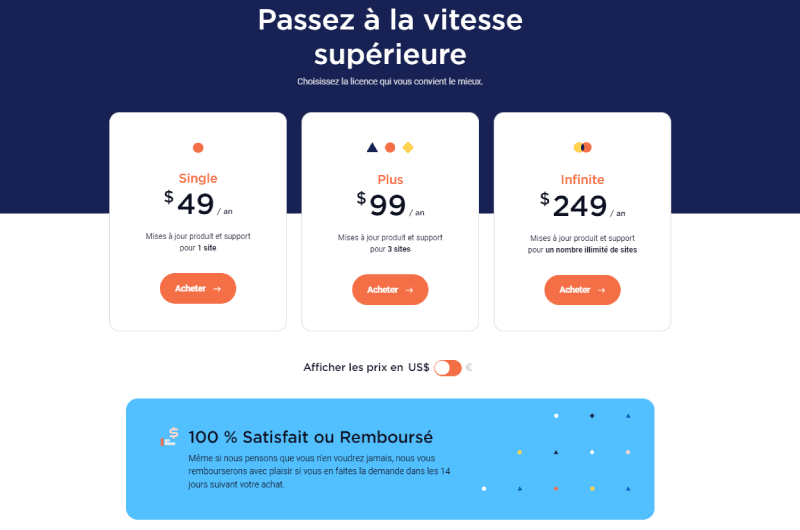 Company : Wordpress caching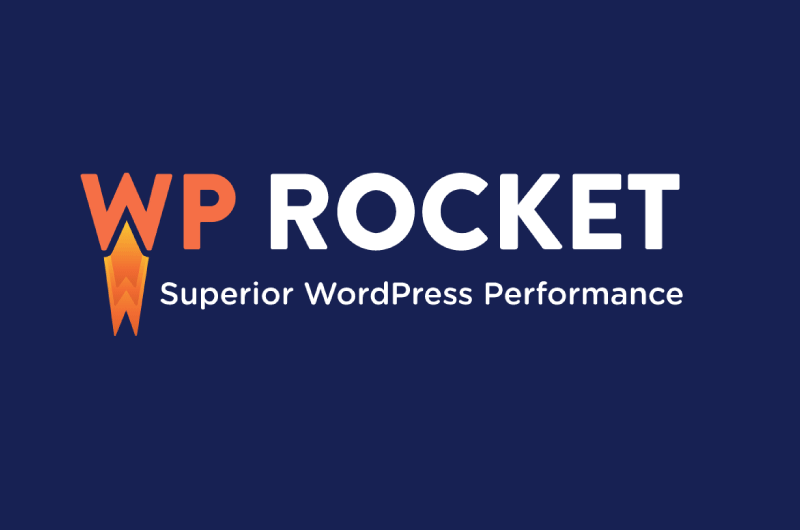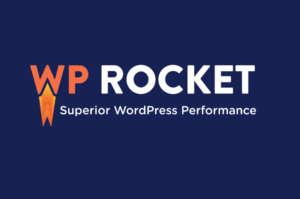 WP Rocket is a company whose co-founders are Jonathan Buttigieg and Jean-Baptiste Marchand-Arvier, both web developers. 
Founded in 2013, the company's mission is to provide professionals and businesses with faster and therefore more efficient websites. It is for this reason that they developed the WP Rocket tool of the same name as the company.
The WP Rocket tool is normally considered a WordPress caching plugin. But in reality, it is an all-in-one web performance platform.
So, to have excellent speed and to better optimize your site for Core Web Vitals, you can use this tool. The latter mainly allows you to:
increase your page speed scores in just a few clicks;

save time for other projects;

optimize the speed of your website;

improve your website;

improve your SEO;

bring more conversions.
Available in a freemium version, it is aimed at bloggers, but also freelancers as well as SEO and marketing agencies. Finally, it can be used by e-commerce site owners.
Contact : Wordpress caching
Social Media : Wordpress caching
Others Tools : Wordpress caching
Alexandre MAROTEL
Founder of the SEO agency Twaino, Alexandre Marotel is passionate about SEO and generating traffic on the internet. He is the author of numerous publications, and has a Youtube channel which aims to help entrepreneurs create their websites and be better referenced in Google.