Predictive Market | TrendSpottr
Short description : Predictive Market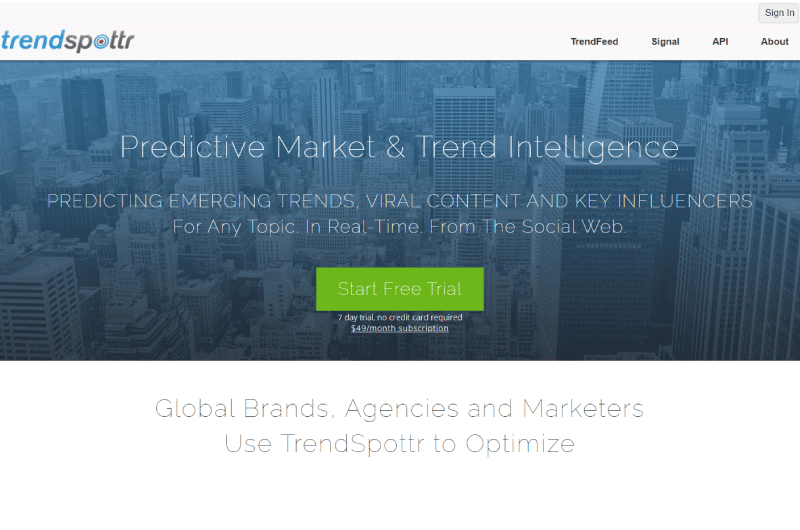 PREDICT EMERGING TRENDS, VIRAL CONTENT AND KEY INFLUENCERS for any topic. In real time. From the social web.
Long Description : Predictive Market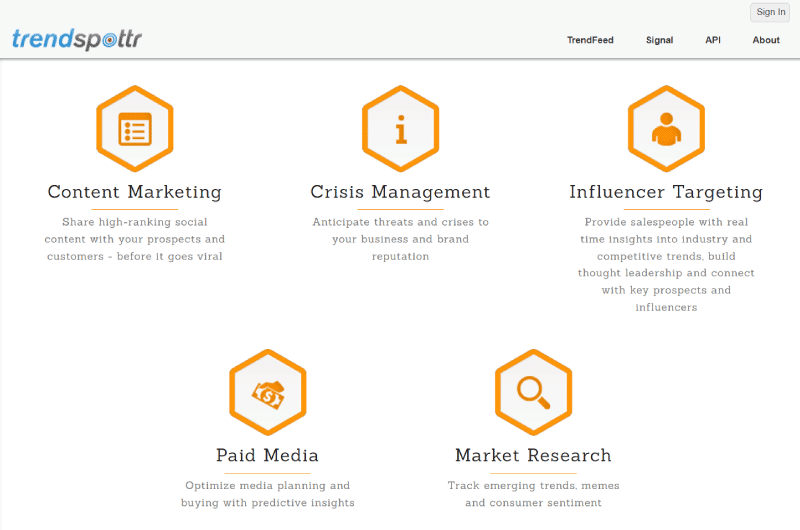 Description TrendSpottr 
Trends are a valuable resource for businesses. Unfortunately, many of them are still unaware of important signals that could help them attract new customers and generate more sales. 
This can be valuable information collected on weather, finances, health, or any other topic or focus that may impact sales or business conversions.
TrendSpottr is a solution that helps brands "turn social media noise into actionable early signals". 
The service is highly appreciated by brands, organizations and advertisers who use it as a tool for analyzing growing trends on the social web. 
What is it really about?

How does TrendSpottr work?

What are the specificities of the tool? 

And how to use it? 
We talk in this content for a complete description of the tool!
About TrendSpottr? 
TrendSpottr is a predictive analytics platform available on the cloud that identifies and predicts future trends in real time from data streams collected from social media such as Facebook and Twitter. 
Source:
TrendSpottr
The service allows users to be one step ahead by being informed of news, events, crises, etc. that may impact the market. 
The tool helps access this information hours or even days before it becomes popular or goes viral and reaches the mainstream. 
The purpose of the tool is to provide brands with valuable information that can be used for promotional, editorial or other purposes to increase their customer base. 
TrendSpottr also helps spot trends and the influencers directly associated with them. These are usually emerging influencers with significant viral potential that can be sorted and contacted. 
Source:
RenderForest 
Equipped with a powerful and intelligent algorithm, TrendSpottr processes data in real time, classifies it by relevance and then predicts its growth and viral potential. 
In other words, it's a solution that helps businesses of all sizes and in all industries get ahead of the competition by identifying what's about to happen, long before this does not happen. 
Who is TrendSpottr for? 
The TrendSpottr predictive trend intelligence platform can be used by: 
International brands 

Marketers 

Digital and PR agencies. 
The tool can also be used by
financial services companies
(hedge fund managers, news organizations, etc.) to collect predictive intelligence on individual stocks and macroeconomic events that may impact financial markets. 
Source:
TrendSpottr
Publishers
and news agencies
can also use TrendSpottr to identify topics and events with high viral potential to produce relevant and timely content for their audience.
TrendSpottr: How does it work? 
The operation of TrendSpottr is similar to that of search engines: you enter a search term and then access a list of proposals relevant to your request. 
Source:
ActiveCampaign
It can be a keyword, a theme or an "@" followed by the name of a personality, an establishment, etc. The tool will then generate a list of trends related to the search term entered. 
To your left, you also have a sidebar that lists 200 industries (Sport, Banking & Finance, Education, Fashion, Healthcare, etc.) that you can click on and explore trending topics specific to a specific industry. . 
Source:
ActiveCampaign
TrendSpottr's algorithms work to identify trends on the web that are rising at a certain rate of growth in order to predict their virality. 
This allows you to have an eye on viral opportunities to exploit to improve your business
TrendFeed
. 
TrendSpottr: Important Features to Note 
Spot sources that are hard to find with traditional search 

Identify emerging trends in your industry that have high viral potential 

Crisis Management

Stay ahead of the competition by noticing upcoming trends first viral news and events likely to impact the market

Influencer monitoring with impact score

Configure personalized alerts for any search term (keyword, theme, hashtag…) to be notified in real time by e- mail 

Take advantage of several brand tools: 

Trend Feed

,

TrendSpottr Signal

and

TrendSpottr Alerts

Possibility of integrating TrendSpottr on other platforms (Hootsuite, Salesforce, Twitter, etc.)

Access to a dashboard and possibility of exporting the results 

Managing your brand reputation 
Pricing
Starting price

: $49 per month

Free trial

: Free trial available.
TrendSpottr: Lists of Integrations 
Check below the list of integrations that integrate with TrendSpottr: 
Salesforce

Hootsuite

Twitter

Savicom

Sprinklr

Accenture Cloud Retail Execution

Ipsos Retail Performance
Take advantage of TpendSpottr predictions to get more conversions
There are several scenarios in which the TrendSpottr's predictive ability may come in handy. 
Example 1 
Let's say a video has been made available on YouTube in which a dog plays a musical instrument while singing has 400 views. By analyzing the engagement around that particular video, TrendSpottr can predict if it will hit the million-view mark and when. 
By discovering such information, you can rent ad space on that video at an affordable price before it explodes. This represents a lower advertising cost for a significant potential return. 
Example 2
Suppose your company specializes in the production and sale of dairy products. You then create a blog to discuss the benefits of milk and present your products. 
Due to the strong competition that can be observed in the sector, it is difficult for you to achieve the desired visibility. Your main competitors already have large social media communities and invest millions in online advertising. 
With TrendSpottr, you can set up an alert and identify topics in your industry that are about to explode and have the potential to impact the market. 
You will then be able to stay ahead of the competition and be among the first to publish content on viral-only topics. 
Consumers will start to engage with your site. Which will increase your brand authority. 
So many examples to take advantage of the TrendSpottr prediction capability to improve your sales figures. 
Videos : Predictive Market
Images : Predictive Market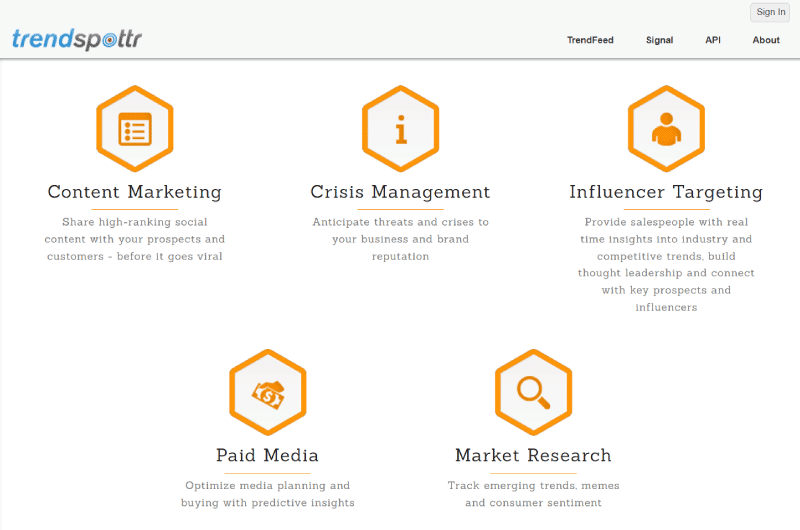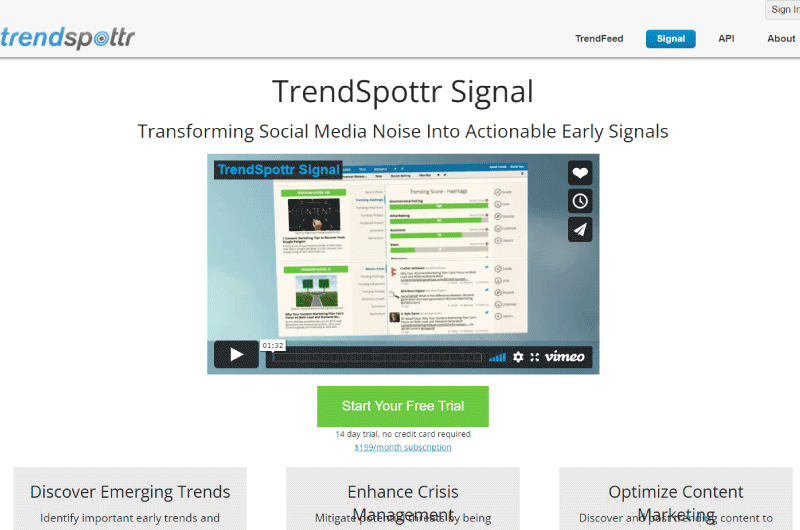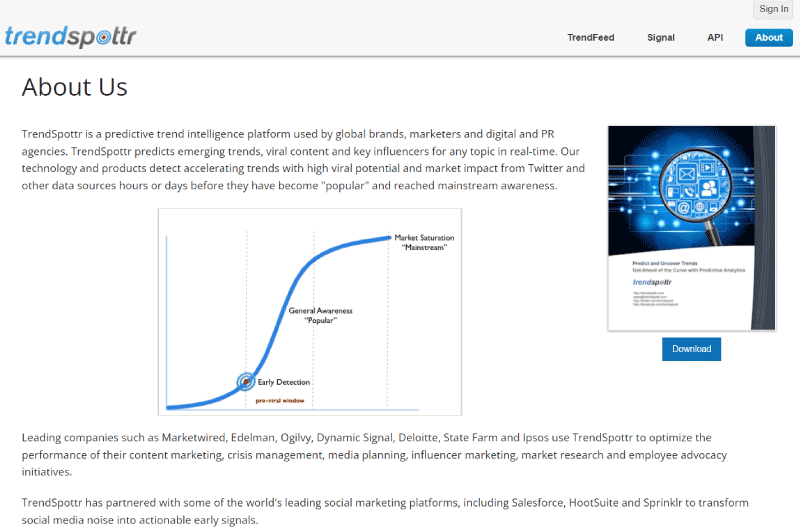 Company : Predictive Market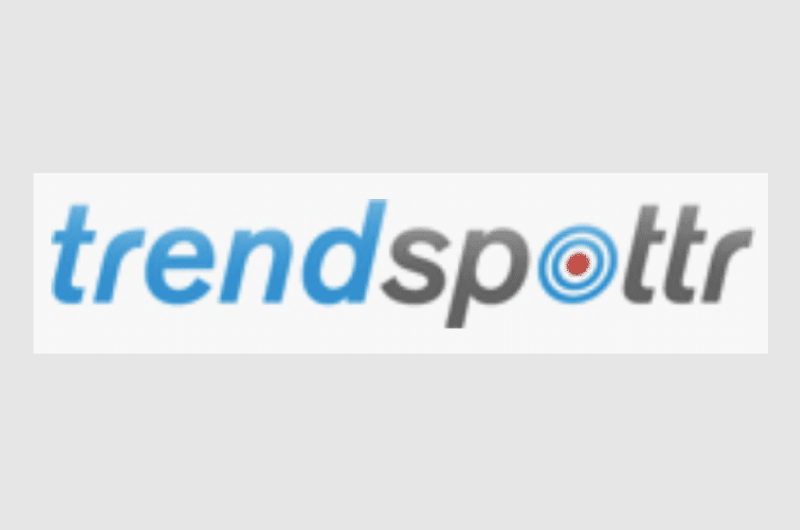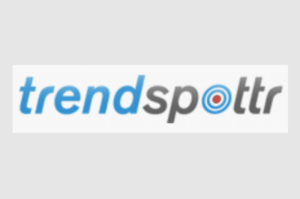 TrendSpottr is a predictive trend intelligence platform. It is used most often by marketing experts, global brands, digital and PR agencies. 
The latter generally use it to share high-value social content with their customers, but also with prospects. 
TrendSpottr is very interesting in that it can anticipate emerging trends, viral content and key influencers for any subject in real time. 
This tool also allows crisis management. Indeed, the technology it uses gives it the ability to predict the various threats or crises that your business may suffer. It also intervenes in the reputation of your brand and not only that. 
TrendSpottr also acts on:
market research;

targeting influencers;

paid media.
Contact : Predictive Market
Social Media : Predictive Market
Others Tools : Predictive Market
Alexandre MAROTEL
Founder of the SEO agency Twaino, Alexandre Marotel is passionate about SEO and generating traffic on the internet. He is the author of numerous publications, and has a Youtube channel which aims to help entrepreneurs create their websites and be better referenced in Google.