AI & Web Copywriting | GrowthBar
Short description : AI & Web Copywriting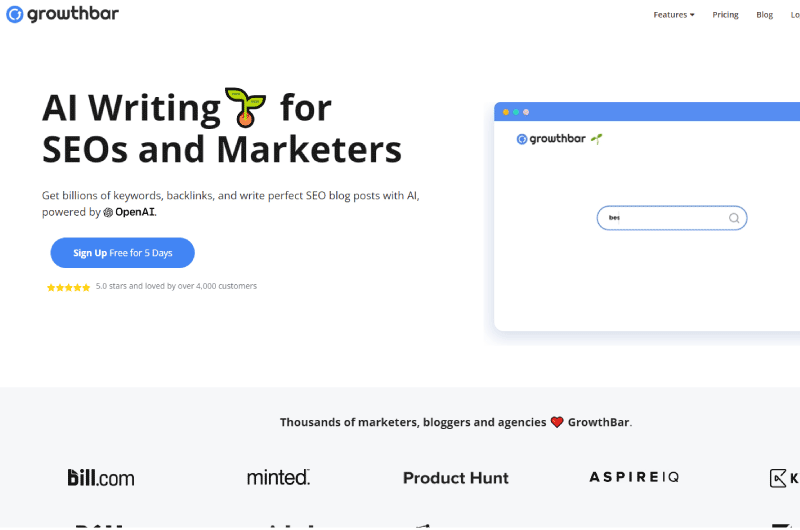 Discover all the different features of the GrowthBar SEO tool and effectively improve your Google SERP ranking.
Long Description : AI & Web Copywriting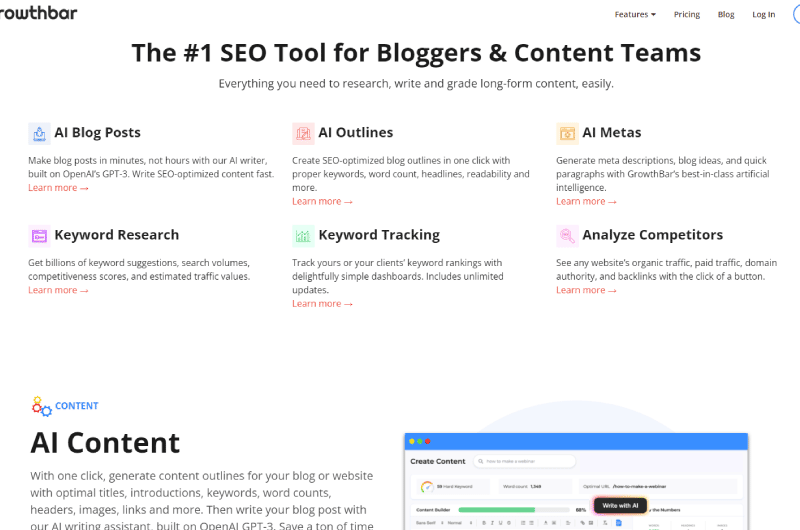 Description GrowthBar SEO SEO
has recently become the keystone of all digital marketing strategies. But do you still need to know how to quickly create good content that perfectly covers all aspects of optimizing your website for search engines?
Generally, it is possible, but many difficulties sometimes hinder the success of such an SEO project. Faced with these difficulties, companies have implemented certain tools to help bloggers, marketing agencies and SEO professionals to do well.
In this universe, these tools are numerous and most of them use the Artificial Intelligence technology to automate all SEO tasks. This is the case of GrowthBar SEO and I invite you to discover in this article the main features of its features. Follow me, you are under good escort. 
Presentation GrowthBar SEO
GrowthBar SEO is a SEO tool that supports you in all of your content marketing strategy. It brings together several SEO options that make it easy to find, create and rate long content.
To do this, the tool is based on Artificial Intelligence powered by Open AI. The latter is an AI research and development company located in San Francisco and whose mission is to bring this technology to the benefit of all humanity.
Concretely, GrowthBar SEO makes it possible to generate SEO content appreciated by the Google search engine by involving AI in all strategic aspects of writing.
With the tool, collect hundreds of millions of keywords, backlinks so that your blog posts rank better in Google's SERP.
GrowthBar SEO is used by a lot of marketers, but mostly bloggers and web content agencies. It is therefore clear that the tool can participate in the visibility of your site to people interested in your various online activities.
It should also be noted that GrowthBar SEO can be used in two ways. The first as an independent web application and the second as a Chrome extension. Either way, you are entitled to a 5-day free trial.
After the trial, GrowthBar SEO offers you three subscriptions. Each of these subscriptions entitles you to various options or features that are beneficial for your e-marketing. These are the following subscriptions: Standard, Pro and Agency.
Moreover, faced with competition from companies in their sector of activity, several approaches are used by them in order to stand out in the market. But the one that is most used is SEO, because this approach promotes a good ROI. 
Indeed, the ROI or Return On Investment, in French Return On Investment is a marketing indicator among many others. It tells you if your marketing actions put in place obtain convincing results with regard to the means and resources used.
The different features of SEO tools are generally those used to achieve the famous marketing ROI. I therefore take advantage of this statement to make you discover the different features of
GrowthBar SEO
.  
Features of GrowthBar SEO Conducting 
an SEO project guarantees traffic to your site and ipso facto marks your visibility in Google's SERP. Thus, through these different features and tools, GrowthBar SEO can support you.
AI Blog Posts
This feature allows you to design quite long blog posts in a short time. In principle, writing long format content is a way to boost your SEO and improve your business on the web. 
This type of content generally brings more detailed and concise information to your audience. This arouses the target's interest in the product or service to be sold.
GrowthBar SEO through this feature allows you to have these types of content in an automated way.
In addition, it is original content, optimized and generated by GPT-3 AI. Here are a few points of the advantages offered by this feature.
Paragraph generation;

Faster AI to get content;

Optimization of your content;

Additional AI write options.
Be that as it may, writing long-form content articles is a particularly time-consuming task that necessarily mobilizes certain skills, structuring, accuracy, but also, and above all, time. This feature is therefore timely to help you with your SEO.
AI Outlines
The Outlining step is essential for writing your various content. This is the step that requires you to make a plan to better organize content. 
Concretely, the AI ​​Outlines feature accompanies you in the creation of the plan by allowing you to collect hundreds of ideas for titles, FAQs and more.
To do this, enter the query, get the structuring elements of the plan and with the help of a drag and drop, set up your SEO editorial strategy. So create through this feature of GrowthBar SEO complete blog plans for writing your content through its GPT-3 editor.
AI Metas
Metadata are the first things that show up in the SERPs and that you read before reading the content. Note that Internet users use hot reading when they are looking for information. 
In other words, in order to find the information they want when entering a query, they peek through the SERP. And what they notice first is the metadata, usually the title and the meta description.
To this extent, special care should be taken when designing your metadata. AI Metas from GrowthBar SEO easily covers this necessary task for your content marketing. 
So instead of wasting time trying to manually stick to the 155-160 character meta description, let GrowthBar SEO handle it for you. Indeed, this feature allows you to automatically generate metadata for your content.
Keyword research
Keywords are the power of SEO. It is also the latter that allow you to be better referenced for search engines.
This GrowthBar SEO Keyword Generator allows you to harvest hundreds of millions of keywords, but is not limited to that. In fact, beyond getting the keywords, this tool also generates long-tail keywords.
It further presents you with keyword search volume, competitiveness and more. All this helps you in your content strategy and allows you to better position your site on the first page of search results. The functionality mainly allows to:
identify long-tail keywords;

get an idea of ​​the keyword difficulty score;

know the volume of searches;

get an overview of the keyword's estimated cost per click through Google Ads;

know the value of position 1
What you need to understand is that GrowthBar SEO's Keywords Research allows you to organize, plan and write quality content.
Keyword Ranking Tracking Tool
This is a ranking tracking tool for keywords used in your content marketing. In fact, Keyword Ranking Tracking Tool allows you to track hundreds of thousands of words across many websites.
Concretely, GrowthBar daily and repeatedly scratches the SERP of Google so that you have an idea at all times of the precise ranking of your keywords. So you can use the data collected from this strategy to make your SEO more effective.
Working in any language, this GrowthBar SEO tool collects detailed and valuable information as you develop your SEO approach. 
In fact, Google rankings are not always stable. It happens that one day the ranking leans in your favor and that another day, the ranking disadvantages you.
This is why it is often recommended to analyze rankings over fairly long periods of time in order to be aware of trends. This feature is therefore a considerable asset if you are a company with a professional website. 
Analysis of competitors
Competition is a motivating factor for some companies and it is precisely this that prompts them to set up strategies, whether for content or advertising marketing. It is the trigger to seek new benchmarks and impose itself in the SERPs.
With this Growth Bar SEO feature, you can have all the vital information about your competitors at your fingertips. This will allow you to better manage your SEO and/or blogging approach. 
Indeed,without competition, companies will never seek to improve their marketing strategies. They will limit themselves to their one and only strategy without foreseeing other perspectives.
It is therefore appropriate to stand out in any sector of activity to analyze its competitors. This is vital for your company since doing a competitive analysis allows you to find other approaches to improve its different strategies.
To sum up, the GrowthBar SEO tool participates extensively in your content strategy through the use of GPT-3 AI powered by Open AI. More or less complete, it has a fairly simple interface that supports bloggers, web agencies and SEO professionals in writing long format articles.
Videos : AI & Web Copywriting
Images : AI & Web Copywriting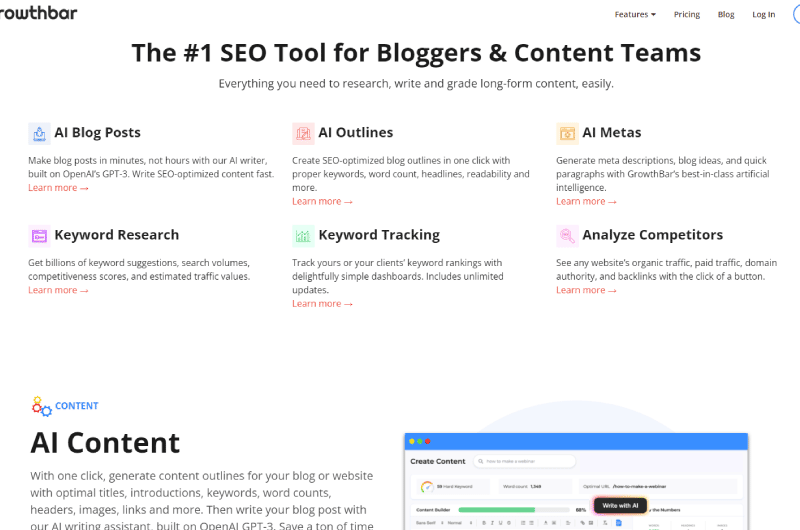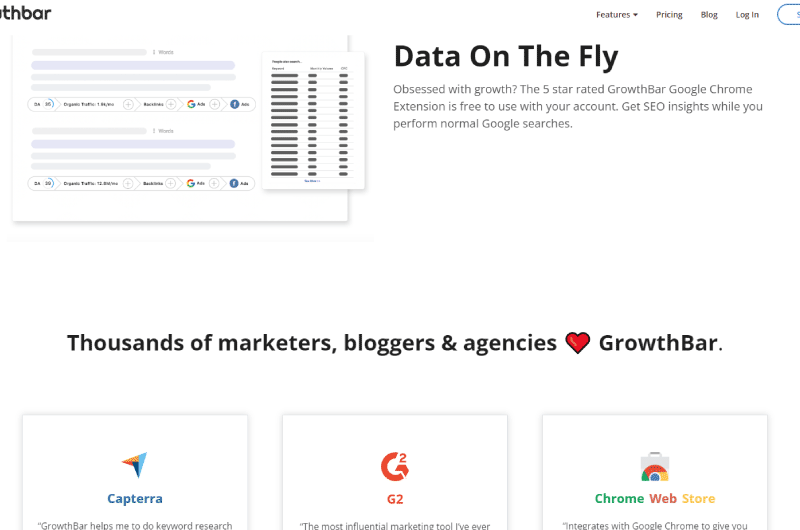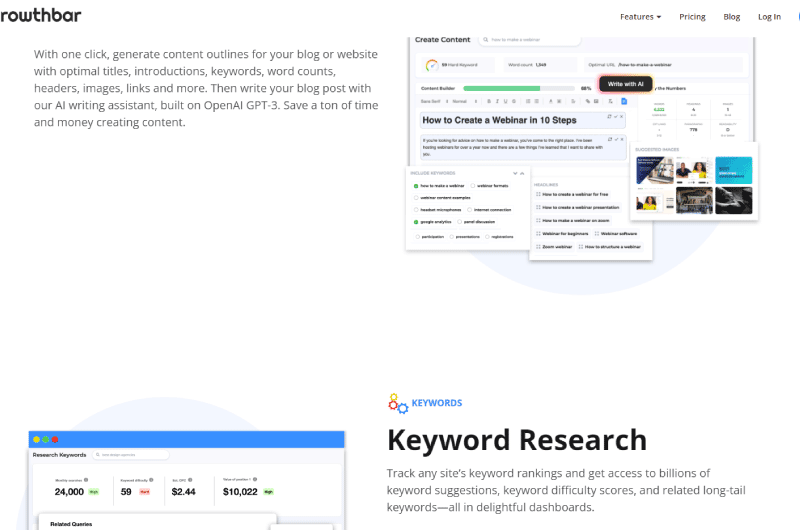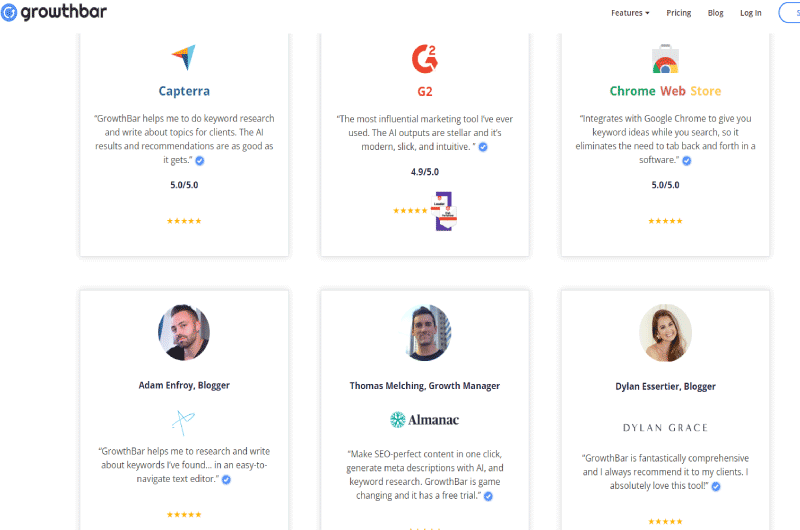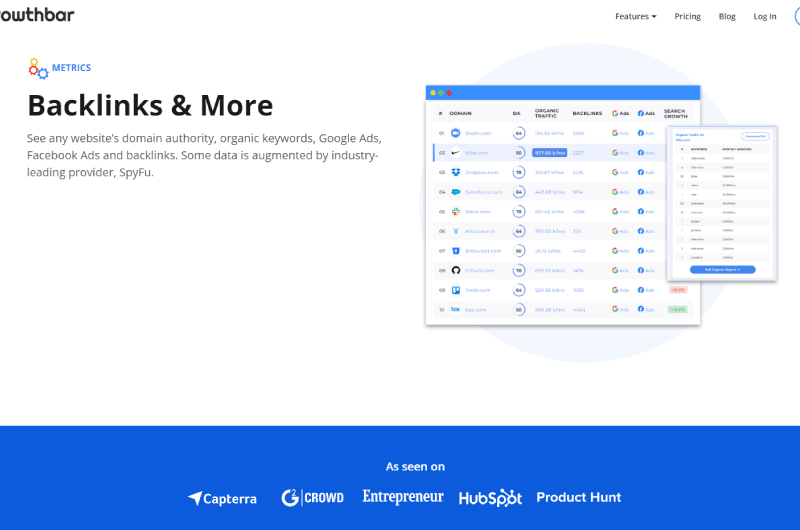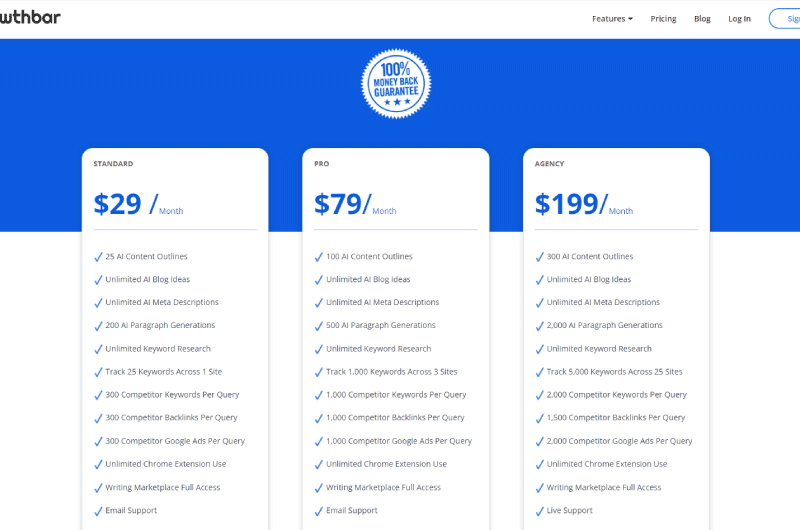 Company : AI & Web Copywriting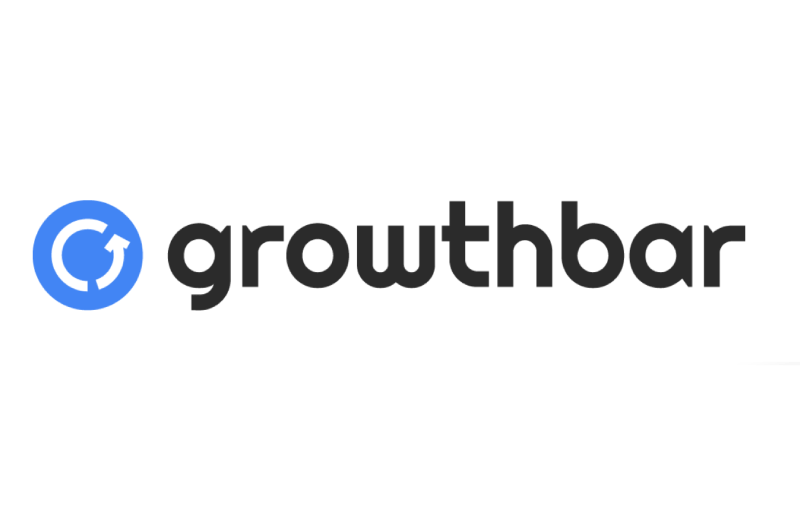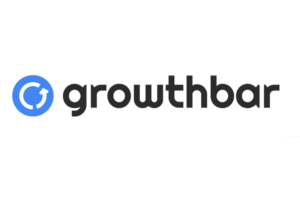 GrowthBarPro.com was founded by Hailey and Mark, both experienced in their field. It is indeed a SEO and growth marketing agency that supports companies in their various marketing strategies.
So, whether it's digital marketing or content marketing, the experts at GrowthBarPro.com will help you do well in terms of boosting organic traffic to your site. Versatile, the agency intervenes precisely in:
SEO strategies;

growth strategies; 

content generations;

link creations.
It is a company that offers SEO solutions through the use of Artificial Intelligence. Thus, GrowthBarPro.com helps you position yourself better in search engine SERPs. 
Among these solutions is their flagship tool called Growth Bar. The latter is an SEO platform that allows you to efficiently research, create and rate long content. It therefore actively participates in your content marketing.
To this extent, Growth Bar is aimed at SEOs, e-commerce site owners, digital advertising agencies but above all SEO professionals.
Contact : AI & Web Copywriting
Social Media : AI & Web Copywriting
Others Tools : AI & Web Copywriting
Alexandre MAROTEL
Founder of the SEO agency Twaino, Alexandre Marotel is passionate about SEO and generating traffic on the internet. He is the author of numerous publications, and has a Youtube channel which aims to help entrepreneurs create their websites and be better referenced in Google.